I absolutely love it when readers of Between Naps on the Porch are inspired by something they've seen here in a post. Recently, I received an e-mail from Terri who had seen something in this past fall table setting that she really liked. Can you guess what it was?
I guess the title of this post sort of gave it away, huh?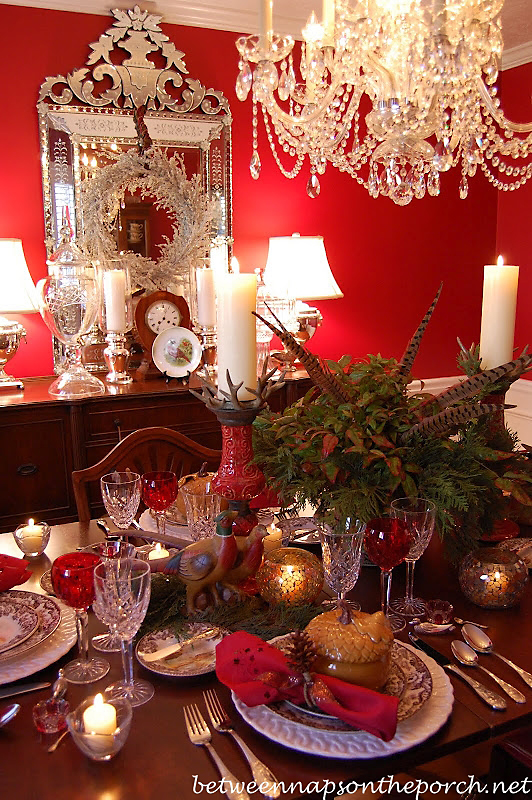 Tablescape can be viewed here: Woodland or Nature-Themed Table Setting
Yep, it was the pine cone napkin rings. I found these a few years back in Pier 1. I remember the day I found them, I had to drive to another Pier 1 to get a set of 6 since they only have 5 in the location nearest me.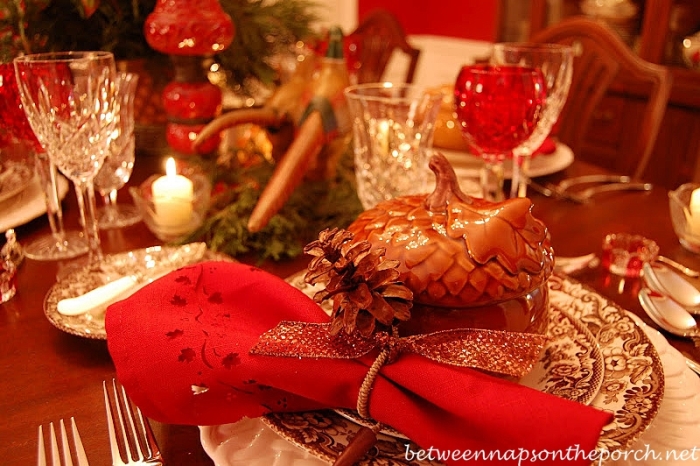 Here's a better view of one below.
Terri asked if I had made mine. Unfortunately, I don't have any pine trees in my yard, though they are in abundance in Georgia. Remember that old Ray Charles hit "Georgia on My Mind"? I've always loved that song.
♪ I said Georgia, Oh, Georgia
A song of you
Comes as sweet and clear
As moonlight through the pines. ♫
Terri decided to give it a try and make her own. She did and here's how they looked in her Thanksgiving table setting. Beautiful!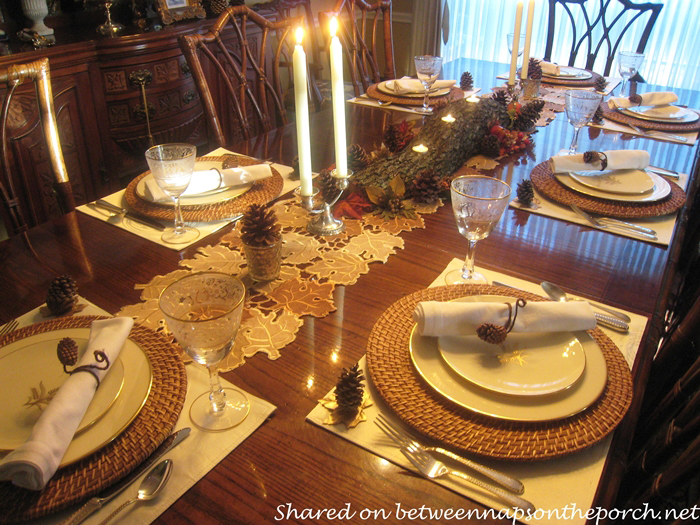 I asked Terri when we were e-mailing back and forth if she would take some pics when she made her napkin rings so I could share the tutorial with you. She did!
I'll let Terri take it from here and explain how she made them.
Terri's Tutorial for Pine Cone Napkin Rings
Supplies Needed:
Pine Cones
Grapevine Covered Wire
Drill
Hot Glue Gun (or a strong craft glue)
"I purchased the vine wire in the floral department at Hobby Lobby and cut designated lengths using a wire cutter."
"My husband then drilled the tiny holes into the pine cones. I'm not certain what type cones these are, but they are MUCH harder than the more open type that typically shed their seeds and are a lot softer. If you don't have the harder type, I have seen them in Fall Potpourri mixes."
"I then glued the wire into each pine cone with a dollop of hot glue."
"I wrapped the wires around a small bottle to get a uniform shape to each napkin ring, and to avoid too much manipulation going forward. That allowed me to roll and insert napkins without having to shape each time."
Twelve (12) napkin rings cost me $2.99, a smattering of hot glue and about 15 minutes of time. I'm actually thinking about possibly adding a small "cap" cover over the place where the vine wire inserts into the pine cone…maybe a tiny circle of brown felt, or something. Actually, the possibilities are endless."
Terri curled the end of the wire back to give it a finished look. Wow, $2.99 for 12 napkin rings…I think that's about what I paid for one!
Terri, thanks so much for sharing your tutorial for making these cute pine cone napkin rings. I know lots of folks will be inspired to make their own, now!
*If a post is sponsored or a product was provided at no charge, it will be stated in post. Some links may be affiliate links and as an Amazon Associate, I may earn from qualifying purchases. *