Welcome to the 564th Metamorphosis Monday!
How was your weekend? Are you busy getting ready for visiting family and Thanksgiving? Since I do have family coming for Thanksgiving this year, I've divided my "To-Do" list into two basic parts: Decorating and Cleaning.
I spent the latter part of last week and the weekend working on some of the decorating. I hope to finish that in the next two-three days, then I'll start on the cleaning. My house could use a deep cleaning, meaning cleaning the louvers on all the shutters, cleaning the light fixtures, including two chandeliers and wiping down all the molding.
It's times like this I wish I could call in a cleaning team for just a one-shot deal. I don't need or want someone cleaning my home regularly, but it sure would be nice to have someone come in maybe twice a year to help with the more intensive, deep cleaning. I worry they wouldn't do it the way that I do, though–or would possibly use chemicals on my furniture or brass that could damage it. I'm such a worry-wart about stuff like that.
What do you do this time of year when you're hosting parties or having family in? Do you do all the cleaning yourself?
So where am I now with the decorating? I have both trees up (Yup, I'm setting them both up this year) and plan to decorate them today, well at least one of them. The other one, the family tree that I like to place here in the kitchen, may not get decorated. I may save it for when my son, dil and grandchildren are here and we can decorate together since the ornaments that go on that tree are more sentimental and family-themed. Here's a glimpse of it in a much older post, sorry about the terrible photography.
I also got all the wreaths hung, although the two wreaths I normally hang on the garage both need new bows. The wiring that held the old bows together came apart last year when I took them down. I thought I saved the ribbon, but I was unable to find it this weekend. So I'll be shopping for ribbon today to make two new bows.
(Aside: See those black streaks on my roof? I'm going to find out how to clean those off, I really don't like how it looks! Those just started appearing the last couple of years. I'll let you know what I find out. Apparently some of the chemicals like Spray and Forget will remove that, but I'm going to check with the company that installed my roof to see what they recommend. Any suggestions?)
When I got all the wreaths out this year, I noticed the ribbon on a few of them was curling up badly from the bottom. Arggg!
I ironed them all out using the "Acrylic" setting on my iron.
Here's how they looked after ironing the ribbons and fluffing out the bows. I hope they don't roll back up again, at least not for a while. I like it when they gently curl, but not roll up as they were doing.
Note: If you have the same curling issue with your outdoor velvet ribbons, use the lowest setting on your iron when ironing them. Anything higher will melt the backing! Found that out the hard way when I tested it on a slightly higher setting. As mentioned, the acrylic setting worked well for my ribbons.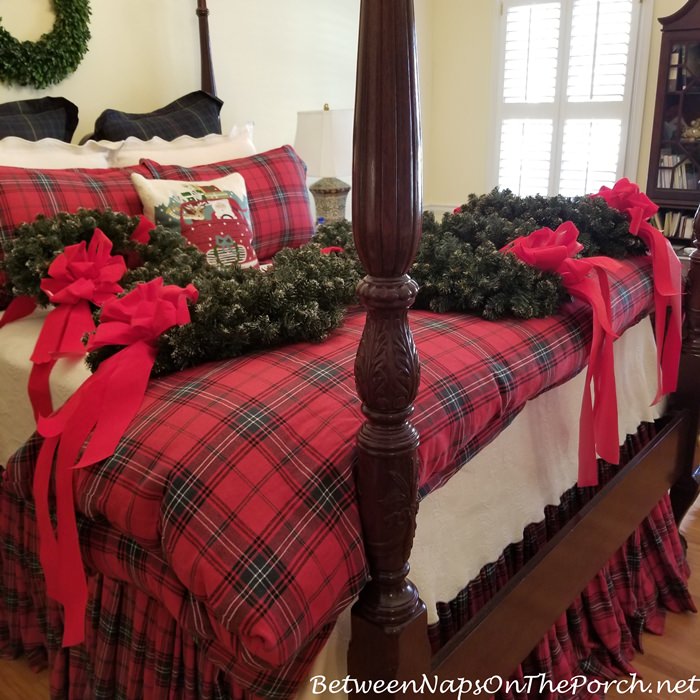 Where to Buy Red Outdoor Velvet Bows for Wreaths
If you are interested in hanging wreaths on all your windows for Christmas, you'll find an amazing price for a dozen outdoor, waterproof velvet bows with the long streamers like mine, here: 12 Pack of Red Velvet Bows. The reviews look amazing so when my bows need replacing, I'll be buying them from that source.
Wreaths on my windows are by far my favorite decoration for Christmas because you get to enjoy them from both the inside and out.
I love seeing them through the windows so much. I'm always sad when it's time to take them down after Christmas.
You'll find a tutorial for how I hang my wreaths in this older post here: Hang Wreaths on Exterior Windows.
I think I'm going to set my Hot Cocoa Bar up on the porch this year. If you would like to set up a hot cocoa bar on your porch or inside your home for a family gathering, you'll find my post sharing how I set this one up here: Hot Cocoa Bar for the Holidays.
Okay, back to the decorating! Happy Early Thanksgiving to you!
Pssst: Did you know Between Naps On The Porch is on Instagram? You'll find me on Instagram here: Between Naps On The Porch.
Like to know when a new blog post is up and available to read? Subscribe for email updates, it's free and your email will never be shared.
Subscribe here: Subscribe for free post updates via email here: Subscribe.
Metamorphosis Monday
Metamorphosis Monday is a party that's all about Before and Afters. If you are participating in Met Monday, please link up using the "permalink" to your MM post and not your general blog address. To get your permalink, click on your post name, then just copy and paste the address that shows up in the address bar at the top of your blog, into the "url" box for InLinkz when prompted.
In order to link up, you'll need to include a link in your MM post back to the party so the other participants will have an opportunity to receive visits from your wonderful blog readers.
Feel free to link up Before and After posts that are home, gardening, decorating, crafting, painting, sewing, cooking, fashion, travel or DIY related. Please do not link up to the party if you're only doing so to promote/sell a product.
To those linking up, if you notice a shop or online store linking up to sell products (yes, unfortunately, that happens) please let me know so I can remove their link and block them from participating in future parties.
This party has ended, click button below for the links to all who participated.
*If a post is sponsored or a product was provided at no charge, it will be stated in post. Some links may be affiliate links and as an Amazon Associate, I may earn from qualifying purchases. *