Welcome to the 562nd Metamorphosis Monday! I've been visiting with my grandchildren for the last two weeks but will be heading back home soon. On this trip, I brought up the chest-of-drawers from son's old bedroom visible below the top bunk in this old photo.
The chest ended up in one of the dormer windows of my grandsons' bedroom, replacing the train table that had been there. I would share a photo of how it looks there but my youngest grandson is currently napping in that room. I'm gradually bringing up my son's childhood bedroom furniture a few pieces at the time. I think future pieces will have to be stored in the basement since we are running out of space here in their bedroom.
Porch Painting Update
I've chosen another painting contractor to paint the front porch; they will be starting soon. Looking at this older photo I realized I needed to take an updated photo of the front of the house. The boxwood shrubs I planted a couple of summers back are sooo big now! I'm almost wishing I had purchased them in a smaller size initially because they have already grown to the size I wish they would stay at forever. I've already trimmed them once this past spring and they immediately grew right back. I will share a photo soon, it's truly shocking how big they've gotten!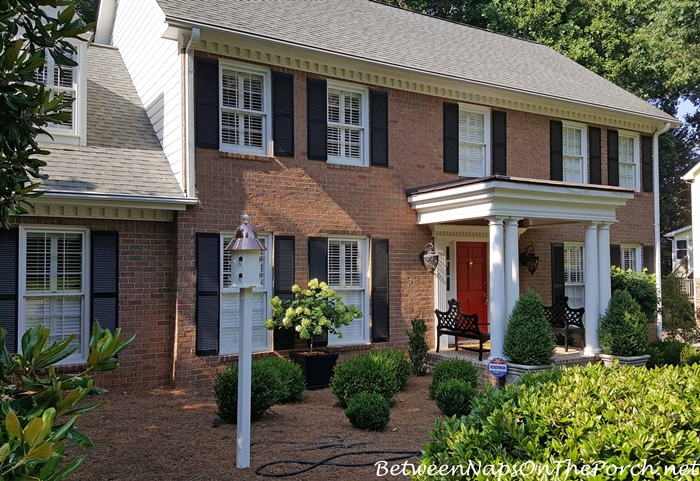 So things will be busy when I return since the painting will get underway either later next week or the following week. I have 40 bales of pine straw being delivered sometime during the week of the 12th. Thankfully I'm not spreading it this time, I'm letting the company delivering it handle that.
I can't wait to do a bit of fall decorating and I'll be sure to share that with you once I'm back. I will probably hang wreaths on the windows the week of the 19th since I have family coming for Thanksgiving and I really want the wreaths and trees to be up when they are here since they won't be here for Christmas.
For details on how I hang the wreaths, check out this previous post: How to Hang Wreaths on Exterior Windows.
Puzzle Time: I enjoy doing puzzles any time of the year, but when the weather turns cold, I really find myself in the mood to stay hunkered down inside with a mug of hot cocoa and a great puzzle. This girl does not do cold! While I've been visiting family here in Ohio, the weather turned quite cold and the puzzle urge hit. I'm so spoiled by doing puzzles on my puzzle board at home (really saves the back!) I decided to purchase one to keep here in Ohio. My grandsons also love puzzles so when they get a bit older, they may enjoy using it, as well.
I like the board I previously purchased for my own home, but I like the design of this one even more.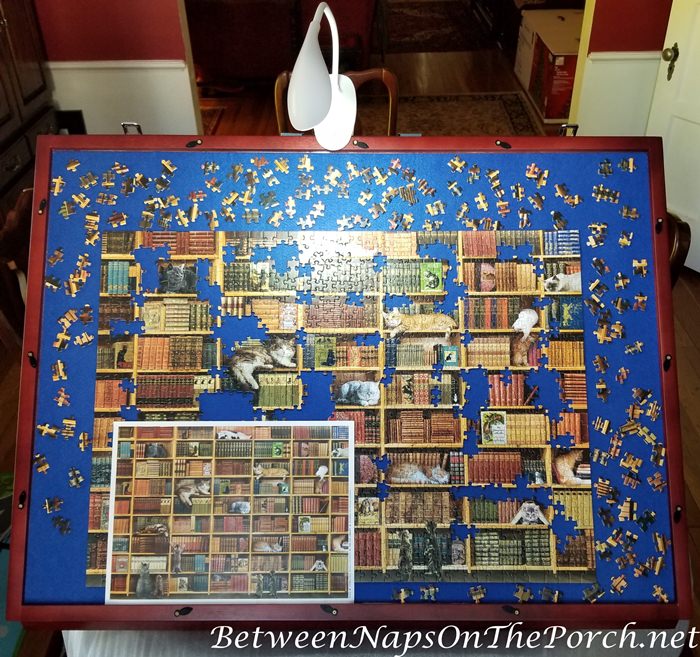 I actually love doing puzzles on this board back home, as well. This board is now available in green again here: Puzzle Board.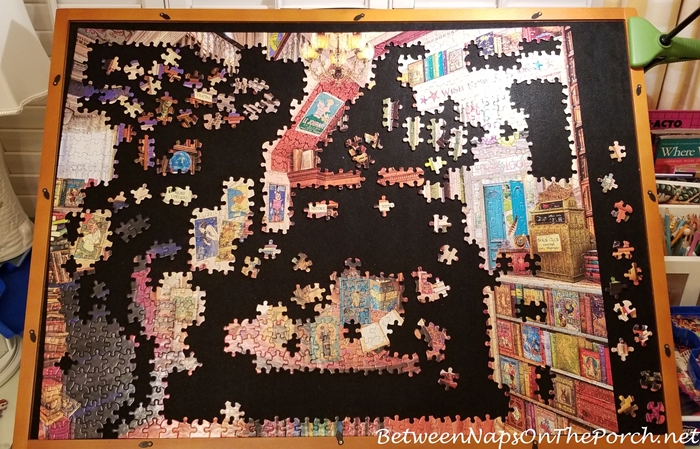 As mentioned, I love the features of the blue one, too. Puzzles look so pretty against the blue background and the blue color is easy on the eyes.
Plus, the cover you place on top when you're done for the night and/or wish to move your puzzle to another location, is much nicer. It has felt on one side that helps prevent puzzle pieces from sliding or moving when you move the board to another location. It also has little tab handles to help with placing or removing the cover. Love that! (This puzzle board is available here: Puzzle Board.)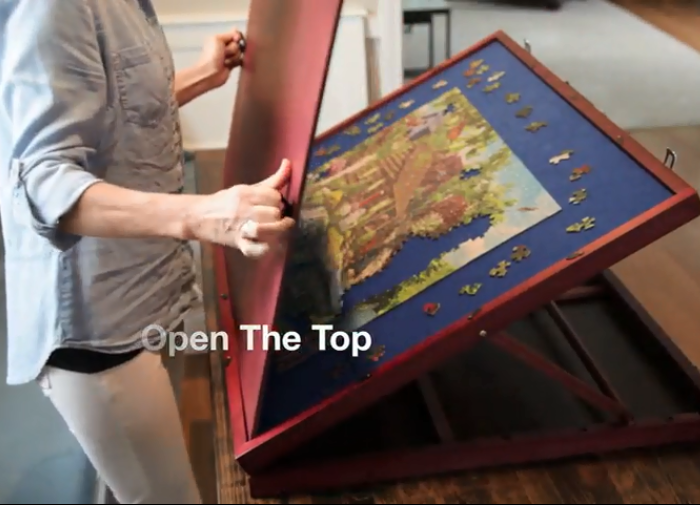 Lighting for Crafting, Puzzling, or Reading: I purchased a rechargeable, battery-operated light to attach to the top of the board. Overhead lighting from the ceiling light created too much glare and made it difficult to see the pieces. This light was very inexpensive and I love that it turns on with just a touch. It has three settings so you can adjust the level of brightness.
This light is perfect for those places where you need more light, but an electrical outlet isn't easily accessible. Since this light is battery-operated, I recommend purchasing two. That way one can always be charging while the other one is in use. That's what I did, I purchased two. This works perfectly in this situation. (Light is available here: Rechargeable Battery-Operated Puzzle, Reading Craft Light.)
I purchased this light below to use on my puzzle board at home where I do have easy access to an electrical outlet. It also has three light settings and turns on with just a touch. You'll find it available here: Puzzle, Reading, Craft Light.)
I completed the puzzle I'd been working on last night while my son and Dil were attending an event and the boys were tucked in their beds for the night. Here's how it turned out. The colors are much prettier than this photo conveys. Check out the photo above for a better view of the rich colors.
You'll find this adorable puzzle (along with several others I love) available here: Kitties and Books Puzzle.
I purchased a couple of more puzzles this past week. I couldn't resist this cozy puzzle below. If cozy isn't a genre for puzzles, it definitely should be. If you look closely, this puzzle creates a wonderful story.
Leaving her shoes on the mat near the door, Jane (let's call her that for now) has just been outside walking her new puppy and gathering firewood for her wood-burning stove. After getting the wood going, she lit lanterns all around the room and turned on the fairy lights she recently strung to make the coming winter months less dreary.
The kettle atop the stove holds more of the rich, hot chocolate Jane is currently enjoying while curled up under a cozy throw. For the umpteenth time, she's rereading one of her favorite books, Jane Eyre. (It's the scene where Jane is talking with Robert Leaven, the Coachman of her cruel aunt, Mrs. Reed. She hasn't seen him since her days at Gateshead Hall and is reminiscing with him about all the times he gave her rides on her cousin, Georgiana's bay pony.)
When Jane isn't reading, she loves puzzling. She has several stacked on the table just to the left of her desk and another one she just finished is visible over on the bookshelf. Jane also loves chess and knitting. Her sweet kitty is curled up on her latest knitting project by her feet while her adorable pup is lovingly keeping watch from under the coffee table. Jane loves the theatre and travel. She's working on filling an album with photos from her recent summer trip to Cambridge, England.
For the last few months, Jane has been busy tracing her family history via Ancestry Detective, the site she currently has pulled up on her laptop. She carefully charted her family tree, hanging it on the wall above her desk for easy access. What else can we tell about Jane from this wonderful scene? I love puzzles like this!
All I've mentioned in the story above is actually visible in the puzzle. I love the details of this puzzle! If you love this puzzle as much as I do, you'll find it available here: Cozy Wintertime Puzzle.
The other puzzle I purchased was one I thought my grandsons would enjoy helping me do. It may have to wait for a future return trip since I'll be leaving in just a few days. You'll find this adorable puzzle available here: Naughty Kitties Puzzle.
I'll leave you with a few more Before and Afters and some fun memories from this trip north. My son and daughter-in-law dressed as Wayne and Garth (Wayne's World) for a costume party the weekend before Halloween.
This past weekend they looked slightly different for another event they attended.
My daughter-in-law and grandsons dressed as ninjas (my oldest grandson's idea) for Halloween night. Dad was running late but joined them about 20 minutes later, also in ninja form. Unfortunately, we didn't think about getting a photo of all four together before the boys had shed their costumes to dig into their Halloween candy. Hope you had an awesome Halloween!
Looking forward to all the great Before and Afters for this week's Metamorphosis Monday!
Pssst: Did you know Between Naps On The Porch is on Instagram? You'll find my home and garden postings on Instagram here: Between Naps On The Porch AND my fashion postings here: Under Moonlight and Magnolias.
Like to know when a new blog post is up and available to read? Subscribe for email updates, it's free and your email will never be shared.
Subscribe here: Subscribe for free post updates via email here: Subscribe.
Metamorphosis Monday
Metamorphosis Monday is a party that's all about Before and Afters. If you are participating in Met Monday, please link up using the "permalink" to your MM post and not your general blog address. To get your permalink, click on your post name, then just copy and paste the address that shows up in the address bar at the top of your blog, into the "url" box for InLinkz when prompted.
In order to link up, you'll need to include a link in your MM post back to the party so the other participants will have an opportunity to receive visits from your wonderful blog readers.
Feel free to link up Before and After posts that are home, gardening, decorating, crafting, painting, sewing, cooking, fashion, travel or DIY related. Please do not link up to the party if you're only doing so to promote/sell a product.
To those linking up, if you notice a shop or online store linking up to sell products (yes, unfortunately, that happens) please let me know so I can remove their link and block them from participating in future parties.
This party has ended, click button below for the links to all who participated.
*If a post is sponsored or a product was provided at no charge, it will be stated in post. Some links may be affiliate links and as an Amazon Associate, I may earn from qualifying purchases. *