There are some awesome sales going on right now! Before I get into some of the gifts I've been buying, if you are interested in hanging wreaths on your windows for Christmas this year, the is the best place I've found to purchase the type bows you saw me using in yesterday's post: 12 Pack of Red Velvet Bows.
The price is excellent and reviews look great! When my bows ultimately need replacing, that's where I plan to buy them.
Party Time!
Do you have a special event to attend sometime soon–or perhaps a Christmas or New Year's event? I love this gorgeous dress! It's so feminine and pretty and I love the touch of sheer fabric across the top. I also think the darker colors and the fit/flare design would make it flattering on almost any figure.
It's currently on sale 30% off here: Dress.
They've even designed a darling little girl's dress to coordinate with it! So cute! You'll find it available here: Child's Dress.
If you're like me and always cold in the winter, I love this one with the longer sleeves. This Blackwatch plaid design is so pretty and again, I think this would be a figure-flattering design.
You'll find it on sale 30% off here: Blackwatch Plaid Dress.
I love, love, love a gorgeous ball gown skirt and this one is stunning! With its dot design, it reminds me of a nighttime sky filled with a million beautiful stars! So romantic and so sophisticated for an evening event any time of the year.!
You'll find it on sale 30% off here: Ballgown Skirt.
Last year I purchased my son a pretty wool sweater. He hinted this year that he wouldn't mind another one. I'll probably end up buying him several since last year's sweater was a success. This is the one I chose yesterday and it's currently on sale 25% off. That sale ends today, though.
You'll find this sweater here: Sweater.
This is still one of my all-time favorite sweaters! I have to stop myself from wearing it all the time, the colors are just so pretty! It sold out the year I purchased mine, but they've brought it back again this year. It's currently on sale and you'll find it here: Sweater. Again, that sale ends today.
These hilarious, adorable scuffs/bedroom slippers would make a wonderful Christmas gift and they are currently on sale.
I have two pairs and also bought a pair for my daughter-in-law one year. We both love them and they are super comfortable! You'll find them on sale here: Wool Scuffs.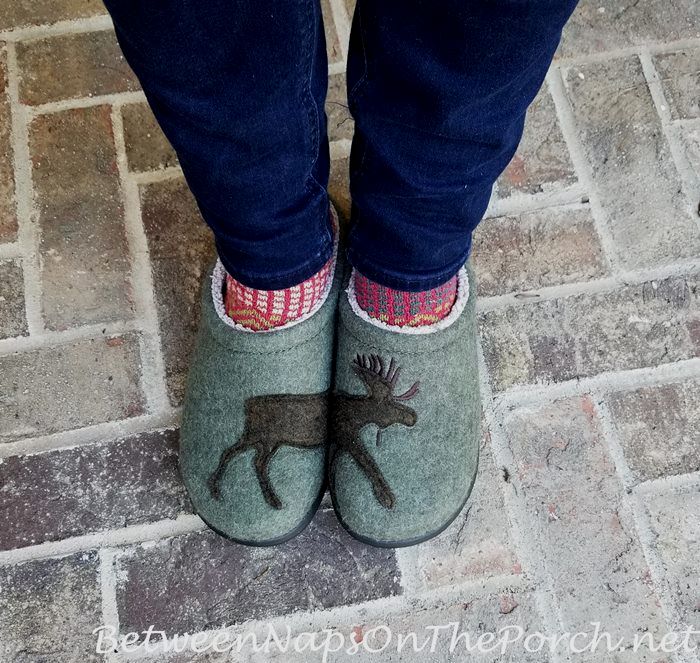 Amazing Socks…So Comfortable and Soft!
I have quite a few pairs of socks but this year I went in search of warm socks, preferably merino wool and not too thick. Some of the socks I've purchased in the past are just a bit too thick to wear with my winter boots.
I found these and the price was so good, I figured they weren't going to be that great. I was wrong! They are awesome! They are super soft and super warm! Plus, the price is unbelievable, just $23.98 for 6 pairs! And that's for socks that are 78% merino wool!
I like them so much, I ordered 6 more pairs for me and 6 pairs for my daughter-in-law. Buy them now before they raise the price because that's an incredible price for socks of this quality! You'll find them available here: Merino Wool Socks
Someone asked me about these adorable spoons yesterday. I always include them in my Christmas gift-idea posts because I think they make a wonderful gift at any time of year. When ordering one of these vintage silverplate spoons, you can choose one that already has a quote or saying that you like, or request your own quote or phrase.
I keep my spoons on the counter in a sugar bowl because I use spoons a good bit throughout the day. Plus, I just love seeing them!
You'll find these spoons available here: Hand-Stamped Spoon.
At that link, be sure to look at the menu on the left side of the screen. That's where you'll find the categories/themes available for spoons. There are so many sayings from which to choose!
They make wonderful Christmas gifts and I love giving them along with a tin of hot chocolate and a cute mug cozy. They also make a unique hostess gift.
This gourmet chocolate below is available here: Hot Chocolate, and the mug cozy is available here: Reindeer Cozy.
Tip: The mug cozy is made by hand so if you're planning on giving it as a gift, don't wait too long to order since it takes a little while for it to be made. I got mine relatively quickly the year I ordered it.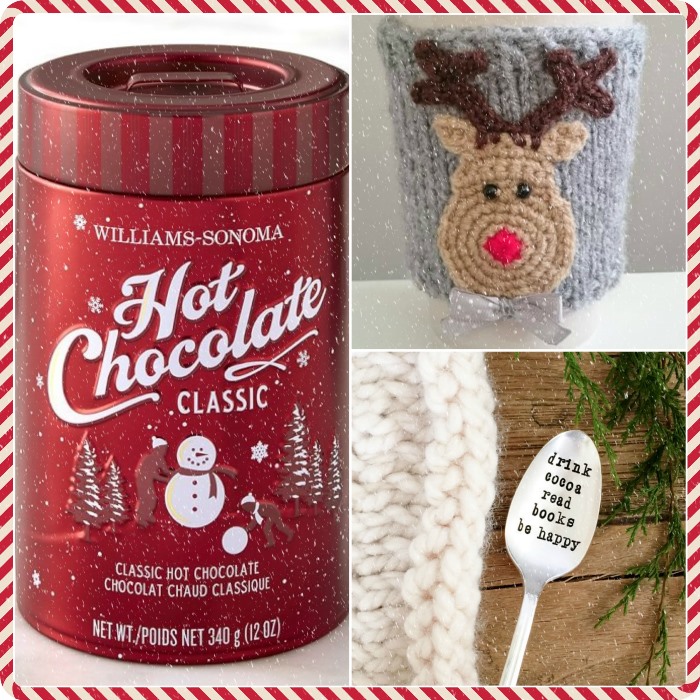 The Coolest Napkin Holder
One last idea that may be a bit too practical for a gift, but I'm giving one this year anyway because I love mine so much! I just purchased this napkin holder a few days ago and I'm crazy about it! I don't normally use napkins that much but with family coming for the holidays, I purchased some to keep out on the counter. I think they'll come in handy with two little ones running around. Ha!
The thing I LOVE about this napkin holder, besides its somewhat architectural, modern design, is this: when you take a napkin, it only releases one. I don't know exactly how it works, but it's pretty awesome! And the design is so simple, yet kinda cool!
You'll find it available here: Napkin Holder. Check out the reviews, it's quite the hit!
I'll be popping in from time to time this holiday season with gift ideas. These are just a few of the favorites I've purchased and love so far.
Happy Holidays to you!
XXX
*If a post is sponsored or a product was provided at no charge, it will be stated in post. Some links may be affiliate links and as an Amazon Associate, I may earn from qualifying purchases. *