Welcome to the 708th Metamorphosis Monday!
As I type this, I'm waiting for the second garage door repairman to arrive. Hopefully, I can get this post up before he arrives. I will have to create a post sharing all the things that have had to be done and redone multiple times so you'll know life isn't all rainbows and unicorns up in here. Ha! Seems like every project I embark on has had a major glitch (or ten) along the way–well, except for the garage flooring. That went off without a hitch. Thank goodness!
Soooo, here's how my dish storage in the garage used to look. I had 6 storage cabinets down this wall of the garage.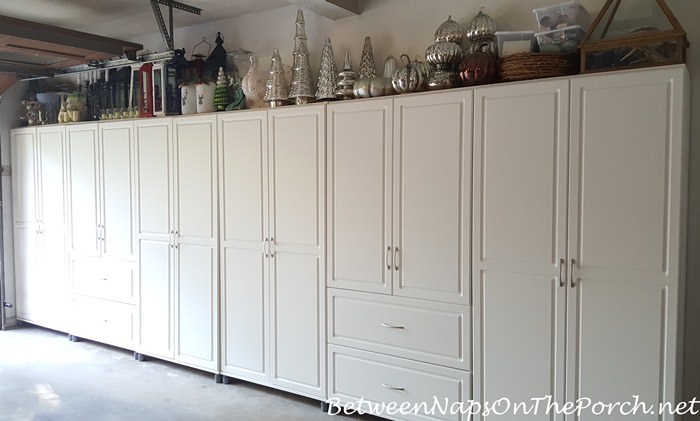 I liked this a lot but unfortunately, the cabinet on the far left was starting to show some wear since it's right up against the wall by the garage door. Garage doors are not hermetically sealed so moisture can creep in that wee opening running down either side of the garage door. Since I was going to move everything out of the garage for this renovation, this seemed like a good time to change things up a bit.
Here's how that wall looks now. Instead of having six cabinets on that wall, there are just five now. Did you notice the configuration has changed, also?
With just five cabinets down this wall now, I no longer have a cabinet so close to where the garage door opens.
Here's how the storage looks inside, so far. I'll create another post sometime soon sharing some closeups with more information in case you're interested to see exactly what's stored here. When I rearranged the cabinets for the garage makeover, I also added another 2-drawer cabinet to the mix. I have napkins stored in the drawers of the other cabinets and wanted one more cabinet with drawer space since my napkin storage is getting pretty tight.
With an additional cabinet here in the garage, I decided to move this beachy china that was stored on the shelves of an island I have in my laundry room, to the garage. Now the laundry room island shelves are holding large platters that were formerly stashed away in two different pantries.
Two cabinets that used to be on the side wall of the garage are now on the front wall, along with two new cabinets I just recently added. Unfortunately, there is something wrong with the hinges on the two new cabinets, plus I need more shelves for one of them. I'll share more about that storage once I have it all sorted out.
One cabinet on this wall will hold charger plates, as shown.
The charger plates used to live in the top half of one of the 2-drawer cabinets. I didn't have enough space for all of my chargers, so three sets (bark-edged, beachy driftwood, and the extra-large grapevine chargers) were stored on the top of the cabinet.
Now they all fit here in this one cabinet. Yay!
Previously, I only had one cabinet for glassware. Once I receive the additional shelves for the cabinet to the right, there will be two cabinets for glassware–with room to spare.
Here's how the paper towel storage dispenser looks with the cabinets in place. Try to imagine this view with doors on the charger cabinet to the right. lol
I really, really love this paper towel dispenser and it's getting a ton of use already!
I didn't show the other wall of the garage–the one with windows. It's still covered in plastic. The painter should be back tomorrow and will hopefully finish up this week. Looking forward to sharing the completed garage sometime soon!
Looking forward to all the wonderful Before and Afters linked for this week's Met Monday!
Pssst: Did you know Between Naps On The Porch is on Instagram? You'll find me on Instagram here: Between Naps On The Porch.
Like to know when a new blog post is up and available to read? Subscribe for email updates, it's free and your email will never be shared. Subscribe for free post updates via email here: Subscribe.
Metamorphosis Monday
Metamorphosis Monday is a party that's all about Before and Afters. Please link up your Before and After projects like DIY projects, room makeovers, craft projects even recipes. Any Before and After is great! Please do not link up Table Settings, save those for our Tablescape Thursday party on Thursday.
If you are participating in Met Monday, you'll need to link your post to the party using the "permalink" to your MM post and not your general blog address. To get your permalink, click on the name of your post, then copy and paste the address that shows in the address bar at the top of your blog, into the "url" box for InLinkz when prompted.
NOTE: Please do not link up more than 3 posts from your blog. In order to link up, you'll need to include a link in your post back to the party so visitors to your blog can find the other party participants. When linking up to the party, give the InLinkz system time to find the link in your post to avoid having your link held for moderation/approval. Thanks!
This party has ended, click button below for the links to all who participated.
*If a post is sponsored or a product was provided at no charge, it will be stated in post. Some links may be affiliate links and as an Amazon Associate, I may earn from qualifying purchases. *