Okay, I'm joking with that post title, but they're probably 101 things you could make or create with old jeans!
If you're new to reading BNOTP, recently I cleaned out my closet and found three pairs of old jeans that were out of style and had magically shrunk while hanging in the closet. How DOES that happen?! Since the jeans weren't in the greatest shape, I decided to repurpose them for a fun project.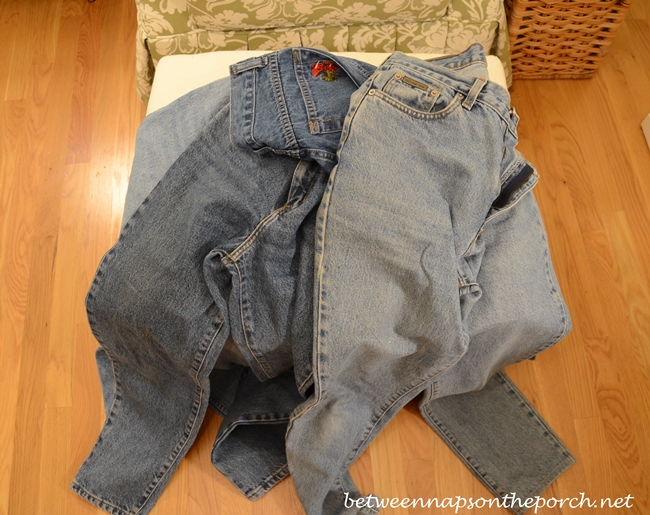 So far, the pockets have found new life as flatware holders. (Tutorial for flatware holders can be found here: A New Use for Old Jeans.)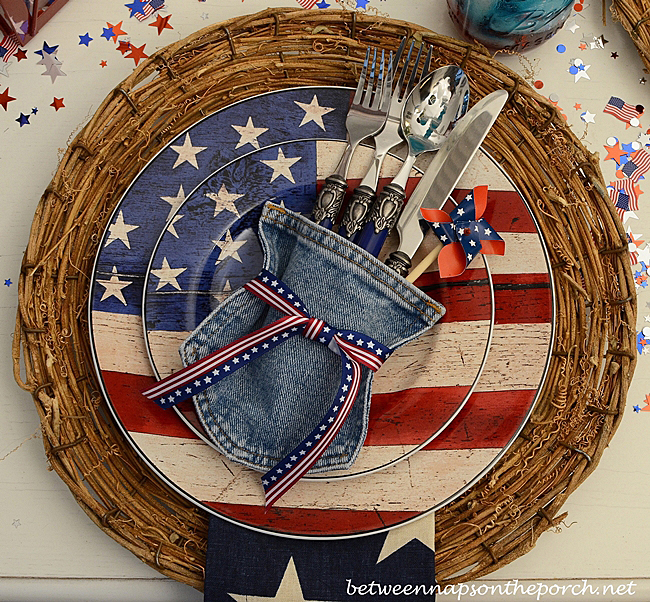 The denim fabric and the seams became a banner for celebrating those patriotic holidays. (Tutorial for banner can be found here: Make a Party Banner, Pottery Barn Inspired.)
For their latest reincarnation, the waistbands have become denim napkin rings–no sewing required!
I totally spaced and didn't take any photos when I made these. So, for this tutorial, I took a pair of jeans that had not yet been delegated to the donate or recycle pile and reenacted the steps. Please note: No "good" jeans were harmed in the making of this reenactment post, so please don't call the Jean Police on me!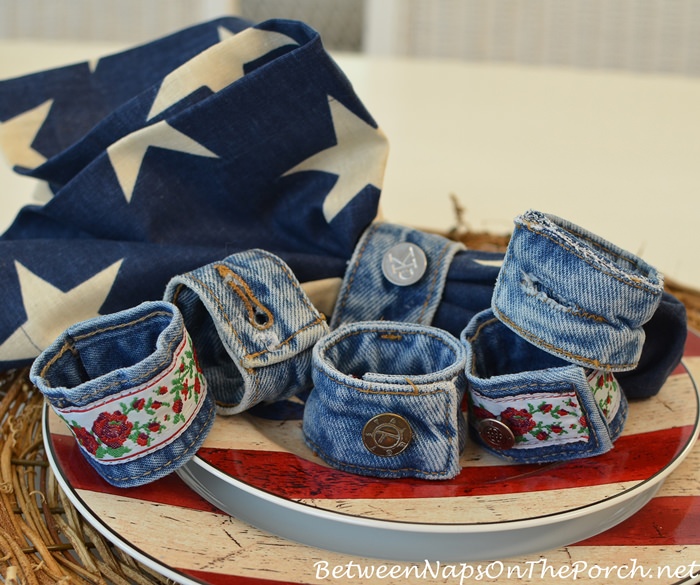 First I used a seam ripper to remove the end of the belt loop that was attached to the waistband. There was no need to remove the other end.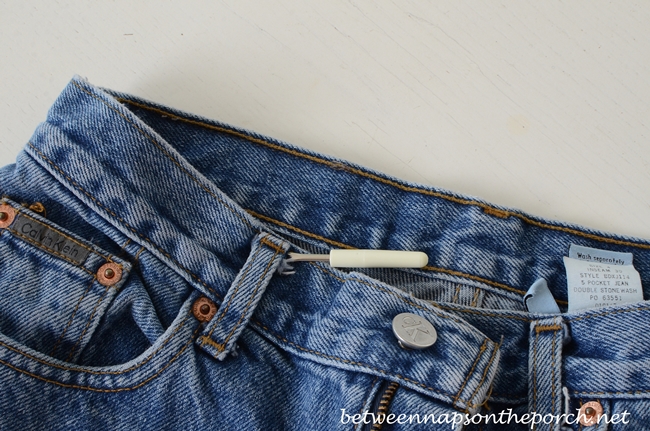 Then I just cut the waistband right off of the old jeans. (Pretend like the belt loop has been removed in the pic below.) There's no issue with unraveling and no hemming to be done since the waistband is top-stitched.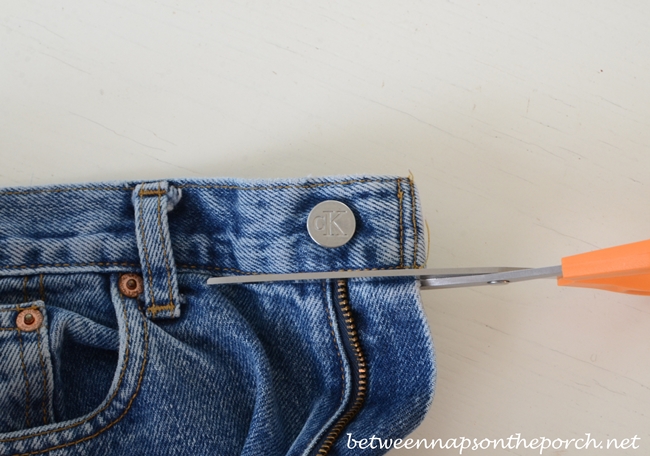 I cut the waistband in 7 inch lengths. (The piece below is one I had left over from the waistband (and didn't use) when I made my napkin rings.)
I found 7 inches to be a good length for the napkin rings because that allows the ends to overlap about an inch. After creating a circle and overlapping the ends, I glued them together using a glue I just discovered recently in Michaels.
This glue is pretty amazing, its nickname is "the glue gun in a bottle" and it really is! I only had to hold each loop together for about 45 seconds and they were stuck for good. Since this glue sets up so quickly, it's important to make sure you have your fabric positioned right where you want it when you add the glue. This awesome glue is available here: Fabri-Tac.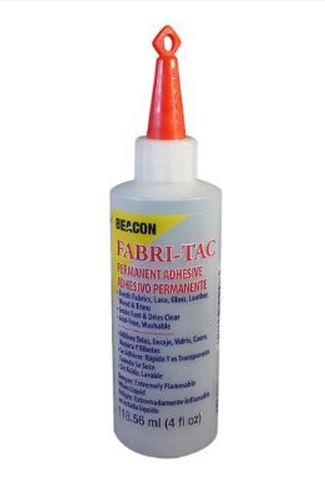 Note: Since I was working with 3 pairs of old jeans, I had 6 "end pieces" of the waistband with which to make 6 napkin rings. The ends of jean waistbands are top-stitched so they were perfect for this craft. However, if you are making your napkin rings from just one or two pairs of old jeans and will need to use a piece of the waistband from the center that isn't topstitched on the ends, you can either top-stitch the ends on a sewing machine or just use one of the products they make to stop fraying. This glue will also stop edges from fraying and it does dry clear, but I think the top-stitching method is the prettiest for the finished product.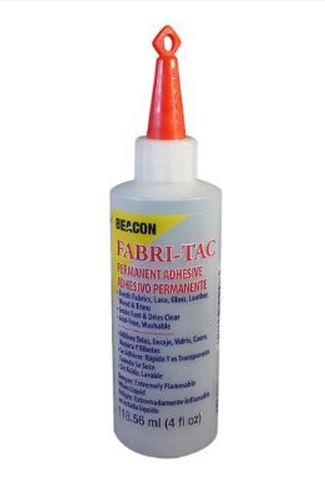 Just for fun, I pulled out some dishes and created a few place settings using the denim napkin rings.
They really work best with casual table settings. Wouldn't they be great for a picnic or for dinners in a cabin, lake, or beach house?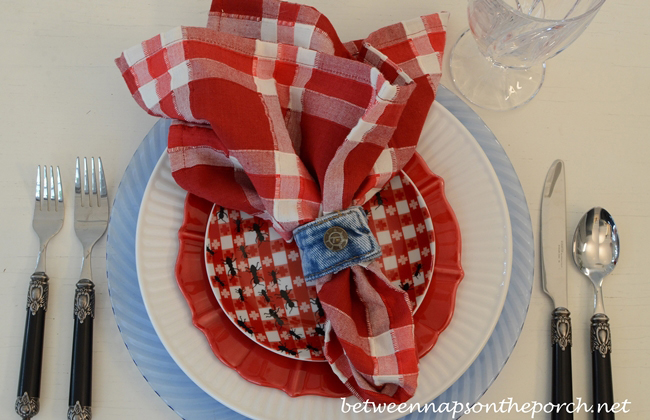 One of the pairs of jean I used had a decorative, floral waistband that made for a really cute napkin ring.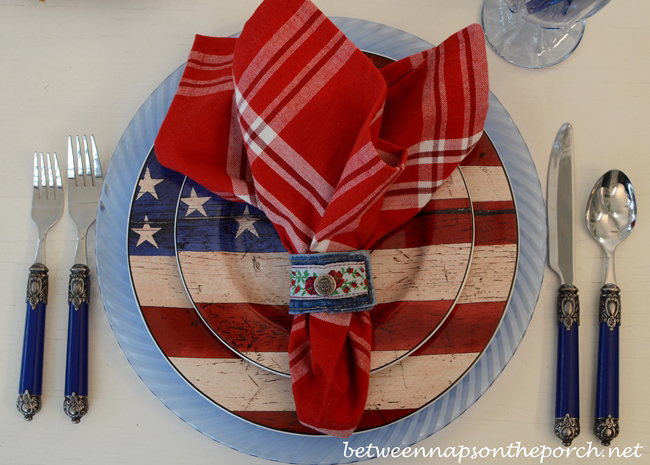 The napkin rings with the buttons are probably my favorite but I also liked the ones with the buttonhole. You could add a decorative button of your choosing or really any kind of decoration to create your own one-of-a-kind napkin rings.
Happy crafting (and recycling) with your recycled denim! Denim is so durable, there's almost nothing you can't make with those old bluejeans.
*If a post is sponsored or a product was provided at no charge, it will be stated in post. Some links may be affiliate links and as an Amazon Associate, I may earn from qualifying purchases. *