During the first part of June, it's Birthday Central here at my son's home. My son's birthday is immediately followed by my youngest grandson's birthday, which is followed a few days later by my daughter-in-law, Nancy's, birthday. So there was a lot of decorating, partying and cake-eating happening over the past week or so!
For my youngest grandson's 4th birthday celebration, Nancy decorated in a dinosaur theme since he is completely obsessed with dinosaurs. Actually both my grandson's are pretty dinosaur crazy. You may remember their dinosaur bedroom makeover we completed last year.
View more of this makeover here: Bedroom Makeover: Dinosaur Themed Bedroom for Two Dinosaur-Loving Boys.
Nancy hung a sparkly green-foil curtain across my grandson's bedroom door during the night while he slept. She hung another one across the arched door that leads into the living room at the foot of the staircase. He loved it all when he awoke on his birthday and came downstairs.
Nancy also made the most amazing balloon garland! The doorway from the dining room to the living room is a large arched doorway, so it was perfect for the garland.
Have you ever made one of these? I have not and loved it! You'll find the balloon kit Nancy purchased to make this garland here: Dinosaur Balloon Garland Kit. There are a bunch more dinosaur themed kits here: Dinosaur Balloon Garland Kits.
Nancy blew up all the balloons manually by herself. I was watching the little ones upstairs and had no idea what she was working on down in the basement. I found out what she was doing when she came up and joked about being light-headed. I immediately went online to see what existed for blowing up balloons so she would never have to do that manually again!
By the time I took this picture below, my grandson had already opened up most of his presents. I love how Nancy decorated with my son's old dinosaur toys from the late 1980's. Sooo cute!
Nancy's birthday was only 5 days later. In the meantime, the balloon blowing-up machine (balloon inflator) arrived and I decided to try my hand at making one of the pretty balloon arch garlands for her birthday celebration.
This was the machine I ordered, although this morning I found one online that I think I may like a bit better…more on that in a sec. The way this machine works is you place a balloon over the blue nozzle as shown below, then you press down. When you press down on the blue nozzle, air shoots inside the balloon inflating it.
I didn't use the little tie thingies that came with this particular machine because they looked like they would easily come untied and I didn't want to deal with balloons coming untied and deflating as I was assembling the balloon arch. Also, you really need to have each balloon tied off in order to create the balloon arch garland. It would never work with the plastic ties that were included.
I waited until everyone was in bed before I started blowing up balloons to make the garland. I snapped a quick photo of my bed as it was filling up with balloons. lol It was at this point that I realized I would need to go ahead and start assembling the balloon garland since I was fast running out of balloon storage space.
Once the garland was complete, I hung it and the other decorations up as everyone slept. I wanted it all to be a big surprise when Nancy came down in the morning. Here's how the completed garland looked in place between the dining and living room arched doorway.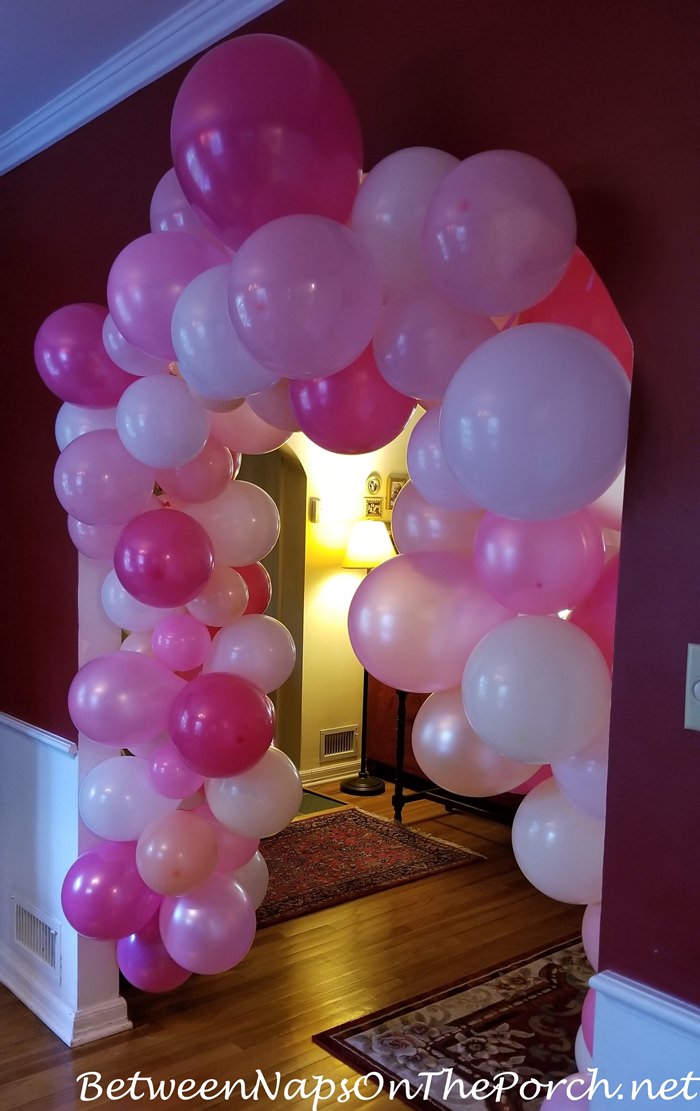 Since I wanted the garland to look super full, I used a lot of balloons in varying sizes. This was the balloon kit I purchased: Balloon Kit.
So how do you create a balloon garland? The balloon kit I purchased came with a long, 16 ft. plastic strip filled with holes every few inches. Each hole in the plastic strip has a wide opening that tapers off on one side. To attach each balloon, you push the tied-off end of the balloon through the larger part of the hole, then pull it to the tapered side of the hole which holds the balloon in place. (See photo below.) I never had any problems with the balloons loosening up and coming off the garland, so this method works very well.
The same kit that came with the balloons also included a stand to create a balloon bouquet. You can see the balloon bouquet I put together on the sofa table in the photo below.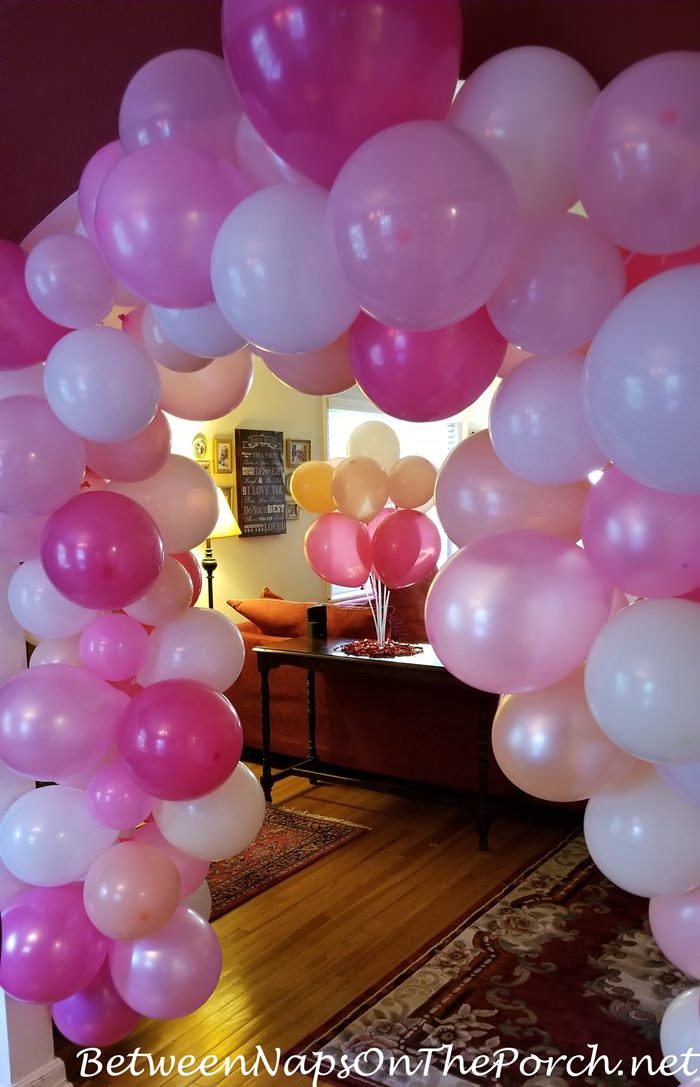 In addition to the balloon kit HERE, I also purchased this balloon kit: Balloon Kit. I did end up using a few of the balloons from the second kit, so I was glad I had it. You don't have to purchase two kits, I just didn't want to run out of balloons or have a skimpy garland. Plus, I thought it would be great to have some extra balloons to use in other areas of the living room.
This was the balloon pump I purchased, you'll find it available here: Electric Balloon Pump. It worked great and was super fast. There is absolutely NO WAY I could have created this arch and make it as full as I did, without the pump. It would have taken a million years to blow up all these balloons, but it actually went quite fast with the pump.
I like the look of this pump below even better than the one I purchased because it comes with a hose that can be used to inflate pool rafts and inflatable pool toys, etc… It also comes with a tying tool that you will DEFINITELY want to have! The pump I purchased didn't come with the balloon tying tool, but one of the balloon kits I purchased did. A tying tool is invaluable for this project!
You'll find this pump here: Electric Balloon Pump.
This is the balloon tying device that came in one of the balloon kits I purchased.
It took me a few minutes staring at these photos to figure out exactly how to use it, but once you figure it out, it is a genius device! I have a touch of arthritis in a couple of my fingers and there's no way I could have tied off a gazillion balloons without this tool. With the combination of the balloon inflator machine and the balloon tying tool, I was able to blow up and tie off approximately 4-6 balloons per minute.
If you had someone helping you, it would go even faster since one person could be blowing up the balloons while the other person could tie them off. Or you could alternate, one person blowing up a balloon while the other person is tying off the one they just blew up. It would go super fast with two people but is totally doable with just one.
In addition to the balloon arch garland, I hung a sparkly, pink-foil curtain across the doorway at the foot of the stairs, the same doorway Nancy had hung the boys green, foil curtain. Pictures don't do it justice, it was gorgeous glimmering in the light streaming down the staircase from the upstairs landing window.
I also hung up a sparkly, pink-foil garland over the doorway to her bedroom late that night. Later she told me that when she awoke, she could see it gleaming away in the morning sunshine streaming in through the bedroom windows. (Garland is available here: Foil Garland.)
I decorated the mirror over the fireplace with a banner that came in a third kit. You'll find that kit here: Birthday Kit.
See the little balloon flower on the right end. One of the balloon kits that I purchased came with little plastic, flower-shaped thingies that could be used to create three balloon flowers. You'll find that kit here: Balloon Kit.
I liked the balloon tying tool so much, I purchased a package of 3 so Nancy would have two (including the one that came in one of the kits) and I would have two to take back home. I am planning on purchasing my own balloon blowing-up machine because they are amazing! If you have birthday parties or other types of celebrations, you need a balloon inflating machine and balloon tying-off tools!
You'll find this 3-pack of balloon tying tools here: Balloon Tying Tools.
If you love this idea, have any questions, or I left something out, please let me know in the comments below. I hope you find this info helpful as you plan for a future birthday, anniversary, graduation, baby shower, Mother's Day or Father's Day celebration!
*If a post is sponsored or a product was provided at no charge, it will be stated in post. Some links may be affiliate links and as an Amazon Associate, I may earn from qualifying purchases. *