Welcome to the 383rd Tablescape Thursday!
That title of this post sounds a little like a Nancy Drew Mystery Story, doesn't it? lol For this week's Tablescape Thursday, I thought I'd share one of the dinners we were served while traveling in Italy.
The tour/trip I took included some lunches and most dinners. Sometimes our lunches didn't include meat and just consisted of salad, a large bowl of pasta and dessert. Drinks were usually already on the table when we arrived and consisted of water and wine. I wasn't used to drinking wine at lunchtime and often found it hard to stay awake on the bus ride that usually followed.
The day we visited Assisi, our lunch was held inside a restaurant located just below and down the long drive leading up to the Basilica of Saint Francis of Assisi. So, you know how all the guide books suggest when traveling to other countries that you stay open-minded and not expect things to be as they are in your home country. I totally understood that philosophy and felt like I had prepared myself pretty well. The one thing that consistently bugged me and I could never quite get used to was being served bread, but not being provided a bread plate.
In most restaurants, we would sit down to an empty table with glasses and wine/water lined up down the center of the table. A bread basket would be brought out or was sometimes already on the table. If you took a piece of bread, you were stuck holding it until your salad plate was brought out, then you could squeeze your bread onto the edge of your salad plate.
I always found it awkward holding the bread while trying to pour a glass of water. If I had torn or cut the bread to butter it, then I had two pieces of bread to hold until the salad plate arrived. The only alternative was to place your bread directly onto the table or tablecloth. I just couldn't bring myself to place my bread right onto the table or tablecloth, especially when buttered, so I ended up holding it until the salad arrived. Occasionally, I could find a small paper napkin on which to sit it.
For our lunch this day in Assisi, when we arrived at our table, the bread was sitting directly on the tablecloth beside our place settings. As I recall, that was the first time that I had seen the bread placed beside our place setting instead of in a bread basket on the table. This was the only thing that I couldn't quite understand during my time in Italy. It was a minor thing but just something that puzzled me during my time traveling and dining in Italy.
I remember there was one meal where we had a bread plate, so apparently bread plates are used on occasion. Maybe when you sit down and there's a bread basket already on the table, perhaps you're not supposed to eat the bread until the meal has been brought out. Then you would have a place to place your bread–is that how it works? Well, no one in our group ever waited. We were always hungry and helped ourselves to the bread while waiting for our salads.
We had lasagna as our starter this day and it was very good!
Our meal did include a meat this day. We had chicken…and it was also very good.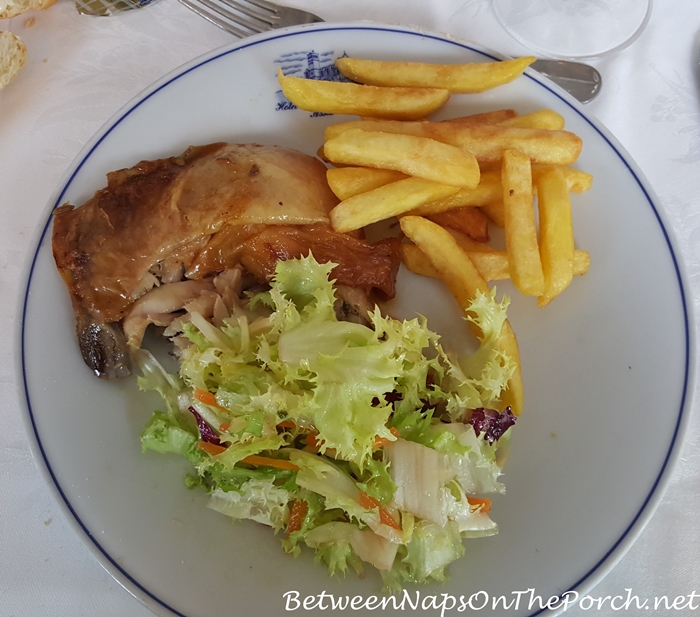 I wish I could remember the name of this dessert, not sure if I ever knew. Anyone recognize it? Thanks to Dawn for identifying the dessert as "Profiteroles…..or cream puffs."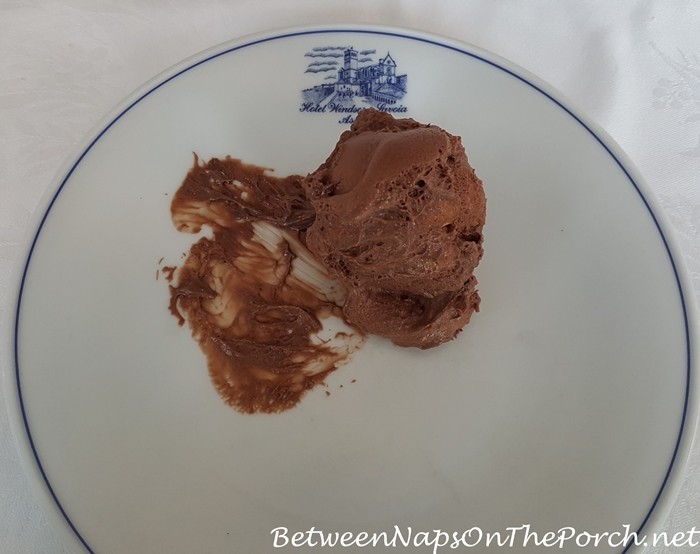 Have you ever traveled to Italy and if so, was the bread already on the table? Was a bread plate provided? If not, did you wait until your meal was served to have a piece of bread?
If you are participating in Tablescape Thursday, please be sure to add your permalink below, and not your general blog address.
To get your permalink, click on your post name, then copy and paste the address showing in the address bar, into the "url" box when you link up. You'll need to include a link in your post back to the party to link up and participate.
That's so visitors to your blog will be able to find the party and the other Tablescape Thursday participants. Requiring a link back also prevents businesses and scammers from linking up to sell their products. (Yep, that really happens, unfortunately.)
Please, don't add your post name/blog name ALL IN CAPS…it tends to create big spaces between the rows of links.
Please do not link up table settings that were just recently shared in the last few weeks for Tablescape Thursday.
*If a post is sponsored or a product was provided at no charge, it will be stated in post. Some links may be affiliate links and as an Amazon Associate, I may earn from qualifying purchases. *