Welcome to the 673rd Tablescape Thursday!
Hope you are staying well and haven't caught this yucky summer cold that seems to be going around. Thankfully, my cold is much, much better now. Whenever I visit family in Ohio, I love venturing out to check out the tablescaping goodies in this area of the world. I made a fun and very productive trip to HomeGoods yesterday and picked up quite a few goodies that I'll be taking back home. I hope to share everything I bought in tomorrow's post, but for today I'm taking you into HomeGoods to check out the goodies I saw during my recent visit there.
Before we head into HG–recently I stopped into a nearby Cracker Barrel to pick up one of their large family dinners. As I walked in the door, this was what I saw on display. I was super tempted by the mermaid salad plates in the lower left-hand corner of the photo. I am tempted to go back and buy those and look for additional plates in another store since they only had a couple.
They would be soooo cute in a table setting with my mermaid back home. lol
Yup, I need those!
If you have begun your Christmas shopping, as I have, Cracker Barrel has some really cute gift ideas for the horse lover. Look at those adorable plates down in the front of this display!
I noticed CB has started putting out just a little bit of Christmas, too. Love the pillow! It reminds me of how I wrapped all of my Christmas gifts one year.
Do you remember this whimsical wrapping paper I used one year to wrap all my Christmas presents?
Such a fun, fun paper!
You'll find that previous post here: Whimsical Gift Wrapping Idea.)
Shopping HomeGoods in Ohio
Yesterday I drove over to a local HomeGoods to see what they had in stock for the autumn season. The last time I visited the HG near my home back in Georgia, there wasn't a lot to see so I was curious how things would look here. The last of the summer goodies were on display just inside the front door. I was surprised to see something tucked away at the back just behind those two big metal tubs.
You may remember this summer table I set a while back.
Notice the wicker and mesh food saver there at the end of the table.
These wicker servers are great for outdoor parties where bugs may think they're invited, too!
They had one of those in HomeGoods when I visited yesterday!
It looks a lot like the one I have. I can't remember what's in the center of mine now. I remember it's pretty but I know it's different from this one.
Lots of pretties on the shelves…
I'm always so drawn to the lemon-patterned pieces. I'm going to have to break down and buy some one day.
More lemony goodness…
They only had 3 of these dinner plates, but I love this beautiful Spode Collection!
Halloween goodies were out in full force everywhere I looked.
Years ago I purchased a bunch of mercury-glass style pumpkins and Christmas trees. I remember thinking/hoping at the time that mercury glass pumpkins would be around for a while, although you know me, I keep using the things I love even when/if they begin to "go out of style." Well, apparently Mercury Glass is still very much a thing!
I saw plenty of it during my shopping trip to HomeGoods.
Just when you think there's nothing new they could add or do with Mercury Glass, they add pearls to it!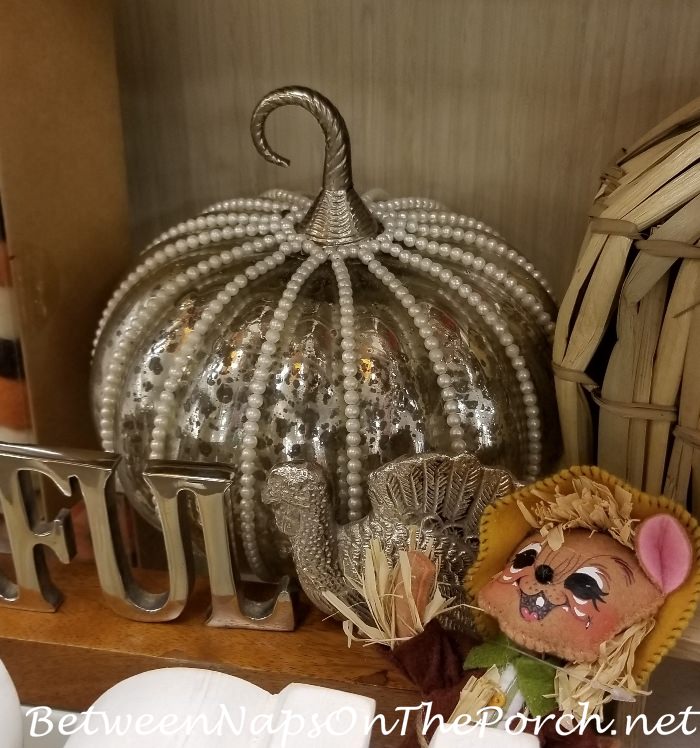 Lots of pearls! Very fancy!
These gorgeous beaded placemats may have come home with me if they had had more than just one. This photo doesn't do this placemat justice, it was so sparkly and beautiful in person!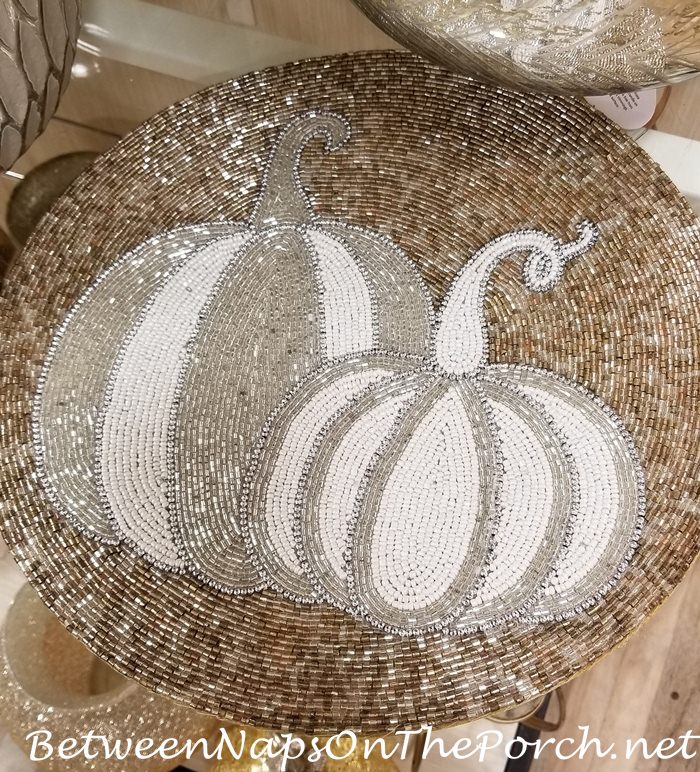 Autumn and Thanksgiving goodies were out in full force, as well! I was so fired up for the holidays by the time I left HomeGoods! lol
There was so much to see, I almost feel like I need to go back. I missed those feather-looking placemats I see on the bottom shelf in the photo below.
More autumn goodies…
I loved the "Pumpkin Season" tumbler!
These napkins caught my eye and I picked up a pack. Eight napkins for $10 is a great price! I think I may have some very similar to these back home already, but wasn't sure. Once I'm back home, I can always return them if I find I don't need them.
These were such unique-looking napkin rings! I picked up a set that said "Thankful." I hope I like how those work but not sure since they are such an unusual, oblong shape–really wide.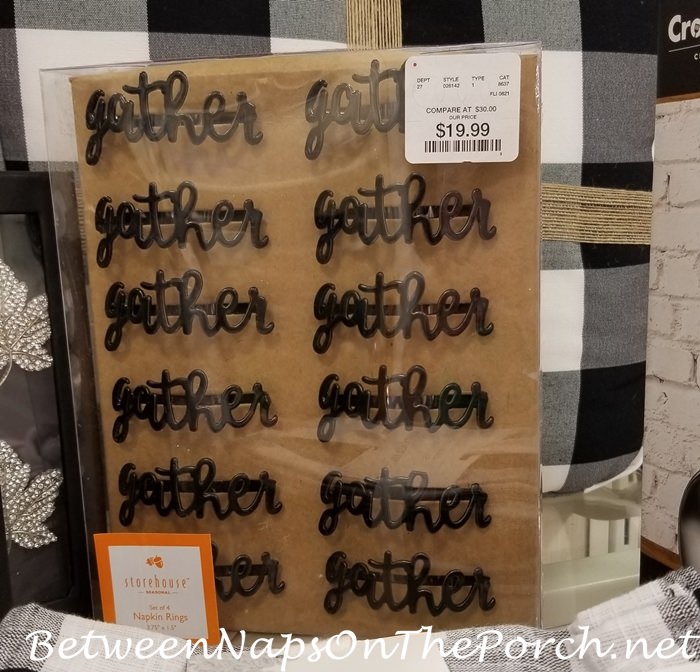 I'll share all the things I purchased in a post for tomorrow. I spent around $250 yesterday, so I purchased quite a few things! Not sure I'll keep them all–will have to see what works best once I'm back home, but I know I'll be keeping a lot of them.
Before I end this post, I have to share these GIGANTIC mirrors they had in stock! I wish I had a place in my home for one of these. They are Drexel Heritage and the prices were amazing! This huge floor-standing mirror was marked down to $249!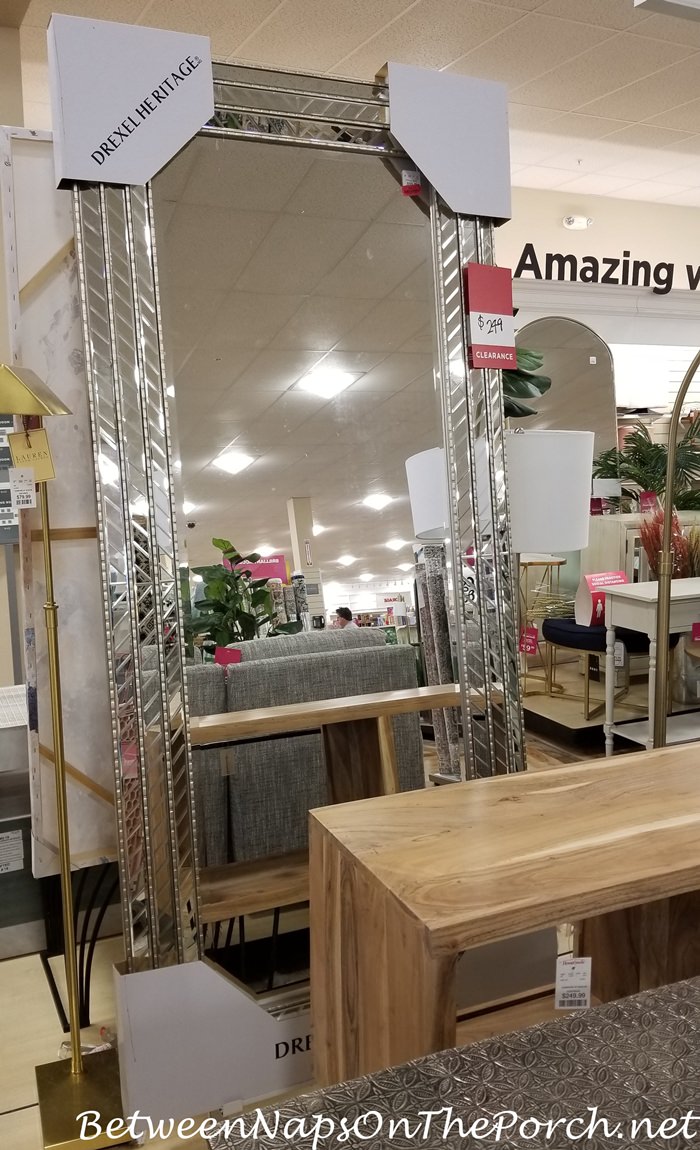 This one was even bigger–it was a fair amount wider! It was priced at just $399! These mirrors would look amazing mounted on a wall or mounted in a leaning position against a wall in a dressing room. I have nowhere to use one of these, but if I did, I would seriously have thought about purchasing one. I bet these would cost so much more in a regular furniture store!
This was the last one I saw–the frame design was a bit different. Do you have a large mirror like this anywhere in your home? I'm guessing there's a way to mount them leaning against a wall as I've seen them in pictures/magazines that will keep them secure.
Stay tuned to see all that I purchased in tomorrow's post! I went a wee bit crazy! I'm blaming it on feeling so much better after getting over my cold! Yeah, that's it! 😉
Looking forward to all the wonderful table settings linked for this week's Tablescape Thursday!
Did you know Between Naps On The Porch is on Instagram? You'll find me on Instagram here: Between Naps On The Porch.
Like to know when a new blog post is up and available to read? Subscribe for email updates, it's free and your email will never be shared. Subscribe for free post updates via email here: Subscribe for Post Updates.
Tablescape Thursday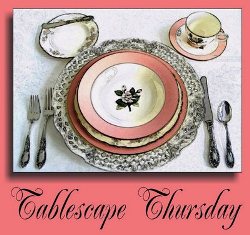 If you are participating in Tablescape Thursday, please be sure to add your permalink below, and not your general blog address. To get your permalink, click on your post name, then copy and paste the address showing in the address bar, into the "url" box when you link up.
You'll need to include a link in your post back to the party to link up and participate. That's so visitors to your blog will be able to find the party and the other Tablescape Thursday participants. Please, don't add your post name/blog name ALL IN CAPS…it tends to create big spaces between the rows of links.
This party has ended, click button below for the links to all who participated.
*If a post is sponsored or a product was provided at no charge, it will be stated in post. Some links may be affiliate links and as an Amazon Associate, I may earn from qualifying purchases. *