Welcome to the 502nd Tablescape Thursday!
I've been visiting with family the last couple of weeks and we've been having so much fun! We've been doing a lot of grilling, or I should say my son's been doing a lot of grilling. I'm obsessed with corn-on-the-cob cooked on the grill now, don't think I'll ever be able to eat it any other way. Yum!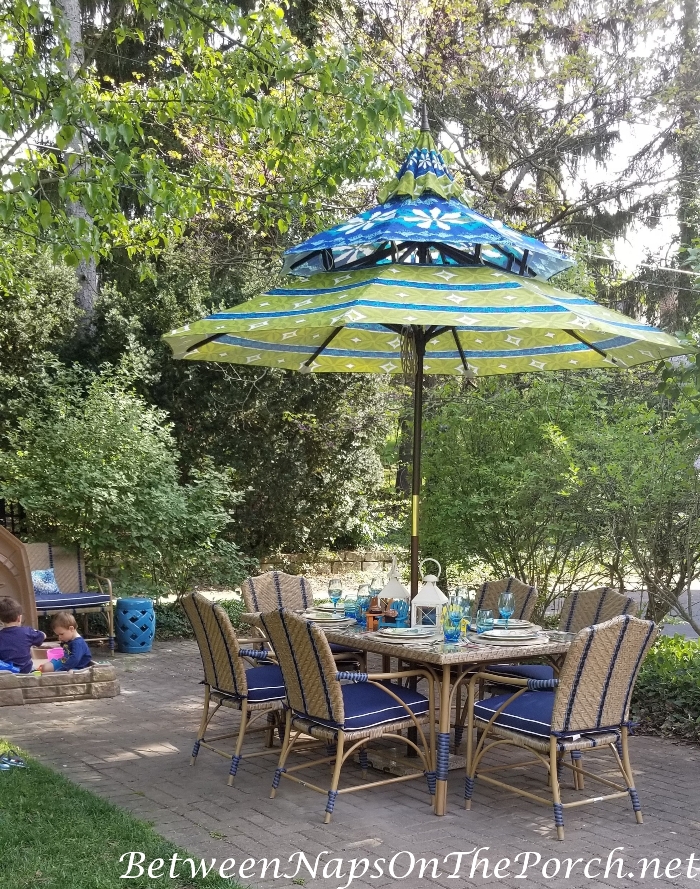 With all this dining outdoors, I decided to surprise my dil, son and grandsons with a festive table. You may recognize this umbrella I purchased a few years back to use with an outdoor table on my deck. It didn't match my cushions but I thought I'd eventually find some cushions to go with it.
I never used it since I was never able to find any coordinating cushions for my outdoor dining table, so decided to pass it on to my dil and son since it matches their outdoor dining set so well. It looks like it was made to go with it, doesn't it?
This umbrella is currently on sale here: Umbrella. It's available in several colors and patterns, including a pretty yellow pattern and a red design. See all the various styles here: Umbrellas.
Just as I completed setting the table and was starting to take photos, my grandsons arrived home. After a lot of oohing and ahhing over the table and the chocolate cupcakes that were part of the centerpiece, they ran over to their sandbox and started playing. So you may catch glimpses of them in the photos in today's post.
Have you been grilling out this spring? Spring has definitely arrived in Ohio and it has been wonderful! I've been enjoying lilacs for the first time and their scent is intoxicating! They don't grow well in Georgia, although I think I read somewhere they are trying to introduce varieties that will grow further south. Anyone know if that has happened, yet?
This was a fun, fun table to create!
The chocolate cupcakes in the centerpiece of the table were magnets for little hands. It's so hard to wait until after dinner when you're only 2 and 4 years old. So you may notice some flatware askew or swapped around in a few of the pictures taken after they got home. lol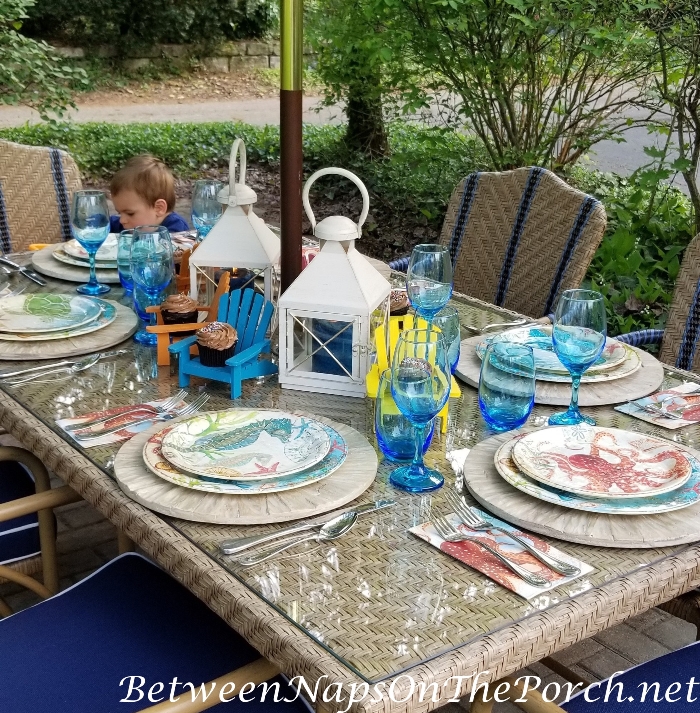 There are so many cute outdoor dinnerware patterns available right now!
My daughter-in-law and I had trouble choosing.
This was the other pattern we were considering. We both loved the floral design, the hummingbird and the gorgeous colors. It's on sale here: Floral Dinnerware.
In the end she selected a fun Beachy/Sea-Creature pattern she thought the boys would love. I loved it, too!
The dinner plates are all the same in this pattern, just realized I never took a photo of the dinner plate.
Here's a photo I took of it while shopping. My dil and I had been texting back and forth, trying to choose the best pattern from all the beautiful patterns that were available. It wasn't easy because there are so many cute ones out there for summer!
There are four different sea creatures featured on the salad plates: Octopus, Stingray, Seahorse and Turtle. All are adorable and the colors are so pretty and vivid.
This beach-themed summer dinnerware is made from outdoor, child-friendly melamine. It's currently on sale here: Sea-Creature Outdoor Dinnerware. I really like that it's dishwasher safe, too.
Fell in love with these "driftwood" chargers! They are available here: Driftwood Chargers.
Normally I wouldn't place the napkin underneath the flatware–that's not considered ideal for dinner guests since they have to fiddle with the flatware to get to their napkin. But the breeze kept trying to take the napkins away so I decided it was okay to "break the rules" for this casual outdoor table. That's me…always livin' on the edge! Har, har… 😉
Update: After I returned home, I've been shopping for beachy flatware. I'm eyeing this Shell flatware, wouldn't it be perfect with this dish pattern! It's on sale here: Shell Flatware.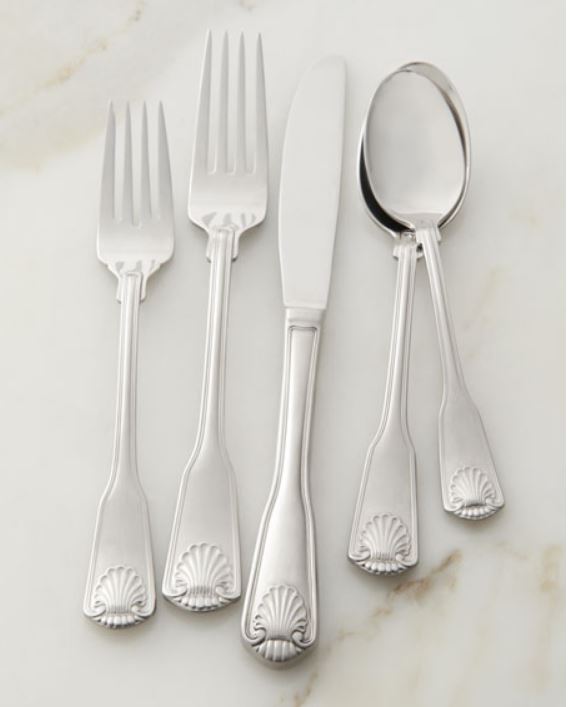 One more beautiful pattern that would work with this setting or any summer tablescape. This one is on sale here: Shell Flatware.
Found these adorable Adirondack chairs in Hobby Lobby. They make great dessert "plates" for cupcakes. The blue glassware is from Dollar Tree.
The lanterns in this centerpiece are available on sale here: Lanterns. They are so pretty at night. We forgot to blow them out one of the nights we dined here. My daughter-in-law spotted them still glowing brightly on the table from an upstairs window. I went back out to blow the candles out and kinda hated to do it because they were so pretty glowing in the darkness of the backyard.
Happy outdoor dining! Hope you are enjoying some sunny, warm days!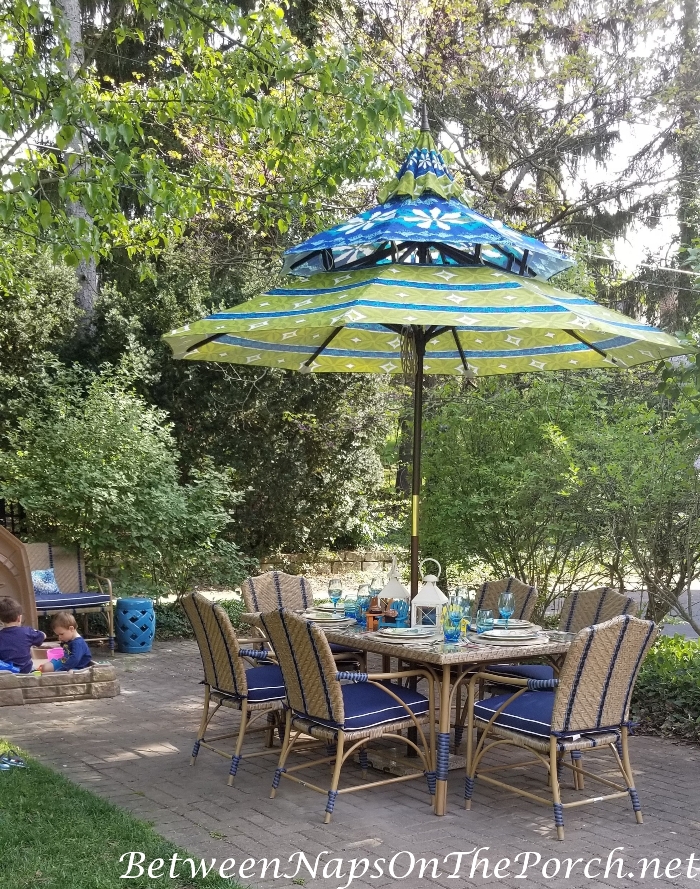 Pssst: I post almost daily to Instagram. Follow Between Naps on the Porch on Instagram here: Between Naps On The Porch. If you enjoyed this post, subscribe for free email updates when a new post is up here: Subscribe for post updates.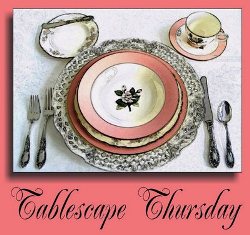 Tablescape Thursday
If you are participating in Tablescape Thursday, please be sure to add your permalink below, and not your general blog address.To get your permalink, click on your post name, then copy and paste the address showing in the address bar, into the "url" box when you link up.
You'll need to include a link in your post back to the party to link up and participate. That's so visitors to your blog will be able to find the party and the other Tablescape Thursday participants. Requiring a link back also prevents businesses and scammers from linking up to sell their products. (Yup, that really happens, unfortunately.)
*If a post is sponsored or a product was provided at no charge, it will be stated in post. Some links may be affiliate links and as an Amazon Associate, I may earn from qualifying purchases. *