Welcome to the 549th Metamorphosis Monday!
In a previous post, I shared some plans my daughter-in-law, Nancy, and I've been working on for the bedroom belonging to my two grandsons. The boys, ages 3 and 5, were ready to graduate from their convertible crib/toddler beds to big-boy beds. I had saved my son's childhood bedroom furniture all these years, so I loaded the two beds into my SUV and headed north.
Thanks so much for your comments on my previous post encouraging me to better secure the wood side rails. I had planned to do that but just hadn't purchased more bungee cords when this photo was taken. I ended up not taking the two large wood risers and one of the side rails seen below since we weren't planning on using the beds in the bunk bed configuration.
Before leaving for Ohio, I stopped by At Home and picked up several lamps that I thought would work with the Pottery Barn bedding we chose for the boy's room. I'm not always a big fan of the color orange (and I found out later, neither is Nancy) but I could envision it creating a cute pop of color on the blue chest I had chosen to go between the beds. I thought it would also bring out the orange in the dinosaur quilts and shams.
Neither Nancy nor I thought to take photos of the room before she took the old beds apart, but we did capture a few photos before we started putting the boy's new beds together.
Remember the blue chest I ordered for the room? I wasn't sure if the color would work with the bedding because the photos online had varied drastically. Some photos depicted a pretty light blue chest.
Other photos showed it looking much more turquoise in color. Big difference right? I did not want it to be the darker turquoise color so was a bit worried when I ordered it.
Well, it turned out to be perfect! I love the color so much, I've been trying to think of a place I could use one in my own home. (Blue chest is available here: Blue Chest.)
So what do you think? This was the big-boy dinosaur room I had pictured in my head and seeing it come to life was so much fun! The pictures Nancy already had above the boy's beds worked really well, so we are planning on leaving them in place.
I'm a little obsessed with the chest!
The three dinosaurs on the floor and the one atop the chest all belonged to my son. There are a few more downstairs that are a part of this set. I didn't have the heart to get rid of them after my son outgrew them since they were favorites of his when he was growing up. Plus, they were still in great shape and looked basically brand new when I brought them up for my grandsons.
I'm sharing a lot of photos from different angles so feel free to scroll on through if you prefer. I left the bedding a bit rumpled in most of the photos so you could better see the designs on the quilt. When the bedding is pulled up snug/straight and turned down, it ends up hiding much of the design, as it did in the photo below.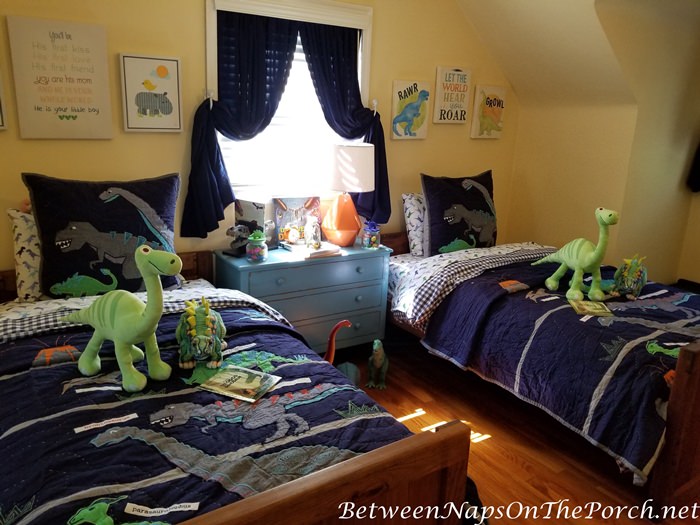 Nancy already had the navy curtains on the windows and they work great with the new bedding.
Here's a better view of the quilts…love the design and the boys love it, too! (Find this bedding available here: Dinosaur Bedding.
The boys already had the cute Stegosaurus seen on each of the beds. I added an Arlo (the larger dinosaur) and the book since they love the movie, The Good Dinosaur. (Find Arlo (larger dinosaur) and the books here: Arlo and The Good Dinosaur book.)
Dinosaur sheets are available here: Dinosaur Sheets.
As mentioned in my previous post, this room is a challenge to decorate since there are so many windows/dormers and doors. Fortunately, the reading chair is still accessible, although the boys seem to prefer being read to in bed. We may remove the chair and the train table in the other dormer window and replace them with a chest-of-drawers in each dormer as the boys grow and need additional storage room for clothes. I'll bring the chest-of-drawers that goes with this bedroom furniture the next time I drive up.
The other dormer window currently holds their train table.
Did you notice the cute dinosaur lamp in the buggy/cart at the beginning of this post? It ended up here on the dresser across the room.
The blue color of this lamp works so well with the bedding, even though we didn't use it on the chest, it had to find a home somewhere in the room.
In this view, you can see how well the chest works with the lighter blue color in their bedding and the Euro size pillow shams. It also looks great with the blue dinosaur sheets.
Standard size shams are on order and those should arrive tomorrow. It's taking a while since they are being "personalized" with their names. Those shams also depict the orange volcano visible on the quilts, so they will pick up the orange of the lamp really nicely.
Here's a good view of the chest, I really love the color! (Chest is available here: Blue Chest.)
I couldn't resist this opportunity to pick up a few more dinosaur books. You'll find all the dinosaur books on the chest available here:
Discovering Dinosaurs
Dinosaurs: A Visual Encyclopedia
How Do Dinosaurs Say Goodnight?
Everything You Need to Know About Dinosaurs
Have You Seen My Dinosaur?
Oh Say, Can You Say Di-no-saur?
I loved how the late afternoon sun created shadows across the top of the chest. Something about this photo had me feeling very nostalgic. Childhood is such a special time and sadly, so fleeting!
I first came across these bookends at the American Museum of Natural History website.
I ended up finding some that were almost identical for a good bit less elsewhere. (Bookends are available here: Dinosaur Bookends.) I wasn't sure if my grandsons would find them too scary. I needn't have worried, they love them! I love them! I wouldn't mind having a set in my office. lol
I found the adorable dinosaur jars on clearance in, At Home. I wanted to fill them with something other than candy, something fun. Dinosaur eggs were just the thing!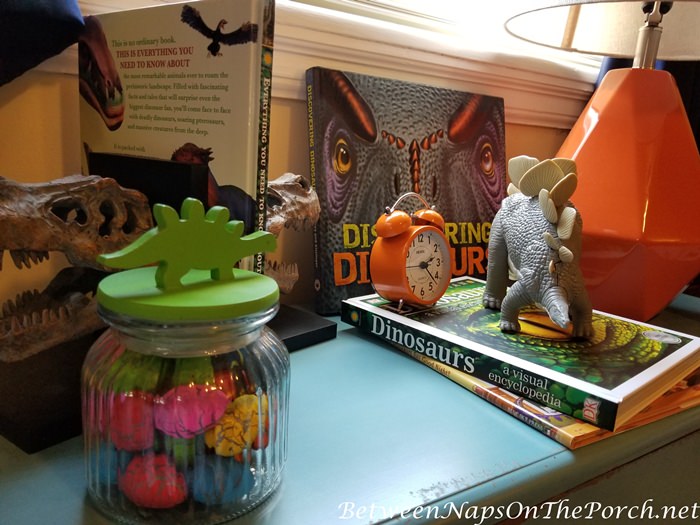 When the eggs are placed in water, the dinosaurs inside hatch out in about 24-48 hours. When my grandsons tried it, their eggs hatched overnight while they slept. They were a big hit! (Dinosaur eggs are available here: Dinosaur Eggs.)
That first night, my heart felt as if it would burst as I watched while my son and daughter-in-law read to the boys in their "new" beds, the same beds their father slept in when he was growing up. Life has come full circle and I'm grateful for every moment we have together. ♥
Looking forward to all the great Before and Afters for this week's Metamorphosis Monday!
Update: Here's how the beds looked with the personalized pillows/shams in place.
Metamorphosis Monday
Metamorphosis Monday is a party that's all about Before and Afters. If you are participating in Met Monday, please link up using the "permalink" to your MM post and not your general blog address. To get your permalink, click on your post name, then just copy and paste the address that shows up in the address bar at the top of your blog, into the "url" box for InLinkz when prompted.
In order to link up, you'll need to include a link in your MM post back to the party so the other participants will have an opportunity to receive visits from your wonderful blog readers.
Feel free to link up Before and After posts that are home, gardening, decorating, crafting, painting, sewing, cooking, fashion, travel or DIY related. Please do not link up to the party if you're only doing so to promote/sell a product.
To those linking up, if you notice a shop or online store linking up to sell products (yes, unfortunately, that happens) please let me know so I can remove their link and block them from participating in future parties.
This party has ended, click button below for the links to all who participated.
*If a post is sponsored or a product was provided at no charge, it will be stated in post. Some links may be affiliate links and as an Amazon Associate, I may earn from qualifying purchases. *