Welcome to the 567th Tablescape Thursday!
I'll be leaving for Ohio tomorrow and though I had plans to set a table yesterday, I found my self totally distracted thinking about the last element I needed for this little makeover my daughter-in-law and I are planning for my two grandson's bedroom. I had everything we needed except for one thing: a great lamp.
A friend suggested I check At Home, a store she loves to visit whenever she's home visiting family here. Have you ever shopped there? I think I've been there before but I'm not really sure. It's located here in the same building where GardenRidge used to be and honestly, the merchandise and the layout of the store looked very similar. It makes me wonder if the same company that owned Garden Ridge also owns, At Home?
Yesterday I spent a couple of hours going up and down all the lamp aisles in At Home mixing and matching lamps with shades. During that process, I discovered something rather interesting: At Home carries a lot of the same lamps I've been seeing on Amazon! I was surprised to see many of the lamps I had been eyeing on Amazon right there on the shelves in At Home.
All I seem to be able to focus on right now is this room I'm working on, so for today's Tablescape Thursday, instead of sharing a table setting here at home, I thought I'd fill one of the post requests I've been getting since my return home from England: What it was like to fly Delta's International Business Class, aka Delta One? This is also a great time to share the elaborate meals we had during our flight. The food was definitely not your standard fare, nor was the service.
Flying & Dining in Delta One
I've never flown Delta One when flying internationally and I was both excited and little nervous not knowing what to expect. I felt a bit starry-eyed as I boarded the plane and turned left to enter the First Class/Business Class cabin on the Airbus 330 that would be taking us to London.
Before I left for my trip, I had shared that one of my bucket list goals was to fly Delta One once in my lifetime. Just once I wanted to experience sleeping all night during a flight in one of Delta's flatbed seats. Spoiler Alert: I completely failed! If you have any intentions of flying Delta One one day, I hope this post helps you learn from my HUGE mistake.
Since I had promised you in a previous post that I would share this experience, after reaching my seat I turned and snapped one very quick photo of the Business Class cabin.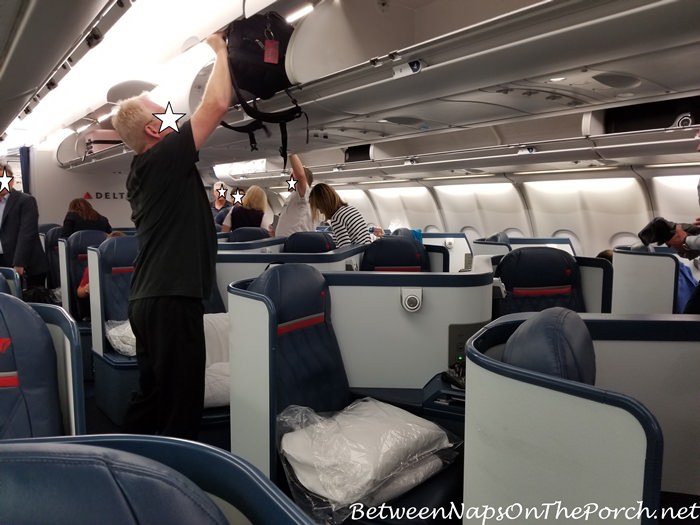 The Business Class cabin on my plane was laid out in what's called a reverse herringbone layout as shown in the plane on the far left. I was seated where you see the red box. I chose that seat back on January 1st of this year when I booked the flight. I pretty much had my pick of seats at that time but after reading some of the info at the website, SeatGuru, I chose the number 3 spot.
Here's a photo from Delta's website showing how the seats fold out to make a flatbed for sleeping.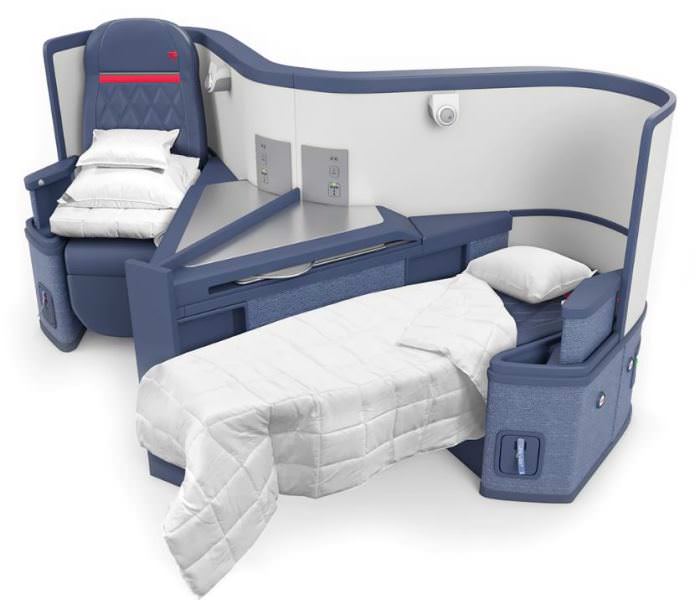 This little spot was going to be my home for the next 8 hours. I found a fat, fluffy pillow and a white blanket waiting for me in my seat.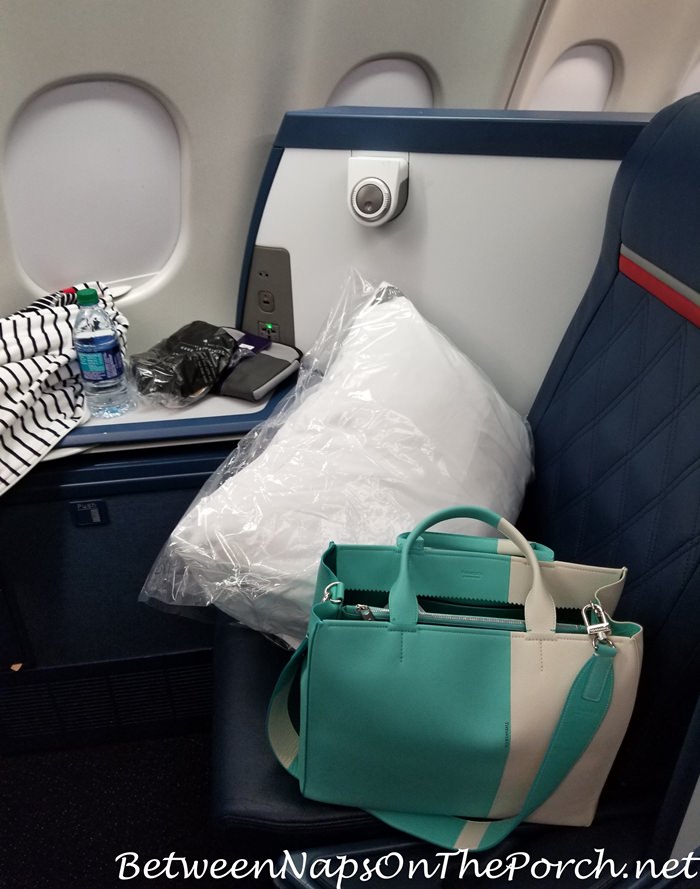 On the nearby side table, I found a water bottle and a Tumi Toiletries kit. I've often heard about the kits you get when flying business class so was eager to see what was inside.
I only opened it briefly on the flight, so last night I opened it and explored more closely. This is what I found inside: Sleep Mask, Mouthwash, Toothbrush, Toothpaste, Hand Cleanser, Small Pen and a Pair of Socks. Also included in the bag were two Le Labo products: Hand Pomade and Lip Balm.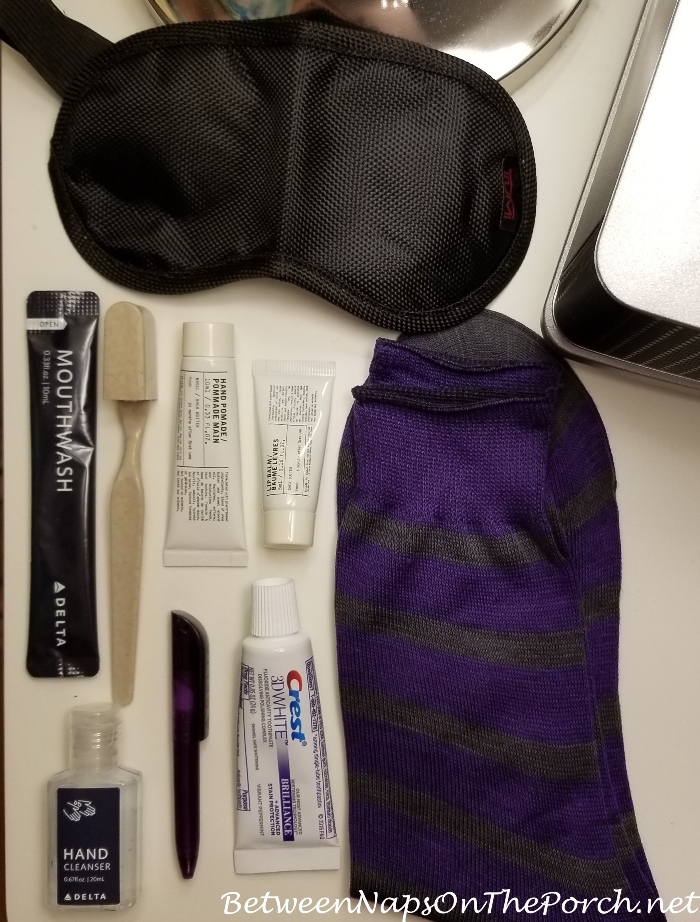 Once at my seat, I sat down and buckled in, snapping a quick photo for you and for my son who had texted asking if I'd share some photos. This gives you a general idea of the amount of space I had, although it feels more spacious than the photos probably show.
I ended up stuffing my plastic-wrapped pillow and blanket into the little area where your feet go when you're sleeping. I had already stowed my carry-on bag into the overhead and there was plenty of room on the floor for my "personal item." I kept expecting an attendant to ask me to put it in the overhead bin for takeoff, but that never happened. I noticed that some of the rules seem a tad more relaxed in Business Class.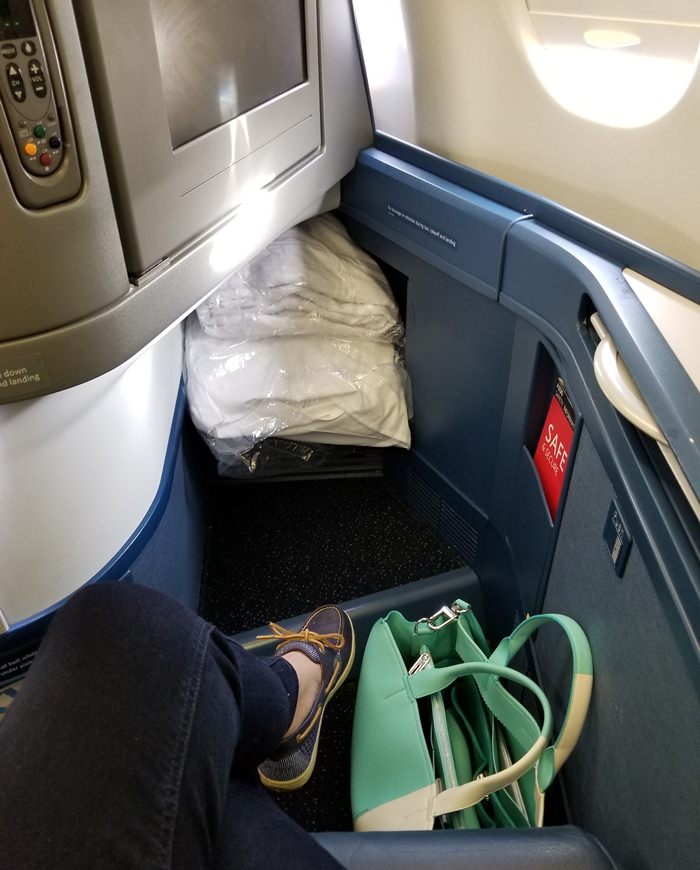 We had been 1-1/2 hours late boarding. Delta gate attendants kept announcing that the late boarding was due to the lack of a cleaning crew. Once we were finally allowed to board, our flight attendants in business class seemed rushed, announcing every few minutes to put away all electronic devices because we would be leaving soon. Another ten minutes would go by and they would make that same announcement again. Then another 10-15 minutes passed and we still hadn't budged from the gate.
I have no idea why they asked us to put everything away so early because we sat for quite a while, so long that I started to wonder if there was another issue that had delayed us besides just the lack of a cleaning crew.
Shortly after boarding, we were offered a "pre-flight" drink. One of the choices suggested was a Mimosa so that's what I ordered. I immediately regretted that decision once it arrived because of how sickly sweet it was. I should have just ordered a simple glass of champagne to celebrate my first-ever flight internationally via business class/Delta One.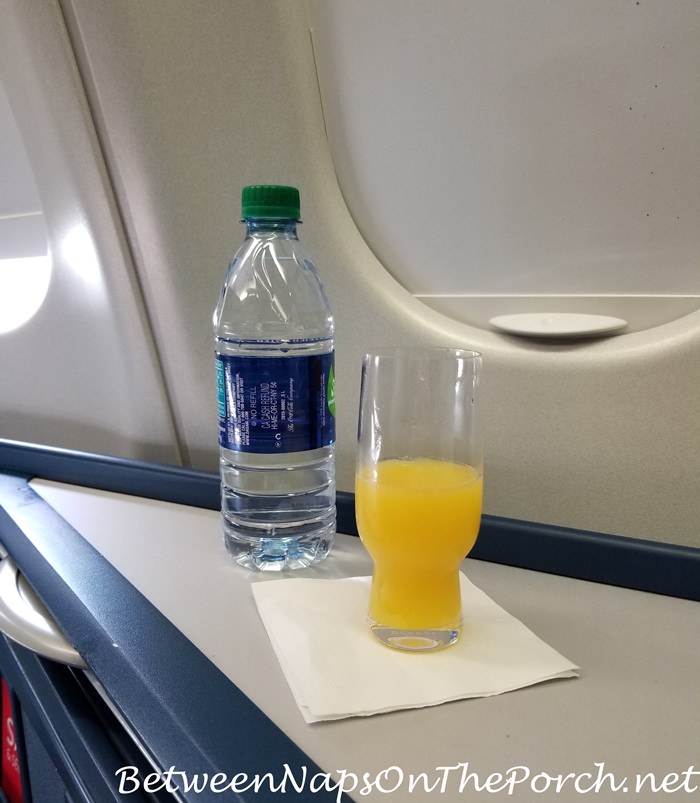 During the long wait, before our plane finally took off, I stared at the controls in front of me. The one on the right was obviously for working the TV, something I knew I wouldn't be watching. But what the heck was up with that complicated seat adjustment chart on the left! lol The only thing that appeared to be missing was the eject button! A flight attendant must have read my mind because though I never mentioned it, later in the flight she jokingly stated only she knew where that button was hidden.
The flight attendants we had on this flight were all very experienced, and though appearing rushed and a bit stressed by the late start, they seemed to retain their sense of humor. They were super nice when we were landing, pointing out all the major landmarks we were viewing through the windows. Apparently, we were landing on a different runway than the one they normally land on because the flight attendants were amazed by all the popular landmarks we were able to see. I took some photos and will try to share those later on.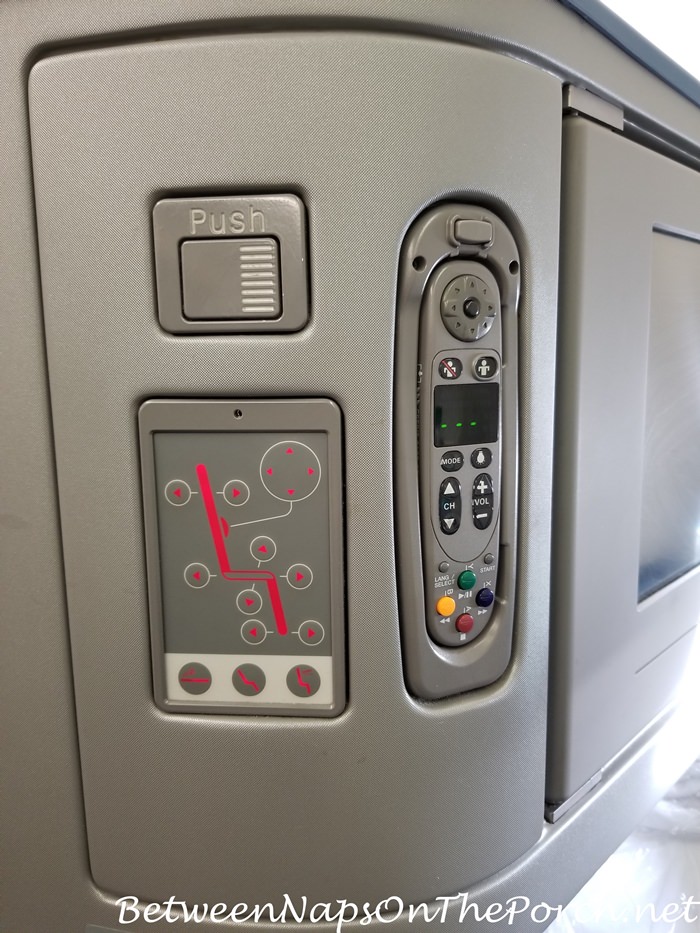 One thing that disappointed me (and I found kinda odd) was after we finally took off, we were not offered anything to drink for almost an hour. I looked down at my phone and it had been about 50 minutes (maybe longer) and other than the pre-flight drink, we had not been offered anything else.
Where was that amazing Business Class service you always hear about? Around 50 minutes-1 hour into the flight, we were offered another drink and a snack of assorted nuts. I had a glass of white wine and water.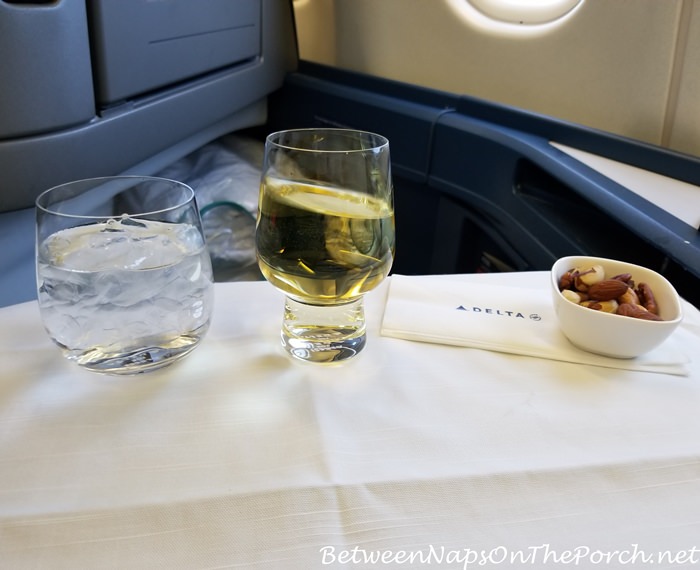 A nice touch: At some point early on in the flight, the attendants came around giving out little Delta pins and info cards about our plane. I took two for my grandsons.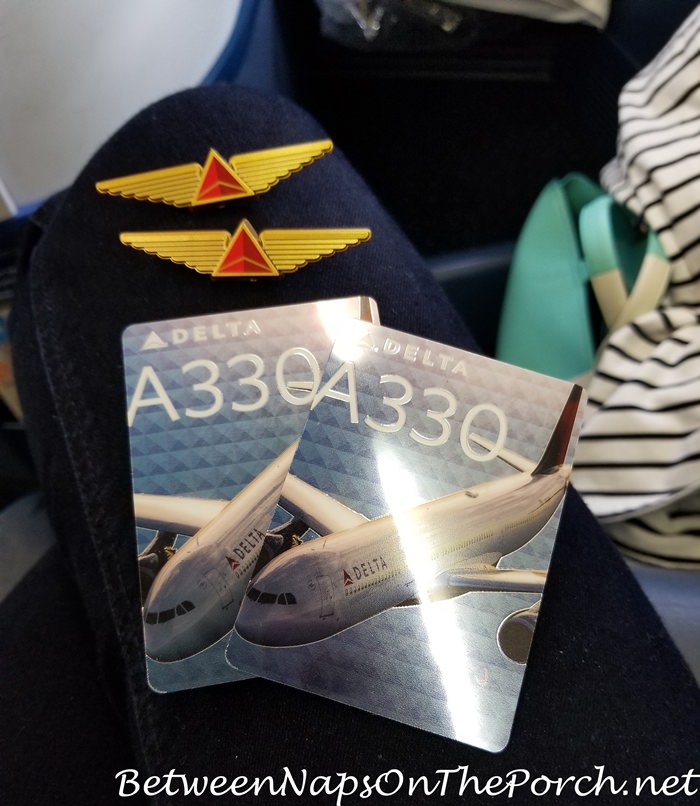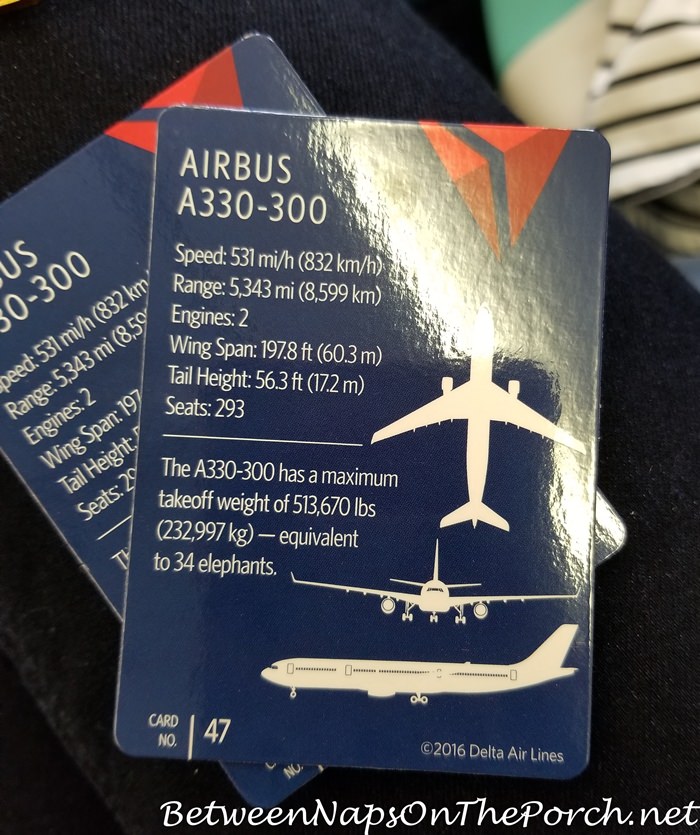 A neatly folded, hot washcloth was offered prior to dinner.
Next came the food and I was blown away by how many appetizers/salads we received. Truthfully, I could have made a complete meal out of just this! I think the soup was corn chowder, if I'm remembering correctly. The salad was excellent, as was the shrimp! I can't remember much about the bread but I do remember it was all delicious!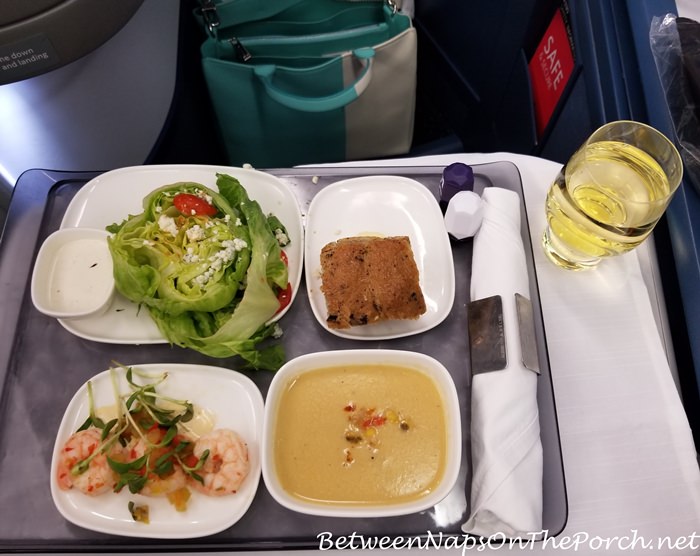 When you fly Delta One, you get an email in advance asking you to make your meal selections. There were several great choices and I chose the one that sounded like it would least upset my easily lactose-triggered tummy.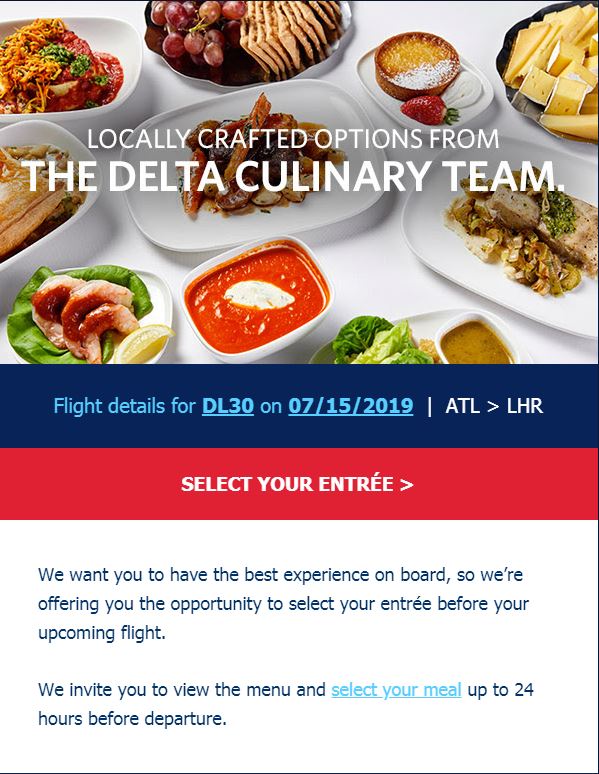 I chose "Bistro Steak." Don't remember now what the yellow stuff was, it may have been squash casserole. I do remember it was all delicious! Note the teeny purple and white, salt/pepper shakers. They were so cute! When flying business class, you eat off real china, drink from real glassware and eat with metal utensils. Not too shabby!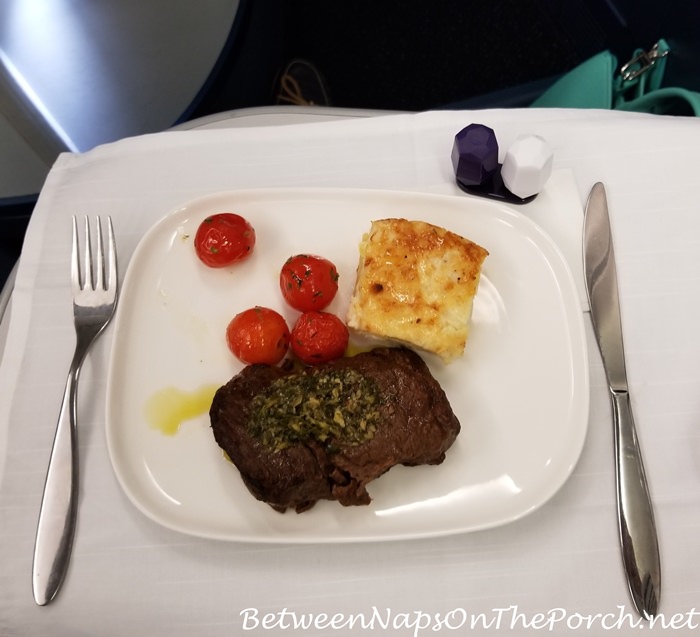 I really wanted to order the ice cream sundae I'd seen in YouTube videos of when others have flown in Business Class, but I again I opted for a more tummy-friendly choice. I don't remember the name of the pie but it was served with a raspberry sauce. You can tell I'm not a foodie, food names never stay in my head. All I ever remember is if tasted delicious.
After dinner, here's how my little corner of the world looked as I tried to get some sleep. It gets super dark in the business class cabin once the lights are turned off.
So before I tell you how I completely screwed up my first ever Delta One experience, this was our breakfast the next morning. I think that was an omelet, though honestly, I can't remember. I didn't eat very much because I had not slept a wink the entire night. Yup, you heard right. I flew Delta One with flatbed seats and never slept at all, though I did try.
In fact, I got less sleep on this flight than I've ever gotten on any flight I've ever taken overnight, even when flying Coach/Main cabin!
Shocking, right?!
I was so upset with myself that I had blown the opportunity to get some rest on my flight over. So here's what happened and hopefully, if you ever fly Delta One, this will help you avoid the same fate.
First of all, I had NO IDEA that our elaborate meal was going to take up half the entire flight time. As mentioned, after our pre-flight drink, we had been flying for almost a full hour of our 8-hour flight by the time we were served a few munchies and a drink. Then the various courses that you saw above in the post were given out over the next several hours. By the time my tray was picked up and the cabin was darkened for sleeping, the attendant commented, "You only have four hours to sleep." What?!
We had already been in the air for over 4 hours! How could it take 4 hours to just eat dinner? I was so upset by that news, I couldn't sleep at all. I mostly just tossed and turned on the very firm/hard surface of my flatbed seat, stewing on how I had blown my chance for a good night's rest. Needless to say, I didn't feel well-rested when we landed in London. This was not how I had wanted my first Delta One experience to go!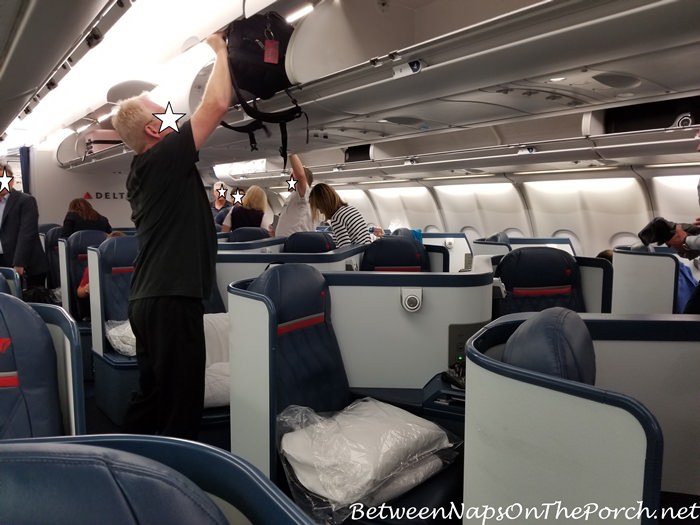 The Flight Back Home and Learning From a Pro
On my daytime flight back home via Delta's partner, Virgin Atlantic, I had chosen to fly Premium. When I booked my flight, Premium was almost the same cost as flying Comfort Plus. I had never heard of Premium prior to booking this flight and was curious to try it. Premium is supposed to be a step up from Comfort Plus, but not exactly Business/First Class.
I can tell you, it definitely felt like flying First Class. The seats were super wide and roomy with tons of legroom and they tilted way, way, way back. The food was well above anything you would normally be served in the main cabin. It even included a delightful "Mile High Tea." I think I took some photos of that, need to find those to share because it was wonderful! The cabin service was excellent! I would totally fly Premium again in a heartbeat.
Learning From a Pro
On the flight back home, I sat and chatted with the guy beside me. During our conversations, he mentioned that he flys frequently for his job (CEO of his own company) and that he flys Delta One a lot. So how does he do it and actually get some good sleep? Simple! He said he eats prior to boarding the plane. After boarding, once he finishes his pre-flight drink, he puts his seat in the lie-flat position, puts on his sleep mask and noise-canceling headphones and goes straight to sleep. He said he normally gets around 6 hours sleep, waking in time for breakfast.
Who knew the only way to get a good night's rest flying from Atlanta to London is to forgo all the food/drinks offered and just go to bed?! Guess what I'll be doing if I ever splurge on a flight in Delta One again! Yup! I'll completely skip all the meal festivities and go straight to sleep!
What's Your Priority?
So basically, when flying 8 hours overnight in business class, you need to ask yourself one question: What's your priority, getting a good night's rest or eating a really nice meal at 35,000 feet for four hours.
For me, the answer will always be sleeping as long as I possibly can. I'm super annoyed with myself that I didn't realize in advance that I would need to skip all of the eating to get a decent night's rest. Why didn't I know that? I guess I didn't expect the food portion of the flight to take up half the flying time!
I didn't fly Delta One to eat an elaborate dinner and breakfast and get 3 hours sleep. I flew Delta One so I would get at least 6-7 hour's sleep and arrive feeling awesome and ready to enjoy our first day touring England. I totally screwed it up, but now I'll know what to do if I ever do fly Business Class/Delta One overnight again from the U.S. to Europe.
I hope you found this helpful if you ever decide to fly Delta One overnight. I wish someone (like the gentleman who sat next to me on the flight home) had shared the "right way" to do it when sleep is your main priority. I'm totally doing it his way the next time, if there ever is a next time.
Tablescape Thursday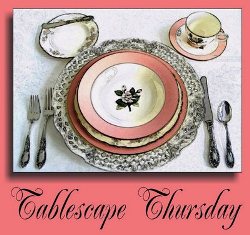 If you are participating in Tablescape Thursday, please be sure to add your permalink below, and not your general blog address. To get your permalink, click on your post name, then copy and paste the address showing in the address bar, into the "url" box when you link up.
You'll need to include a link in your post back to the party to link up and participate. That's so visitors to your blog will be able to find the party and the other Tablescape Thursday participants. Requiring a link back also prevents businesses and scammers from linking up to sell their products. Please let me know if you click on a link that isn't a tablescape or table related so I can remove it.
This party has ended, click button below for the links to all who participated.
*If a post is sponsored or a product was provided at no charge, it will be stated in post. Some links may be affiliate links and as an Amazon Associate, I may earn from qualifying purchases. *