What do you see in this picture below? Just an ordinary old barn, right?
Gail Claridge, an Interior Designer and the owner of Gail Claridge Interiors in Westlake Village, CA envisioned much more for this modest 50+ year old barn. Much more!
Talk about a transformation! As amazing as this exterior looks, it doesn't compare to the inside! Let's go inside and take the tour!
Originally, when you walked through the front door, this is what you would have seen. This structure, once a horse barn, sits on over 45 acres of land. On the same property are two cottages (build in 1937) an old smoke house, a carriage house and even an old filling station.
This is the view of this grand entrance/hallway today! In addition to being an Interior Designer, Gail is also a General Contractor. She originally bought the property with intentions to build her dream home and to turn the barn into a large area for playing, entertaining and storage.
In THIS article where I found a couple of the photos in this post, Gail was quoted as saying, "One day I looked at the barn and thought that I could turn the tack room into a master bedroom and then one thing led to another so that today the barn is our home."
The above article was written quite a few years ago and during that time I think Gail may have built a second home. When you visit her website (linked at the end of this post) there's a picture of another beautiful home I'd love to see inside.
Brick flooring was installed throughout the barn.
You know how so many folks are building or creating sliding barn-style doors for their homes now? Gail was way ahead on that trend. She kept as many of the sliding barn doors as possible during the renovation.
The long table you see below is an 1800's French work table, such a perfect piece for that wall!
I'm really drawn to Gail's designs because she loves red and green (as do I) and uses it a lot in her interiors. The bench is an American Windsor pine sette bench.
Here's how this area looks come Christmastime, can you just imagine how beautiful this must be in person!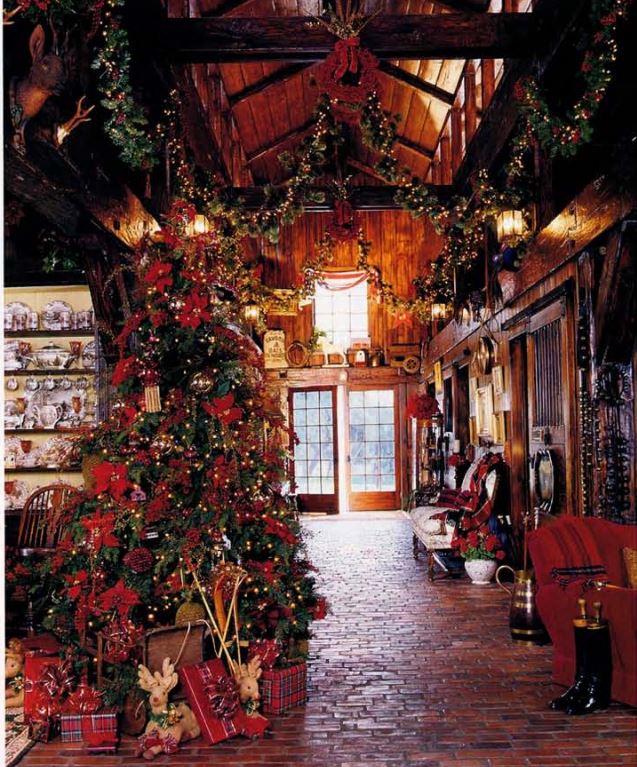 The family room fireplace is surrounded in Santa Barbara stone. Keeping to the original purpose for the barn, Gail decorated in what she called a "Ralph Lauren, thoroughbred horse-barn" look. Gail also incorporated other farm/barnyard animal decor throughout her home. I love it all!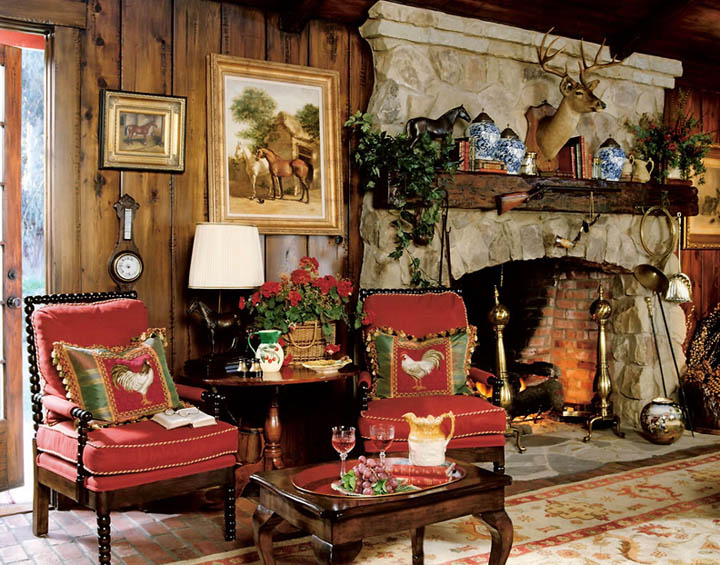 Would love to be curled up here with a good book on this cold winter day. So cozy!
The dining room holds an 11-foot pine table that's perfect for large family gatherings.
Love all the transferware! You knew I would notice that! 😉
A beautiful Butler's Pantry is tucked away inside a former stall. One of my favorite quotes from the article about this unique home pointed out that not many houses have their rooms measured in stalls. It quoted Gail as saying, " The living room is three stalls, the dining room was the birthing stall, the kitchen is the vet's room and the master bedroom is the tack room." 🙂
Do you follow BNOTP on Facebook? If you did, you already got a sneak peek of this beautiful home when I shared this picture of the master bedroom a few days ago. You'll notice the equestrian theme continues here, even down to tack hanging on the walls. An interesting tidbit about this property: The horse ranch where Seabiscuit once lived adjoins the Claridge property.
I love so many things about this room: the bed, the art, the red buffalo check fabrics and upholstery, the warmth of the walls. Gail had the pine planks installed horizontally in this room for a more "relaxed" feel. The dark bed contrasts so beautifully against the golden warmth of the wood walls.
Here's the same room at Christmastime with a different coverlet. I love it both ways!
Here's another beautiful bedroom in this stunning home. Did you notice the rug in the master bedroom and this room? You won't believe what those are made from! They are custom hand-woven from men's wool suits! Is that not amazing?! I bet they feel wonderful underfoot!
Is this just not the most amazing transformation? Such a beautiful home and I love how Gail stayed true to its original history as a horse barn. I'd love to see the room with all those glorious windows in this photo below!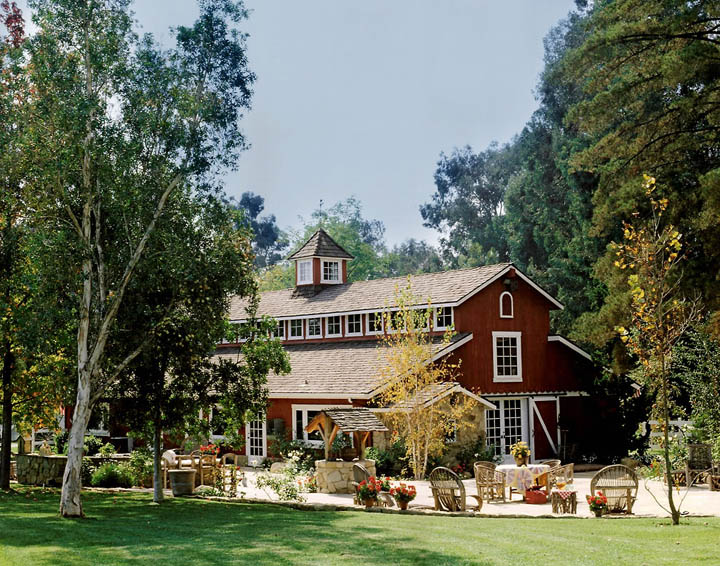 You can see additional pictures and read much more about this beautiful home at Gail's website here: Gail Claridge Designs. Also, visit the link up higher in this post because it will take you to an article that shares so much more information about all the details of how Gail designed and decorated her home.
Thanks so much to Deb for e-mailing me about Gail's wonderful store and website! If you live in Westlake Village, CA be sure to check out Gail's shoppe: Gail Claridge Interiors & Gifts.
*If a post is sponsored or a product was provided at no charge, it will be stated in post. Some links may be affiliate links and as an Amazon Associate, I may earn from qualifying purchases. *