Reminder: Today is the last day to get 40% off everything at Talbots. I purchased several shorts and pants yesterday, so it's a great time to check out their sale. You'll find the sale here: 40% off Sale. Don't forget to use the code Friends40 to get the discount.
I almost never shop for clothes while I'm on vacation but this trip was the exception. I visited Whaler's Village and went a wee bit crazy! They have a Tommy Bahama shop there and WOW, do they have some cute, cute stuff. I've shopped in the TB that's about 30 minutes from my home, but I guess I never visited during the summer. I loved everything I saw there!
I ended up buying three dresses. I found all the TB dresses to be generously cut. I've never tried on their dresses and thought I would need a Medium, but their Petite/Small was perfect. The dresses aren't too short either like so many dresses are these days. These were a nice length and hit about an inch or so above the knee on me. For reference, I'm around 5'4″ tall.
This was one of the three dresses I purchased in Tommy Bahama. It is gorgeous in person! I have really come to realize over the past year how much I adore shades of aqua blue.
Here's how it looks on the model online. Such a beautiful dress! It's still available here: Floral Dress.
I'm sure the model is quite tall because this dress is definitely a bit longer on me.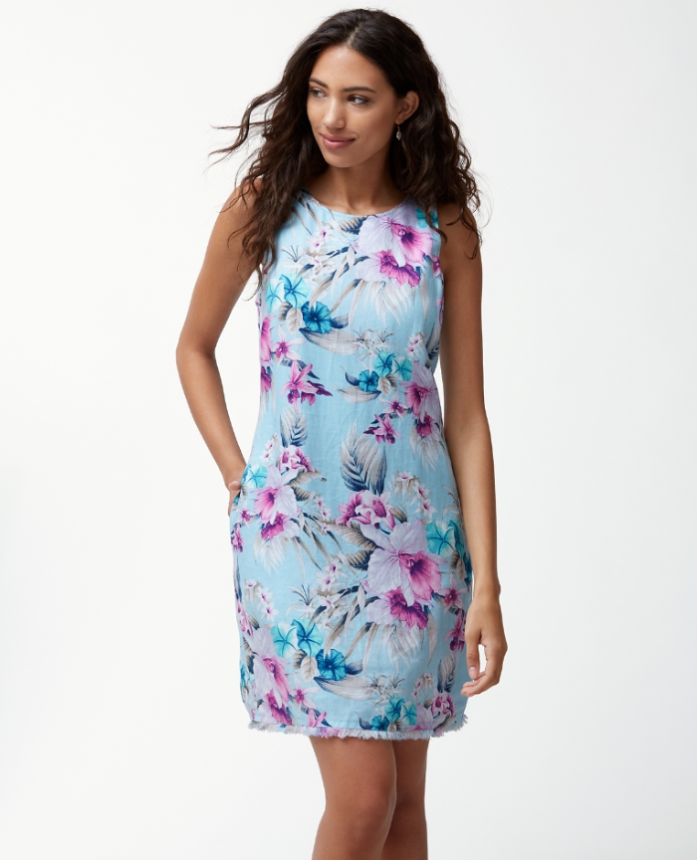 If you've been reading BNOTP for very long, you know I love blue and white everything! So this dress had to come back home with me.
Here's how it looks on. You'll find it available here: Blue & White Dress.
This was the third dress I purchased. I just love the soft blue color. It's wrinkled in this photo from being packed away in my suitcase.
You'll find it available here in several colors: Blue Linen Dress. I saw several more dresses online that I love so I think TB is going to become a favorite place for shopping.
If you're in need of a summer Maxi dress for a vacation or just for wearing every day, they have some beautiful ones here: Maxi Dresses.
2 Maxi Dresses
I can never find maxi dresses that I like, so I was thrilled when I stopped into Blue Ginger at Whaler's Village and found two! This was the dress I wore to the Luau held here at the resort. The picture online at Blue Ginger HERE does not do it justice. It's so much prettier on! It has a long slit up the front and back, and one up each side, so it flows beautifully as you walk. It's also flattering on. I found it to be generously cut and took a size Small in this style.
It has the cutest little frog buttons up the front. They are decorative, you don't have to unbutton them to wear it. Great dress if you're in need of a flattering, flowing maxi dress!
I also purchased this dress while shopping in Blue Ginger. I think it was on sale if I'm remembering correctly. I couldn't find it online but it may be available online in their store. The fit isn't quite as flattering as the dress above, but still a cute dress.
I'm headed back home today. Metamorphosis Monday will probably go up a bit late since I'll be flying all night via 2 different flights and will be pretty tired by the time I get home, not to mention the time difference. But I'll get it up as quickly as I can on Monday. Thanks for your patience as I change several times zones again.
Have a wonderful weekend! Happy Father's Day to all who are celebrating it this day!
*If a post is sponsored or a product was provided at no charge, it will be stated in post. Some links may be affiliate links and as an Amazon Associate, I may earn from qualifying purchases. *