Recently I shared a photo of some adorable scuffs I had purchased for my daughter-in-law and for myself. I got the raccoon version for myself and the kitty version for her.
I've enjoyed these scuffs so much, I couldn't resist buying one more pair. This time I went for the moose! I took this photo outside because they are a subtle forest green that's hard to capture inside. I love wearing these scuffs when I'm home, they go on pretty much the minute I walk in the door.
If you've started your Christmas shopping, I can't recommend these highly enough. They even have built-in arch support, so super comfy! You'll find them here: Comfy Critter Scuffs.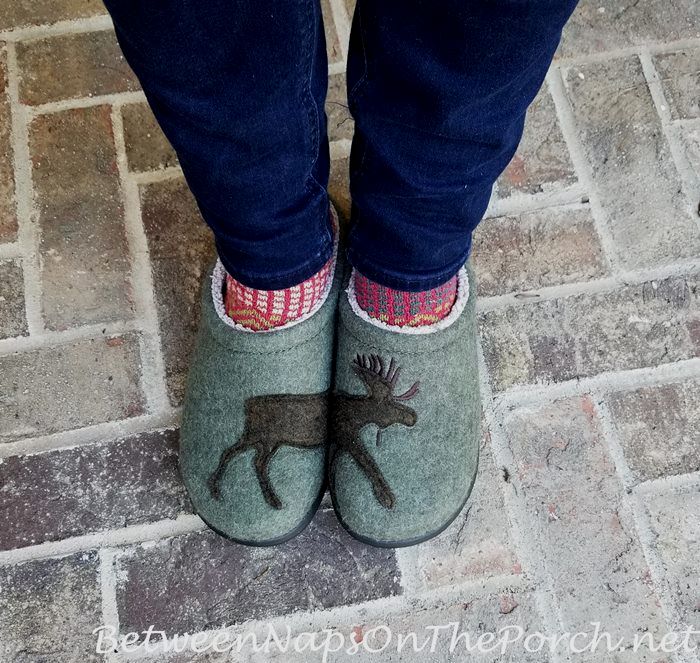 After I published about the scuffs in an earlier post titled, "Critters on my Feet, I got an email from Nancy who often has REAL critters on her feet! Nancy and her hubby, Frank, have made friends with the adorable chipmunks living in their yard. They are so trusting, they will come right up and perch on top of their feet to retrieve the peanuts Nancy hides in her pants cuff and shoes. Is this not the cutest thing!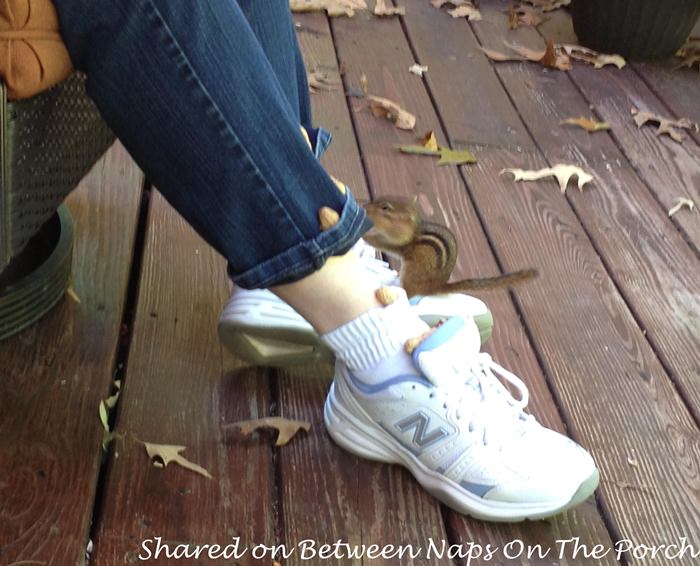 I love this photo where he's trying to stuff the entire peanut into his mouth! lol
The chipmunks will even eat right from Nancy and Frank's hands! The chipmunks in my yard scatter the second I open my front door. I would love it if they would trust me enough to do this!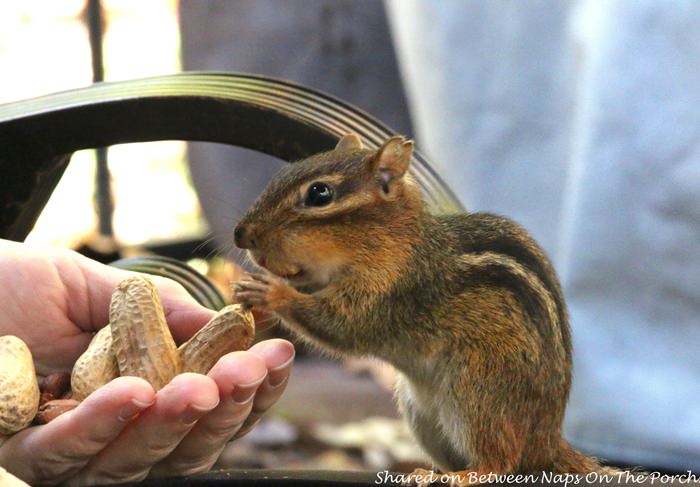 Adorable!
Nancy and Frank have a fabulous porch. Nancy shared these photos of how it looked this past summer. I could spend the whole day right here!
Or, here enjoying a book in this cozy swing!
Thanks so much to Nancy for sharing these wonderful pictures! Now I'm wondering, if I take a book out onto my front porch to read, and sit very still with some peanuts in my pant's cuff, do you think the chipmunks living in my yard will come near? Do you have such friendly, trusting chipmunks in your yard?
Outfit of the Day
For those who enjoy fashion, thought I'd share my "Outfit of the Day" aka OOTD. Today, before I left to run errands, I paired my recently purchased Frye boots available HERE, with jeggings available HERE, a Fisherman Sweater available HERE and a plaid "Princess Mary" shirt available HERE. This outfit was super comfy and warm for the cooler temps that have finally arrived in Georgia.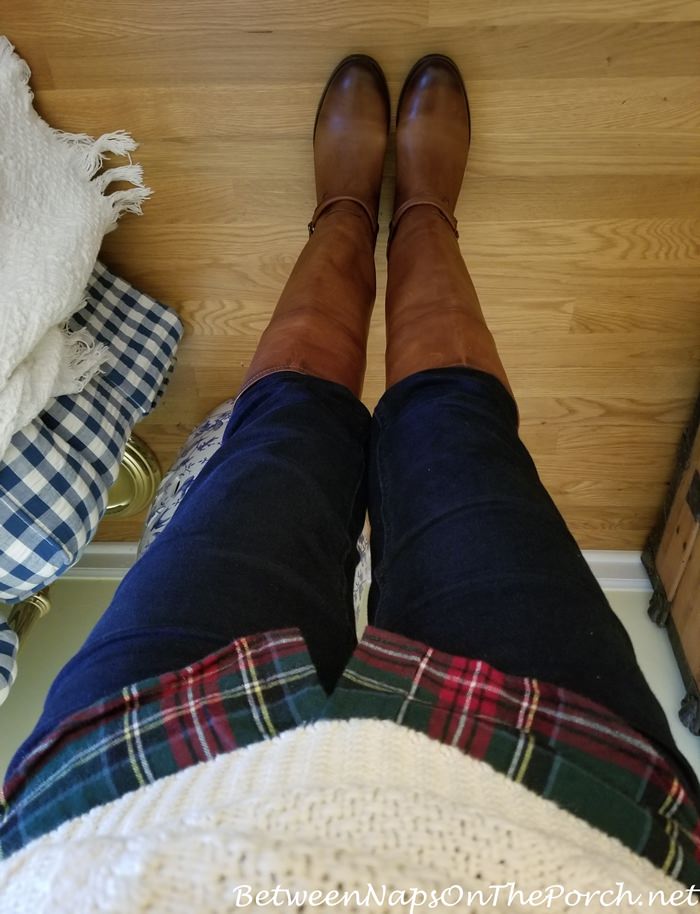 *If a post is sponsored or a product was provided at no charge, it will be stated in post. Some links may be affiliate links and as an Amazon Associate, I may earn from qualifying purchases. *