A few years ago I discovered Hunter boots and it's been a serious love affair ever since. This obsession started off innocently with a pair of their Classic Tall Gloss Rain Boots in the color red. You may have noticed them in some of the photos I've shared here on the blog, like this porch scene from this past fall.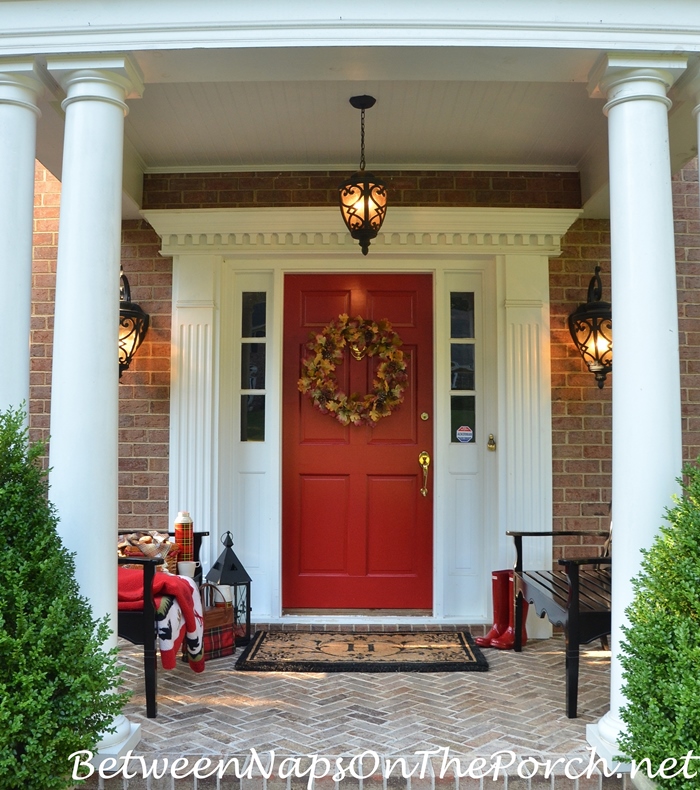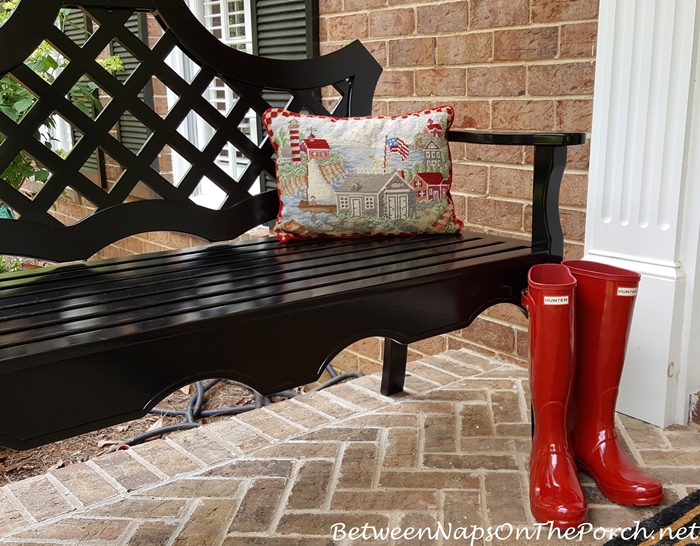 I have this uncanny talent of discovering something I really love about a year after it has been discontinued. Remember the infamous Barbour birding shirt that I mentioned many posts back. I still think about and search for it every now and then on eBay. Someone must have purchased this shirt but never wears it! lol Yes, the dream lives on! 😉
So, it happened again. A year or two back I discovered that Hunter had made their boots in one of my favorite colors, a pretty aqua that everyone calls, Tiffany Blue. I loved the color the moment I saw it but alas, they were sold out everywhere. Drat!
I'm not sure why but a few months ago on a lark, I decided to check eBay again. I found a seller who had it and in my size. She had excellent feedback so I decided to take a chance. They were kinda pricey but not too bad for an item that's no longer available.
The seller I purchased my boots from is super nice and recently she emailed to let me know she had another hard-to-find Hunter boot available. She thought I might be interested because she knew I enjoyed gardening from our previous correspondence.
Oh my! It turns out that Hunter partnered with the Royal Horticultural Society and using some historic floral designs, created the most beautiful garden boot. It's part of their "Field" collection.
I found the following information about this collection at the Hunter website:
An exclusive collaboration with the Royal Horticultural Society, Hunter was granted access to their Lindley Library Archive to select historic floral paintings to create footwear that combines performance, comfort and heritage.

The only brand to use works from the RHS on footwear, Hunter has brought together a series of watercolours dating back to the 19th century, featuring wildflowers and plants that form the unique designs.

The floral print on the boot is made of different works from two artists. The first featured on the boot, is artist Lilian Snelling, from her images of wildflowers. Praised for her work, in 1955, she was awarded the Victoria Medal of Honour by the RHS, granted to those who have given outstanding service to the society.

The second artist on the design is Caroline Maria Applebee, born in London in 1799. Though little is known about this talented artist, there are over 300 of her artworks in the Lindley Library Archive, which depict many rare and exotic plants.
This is one of the lovely historic floral paintings that Hunter found in the Lindley Library and used in the design of this beautiful garden boot.
I ended up finding the boots for a much better price from another eBay seller located in Great Britain. She still has a few left but I think they may only be in size 7. But take heart because I found them in another place in a few more sizes.
If you wear a size 7 and would like a pair of these, you'll find the seller I purchased them from here: Hunter Royal Horticultural Society Boots. I think this boot originally sold for $175, a little more than Hunter boots normally do. I guess that's because it was a special edition. The seller I purchased them from in that link above, is actually selling them for less than the original price and even with shipping, it works out to be less.
If you don't wear a size 7, there are still some available here in limited sizes: Hunter Royal Horticultural Society Boots.
I'm just in love with this boot! My daughter-in-law, Nancy, wears a size 7, so I snagged a pair for her, as well. The eBay seller shipped super fast. Nancy's were just shipped on Friday and they are due to arrive via UPS on Monday…all the way from Great Britain! Mine arrived almost that quickly.
By the way, Hunter has a lot of their boots on sale right now, including this sassy, pink/fuchsia color. You'll find these and the other colors that Hunter has available here: Hunter Boot Sale.
Spring Clothing Sale
As soon as this post goes up, I'm headed over to Talbots. They have a big sale going on, plus they have a 25% off sale on their new spring clothes with the code CA25.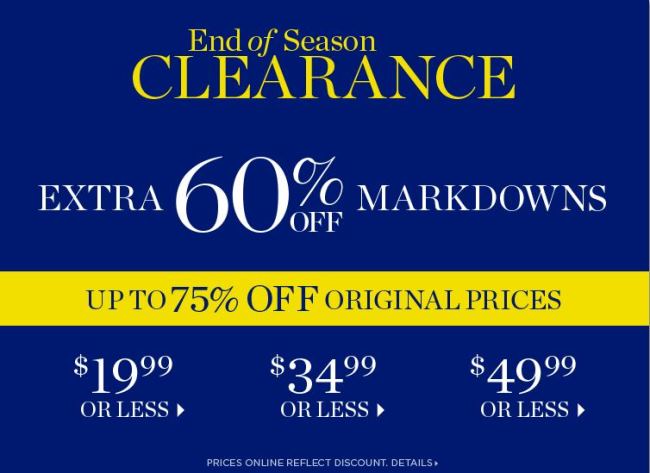 It's the spring clothes that I'm eager to see. I'm in love with everything I've seen in their recent catalog. Here are just a few of my faves:
This jacket is perfect for a work day, but I could see pairing it with jeans, too. It's available here: Jacket
I LOVE this rain coat! I don't always look great in yellow, but I'm going to try it on because I love this color! Hopefully it's a dark enough yellow that it will work.
Look how cute it is from the back! It's available here: Raincoat. It also comes in red and navy, both really cute!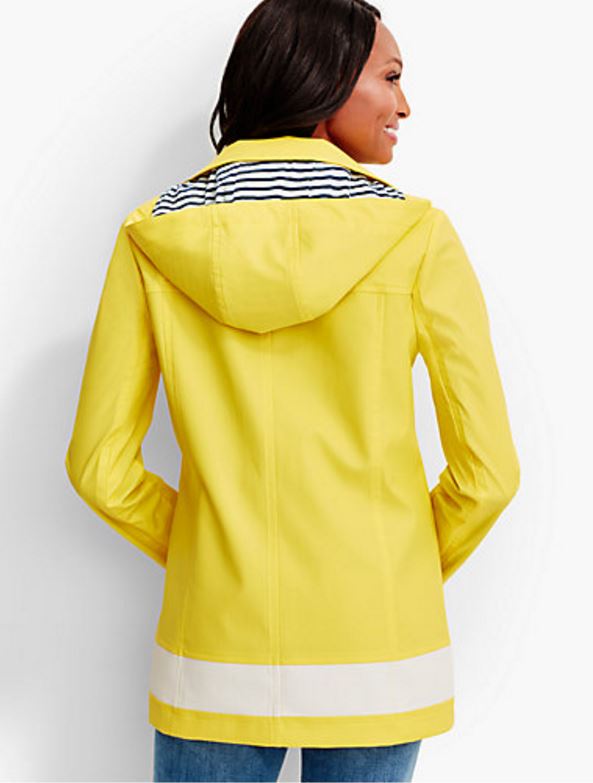 Adorable rhinestone anchor sweater…I love anything with anchors or a nautical motif. It's available here: Sweater.
Cute lobster shirt…great for a beach trip! It's available here: Lobster Shirt.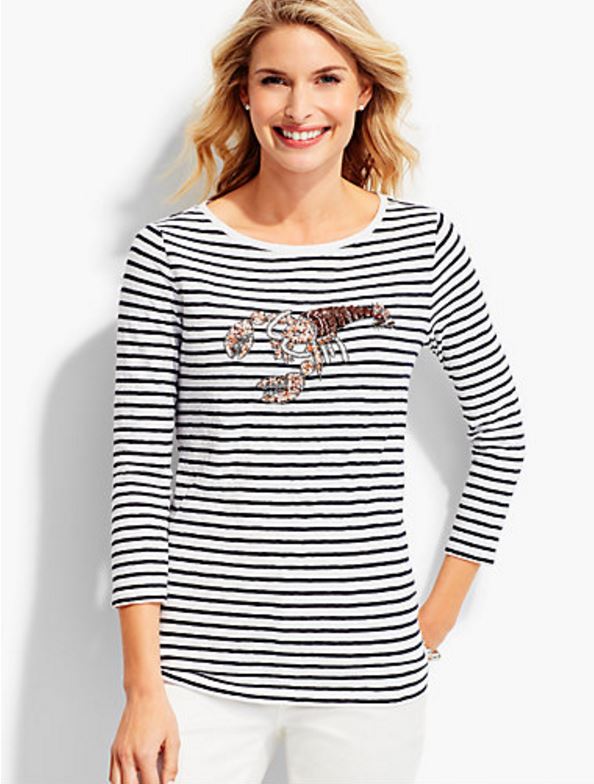 These sneakers are soooo cute! They would be great with white slacks or shorts! They are available here: Sneakers.
I love these slacks. I want to try them on today. I'm so short, not sure if they'll work for me, but I going to try them. They are available here: Button-Ankle Pant.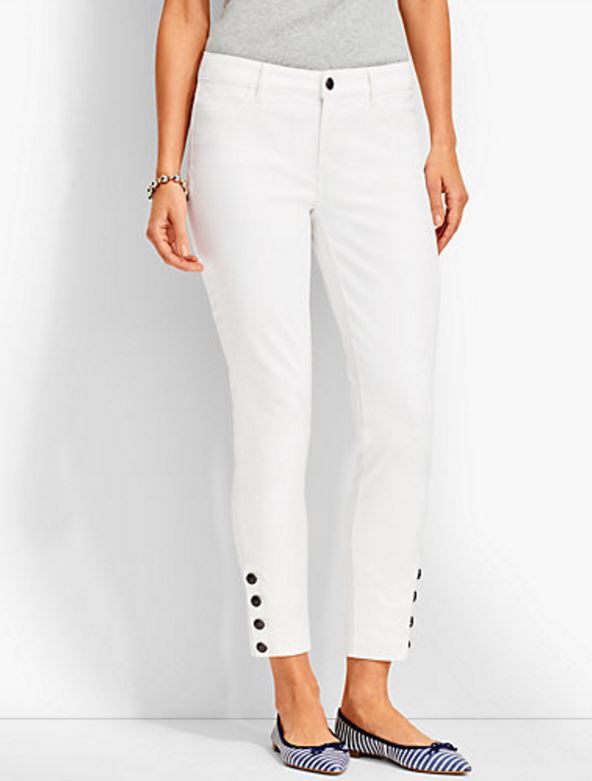 Also, love these sailboat pants! If it's nautical, I can't resist! These are available here: Sailboat Pants.
Ummm, maybe it's time to plan a Greek Island trip, this wardrobe would be perfect for a trip like that!
This cardigan is such a pretty color and it looks so comfy. Oh my gosh, I love their spring line this year! It's available here: Cardigan.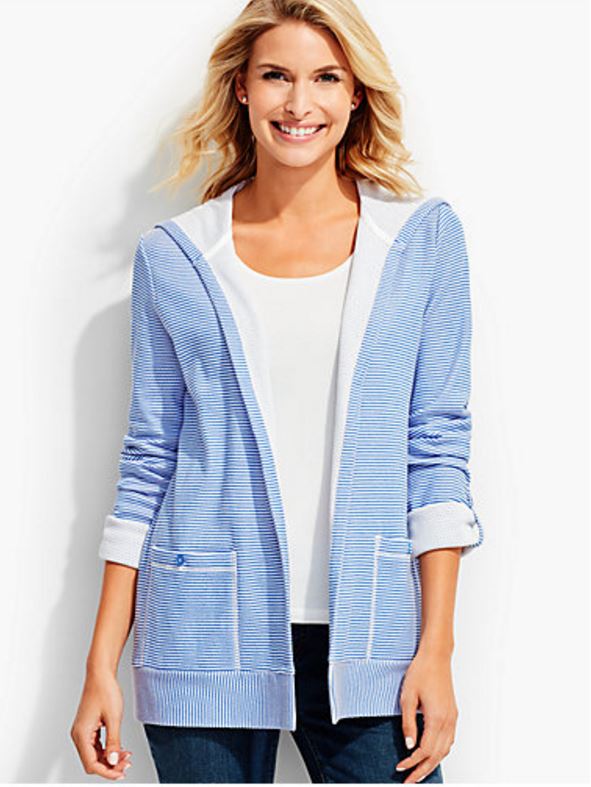 Happy Weekend, Friends! It's gorgeous here and I'm headed out to enjoy it and a bit of shopping. See you on Monday!
Update:
During my visit, I bought these in both yellow and white. They fit great! They have some stretch so they are super comfortable and not ridiculously low cut in the front like some pants are made these days. Love them! They have them online in 7 different colors here: Pants.
The above pants also come in a curvy style, which I find fits better if you have more of a curvy shape. You'll find that style here: Pants. I just ordered a couple of pair in the curvy to compare with the ones I bought in person. The yellow is such a pretty color…just love it!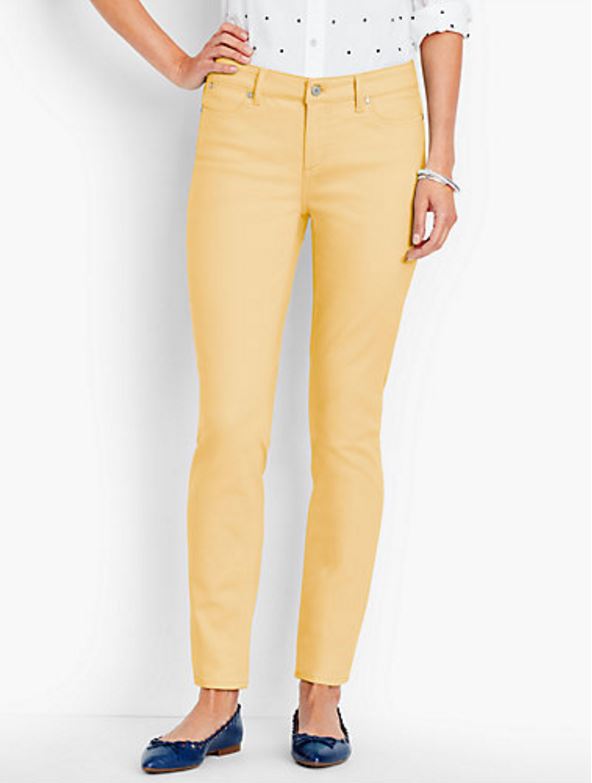 *If a post is sponsored or a product was provided at no charge, it will be stated in post. Some links may be affiliate links and as an Amazon Associate, I may earn from qualifying purchases. *