Welcome to the 490th Metamorphosis Monday!
Well, this is a record for the latest Met Monday has ever posted. I've been flying all night and most of the day but I'm finally back home from Maui. The flights were great and uneventful, just very long. It's a long way from Georgia to Hawaii and back, especially when you go there via Seattle. It's a long way even when you don't go via Seattle. lol
I don't have a Before and After to share since I've been on a plane for the last ten years, so just sharing a few pretties that I hope you'll enjoy.
The sunrise was beautiful this morning as we approached the airport in Seattle.
I posted this photo on Instagram and asked what mountain I was seeing. It was unanimous…Mount Ranier.
Hawaii was beautiful and I had a wonderful time. Thanks so much for encouraging me to jump on the opportunity when a friend offered me a room they weren't going to be able to use. I stayed at the Kaanapali Beach Club, which was right next door to the Kaanapali Beach Hotel.
So, the weirdest thing happened yesterday afternoon when I stopped by the front desk to check out. I knew I'd have a small bill for the few items I had charged to the room during my week-long stay. I was surprised to see a large $82 charge, definitely didn't remember that one. It was for two meals and some drinks…um, I didn't recall eating two meals in one sitting, or having a Mojito during my stay.
I disputed that charge and when they pulled the ticket, I saw that it was signed by another Susan who had a similar last name as my own. Both our last names started with an H and had the same number of letters. They even sounded similar when spoken. And, get this–we were both staying in the exact same room number on the 6th floor, only I was at the Kaanapali Beach Club and she was at the Kaanapali Beach Hotel next door. Is that not crazy?! It took them about 45 minutes to finally get it straightened out.
My Favorite Day on Maui Island
I think my favorite day on Maui (even better than the helicopter tour I took) was the day I drove over to Lahaina, parked my rented jeep and just walked all around the harbor. I had a yummy Fish Taco meal in the Paia Fishmarket on Front Street…
… then walked across the street to gawk in amazement at the gigantic Banyan tree in the park. I'll post photos of it soon, just need to get some sleep first before I can go through all the photos I took this past week during my stay.
Update: See the United States' largest Banyen tree in this post: Banyen Banyan Tree.
I also did a bit of shopping in Lahaina and purchased my first ever Roberto Coin piece, a small sun pendant that will forever remind me of Maui/Hawaii. It looks like this one below, only I purchased the smaller version.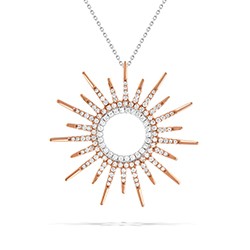 Does anyone own any Roberto Coin jewelry? Apparently, he has quite the following. I purchased the sun necklace in a jewelry store called Na Hoku. I fell in love with their signature pieces, the jewelry they design themselves. Much of it is sealife-themed and the designs are absolutely beautiful!
There are several pieces I would love to collect in the upcoming years, like this adorable crab with Opal inlay. They make a lot of their pieces in two sizes and the prices aren't that bad, especially considering everything is made from 18K gold.
Another piece I really loved was this beautiful Hawaiian sunset. It's 18K gold with Lapis Lazuli and pave diamonds. Such beautiful pieces and perfect reminders of Hawaii. Just Google "Na Hoku" to see all of their collections. They also have several physical locations across the U.S. Unfortunately, none are here in Georgia.
I hope you had a fabulous week! Thanks again for all your great tips of things to see and do in Hawaii. I took your advice on several things, including taking the Road to Hana tour. Can't wait to share some pics from that day's excursion with you!
Looking forward to all the great Before and Afters for this week's Metamorphosis Monday!
I post almost daily on Instagram. Follow Between Naps on the Porch on Instagram here: Between Naps On The Porch. If you enjoyed this post, subscribe for free email updates when a new post is up here: Subscribe for post updates.
Metamorphosis Monday
Metamorphosis Monday is a party that's all about Before and Afters. If you are participating in Met Monday, please link up using the "permalink" to your MM post and not your general blog address. To get your permalink, click on your post name, then just copy and paste the address that shows up in the address bar at the top of your blog, into the "url" box for InLinkz.
In order to link up, you'll need to include a link in your MM post back to the party so the other participants will have an opportunity to receive visits from your wonderful blog readers.
Please observe these few rules:
Please link up Before and After posts that are home, gardening, decorating, crafting, painting, sewing, cooking, fashion or DIY related.
Be sure to include a link back to the party in your post, so your readers will be able to find and visit the other bloggers who are participating.
Do not link up to the party if you're only doing so to promote or sell a product.
To those who are linking up: If you notice a shop or online store linking up to sell products (yes, unfortunately, that does happen) please let me know so I can remove their link and block them from participating in future parties. No one wants to click a link expecting a Before and After, only to find a spam link to an online business/store.

*If a post is sponsored or a product was provided at no charge, it will be stated in post. Some links may be affiliate links and as an Amazon Associate, I may earn from qualifying purchases. *