Welcome to the 728th Metamorphosis Monday! How is 2023 treating you so far? I hope it's going well! I'm feeling a lot better now after having caught a bug at Christmastime. I have a basement update for this week's Met Monday. Here's a quick recap if you're new to the basement updates I've been making–I added stair lighting along the right side of the stairway going down.
I also added recessed lighting above. The stairway is no longer a dark corridor going down to the basement/terrace level.
I had the walls, trim, and ceiling painted here in the partially finished half of the basement.
I also replaced the hot water heater and added a whole-house surge protector. All this side needs now is flooring and it will be complete.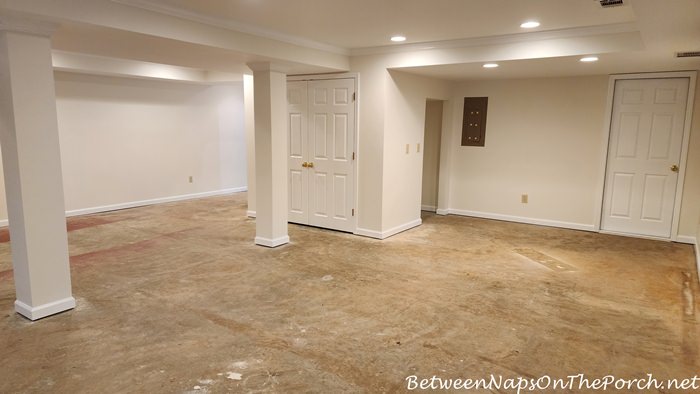 The Unfinished Half
When I started this basement update, my goal for the unfinished part of the basement was to make it feel a bit more friendly. I didn't want to finish it in because I wanted to keep this long room as a utility/storage room.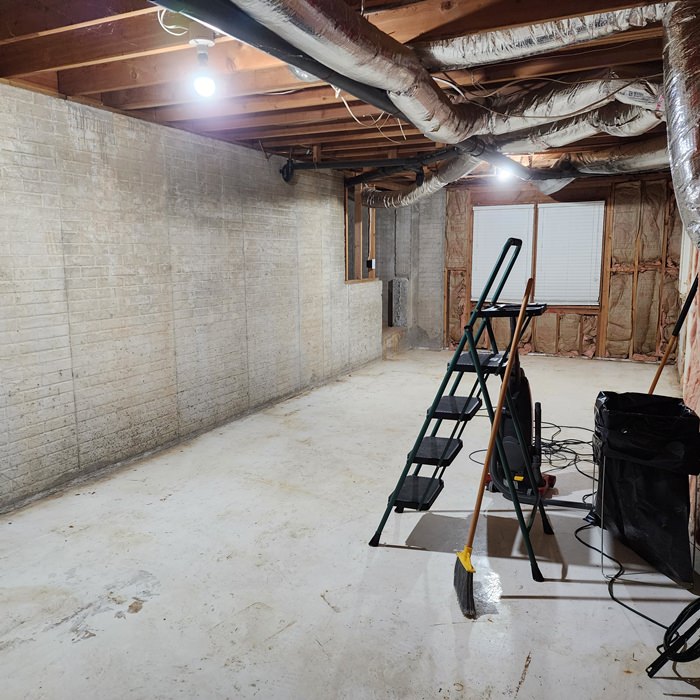 I painted the gray concrete walls white to brighten up the space, but what about the wall with all the insulation?
I didn't like seeing the insulation whenever I was in this space.
Last week, I had drywall installed down that long wall and across the end of the room. The room still needs to be painted and have baseboard installed, along with flooring like I have in the garage, but this is a big improvement, for sure.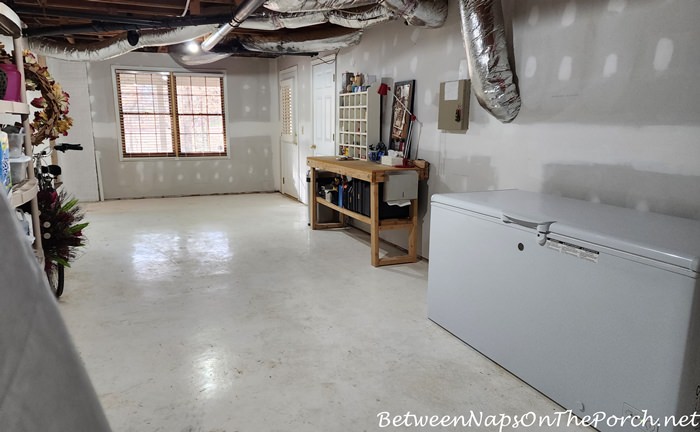 The thing that most shocked me about this phase of the renovation is how much bigger this unfinished area feels now. I thought adding drywall would make it feel smaller and more closed in but it actually had the opposite effect! The room feels so much larger now–so weird that adding drywall did that!
Remember this storage room that's located at the end of the room? You may remember me mentioning in a previous post that it was once a creepy crawl space with an earthen floor that many years ago I had converted into a storage room with a concrete floor and shelving.
The entrance to that space was also drywalled in and prepared for a door.
Before when standing inside this storage room looking back out, this was the view.
Now it looks like this with the drywall in place.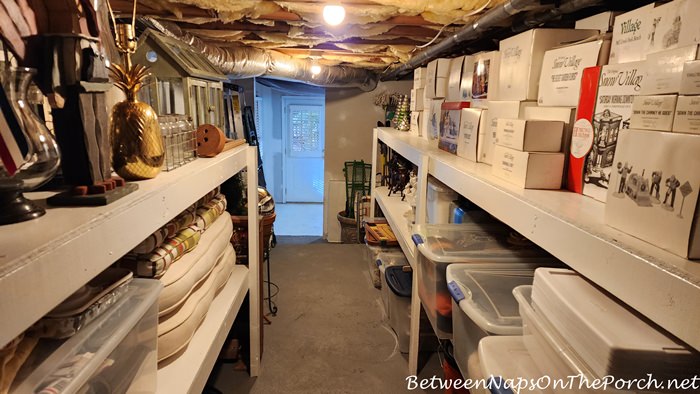 I'd like to add a louvered door here so that this space will continue to receive good airflow. I'll be checking into that later this week.
There's still a lot to be done in this space including paint, baseboard, and flooring. I don't have plans to add a ceiling since this is just a storage/work room and I like having all the mechanical stuff open/available in case it ever needs to be accessed, but it does feel a lot more pleasant to be in this space now when I'm working on something or grabbing something from the freezer. I may eventually have the ceiling painted black. I like how that looks in storage rooms of this type.
Hope you enjoyed seeing this quick update! Looking forward to all the great Before and Afters linked for this week's Met Monday!
Pssst: Did you know Between Naps On The Porch is on Instagram? You'll find me on Instagram here: Between Naps On The Porch. Like to know when a new blog post is up and available to read? Subscribe for email updates, it's free and your email will never be shared. Subscribe for free post updates via email here: Subscribe.
Metamorphosis Monday: Metamorphosis Monday is a party that's all about Before and Afters. Please link up your Before and After projects like DIY projects, room makeovers, craft projects even recipes. Please do not link up Table Settings, save those for our Tablescape Thursday party on Thursday. If you are participating in Met Monday, you'll need to link your post to the party using the "permalink" to your MM post and not your general blog address. To get your permalink, click on the name of your post, then copy and paste the address that shows in the address bar at the top of your blog, into the "url" box for InLinkz when prompted. NOTE: Please do not link up more than 3 posts from your blog. In order to link up, you'll need to include a link in your post back to the party so visitors to your blog can find the other party participants. When linking up to the party, give the InLinkz system time to find the link in your post to avoid having your link held for moderation/approval. Thanks!
This party has ended, click button below for the links to all who participated.
*If a post is sponsored or a product was provided at no charge, it will be stated in post. Some links may be affiliate links and as an Amazon Associate, I may earn from qualifying purchases. *