Welcome to the 471st Metamorphosis Monday!
Happy Monday! Hope you had an awesome weekend! For this week's Met Monday, I have a great little tool to share, something I've been meaning to share all winter. At the start of fall this past year, I noticed a lot of my sweaters were covered with little pills here and there, especially my light-weight cashmere sweaters. I have a battery-operated pill-remover thingy that works pretty good on big, fluffy sweaters, but I've always found it difficult to use on lighter-weight sweaters.
After a bit of research last fall, I came across a little tool that has turned out to be the perfect thing for removing pills and fuzz from my sweaters, and it works great on all types of sweaters from the big, fluffy, fat ones to the more delicate, light-weight sweaters. Plus, it feels much safer to use on my sweaters than the battery-operated pill-remover I was using.
You may remember this snowflake Barbour sweater that I purchased in early fall. I loved it so much, I didn't even wait for it to go on sale, for fear it would sell out. I noticed tonight that it has finally gone on sale, plus there's another 30% off the sale price with the code GROUNDHOG. You'll find it here: Barbour Snowflake Sweater.
I wore this sweater a lot this winter, especially during the time I was in Ohio visiting family. Even though it's wool and very warm, it's super light-weight and not at all scratchy.
Because I wore it so much this winter, it has finally started getting a few pills here and there. It's hard to photograph little sweater pills, but hopefully, you can see them scattered about in the photo below.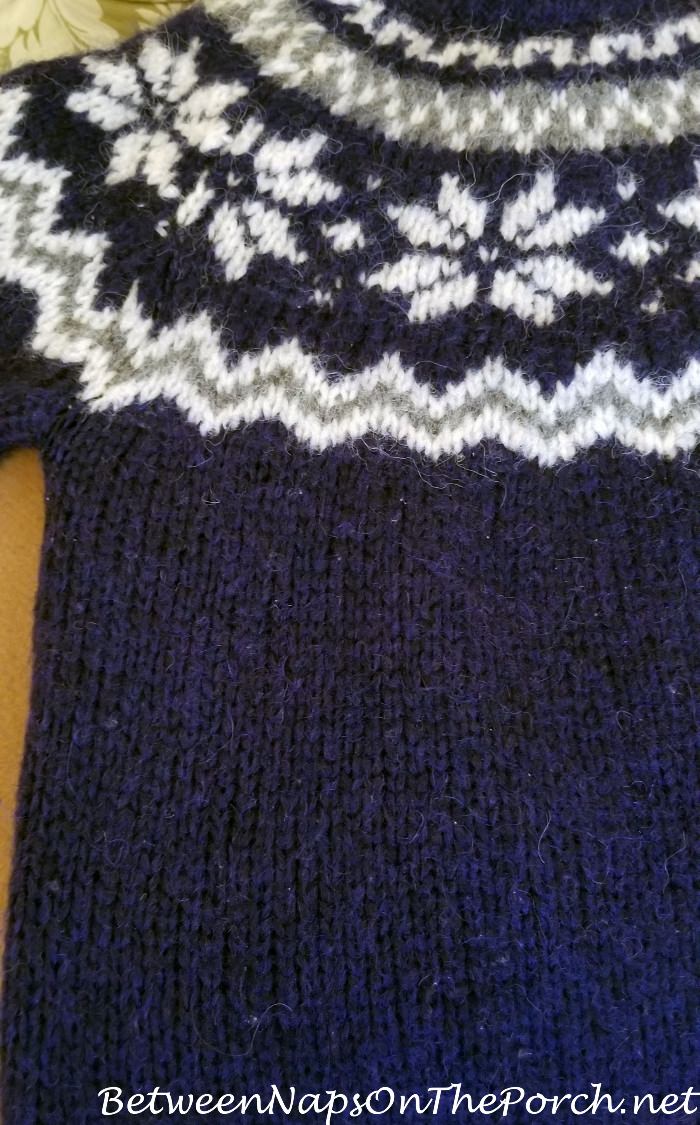 Earlier in the fall I purchased one of these little sweater combs that's meant for cashmere sweaters. I liked how it worked so well on my cashmere sweaters, I purchased a set that included a comb for heavier sweaters, too. (This set is available here: Sweater Comb for Pills & Fuzz)
For this wool/alpaca Barbour sweater, I used the comb above on the left that's designed for thicker sweaters. Again, it's hard to see, but the darker pieces you see in the photo below are the pills it grabbed on a few swipes over the surface. I can't believe how easy and well this little sweater comb works! Truly amazing!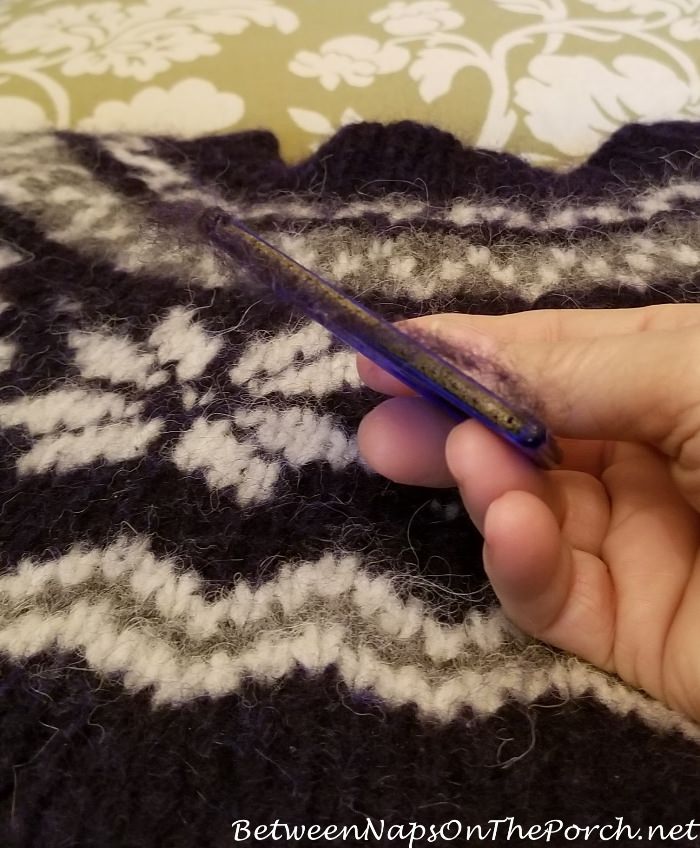 Here's how my Barbour snowflake sweater looked after just a few swipes across the top–so much better!
Another sweater I purchased this past fall and have worn a ton is the beautiful sweater below.
If you are looking for a cozy sweater, you'll find this sweater under the "Sale" category at Orvis, HERE.
After wearing it so much all fall/winter, it was starting to get fuzzies, too. Again, it's kinda hard to photograph fuzzies/pills, so in the photo below I placed the sweater comb right behind a few fuzzies so you can better see them sticking up in front of the comb.
Here's what the comb picked up after one or two swipes. You can see the little pills it caught below. I love this comb!
For more delicate, lighter-weight sweaters, the comb on the right below works best.
I have three cashmere sweaters purchased many years ago, two are shown below. I tend to wear the purple/lavender one the most so it's the one that gets more fuzzies/pills.
I de-pilled all my cashmere sweaters this past fall, so I had to look a bit harder to find some pills on my lavender sweater for this post. I found a few as seen in the center of the photo below.
Unfortunately, it's hard to demonstrate how I hold the sweater when using the comb, and take a photo at the same time, so I'll just describe it. Since I'm right-handed, I place my left hand on the sweater above the area I'm about to comb. That helps to hold the sweater in place and leaves my right hand free to swipe down the sweater with the comb to remove any pills. Just reverse that technique if you're left-handed. It goes quickly, only takes a minute or two to remove the pills from a sweater.
Here's how the sweater looked afterward: Yay, no pills!
I noticed another little pill under the arm, that's a common spot to find them on sweaters due to the movement of our arms.
The cashmere comb easily removed it.
I can't recommend these two little combs highly enough. I find them much easier to use than the larger, heavier, battery-operated device I was using. It tended to just push down on the sweater, pushing it away and making it harder to pick up the pills. These little combs do not do that, and I've never had one pick my sweater. They work great and I love how small they are which makes them easy to pack when traveling. I purchased the two I use in a set here: Sweater Combs.
Sweater Sale
Speaking of sweaters, as I was creating this post last night, I got an e-mail from Talbots about a big end-of-winter sale they have going on. Many of their sweaters are now 70% off.
Here are a few that I'm eyeing in the sale–click on the title to access that sweater.
Merino Sweater with Velvet Tie
I loved this sweater because it feels elegant enough to wear out for an evening or just to the office.
It's available in several colors. The red one would be so cute to wear out on Valentine's Day or for Christmas next year. It was originally $129, now it's only $29.99! Love these end of season sales! This sweater is available here: Merino Sweater with Velvet Tie
This cute tweed turtleneck is also drastically reduced and available in several colors. I love this lavender color especially–looks so good with jeans. It's available here: Tweed Turtleneck.
This sweater below is the same as the one above but in another color. I love it with this wonderful plaid vest! You'll find the plaid vest here: Plaid Puffer Vest
I thought this adorable flower sweater would be great for spring…great transition piece. It's down from $99 to $23.99 and is available here: Flower Sweater. The little flowers remind me of Johnny Jump Ups or Pansies. Oh, I can't wait for spring to get here!
Another sweater that would be great for spring is the cute "watermelon" sweater pictured below. It was originally $79.50 and is only 17.99 now! It's available here: Watermelon Sweater.
Looking forward to all the wonderful Before and Afters for this week's Metamorphosis Monday!
Pssst: I post almost daily to Instagram. Follow Between Naps on the Porch on Instagram here: Between Naps On The Porch. If you enjoyed this post, subscribe for free email updates when a new post is up here: Subscribe for post updates.
Metamorphosis Monday
Metamorphosis Monday is a party that's all about Before and Afters. If you are participating in Met Monday, please link up using the "permalink" to your MM post and not your general blog address.
To get your permalink, click on your post name, then just copy and paste the address that shows up in the address bar at the top of your blog, into the "url" box for InLinkz.
In order to link up, you'll need to include a link in your MM post back to the party so the other participants will have an opportunity to receive visits from your wonderful blog readers.
Please observe these few rules:
Please link up Before and After posts that are home, gardening, decorating, crafting, painting, sewing, cooking, fashion or DIY related.
Be sure to include a link back to the party in your post, so your readers will be able to find and visit the other bloggers who are participating.
Do not link up to the party if you're doing so to promote or sell a product.
To those who are linking up: If you notice a shop or store linking up to sell products (yes, unfortunately, that does happen) please let me know so I can remove their link from the party. No one wants to click a link expecting a Before and After, only to find a spam link to an online business/store.
*If a post is sponsored or a product was provided at no charge, it will be stated in post. Some links may be affiliate links and as an Amazon Associate, I may earn from qualifying purchases. *