I've been dying to take you inside Ballynahinch Castle ever since I returned from Ireland, but it has taken a while to get through all the photos I took. Pictures could never do this beautiful castle justice, but at least they will give you a little idea of how magical it feels to stay there. In this post I'm sharing a mix of photos, some taken by me and some from the Ballynahinch Castle website. Those taken by me during my visit there will have the Between Naps On The Porch watermark.
The hydrangeas were a bit beaten down by the rain, but they were still absolutely gorgeous when we were there in late August.
This is how the front entrance looked in August minus the Christmas wreath, snow and lanterns. I would love to see it in person at Christmastime!
As you enter through the green front door (seen on the left in the photo below) this is the scene that always greets you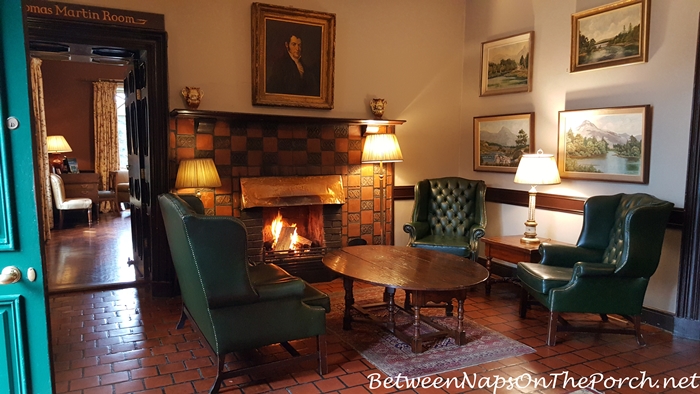 It doesn't matter the time of year (we were there in August) you'll always find a fire crackling away in the castle entry.
It was always a welcomed sight after touring all day in the misty, Ireland weather.
My room was in a back wing of the castle, overlooking the scenic river only a few feet away.
Whenever I left my room for dinner or to meet up with a friend, this was the view as I made my way back toward the front entrance of the castle. Though we were staying in a huge castle, somehow they have managed to make it feel quaint and cozy. I think the plaid carpet and beautiful rugs had a lot to do with that.
This plaid carpet ran throughout much of the area of the castle where I stayed and I loved seeing it each day as I made my way around the castle.
There are lots of cozy sitting rooms to enjoy like this one shown in a photo from their website. I wonder how many trees they put up at Christmastime?
There's a wonderful pub where some of us gathered for after dinner drinks.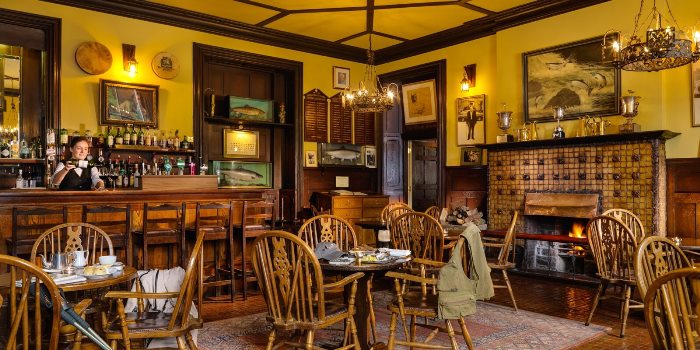 I took several photos in this room, but the lighting was a bit hazy that day so the wood looks darker than it really is.
Here's one more photo of this beautiful room from the website. The evening I joined friends here, we sat at the tables there against the wall.
Fisherman come from everywhere to fish in the river. Apparently they have a Fishing Club at Ballynahinch.
I don't remember seeing this room during my time at Ballynahinch, but had to include it in this post because it feels very castle-like to me. That's the challenge when you buy an ancient castle in Ireland–the desire to renovate/restore it to include all the comforts folks want and need, while keeping the "castle" feel as much as possible.
This is another room I somehow missed seeing while there–the library. I guess I just need to go back again some day so I can sit in one of these wingback chairs by this fire and read a good book.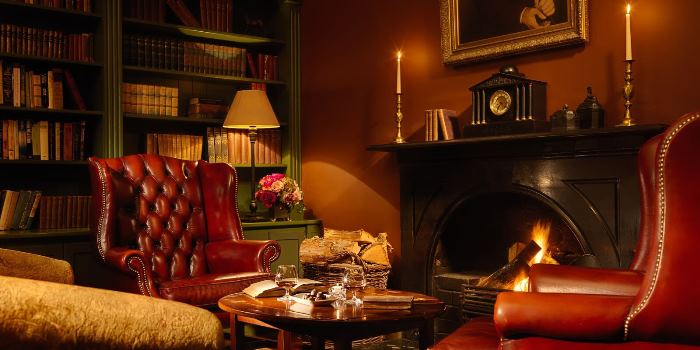 The dining room is beautiful and almost every table has amazing views of the river behind the castle.
Right off the dining room was a charming sun room. I loved this space!
The other end of the sunroom…
Another sitting room in Ballynahinch Castle…
The castle feels very much like a home because there are so many cozy spots to sit and talk with a friend, or just to relax.
Another cozy place to enjoy…
One evening we returned to the castle famished and ready for dinner. It may have been the day Teresa and I spent hiking around the property. We walked into the dining room and as we were sitting down, we realized we still had our coats on. One of the staff offered to take our coats for us and we gladly handed them over.
After dinner we realized we needed to find our coats before heading back to our rooms. One of the castle staff told us they were probably in the Cloak Room just down the hall. As we turned the corner that led into the cloak room, I couldn't help but laugh when I saw our bright-colored coats hanging alongside all the serious fishing jackets and boots. I don't know why that stuck me as so funny, we definitely had no trouble picking out our coats out from the others. 🙂
The castle has bedrooms of various styles and sizes, throughout. This one is featured on their website and it's a dream!
I shared my bedroom in a previous post, but in case you missed that post, I'll include a few pictures here.
See more of this room including the bathroom and the view of the river in this previous post: A Beautiful Bedroom in Ballynahinch Castle.
We stayed in some absolutely beautiful castles and manor homes while in Ireland, but Ballynahinch Castle was my favorite of all.
Before leaving, I purchased a couple of their candles to bring home. Thankfully they made it back without breaking.
I also purchased a couple of their small water bottles that were always filled and waiting for us each evening when we returned. The note beside them said they were filled each day with "crystal clear water from our own well on the Estate Grounds." I keep them in my refrigerator filled with water–a concrete reminder that this trip wasn't just a dream.
*If a post is sponsored or a product was provided at no charge, it will be stated in post. Some links may be affiliate links and as an Amazon Associate, I may earn from qualifying purchases. *