Welcome to the 732nd Metamorphosis Monday! A few months back, my garage got a really substantial makeover. The walls, ceiling and the garage door badly needed painting, the original builder-grade lighting was not the greatest, and the garage floor was your typical concrete floor and very stained after 40+ years of use.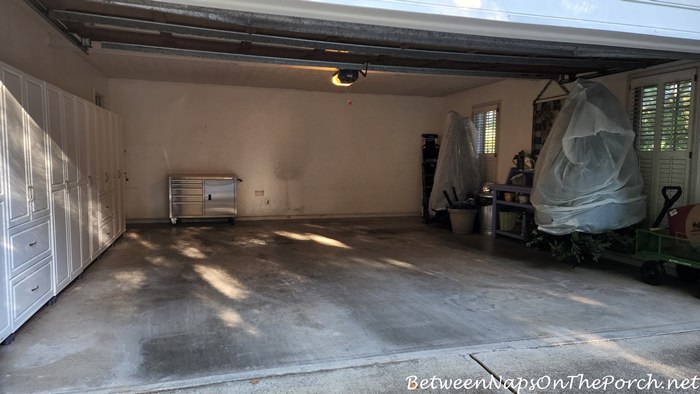 Here's how the garage looked after its makeover, definitely an improvement!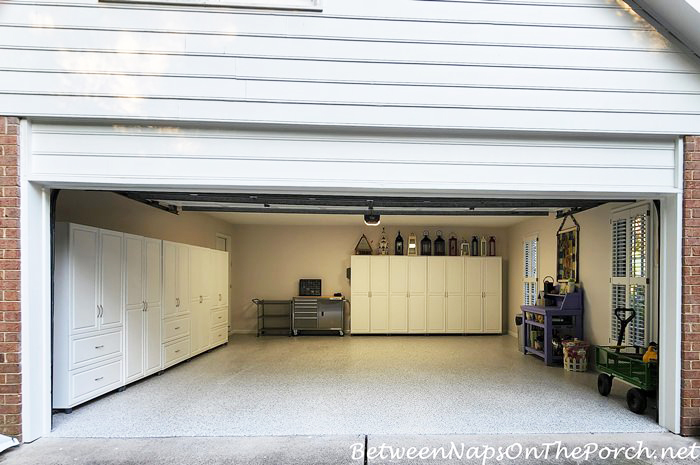 When I redid the storage room in the basement recently, I moved all the lanterns I had stored atop the cabinets down to that space. I've made a rule for myself that nothing gets stored here unless it's used on a daily (or at least multiple times a week) basis. The new lighting was a huge improvement–kicking myself for not having done that upgrade well before now!
But my favorite upgrade, and perhaps the one that had the biggest impact in appearance, was the flooring. After getting estimates for two different types of flooring, I went with Granite Garage's industrial-grade, epoxy/polyaspartic system which was professionally installed by the Granite Garage crew. It has been several months now so I thought this would be a great time to give you an update on how this flooring has worked here in the garage and the one feature of this flooring that I've found to be both a Pro and a Con. How crazy is that! How can a feature be both a pro and a con?!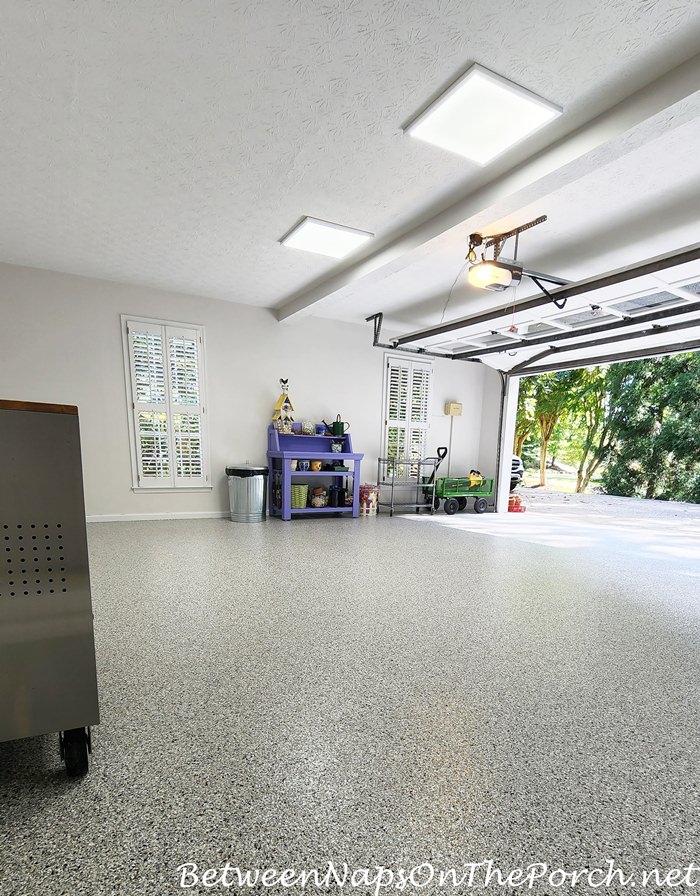 What exactly am I talking about? One big difference between having an epoxy floor instead of a concrete floor is what happens when it rains. When we drive our car outside on a rainy day, it obviously gets very wet. Once we arrive home and pull into the garage, the rain drips off the car onto the floor. Before I had an epoxy floor, the water that dripped off the car and onto the floor (and it can be quite a lot when it's pouring out) would soak right into the concrete. Those wet spots would often remain for several days before fully drying out, especially if it rained for several days in a row and the garage floor kept getting wet day after day. I really disliked when that happened because it gave the garage a yucky, musty smell. Thankfully, that issue is gone, no more musty-smelling garage now, no matter how many days it rains. That's definitely a huge Pro and I do love that unexpected benefit of having an epoxy floor, but there is one slight downside to that. Since the water can't soak into the floor, it instead puddles atop the floor, mostly in front of or near the tires.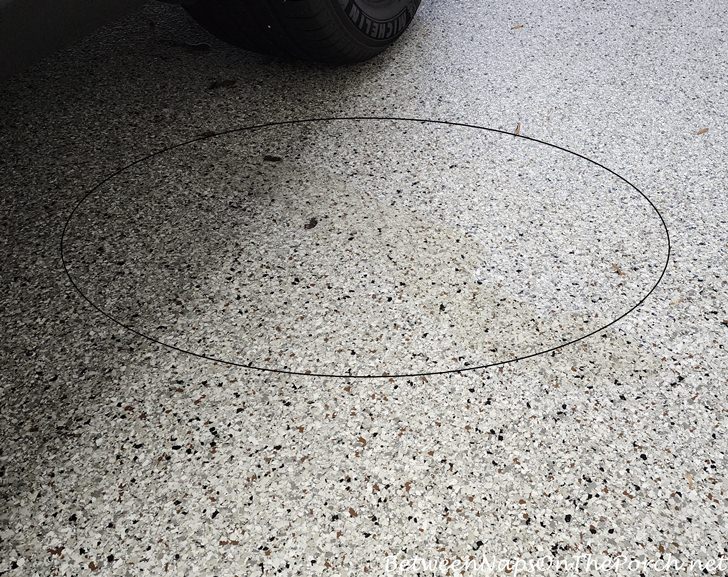 You can see one of those puddles a bit more clearly in this photo where it ran sideways away from a tire. Since the water no longer soaks down into the concrete creating that musty smell and staining the floor, the water stays there until it either evaporates or is wiped up. I normally take a couple of old towels and clean it up if I notice any puddles. That only takes a minute or so to do. A few times I've tested the puddles to see how slippery they were and I didn't find them slippery at all when walking through them or scrubbing my rain boot in them but a few weeks back, I did experience one particular instance or set of circumstances where I found the floor to be quite slippery.
I have the driver's seat in my car raised up pretty much as high as it will go. Being just 5'4″ inches, it helps me to see over the dash and I really prefer sitting up nice and high. Since I sit up pretty high, when I exit my SUV, I end up sorta sliding down out of the driver's seat to get out. Several weeks ago when I was getting out of the car inside my garage on a very rainy day, I was wearing rain boots and I almost slipped, but thankfully was able to catch myself before falling.
After analyzing the situation later, I believe the reason I slipped was two-fold: the garage floor was super slick just outside my driver's door because the very wet front wheel of the vehicle had just driven over that spot as I pulled in. Also, as I slid out, instead of the bottom sole of the shoe touching the floor, the first thing to touch the floor was the very front tip of my rain boot. That part of the boot doesn't have any tread and is very smooth. There's plenty of tread on the sole of the boot, just none on the very front edge/tip of the boot. So now on rainy days, I know to make sure the actual sole of my boot/shoe makes contact with the floor first as I'm getting out of my car, and not just the smooth front edge of the shoe.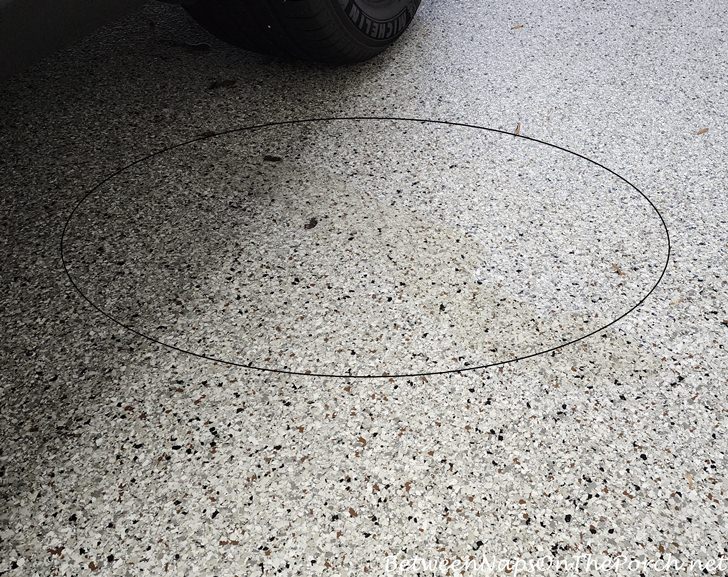 Would I have this flooring installed again if I were doing my garage makeover today? Yes, I absolutely would! I really love how it looks and functions and I definitely don't miss the smell of a musty garage when it rains. That incident started me thinking, though. Ever since I bought my SUV over a year ago, I've been thinking of having running boards installed because I worry about damaging the side of the driver's seat over time by sliding out each time I exit the vehicle. I've never had running boards on a vehicle before and I purposedly didn't order my SUV with them this time because I thought I'd end up not using them and would just find them in the way. But now I am thinking they would be a good idea to not only help preserve the driver's seat, but also for making it easier and safer to exit the vehicle on rainy days. If you have any experience with running boards on a truck or SUV, I would love to know how you like them and if you really do use them when getting out. Please share your experience with running boards since it would be pretty expensive to have those added at this point, but it's definitely something that can be done.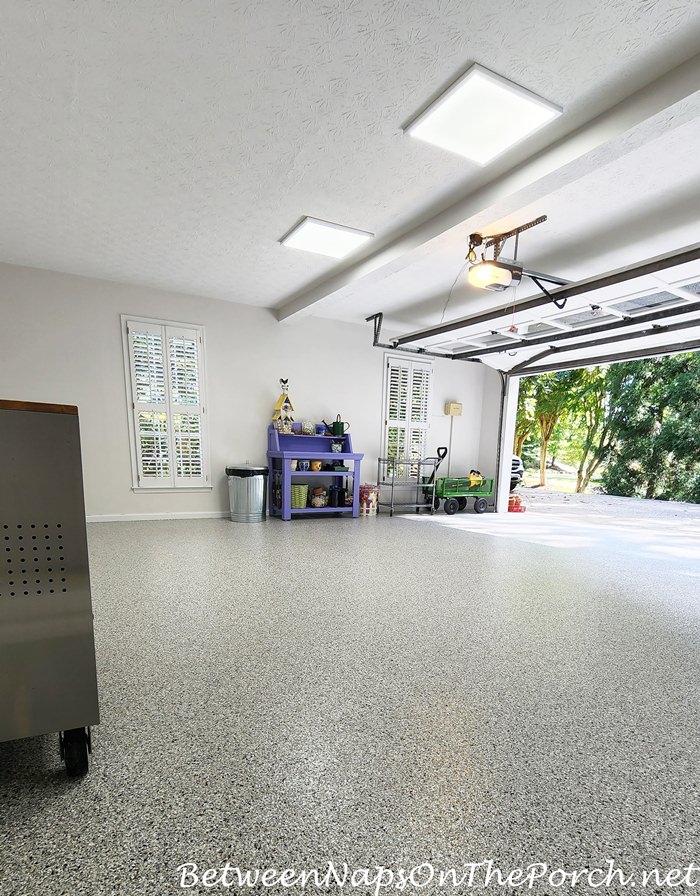 Looking forward to all the great Before and Afters linked for this week's Met Monday! Pssst: Did you know Between Naps On The Porch is on Instagram? You'll find me on Instagram here: Between Naps On The Porch. Like to know when a new blog post is up and available to read? Subscribe for email updates, it's free and your email will never be shared. Subscribe for free post updates via email here: Subscribe.
Metamorphosis Monday: Metamorphosis Monday is a party that's all about Before and Afters. Please link up your Before and After projects like DIY projects, room makeovers, craft projects even recipes. Please do not link up Table Settings, save those for our Tablescape Thursday party on Thursday. If you are participating in Met Monday, you'll need to link your post to the party using the "permalink" to your MM post and not your general blog address. To get your permalink, click on the name of your post, then copy and paste the address that shows in the address bar at the top of your blog, into the "url" box for InLinkz when prompted. NOTE: Please do not link up more than 3 posts from your blog. In order to link up, you'll need to include a link in your post back to the party so visitors to your blog can find the other party participants. When linking up to the party, give the InLinkz system time to find the link in your post to avoid having your link held for moderation/approval. Thanks!
This party has ended, click button below for the links to all who participated.
*If a post is sponsored or a product was provided at no charge, it will be stated in post. Some links may be affiliate links and as an Amazon Associate, I may earn from qualifying purchases. *