Welcome to 579th Metamorphosis Monday!
Many years ago, long before I began blogging, I had the walls in my dining room papered in a pretty, yellow and blue (with touches of raspberry red) wallpaper. These pictures, taken just before a little dinner party with friends, do not do the wallpaper justice. The paper was a beautiful, elegant pattern and I loved it for many years.
Back then, I was always reading everything I could find about decorating. Somewhere along the way, I read an article that recommended always using silver and crystal accents in the dining room. It's been way too many years, but I think the article recommended this saying it would compliment the other silver items one would supposedly use in a dining room, like silver flatware, silver candlesticks and silver serving pieces. Times have really changed, haven't they?
Anyway, I had long ago replaced the not-so-pretty, builder-grade chandelier with the crystal one you see in the photo below, so I kept my eye out for a mirror to replace a brass mirror I had hanging over the sideboard. Eventually, I stumbled across the Venetian glass style mirror (seen above) during the Speer Lamp Warehouse sale that was held twice each year. When I saw the mirror, it was love at first sight.
I moved the brass mirror to another room in my home. It's been moved a few times. In the photo below it was hanging in my bedroom. It's hanging in the living room now. lol The roving mirror!
The silverplate lamps were added to the sideboard around the same time I purchased the mirror. They were another purchase from the same lamp manufacturer during another one of their warehouse sales. During this revamp, I even went as far as changing the light-switch plates to silver-toned plates.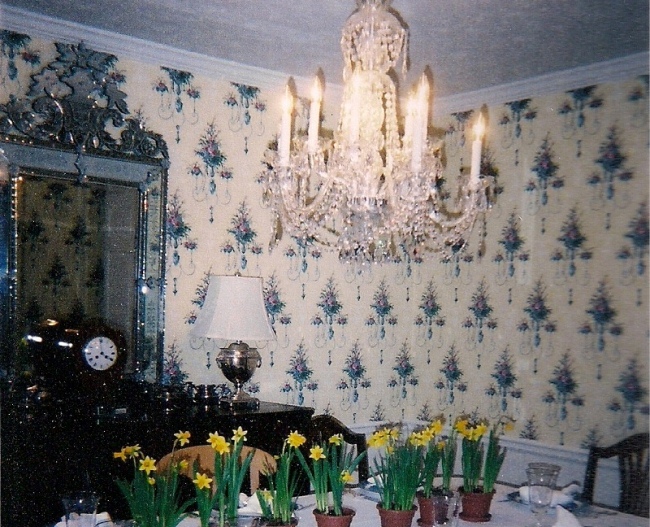 Once the brass-to-silver/crystal transformation was complete, I was a little disappointed with how the mirror looked against the wallpaper. I still loved the wallpaper but it was doing nothing for the mirror.
Here's a picture of an entry (source unknown) that has similar wallpaper to what I had in my dining room so many years ago. Doesn't it look beautiful in this gorgeous historic home?! I still love this look for an entry!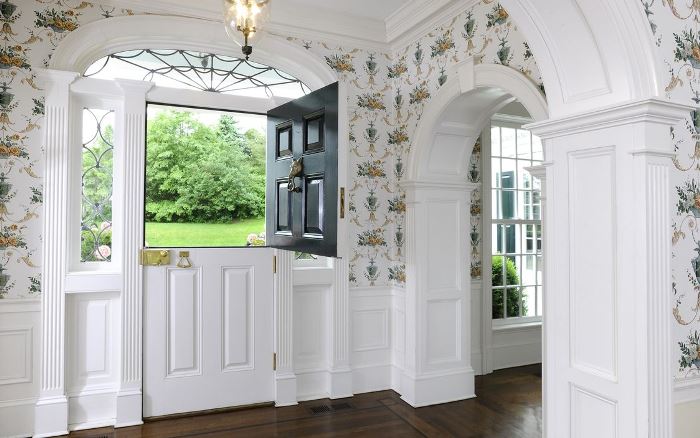 Not loving the way my existing wallpaper kinda swallowed up my new Venetian-glass mirror, I decided to paint the walls a solid color so the mirror would really pop. With a somewhat heavy heart, I had the wallpaper removed and painted the walls with a color I had seen and fallen in love with during a historic home tour in Marietta, Georgia: Benjamin Moore's Raspberry Truffle.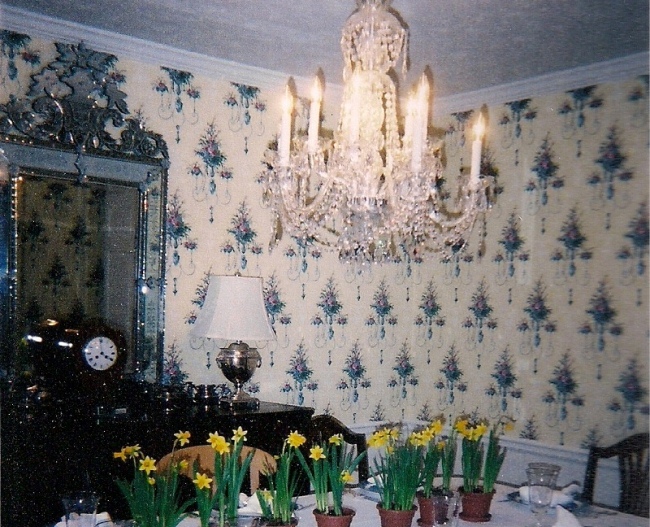 The mirror definitely popped once the walls were painted and I loved how it looked against the red. It was a lot of trouble and hard work priming/painting the walls. I remember it took three coats of Raspberry Truffle and that was after using a tinted primer Benjamin Moore created to go with the paint! I really wanted the red to be a saturated, deep red, so it was worth all the work in the end.
After all that work, I was afraid to hang anything on the walls on either side of the mirror. If you've ever freshly painted a room and it was a labor-intensive process, you know what I mean. You hate to risk messing up all that hard work! So the walls in the dining room have remained empty all these years, sans the mirror and that one painting on the far wall.
The other reason I've been reluctant to hang anything on the walls was I didn't want to do anything that would detract from the beauty of the mirror against the red paint. I was worried that hanging a picture, a wall shelf or something similar on the sections of wall on either side of the mirror would clash or detract from the mirror.
As you know, I've been on a cleaning, purging, donating and organizing tear around here lately. If something has been sitting idle for a few years, I've given it away, shipped it off to family, donated it or found a purpose for it here in the house.
One group of items I came across during all the cleaning was a collection of six watercolor paintings by Sterling Everett, purchased around 35+ years ago while I was still living in my hometown of Macon, Georgia. These watercolors were produced in limited quantity and each one is signed and numbered.
When I moved to this house 30 years ago, I never found a great place to hang them, but they were too sentimental for me to get rid of them. They are framed in brown (mahogany?) wood frames and matted with a pretty deep, blue-gray matting that's prettier in person than it's appearing in the photo below. This past weekend I held one up to the Raspberry Truffle walls, liked what I saw and decided to go for it.
Here's the end result. What do you think? (By the way, this photo below is a good depiction of Raspberry Truffle and how it looks here in the dining room in person throughout the day.)
I really like how they look here, especially with the lighting turned down a bit.
To me, they look as if they've always been here, or at least, should have always been here. lol
Only took me 30 years to hang them here. It took me at least half that long to forget the tedious process of having the wallpaper stripped and priming-painting the walls three times! Ha!
Tip: If you ever paint walls with a rich, saturated color like this, when masking off the molding, run a credit card along the edge to seal the painter's tape really, really well. You'll get a crisp, clean professional look and will have very little touch up to do (if any) in the end. That's a tip a Benjamin Moore associate shared with me back when I took on this painting job.
The painting at the top depicts Overlook, a beautiful, historic home that was once Stratford High School. I'm not sure of its history prior to that, but Stratford has long since moved to a pretty campus north of Macon.
Can you imagine going to high school in this stately, columned mansion? I didn't go there but I know someone who did and he said it was a wonderful time in his life. I think the school was started by a group of parents who were not happy with the curriculum in the high schools at that time and wanted a better education for their children. The gazebo below is part of the Overlook property. You can see Overlook in the background.
The gazebo on the left stands in Central City Park which is located just below the busy streets of the City of Macon. It's where the State Fair takes place each year and I remember seeing the gazebo on trips to the fair each year as a child. Bands would sometimes play there. I hope it's still standing. I'm sure the historical society would not allow anything terrible to happen to it. So many memories!
The view on the right side of the mirror…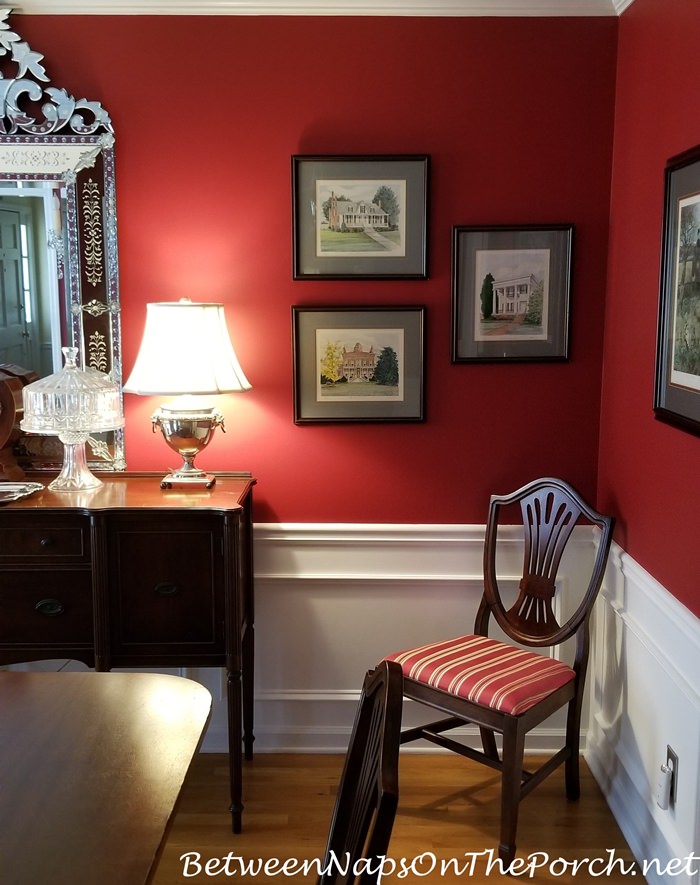 The home at the top of this grouping is the Sidney Lanier Cottage, the birthplace of the soldier, poet, author and musician, Sidney Lanier. He was most famous for his poem, The Marshes of Glynn, a poem about the wetlands and salt marshes in Glynn County along the Georgia coast. I used to pass this house every Sunday on the way to church. Later, as an adult, I had the opportunity to tour the home in person. (Read more about the Sidney Lanier Cottage here: Sidney Lanier Cottage.)
The home on the right is the Cannonball House. During a tour many years ago, we were told the home gets its name because a cannonball went right through one of the front porch columns, landing inside the home during the War Between the States. (Read more about the Cannonball House here: The Cannonball House.)
The bottom painting depicts the Hay House, probably the most famous home in Macon. It has an incredibly rich history. Though built in 1855, it had hot and cold running water, central heat, gas-lighting, a speaker-tube system, an in-house kitchen and an elaborate ventilation system. (Read more about the Hay House here: Historic Hay House.)
If you ever have an opportunity to take a historic home tour in Macon, Georgia, do it! Macon has so many beautiful old homes! As a child growing up there, I trick-or-treated and played with friends in a lot of Macon's old homes and I walked by them each day on the way to school never realizing the treasures I was passing.
I remember hearing the Allman Brothers jamming away in one of the old homes on Vineville Avenue as I walked or rode my bike by on the way to buy milk at the A & P, a grocery store that's long gone now. I don't think I ever realized how amazing these old homes were until I was grown and had moved away. They must have had a tremendous influence on me, though, since I've always had such a deep love and respect for beautiful old homes.
So glad I finally did something with these paintings. What do you think, should they have been hanging here all along?
Looking forward to all the wonderful Before and Afters linked for this week's Met Monday!
Pssst: Did you know Between Naps On The Porch is on Instagram? You'll find me on Instagram here: Between Naps On The Porch.
Like to know when a new blog post is up and available to read? Subscribe for email updates, it's free and your email will never be shared.
Subscribe here: Subscribe for free post updates via email here: Subscribe.
Metamorphosis Monday
Metamorphosis Monday is a party that's all about Before and Afters. If you are participating in Met Monday, please link up using the "permalink" to your MM post and not your general blog address. To get your permalink, click on your post name, then just copy and paste the address that shows up in the address bar at the top of your blog, into the "url" box for InLinkz when prompted.
In order to link up, you'll need to include a link in your MM post back to the party so the other participants will have an opportunity to receive visits from your wonderful blog readers.
This party has ended, click button below for the links to all who participated.
*If a post is sponsored or a product was provided at no charge, it will be stated in post. Some links may be affiliate links and as an Amazon Associate, I may earn from qualifying purchases. *