I may have mentioned a time or ten that I don't really enjoy cooking. The only time I get excited about it is when I have family coming to visit or friends coming for dinner. It's so much more fun when there's the anticipation of a great dinner party with friends or family. Whenever I visit my grandsons, I get some good cookin'!
My daughter-in-love, Nancy, is a wonderful cook, the kind that can whip up a delicious meal on the fly with just whatever happens to be in the fridge. She makes a lot of great salads too and I always vow that I'm going to buy the ingredients to make more salads once I return home, but somehow I never get around to it–until now. I stopped by the grocery store a couple of days ago and purchased several packages of already-washed lettuces and greens. That's Romaine lettuce in the bag in the center.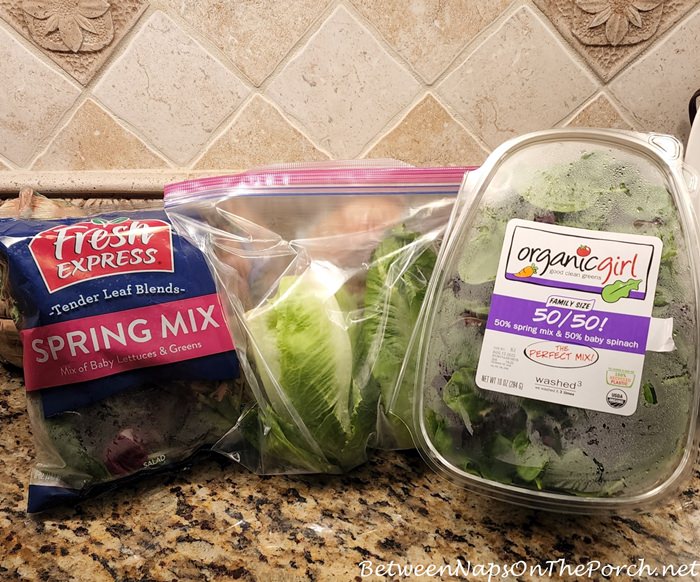 I also purchased a bunch of salad toppings/ingredients like I so often see in the salads Nancy makes. In a recent salad, she included cranberries, walnuts, and Feta cheese. I love Feta cheese!
Here's how my salad looked just before I added my absolute favorite dressing, Garlic Expressions. After this photo was taken, I also added a small handful of blueberries to the salad. Just before leaving for Ohio, I had air-fried some chicken breast tenders (added Lemon Pepper to them prior to air frying) and had quite a few left over. I cut up one of those and tossed it into my salad, as well. I should try adding some avocado, I think that would be great in place of chicken sometime.
This bottle of dressing was nearly finished, so when I poured it onto my salad, a couple of the little garlic cloves from the bottom of the bottle came out into the salad–do you see those below? Garlic Expressions was another discovery made during a visit to see family. The flavor is just sooo good! What is your favorite dressing? Is there one you think I should try?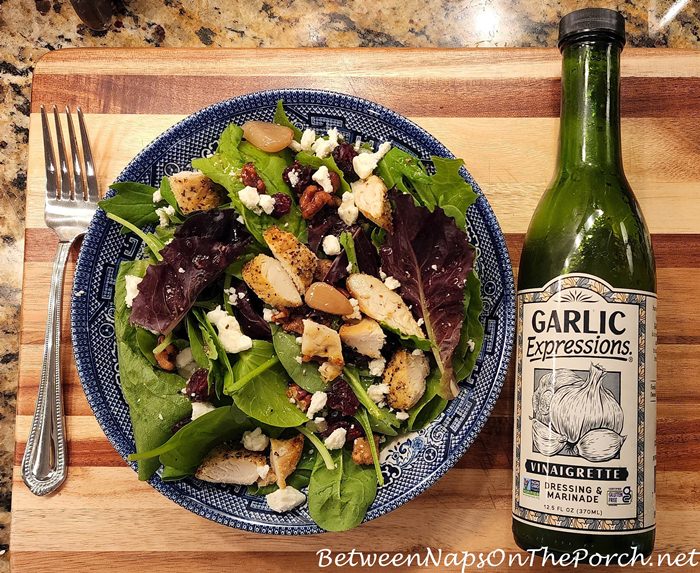 What do you like in your green salads? Do you ever add chicken or a different kind of meat? I love how fast and easy this was to make and would love your suggestions for other kinds of quick and easy salads!
*If a post is sponsored or a product was provided at no charge, it will be stated in post. Some links may be affiliate links and as an Amazon Associate, I may earn from qualifying purchases. *