Welcome to the 706th Metamorphosis Monday!
There are so many things I would love to share in this post but if I share everything that's happened through this garage renovation, this post would be a million miles long–and ain't nobody got time for that! Today we'll just enjoy the transformation which is pretty darn dramatic!
A little back story: Does something ever needle at you and then one day you just snap and think, something has gotta be done and the time is now! My garage has been bugging me for years, but for many reasons, it always fell to the bottom of the "To-Do" list. There were always other rooms or needs that took priority. Also, it had temporarily turned into a storage room for all my son's old bedroom furniture after I converted his old room into a home office.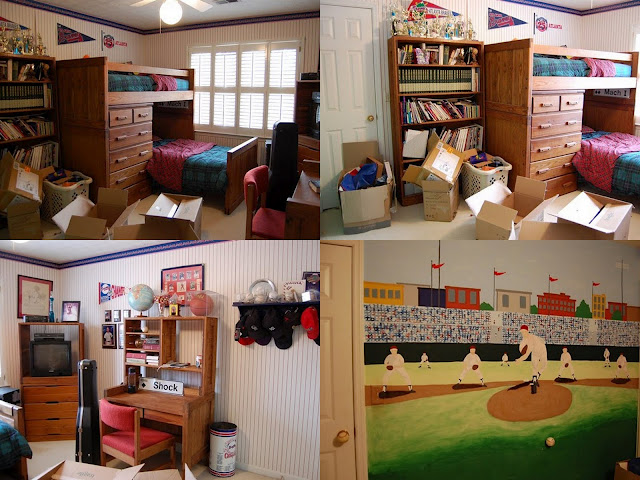 Now that those pieces have all found a home again in my grandsons' bedroom, I felt this sudden urge to finally get the garage in order.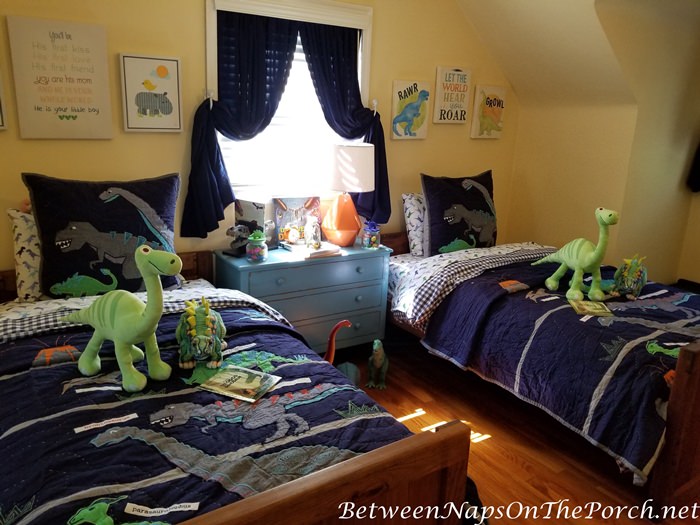 It was way past time for a full makeover of this space. Here's how the garage looked before the process got underway. That dark shadow in the center of the back wall–I think that was where an old "college" refrigerator stood running for about 20 years. Long gone now, but its shadow lives on.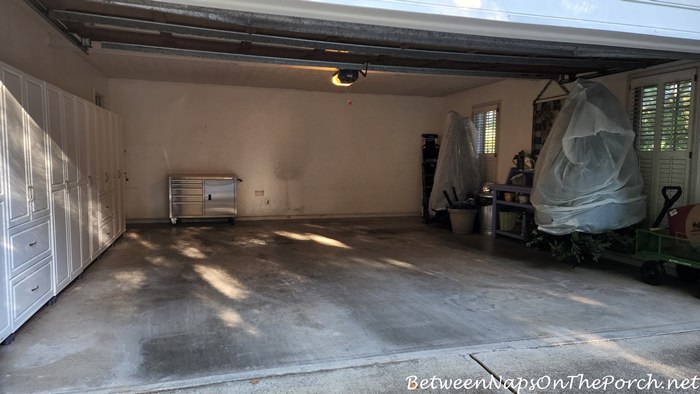 I moved the last piece of my son's bedroom furniture (the large bookcase) inside a few weeks back and the Christmas trees are back in the basement where I used to store them for many years. I was ruthless when it came to clearing things out. Anything I came across that wasn't being used on a daily or weekly basis was either donated or went to the basement. It just didn't make sense to store stuff here that was rarely being used because the more you store in a garage, the harder it is to keep it clean.
I used to have two sets of open shelves in the garage. Over the years, I had moved one of those down to the basement for storage. The other one remained in the far right corner near the garage door and was forever looking messy. Leaves and "stuff" would get caught on the shelves whenever I tried to blow out the garage. Those shelves have also been moved to the basement and I have vowed to never have open shelving in a garage again after my experience with those.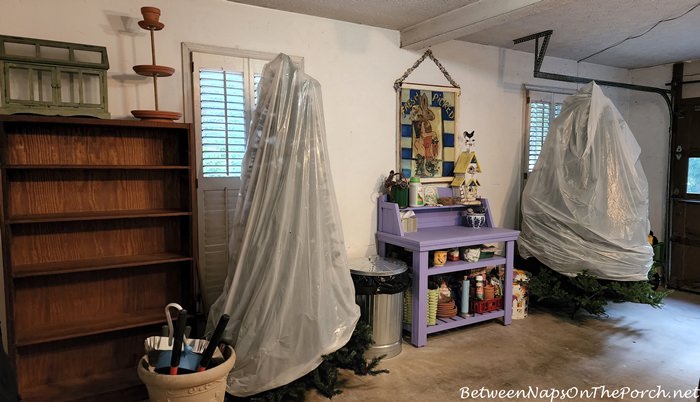 How does a cement garage floor get to look like this? Sooo many stains. Yuck!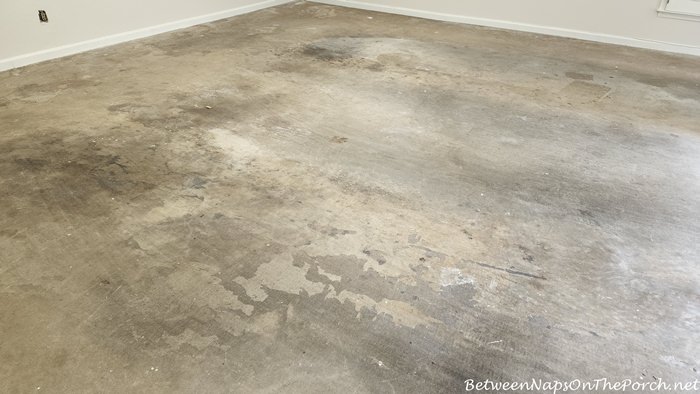 I actually love this 40-year-old wood garage door–it's not plastic like so many are today. It's heavy and sturdy and harkens back to the early '80s when my home was built. Not sure why the inside was never painted since the exterior was painted when the home was built. Over the years, rainwater has dripped down on it and left watermarks in various places. I've always wanted to have this side painted since I knew it would help lighten up the garage and would look much better.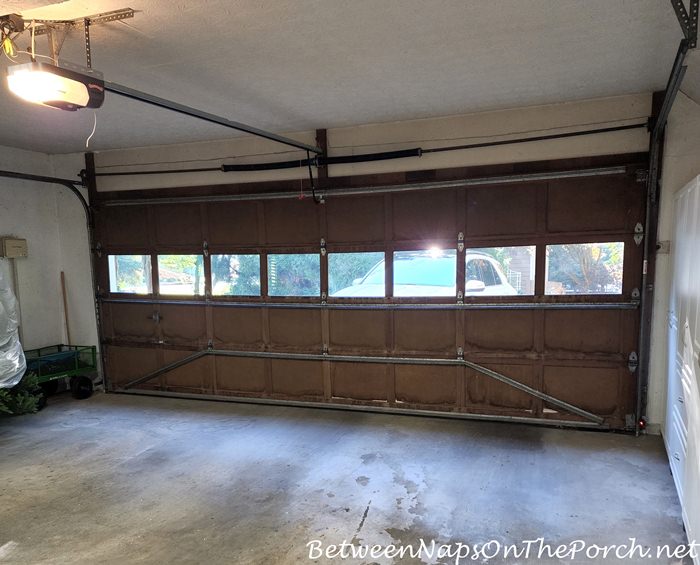 Speaking of lightening things up, I guess in the 80s, garage lighting wasn't that important. These lights were fine for lighting up the garage for the purpose of seeing where you were walking, but they were terrible as task lighting.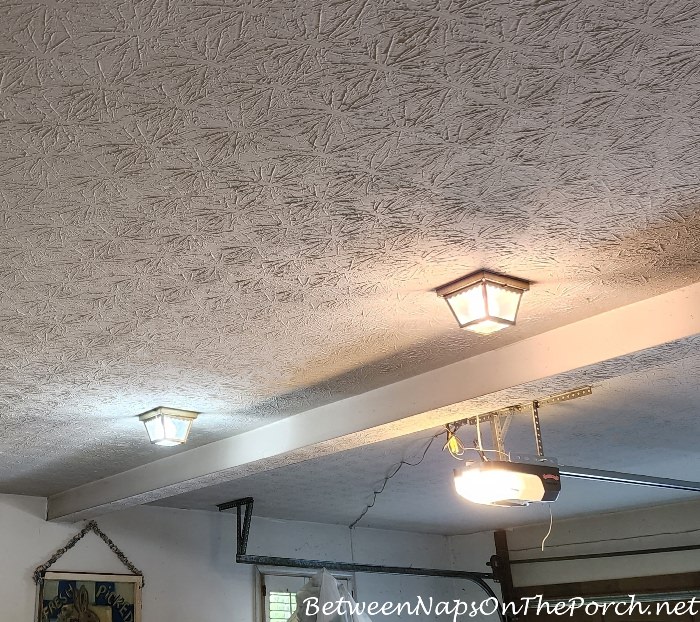 One of the first things I did during this makeover was to change out the lighting. It was something I could get done while waiting for the painting to begin. It made such a dramatic difference and it really ramped up my excitement for the other changes I had planned.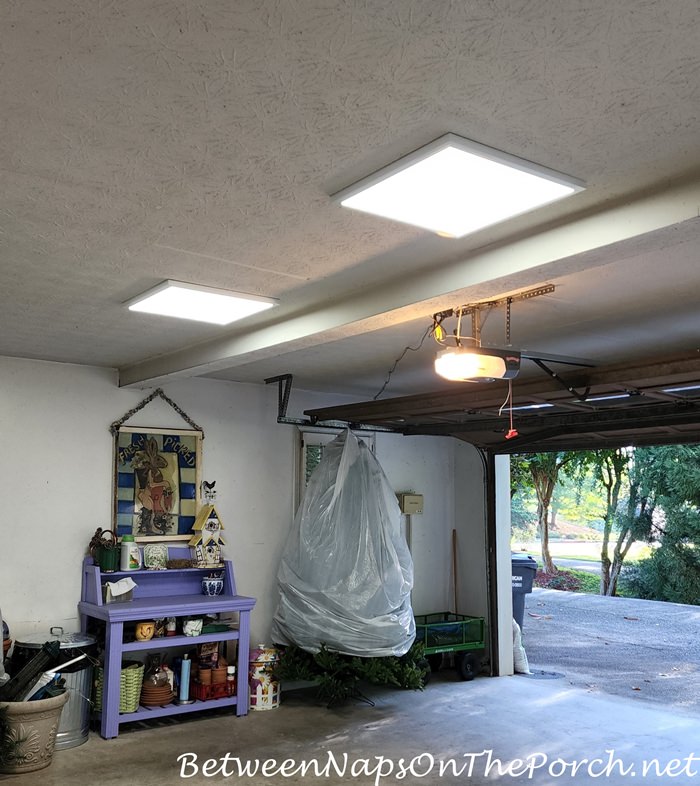 You may remember when I shared this photo as the painting process got underway.
At first, I thought I would keep the Christmas trees here in the garage since it's a pain to bring them up from the basement at Christmastime, but in the end, I decided they ruined the clean look I was going for in this space. So to the basement, they went!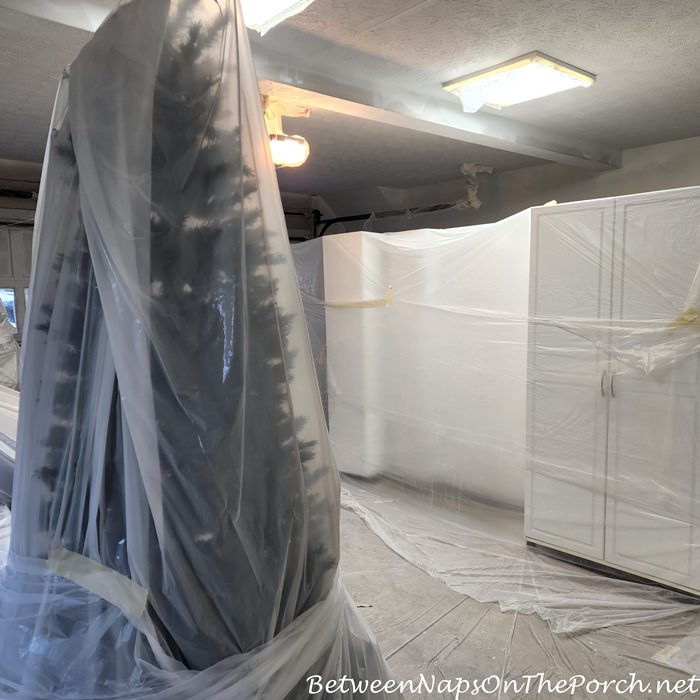 Here's how the garage looked with a fresh coat of paint and the garage door painted. But, oh my gosh, look at that floor! Freshly painted walls really highlighted just how awful the floor looked. So how did it all turn out? How does the garage look now?
It's a very different place these days! It's clean, bright, and light-filled and I can't stop looking at it! It's a place where I really love being now.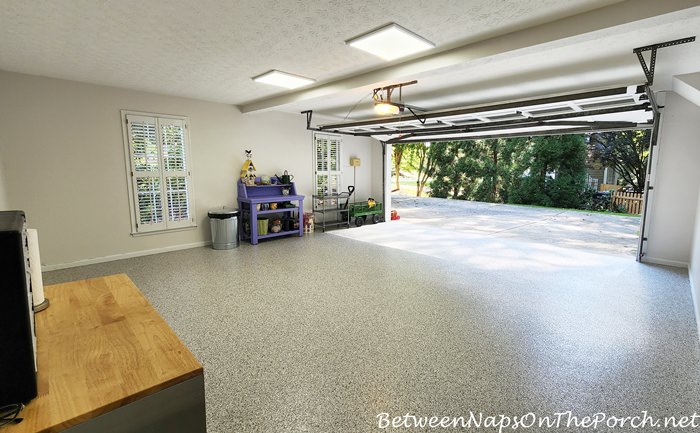 The biggest improvement of all the things I had done is the lighting and the flooring. The painting is nice but I'm in love with this flooring! It's hard to share just how beautifully bright this space is now–the photo below is the most accurate, although even it doesn't fully share how bright and happy it feels.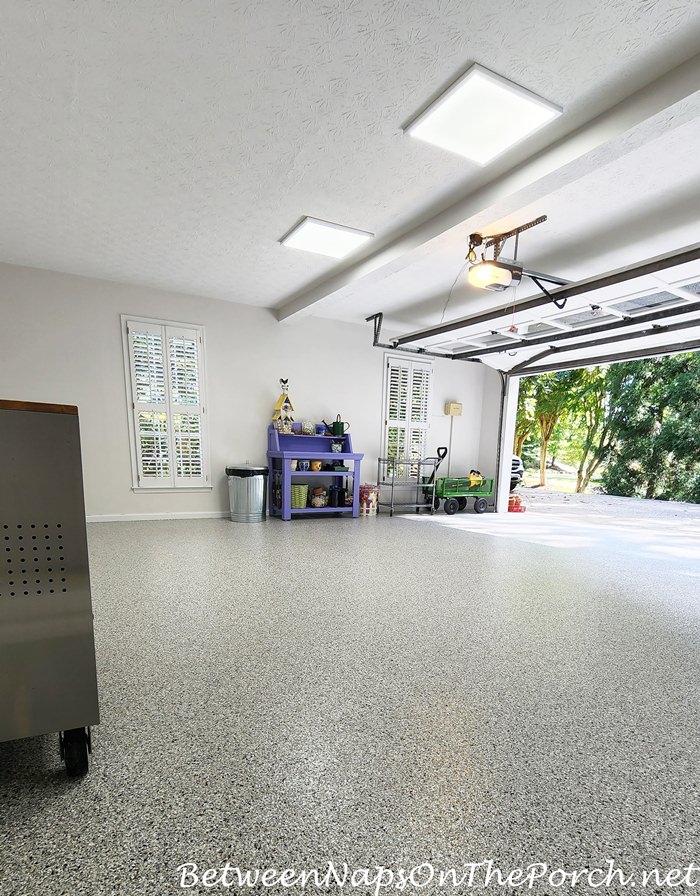 Here's a closer view of the flooring. The color I chose is called Farmhouse Gray. Granite Garage did a great job with the installation. I think I'll create a separate post to share that process because it's a two-day process involving quite a few steps. Oh, and to answer the questions I received about if it's slippery–definitely not. I'll share more about that in a future post, but I don't find it slippery at all. It has a fair amount of texture, which I love.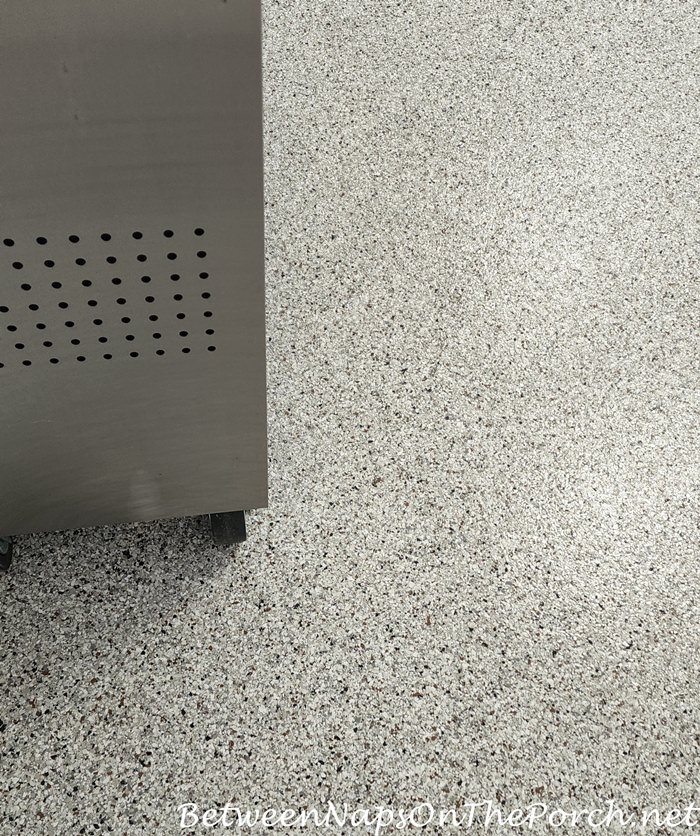 Here's another view of the floor showing how it looks in natural sunlight and in the shadows. I LOVE this color soo much! It was my first choice, then at one point, I started to second-guess myself–wondering if it would be too light. Granite Garage graciously came back out with all their samples so I could see them again and I went right back to Farmhouse Gray as my favorite. We should always trust our first instinct, right?
Over the next week, I'll be moving all my white storage cabinets back to this wall. I love those cabinets here and they have stayed nice and clean inside over the last two years since they aren't open shelving.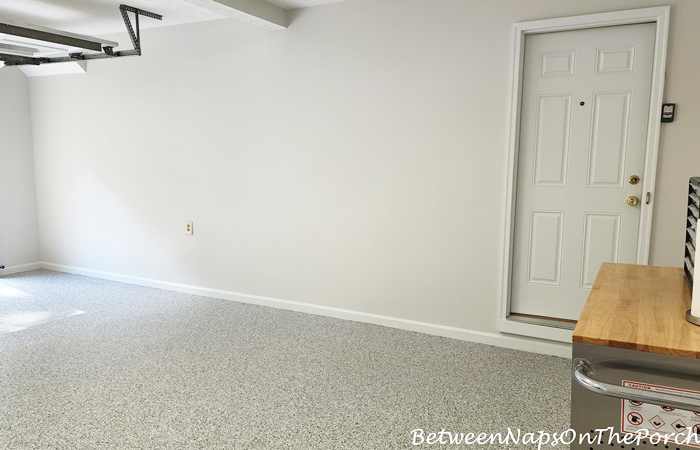 Other than hanging the painted bunny window back on the wall above the potting bench and adding back the white cabinets, this is all I plan to ever store here in the garage. No more open shelving, no more Christmas trees. I want to keep it as sparkling clean and open as possible! Granite Garage left a bottle of their cleaning solution in case I have any spills/stains. They also offer a reasonably-priced service where they will come out whenever you wish and clean the floor. I like that and I could see myself doing that every few years.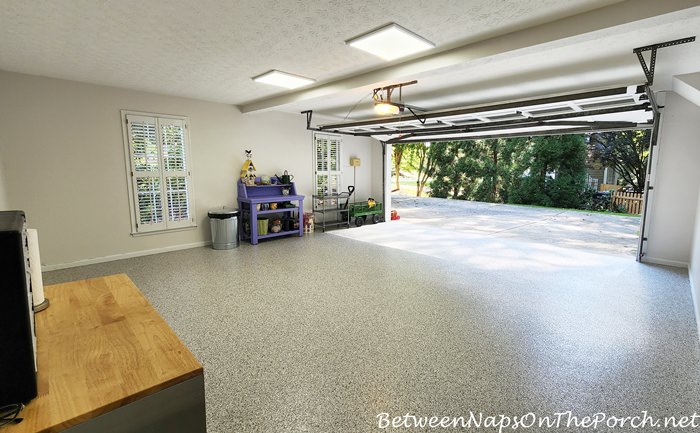 So, we went from this…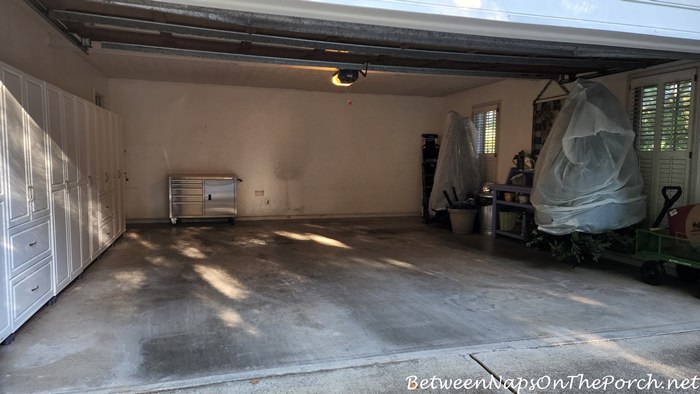 To this!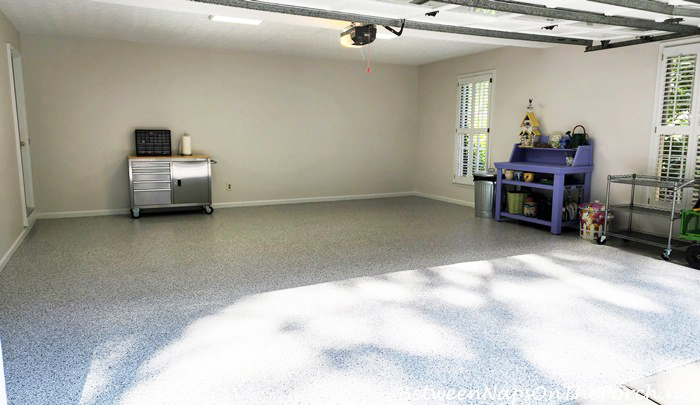 Not sure if I'll fully recoup the cost of this transformation when I sell my home one day, but I don't even care. It makes me so happy when I come and go now, I would do it again in a heartbeat!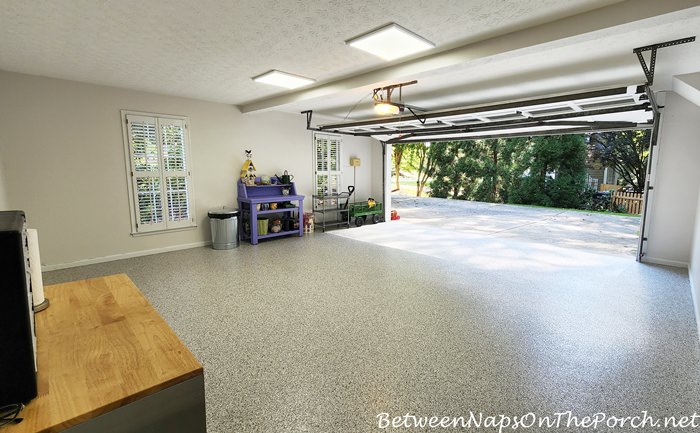 The guys finished the flooring last Thursday so technically I can begin parking my SUV in the garage starting tomorrow. I think I'll wait another day or two just to be extra safe.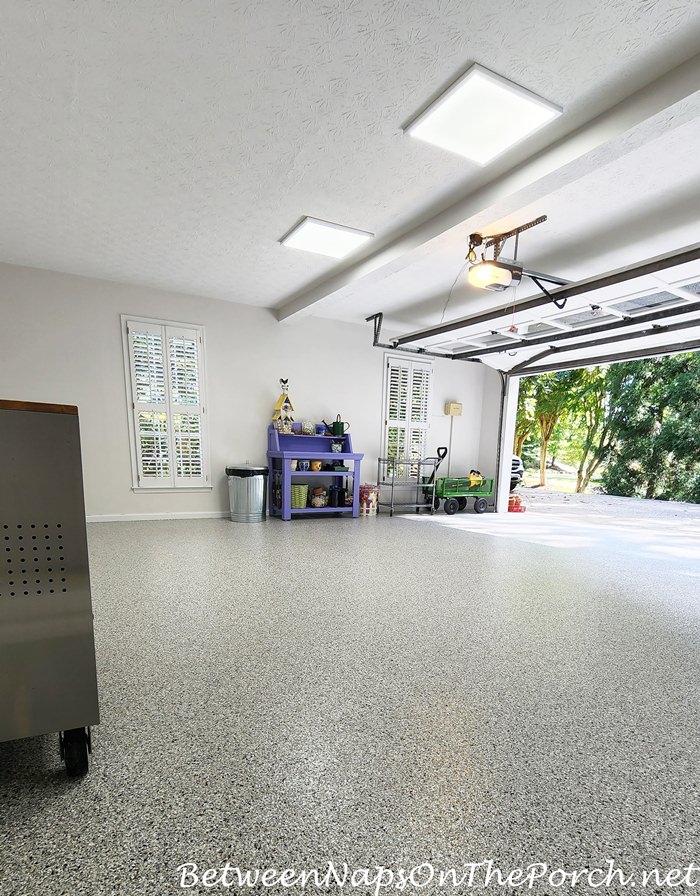 Thanks for coming along on this makeover with me–you all said it would be worth it in the end and you were right! Thanks so much for the encouragement along the way. It helped keep me going when my arms and legs were tired from hauling dishes, cabinets, and Christmas trees! Ha!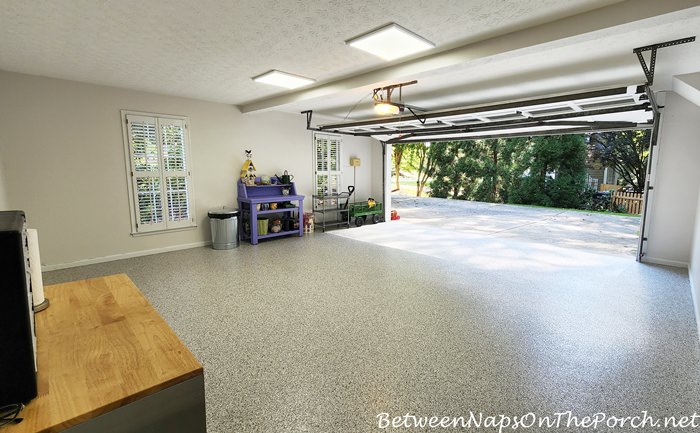 Looking forward to all the wonderful Before and Afters linked for this week's Met Monday! Pssst: Did you know Between Naps On The Porch is on Instagram? You'll find me on Instagram here: Between Naps On The Porch.
Like to know when a new blog post is up and available to read? Subscribe for email updates, it's free and your email will never be shared. Subscribe for free post updates via email here: Subscribe.
Metamorphosis Monday
Metamorphosis Monday is a party that's all about Before and Afters. Please link up your Before and After projects like DIY projects, room makeovers, craft projects even recipes. Any Before and After is great! Please do not link up Table Settings, save those for our Tablescape Thursday party on Thursday.
If you are participating in Met Monday, you'll need to link your post to the party using the "permalink" to your MM post and not your general blog address. To get your permalink, click on the name of your post, then copy and paste the address that shows in the address bar at the top of your blog, into the "url" box for InLinkz when prompted.
NOTE: Please do not link up more than 3 posts from your blog. In order to link up, you'll need to include a link in your post back to the party so visitors to your blog can find the other party participants. When linking up to the party, give the InLinkz system time to find the link in your post to avoid having your link held for moderation/approval. Thanks!
This party has ended, click button below for the links to all who participated.
*If a post is sponsored or a product was provided at no charge, it will be stated in post. Some links may be affiliate links and as an Amazon Associate, I may earn from qualifying purchases. *