Pssst: Little Reminder, I'll be posting photos periodically each day on Instagram while I'm in Holland and Belgium. If you would like to follow along on this adventure, be sure to follow me on Instagram here: Between Naps On The Porch on Instagram. Instagram is the easiest way for me to share something with you in real time. 🙂
Recently while shopping in Marshalls, I came across an Infusion Pitcher. Have you seen these? It came with three pieces as seen below.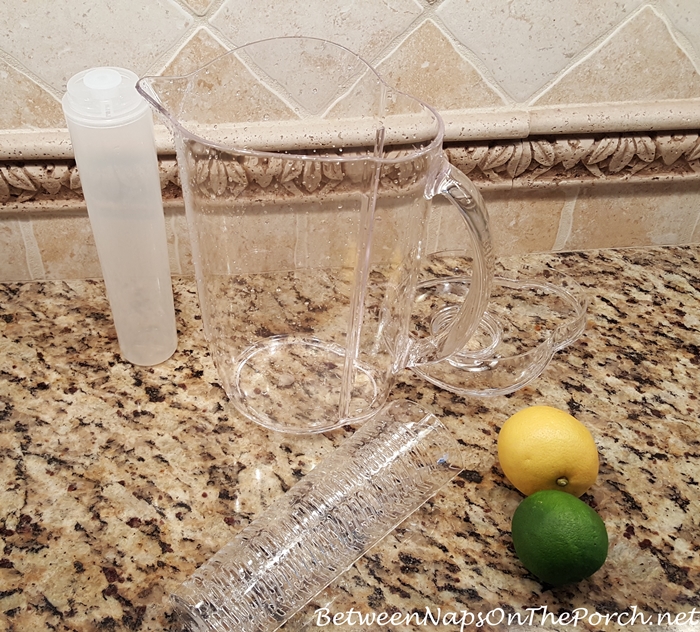 The way it works is you put whatever type fruit you would like inside the little slotted cylinder that comes with the pitcher, then you slide the cylinder down inside the pitcher in the spot that's designed to hold it.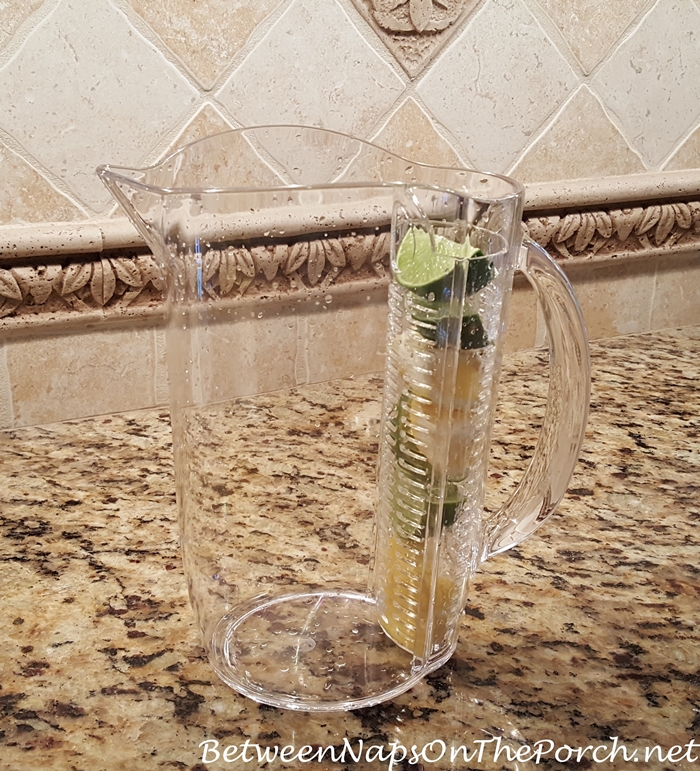 You don't need to squeeze the fruit in advance, just cut it up, put it in the cylinder and slide the cylinder down inside the pitcher.
Add water and in about an hour, you will have the best tasting water! I couldn't wait and poured a glass right away. I could taste the lemon/lime flavor, but it was subtle since I had just added the water. I waited about an hour and tried again and it was much stronger. It was delicious! Over the day, the flavor became even more intense. It was really good, I loved it! This little pitcher definitely has me drinking more water.
My pitcher also came with another little container that can be filled with water, frozen, then put inside the pitcher to keep the water extra cold. This would be a great idea if you wanted to take your pitcher outside for dining outdoors or to have near a pool. I didn't use the ice container since I just placed my water in the refrigerator to keep it cool.
I loved the lemon/lime combination, but I also want to try it with strawberries or peaches. I wonder how cucumber would taste? I bet mint would be good, too! I found my pitcher in Marshalls but there are tons of them available here if you would like to try one: Infusion Pitcher
Do you have one of these pitchers? What's your favorite fruit or combination of fruits to use?
*If a post is sponsored or a product was provided at no charge, it will be stated in post. Some links may be affiliate links and as an Amazon Associate, I may earn from qualifying purchases. *