Beautiful and Halloween-festive tablescapes were linked for yesterday's Tablescape Thursday. Be sure to scroll on down and check them all out. How about a little something to put on top of those table settings?
A couple of months ago I stopped by a local craft store to check out the Halloween stuff and I came across cookie cutters with a Halloween theme. They were especially made for making Linzer cookies like these.
I've always wanted to try my hand at making Linzer cookies, but I just wasn't sure how. This Wilton set of cookie cutters makes it really easy.
Here's how they look out of the box. You just slide one of the Halloween shapes into the center of the cookie cutter to cut the tops of your cookies. Then you remove it to cut the bottom half. This set had a cat, pumpkin, owl, witch's hat, bat and ghost.
Linzer cookies traditionally have finely ground almonds in the dough, although from what I've read online, some folks use pecans or walnuts, too. I used almonds as the directions on the cookie cutter box suggested.
I mixed the dry ingredients together.
Next, I beat the sugar and butter together until fluffy. Then I added the egg and vanilla extract.
This was the first chance I've had to try the new vanilla extract I bought recently at Williams-Sonoma. I shared a pic of this extract on the BNOTP Facebook page, HERE the day I bought it. I asked if anyone had used it and if it was worth the expense. Several folks said it was great!
Once the dry ingredients were combined with the butter, egg and vanilla extract, the directions said to divide the dough into two parts, wrap them in plastic wrap and put them in the frig for at least 2 hours.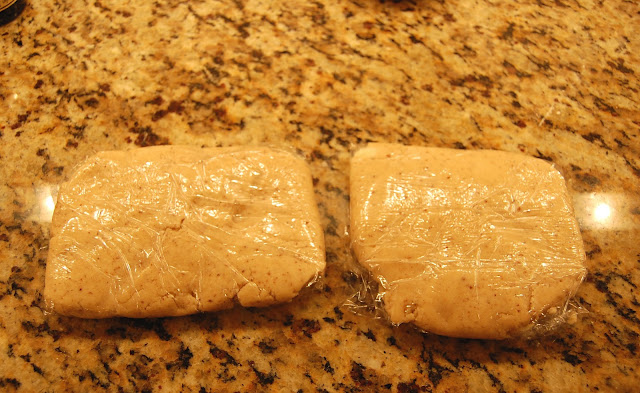 When I got one out a few hours later, it was way too hard to roll out with my rolling pin. I zapped it in the microwave for about 12-15 seconds and it softened up just enough to roll it out.
After rolling it out to about 1-8 inch thick…
I began cutting out the tops and the bottoms of the cookies. This Wilton cookie cutting set made it super easy. Linzer cookies are a bit like a cookie sandwich. The bottom is solid but the top has a little cut out.
The dough does need to be well-chilled or it will have a tendency to stick to your cutter. If the dough begins to get too soft, you can just pop it back in the refrigerator for about 30 minutes. I didn't have to do that because rolling it out and cutting out the cookies went very quickly. Once you finish with one section of dough, you can roll out and cut out the second section. I wonder if this dough will freeze well? Be nice to freeze one section of dough to enjoy later on.
You can see some of the tops I cut out on the parchment paper on the right side.
After I cut out the tops and the bottoms, I baked them for 11 minutes in the oven. Then I let them cool. They are so thin, they cool very quickly.
The recipe called for raspberry jam for the filling between the two cookie parts. I ended up putting the jam in a bowl and squishing it up a bit more. That helped the cookies fit together better…no big lumps in the way.
I got so involved in my project, I forgot to take pics while I was putting them together. But it's super easy. Just sprinkle powdered sugar on the top part of all the cookies, which is the part with the cut out design.
Next, put a teaspoon of raspberry jam on the bottom half cookie, which is the solid piece with no cutout. Then gently press the top half with the cut out design, down onto the jam. So easy! Believe me, if I can make these, anyone can!
These are scary delicious! Maybe it's that awesome vanilla extract. Or, it could be the two sticks of butter I mixed in with all that sugar! Ha! Just call me Paula for today. 😉
Now I want to find some Linzer cookie cutters with Christmas designs.
Have you ever made Linzer cookies? Do you have a favorite recipe you use when you make them? Please share in your comment. I definitely want to make these again…maybe for Christmas and Valentine's Day.
You'll find additional Halloween and holiday decorating ideas HERE.
Recipe for Linzer cookies:
Ingredients:
2 cups all-purpose flour
2/3 cup finely ground almonds (2ounces)
1/4 teaspoon ground cinnamon
1 cup (2sticks) butter, softened
2/3 cup granulated sugar
1 egg
1/2 teaspoon vanilla extract
1/2 cup seedless raspberry jam
Confectioners' sugar )optional)
Directions:
In a small bowl, combine the flour, ground almond and cinnamon. In a large bowl, beat butter and sugar until light and fluffy. Add the egg and vanilla extract to the butter/sugar mixture and mix well. Add the flour mixture to the butter/sugar mixture and mix only until incorporated.
Divide dough into 2 sections and press into small disks, about 1 inch thick. Wrap separately in plastic wrap and refrigerate 2 hours or until firm enough to roll.
Preheat over to 350 degrees. On a floured surface, roll out one section of dough to 1/8 inch thick. Keep the other section of dough chilled in the refrigerator, in the meantime. Cut half of the dough using the round cutter with your chosen insert…this will be the top half of your cookie. Cut an equal number of round bottoms to go with the tops you've cut. Transfer to parchment paper lined baking sheets.
Bake cookies 10-12 minutes or until light golden brown. Cool on the cookie sheet for 2 minutes, then remove the cookies from sheet and cool completely. Turn over the bottom cookies and spread with about a teaspoon of jam. Dust the top halves (the section with the cut-out) of the cookies with confectioners' sugar. Carefully sandwich the cookies together.
Make about 20 cookies.
*If a post is sponsored or a product was provided at no charge, it will be stated in post. Some links may be affiliate links and as an Amazon Associate, I may earn from qualifying purchases. *