There was one more home we toured in Madison during the Town & Country Holiday Tour back in December: the Hill-Huggins Home built in 1832. It was late evening and just before dark when I took these photos.
This beautiful Greek Revival has a really fascinating history.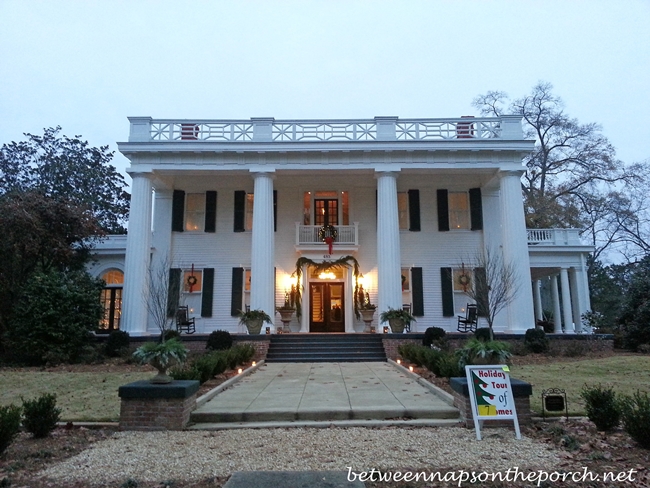 While on the tour we were told that the home belonged to Senator Joshua Hill during the time of the Civil War. He was the only southern Senator who voted against the secession and actually resigned his position afterward, returning to his home in Madison.
History has it, when Sherman marched through this area, Senator Hill rode out to meet Sherman and convinced him to not burn Madison down in his "March to the Sea" as he had so many other town and cities in Georgia. The Union army did spare Madison's center, although several public buildings and surrounding plantations were burned per THIS article.
We couldn't take photos inside but I found the following photos online HERE. The home is now owned by the Huggins family. You can read more about them at that link.
This is the sitting room in the Hill-Huggins home. Love how bright and sunny this room is, it's so wonderful how the rooms in historic homes normally had windows on two or more sides, not just on one side like newer homes do today.
The kitchen…
The dining room…love the transom window over the door and a fireplace in every room! Just imagine having this many fireplaces to decorate for Christmas!
The sunroom…
This beautiful pool was put in by the Huggins family. Let's go take a look at the outdoor room we see in the distance.
Beautiful place to spend summer evenings!
Looking back at the home, you get a view of the back porch. Love the double-screened doors!
The back porch is furnished with white wicker. Such a beautiful, airy space to have a glass of iced tea (or a Mint Julep) and spend the afternoon.
Hope you enjoyed this tour!
The snow has almost all melted here. These pictures have me craving summer like crazy!
XO
*If a post is sponsored or a product was provided at no charge, it will be stated in post. Some links may be affiliate links and as an Amazon Associate, I may earn from qualifying purchases. *