Halloween is almost here and I have a super fun, easy craft to share. I've been itching to make some Mummy Candle Holders for Halloween for a while now. They always make me laugh when I see them in magazines around this time of year.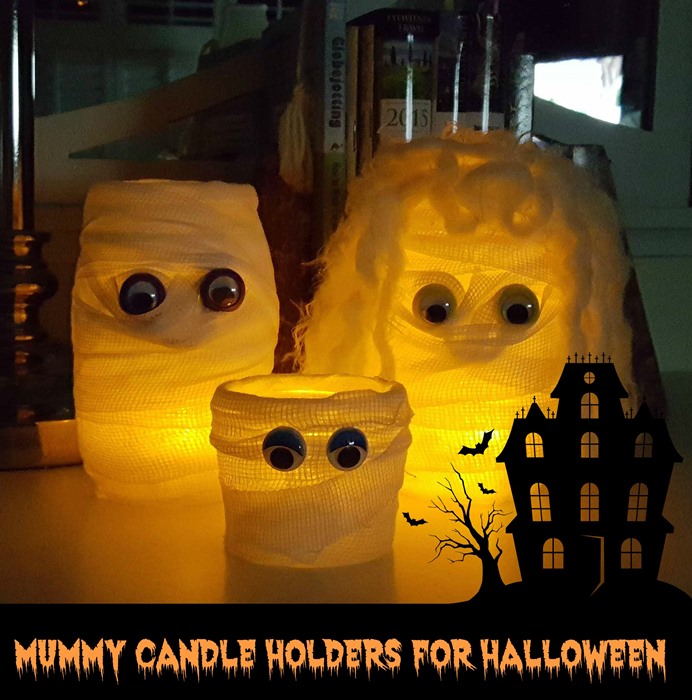 I didn't have a tutorial to go by, just gathered together the items that I thought I'd need: pint size mason jars from True Value, gauze, glue gun and some silly googly eyes.
Tip: When making these with children, you can use a fast-drying glue like Fabri-tac instead of a hot glue gun, unless you'll be using a real candle inside. Then you'll need to use a glue that's non-flammable. I used flameless votives inside these.
While shopping for the eyes in a local craft store, I came across some soft, scraggly yarn that I thought would be fun to work into the project somehow. I bought several different styles of eyes since I wasn't sure which ones would be my fave once I got to work.
The colorful eyes on the right are actually rings, meant to be a party favor. I liked the idea of adding a bit of color to my mummies instead of going with the typical black and white eyes. I only have one showing below, but this project actually took two small boxes of gauze (4.1 yards long each) so a total of 8.2 yards of gauze. The gauze was only $1.47 a box so it wouldn't hurt to buy one more box since I barely had enough using two boxes.
To make my mummy candle holders, I began by attaching the end of the gauze strip to the jar using a small amount of glue. Then I began wrapping the gauze around and around, trying to not be too precise or perfect about it.
I stopped about 2/3rds up to hot glue on my silly eyeball. Since the eyes were a ring with the eyeballs close together, I pulled them apart, bending them down a good bit to loosen them up so they would stay apart.
See how close together the eyes are in the package below–they are actually touching.
Once I pulled them way, way apart, when I let go they were separated the distance you see below. You can leave them close together or spread them apart, play around with them to get the look you want. You could even cut them off of the ring and glue them on one at the time, making one lower than the other. I've seen that look with the standard black/white googly eyes and it's hilarious!
Next, I began weaving the gauze in-between my purple eyeballs. lol
Try it different ways to see which way works best. There's no right or wrong way with this craft, anything goes!
Now that I think about it, cutting the eyes off the ring would probably make this craft easier because you wouldn't have to worry about hiding the ring section, although the ring section does offer a bit of stability for holding the gauze out some. Plus, the ring kind of gives the mummy a nose underneath the gauze. Try it both ways to see which you prefer.
After I had the gauze wrapped around my mason jar and eyeballs, I attached the end of the gauze with a small amount of hot glue.
Next, I started playing around with the fun yarn I had purchased. It was about this time that I decided to create a little mummy family. lol Mrs. Mummy needed a feminine touch so I gave her some flowing, curly locks.
To do that I cut the yarn the length I thought worked best (about 5-1/2 to 6 inches) and hot-glued strands of yarn along the top of the jar as shown below. I continued gluing on the yarn, filling in around the back of the jar.
Once I had all the hair strands glued on, I added one long piece of yarn all the way around the top of the jar to give it a nice, finished look. I added a bit more up front, creating some waves atop Mrs. Mummy's forehead. Note: If you'll be using a real candle inside your candle holder, make sure the glue you use is non-flammable. Fabri-tac would not work for gluing on the hair if you use a real candle inside.
May I present to you, Mr. and Mrs. Mummy and their son, Mummy Junior. (Hee, hee)
Since I gave Mrs. Mummy a fancy hairdo, I decided inserting a real candle inside might not be such a great idea. We don't need a flaming mummy! So, I placed a small, flameless votive candle inside each holder, instead. The votives I have are fairly old so I'm sure you can find much brighter ones available now, but this should give you a general idea of how they look lit up at night. Fun, fun, fun! 🙂
Are you all ready for Halloween? Do you get many Trick-or-Treaters where you live? I love this time of year and love seeing the cute faces and the fun costumes each time the doorbell rings.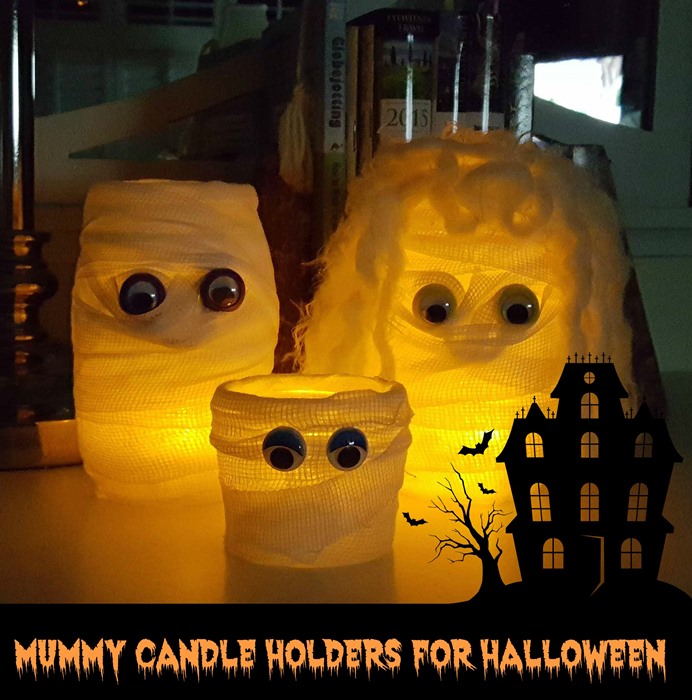 Visit TrueValueProjects.com or check out True Value on Facebook, Twitter, Instagram and Pinterest for more fun, DIY ideas and projects.
I was one of the bloggers selected by True Value to work on the DIY Squad. I have been compensated for my time commitment to the program as well as writing about my experience. I have also been compensated for the materials needed for my DIY project. However, my opinions are entirely my own and I have not been paid to publish positive comments.
*If a post is sponsored or a product was provided at no charge, it will be stated in post. Some links may be affiliate links and as an Amazon Associate, I may earn from qualifying purchases. *