I don't normally post on Sundays but I came across a deal this weekend that expires today, so I'm sharing it in a quick post just in case it's helpful in your upcoming holiday decorating.
Update added 11-2-15: It looks like they still have the 10% off deal going on, which is great! Tip: If it shows the wreath is out of stock for your store, click in the box that looks like this one below and you'll be able to check other nearby stores for stock.
Yesterday, I stopped by Target and purchased a few home-related things for the upcoming holidays. One of the items I picked up was a large preserved boxwood wreath. I've always been a huge fan of those because they're real, are beautiful and last for several years.
When I saw the big 21″ wreaths were selling for just $44.99, I knew that was an awesome deal because I've been shopping for a large boxwood wreath for several years. Usually they are way more than I'm willing to spend. For example, right now a wreath measuring just 18 inches (3 inches smaller) is going for $79 at West Elm. One Kings Lane wants $145 for a 24″ wreath and even at my favorite place to shop, Amazon, the best price I can find for a large 22″ wreath is $62.95. See what I mean…awesome price!
But wait, it gets even better!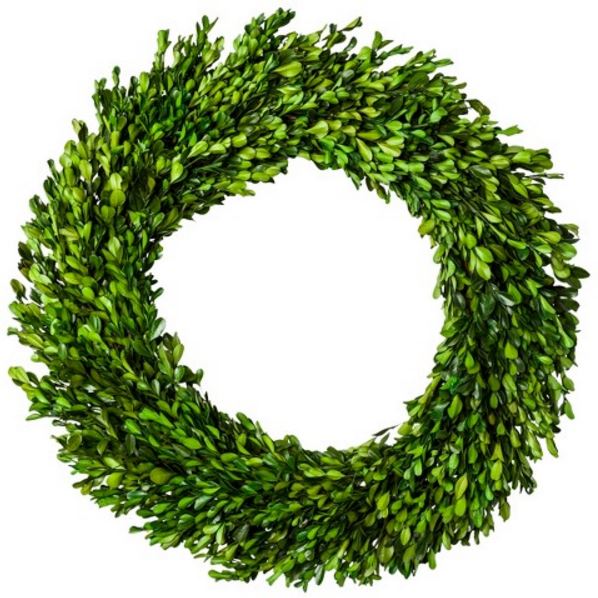 This morning I went online at Target to see if they had any other sizes available and discovered if you order the wreaths online to pick up at your local store (I don't think they don't ship them) you get 15% off if you spend at least $100. But even if you don't spend that much, today they are taking of an extra 10% off with the code, EXTRA10, no matter how much you spend.
So, that means, in addition to the already great price these wreaths are going for, you could potentially get 15% off, plus another 10% off that! No matter what, you'll at least get 10% off with the EXTRA10 promo code!
Last night, I purchased one large wreath for $44.99 and one of the smaller ones for $19.99. Once home, I hung them right away, couldn't wait! I hung the smaller one atop my mirror in my entry. The smaller wreaths are so cute hanging from armoires, secretaries, door knobs, wall sconces and grandfather clocks. (Sorry these pics are kind of dark. I'm still on Italy time, going to bed around 9 PM and waking at 4 or 5 AM, so it was still dark out when I took these this morning.)
My neighbor who stopped by for a visit last night probably wondered why there was a boxwood wreath hanging from a red velvet ribbon atop my foyer mirror on Halloween night. lol If she did, she was too polite to ask. 🙂
The larger wreath ended up over my bed. I love it there!
I like this wreath here so much, I'm tempted to leave it up even after Christmas is over, at least until spring when I'll change out my winter bedding for spring bedding.
I had to break out my Woody Car Christmas pillow from last year to see how it looked with the new wreath. I just looked and this pillow is available again this year. It must have been a big hit last year for them to bring it back again. You'll find it available here: Woody Car Embroidered Pillow
This is such a great deal on the big boxwood wreaths, I just ordered another large one for my kitchen. It ended up being around $42 (including tax) with the EXTRA10 promo code. I'm going to pick it up this morning. I've always wanted to hang one in the center of my kitchen bay window at Christmas. At this price, I'm going for it this year!
If you want to jump on this sale before they are all gone, you can order your wreath online here: Boxwood Wreath. If it tells you they are sold out, don't believe it, just click on the box that says "Find In Another Store" and check for it in the stores near you.
I don't think they'll be in the stores for very long because my Target store only had four. I purchased one last night and another this morning so that leaves just two left at that location, unless they get more in later.
Make sure if you order a wreath online (to get the 15% and 10% discount) that they are showing the correct store in your area for where you'll go to pick it up. When I placed my order, I changed the store location they had showing for me to the one that's closest to my house.
Okay, I'm off to take down my Halloween decor from the front door. Did you have a great Halloween? I had around 65 Trick-or-Treaters last night so it was a fun, fun night!
Update: I just drove over to pick up my wreath and while there I took a peek at some of the other Christmas goodies that are being put out. I noticed these deer way up high on a shelf.
It reminded me that someone emailed me a while back asking where I found the ones I used in this Christmas table setting. (Christmas table setting can be viewed here: Glitz & Glam with a Touch of Whimsy)
I found mine in Hobby Lobby a few years ago. Though the ones I saw at Target aren't covered in glitter, they are similar with fur collars. They are available at Target here: Silver Deer
One of the other items I passed up on initially but did go back for was this cute pillow for my upstairs family room. It made me lol when I saw it. If you follow BNOTP on Instagram, you saw it yesterday. It's available here: Christmas Pillow with Deer I placed it on the long window seat in my upstairs family room. I love this time of year! I can't wait to put the wreaths up on the windows…won't be long now!
*If a post is sponsored or a product was provided at no charge, it will be stated in post. Some links may be affiliate links and as an Amazon Associate, I may earn from qualifying purchases. *