Welcome to the 316th Tablescape Thursday!
The owls hooting up a storm in my backyard recently must have been the inspiration behind this table setting. (Hear that recording here: Night Sounds From The Porch)
I found Mr. Owl in Wal-mart around this time last year. He's actually a cookie jar. I placed him atop two cake pedestals to give him some height in the center of the table.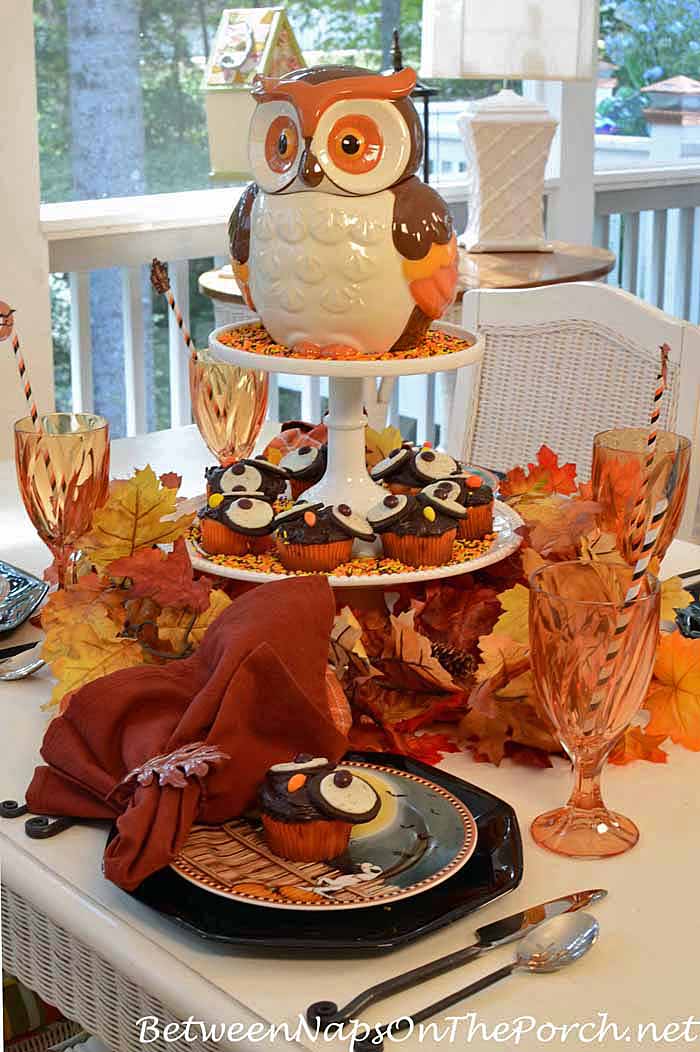 A few weeks ago I received a Pier 1 sales flyer in the mail. I loved the adorable owl cupcakes I could see in some of the Halloween displays.
I didn't see a recipe in the flyer but they looked like they would be pretty easy to make, so I decided to give it a try.
How To Make Owl Cupcakes
To make them, just bake cupcakes from scratch or use a box mix like I did. Frost them with chocolate frosting.
Next, twist apart some Oreo cookies. If one doesn't twist apart quite right and leaves part of the icing on one side, you can either scrape it off and put it on the other side with the rest of the icing, which doesn't always look quite right. Or, you can hide the evidence by eating it! I vote for the latter.
Press a brown Skittle or M&M onto the icing of the Oreo. I personally liked how the brown Skittles looked better than brown M&MS because the Skittles were shiny and looked more like eyes. I noticed on the Pier 1 cupcakes, the eyes were positioned over toward the edge, so that's how I placed mine, too.
After you get the little eyes in place, press the whole Oreo eyeball into the icing of the cupcake. Add an orange or yellow Skittle or M&M for the nose and you're done! So easy! These cupcakes would be fun to make with children. I sprinkled little Halloween colored sprinkles around Mr. Owl and the cupcakes.
Here are a few tips I learned from my experience in making these:
Let the cupcakes completely cool before icing them. If they are even a little warm, the warmth makes the icing soften up and it doesn't properly hold onto the Oreo eyes. We're talking sliding eyeballs here!
Don't try to cut a Skittle in half to make the nose, it will crack the outer candy shell. Just use a whole Skittle or M&M and squish it down into the icing on its edge so it sticks up out of the icing.
It's best to make these within a hour or two of when you'll be serving them. If made the evening before, the Oreo eyes get super soft overnight and the M&M eyeballs get pale and really strange-looking.
I used a dark chocolate brown icing to make these but next time I think I'll go with a more of a milk-chocolate to create some contrast in color between the Oreo eyes and the cupcakes.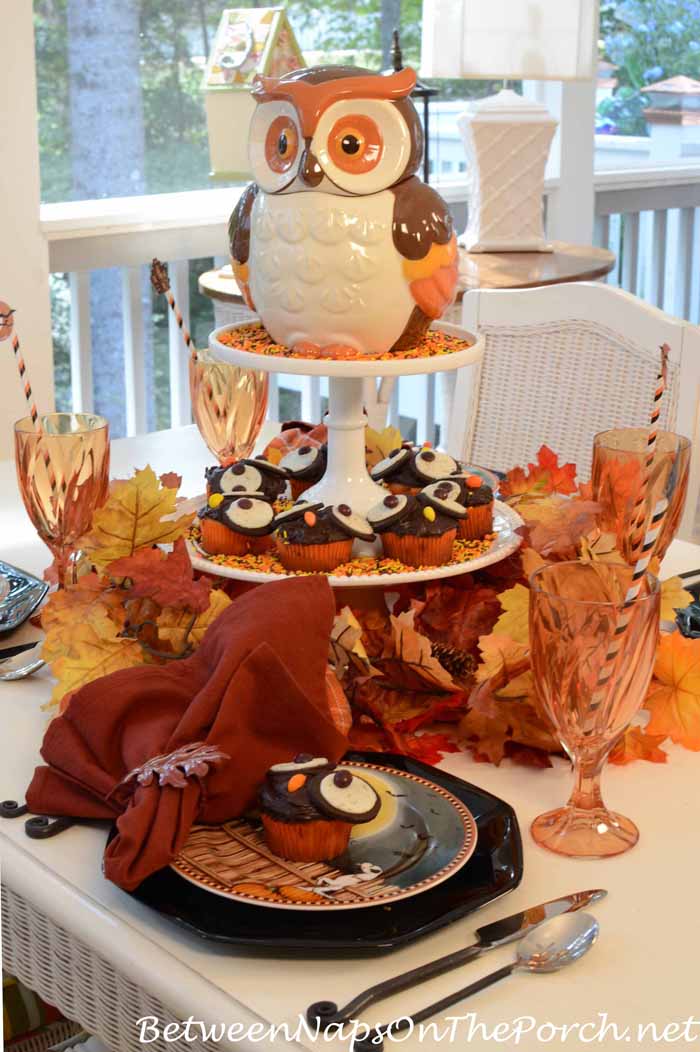 The salad plates are by David Carter Brown and the pattern is called "Pumpkin Hollow."
Look! More owls! 🙂
David Carter Brown makes the cutest plates!
Love all his designs, they are always whimsical and fun!
With different glasses, this would be a great Halloween tablescape for kids. The whimsical flatware is Gourmet Settings Treble Clef .
Just for fun, I stuck little Halloween cupcake pics into the top of the stripped straws. Glasses are "Breeze Amber" by Noritake.
Happy Halloween!
Looking forward to all the beautiful tablescapes posted for this week's Tablescape Thursday!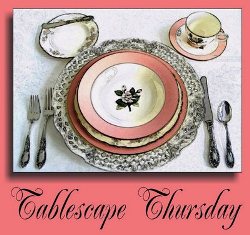 If you are participating in Tablescape Thursday, please be sure to add your permalink below, and not your general blog address. To get your permalink, click on your post name, then copy and paste the address showing in the address bar, into the "url" box when you link up.
You'll need to include a link in your post back to the party to link up and participate. That's so visitors to your blog will be able to find the party and the other Tablescape Thursday participants. Requiring a link back also prevents businesses from linking up to sell their products. (Yep, that really happens, unfortunately.)
If you would like to use the Tablescape Thursday logo button in your post, just copy and paste it to your computer and upload it to your post as you would any photo.
Please, don't add your post name/blog name ALL IN CAPS…it tends to create big spaces between the rows of links.


*If a post is sponsored or a product was provided at no charge, it will be stated in post. Some links may be affiliate links and as an Amazon Associate, I may earn from qualifying purchases. *