This past weekend I took a little trip to visit family in Ohio. I always feel at home when I'm there because the older neighborhoods are very similar to those you would find driving through any of the older cities and towns in Georgia. The homes are anything but cookie-cutter.
As I drove down the streets oohing and ahhhing over the architecture and beauty of the older homes, I wondered how we ever evolved toward the nondescript subdivisions so popular around metro Atlanta today when we could have this…street after street of charming, unique homes, homes that make you feel as if you've stepped right into a Norman Rockwell painting.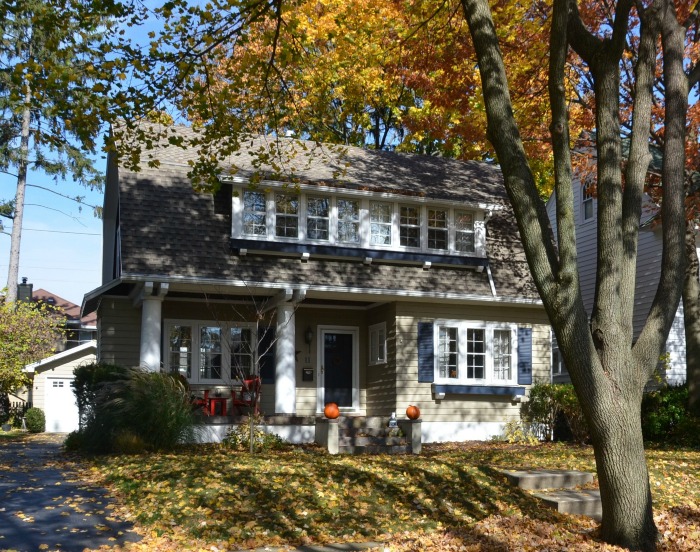 Let's go for a drive this gorgeous fall day. The day I took this little drive, I had the windows down in the car. It was a warm day, one of those days when the temperature outside is absolutely perfect, not too warm and not too cold. As I drove around, every now and then a brightly colored leaf would blow in through the open windows and land on my lap or on the seat beside me. I loved it and left them where they landed, a bit of fall decorating for the car compliments of Mother Nature.
I love the color of the brick they used for this home. It's getting harder and harder to find homes with the true divided-light windows. I read somewhere a few years ago that you can have double-pane, energy-efficient windows made in the true-divided light style. It's not inexpensive though. If more folks started demanding those, I bet they would become more the standard and the price would drop. If you're wondering if you should keep your old windows, check out THIS SITE before you do anything. It has a wealth of information!
This is a front view of the home above.
This house reminded me so much of the house in the movie, Father of the Bride.
Here's a view of the "Father of the Bride" house. It has three dormer windows across the top, too. They are hidden by the tree. (Take a tour of this movie house in this previous post: Tour the Father of the Bride home.)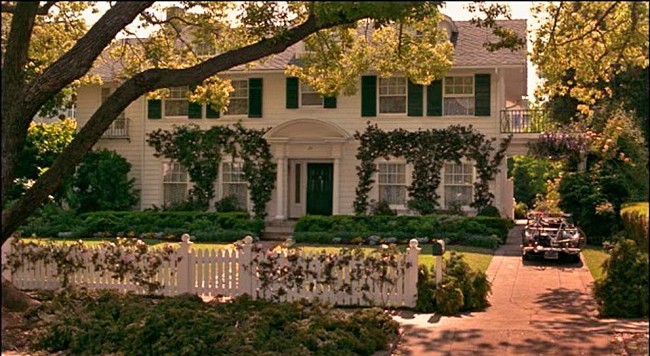 Notice the over-turned wagon with pumpkins spilling out. 🙂
The end of this home was so pretty with its stone fireplace and 1/4 round windows.
Another sweet house with a small arbor leading to the back yard.
Notice the fat round columns on this house, they look great on this home! Love the triple windows inset upstairs. I bet the screening was an addition to the front porch. I like it screened but would love it open, too. What about you?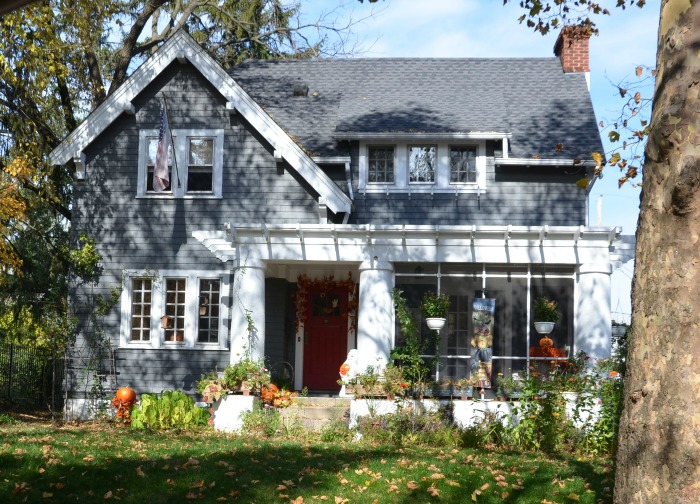 Love a Victorian! I bet the view from the room on the left is amazing.
Another darling home….wonder if this is Georgian style architecture? I don't have my old house architecture book with me as I'm writing this. Wish I did since I saw a lot of homes in this style on this trip.
Love the double-bowed windows and the large dormer up top.
Cute shutters, dormer windows, adorable arched front door with stone accent surround and a big bay window…so much to love!
I saw this wonderful evergreen tree during my little drive. Isn't it amazing?! As you can see in this photo, all the streets had sidewalks and they were on both sides. The streets were so nice and wide and most were tree-lined.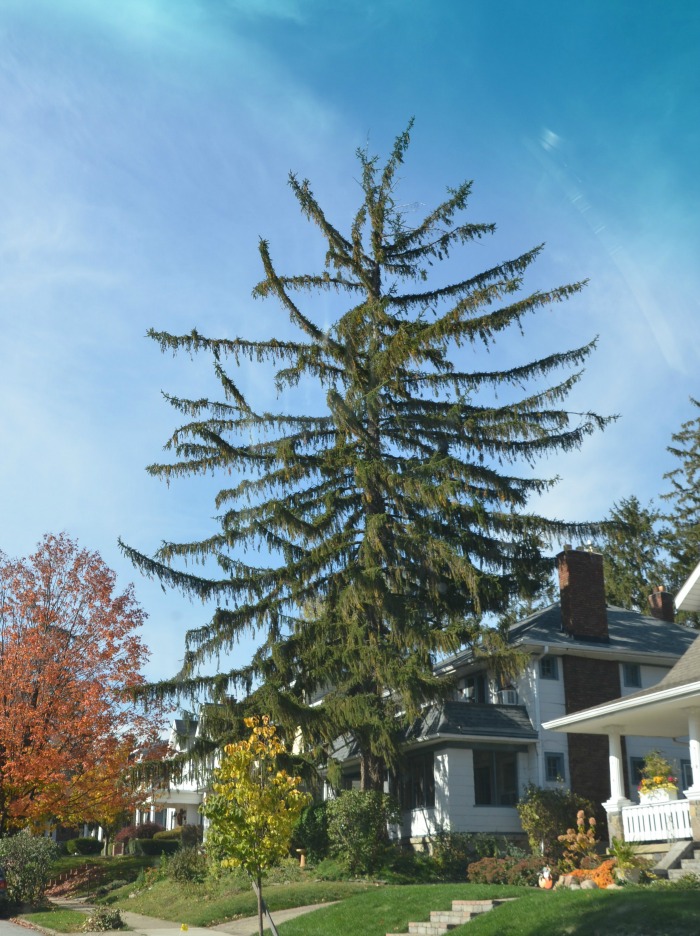 Notice the wonderful stone/rock fireplace. Cute balcony and pergola, too. All of these homes were in the same area, many on the same street…yet all are so very different.
See the cute window box?
I zoomed in to give you a look at how it's decorated for fall. What do you see? I think I see some cabbages, fall leaves, mums and a pretty white pumpkin. Did I get that right?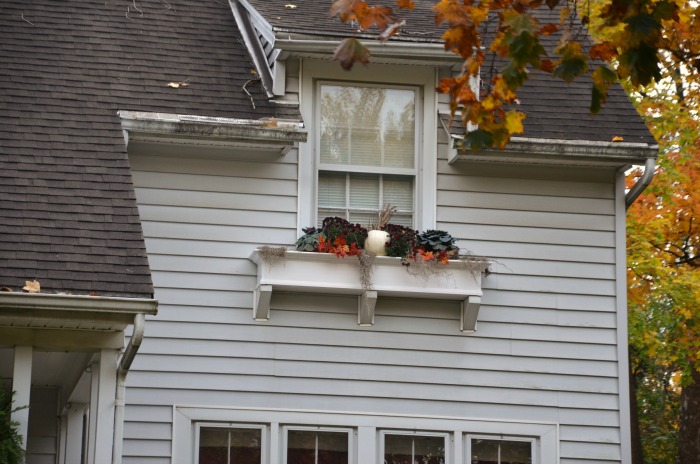 Sooo many wonderful old homes…I was in old-home heaven!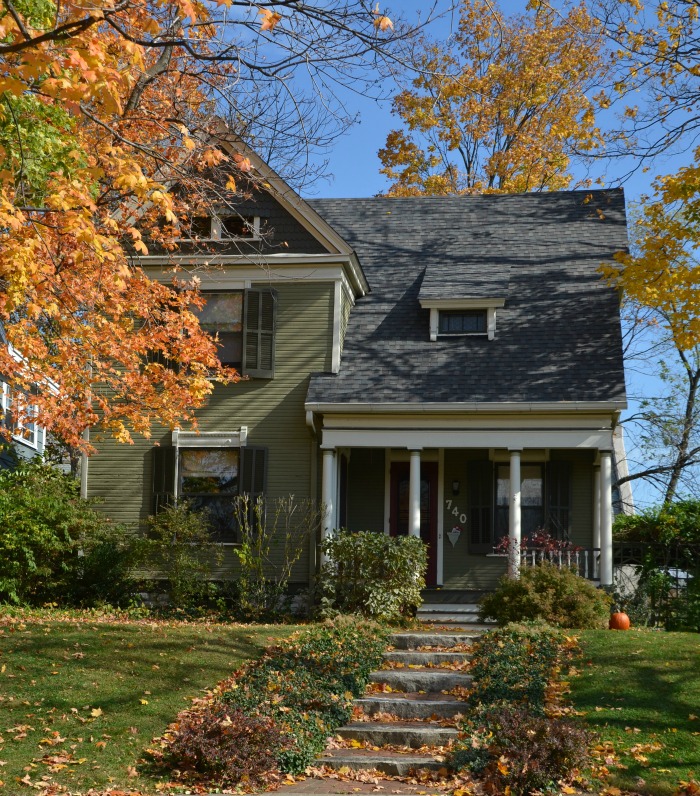 A pergola can add so much curb appeal without tremendous expense. If you don't have the space or the budget for a full porch, consider adding a small pergola.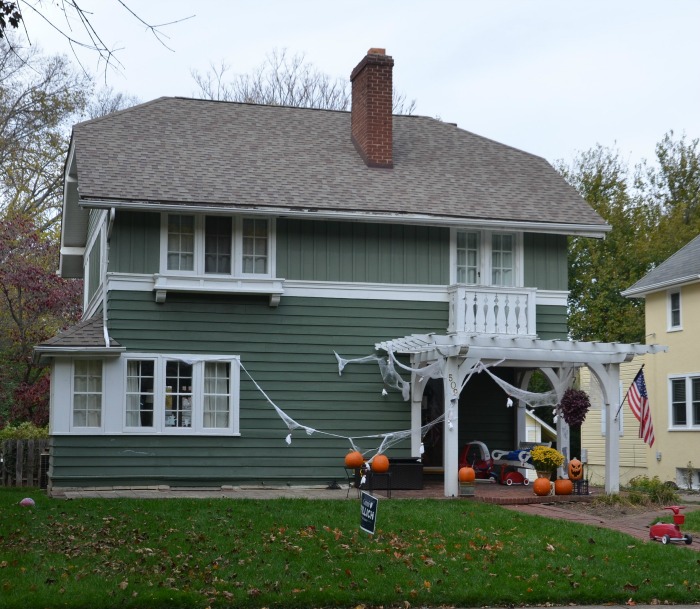 This house had me at the tire swing. ~~~SIGH~~~
I saw a lot of homes flying the colors. I need to think of a way to mount a flag on one of my round columns in front of my home. I have the flag and the holder, just need to get it installed.
A Tudor cottage…
Sweet and simple…
I'll leave you with this beautiful storybook home. Is this not the perfect roof for this home? The roof plays such an important part in the appearance of the home since it comes down so far and is so visible.
Imagine this home with a black asphalt roof. Would be awful, wouldn't it? This roof is absolutely perfect! I'm guessing it's slate but not sure…what do you think? I love the colors in the roof and they chose the perfect trim color to compliment it.
Love touring old homes…here's another tour of wonderful old homes from towns here in the south: Touring Main Street America
*If a post is sponsored or a product was provided at no charge, it will be stated in post. Some links may be affiliate links and as an Amazon Associate, I may earn from qualifying purchases. *