One of my most favorite things about blogging is meeting dear-hearts who share similar interests, like an interest in beautiful old homes. Recently, I was chatting (via email) with Linda. Linda has visited Louisiana bunches of times to tour the beautiful plantation homes along the Mississippi River. She shared some photos she's taken of several of the homes, including Houmas House Plantation and Gardens. Have you ever been there? After seeing Linda's photos and those posted at the Houmas House website, I would love to see it in person.
Some of the pictures in this post were taken by Linda and some are from Houmas House online. The ones from HH online are noted in a caption below the picture and I've linked to their site at the end of this post.
Many of the well-known plantation homes are located along the Mississippi River. In this map I found on Google, Houmas is located where you see the letter, F. The other homes below are A: Laura Plantation, B: Destrehan Plantation, C: Oak Alley Plantation, D: Poche Plantation, E: Ormond Plantation, G: San Francisco Plantation and H: St. Joseph Plantation. You can see in this map where they are located in relation to New Orleans. New Orleans is shown at the far right.
Houmas House has an amazing history, transforming itself throughout the years. At one point it was a modest West Indies Style Cottage. Between 1877 and 1826, John Burnside made improvements and renovated it to the "Revival Mansion" it is today. Houmas House has been used in many movies, including Hush, Hush Sweet Charlotte. It has also appeared in a number of TV shows, too many to list here.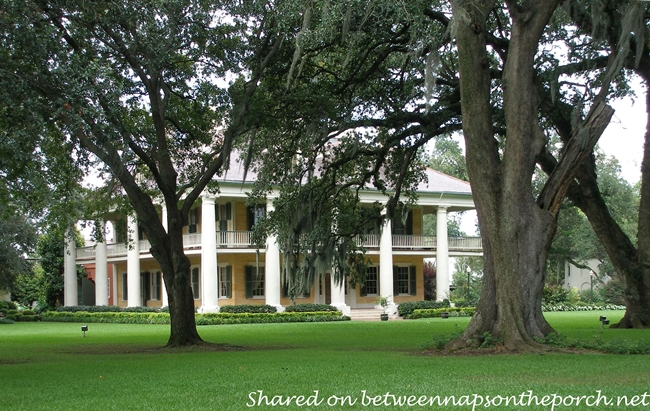 Here's an aerial view showing the home in relation to the surrounding gardens.
Love this photo of the porch…
Over the years, Humas House has seen a lot of renovations. the current owner, Kevin Kelly has restored it to it's 1840 decor. I was distressed to read a prior owner, Dr. George Crozat "Federalized" the home when it was around 100 years old, removing ornate features like cornices, crown molding and ceiling medallions. He also painted the whole structure white, inside and out. Can you imagine ripping out all the beautiful moldings like that? 🙁 Thank goodness for Mr. Kelly!
Linda took this photo inside the grand entry hall. Notice the gorgeous murals depicting fields of sugar cane. Back in the day, Houmas House was a thriving Sugar Cane Plantation and was given the name The Sugar Palace.
Another view of one of the murals and a little preview of the gentleman's parlor.
Linda took this close-up of one section of the mural. Isn't it wonderful! I believe that's a yellow lab and of course, he's sitting in a field of sugar cane. I see a red wing blackbird, a nuthatch and something else very small and red off to the right. Can't quite tell what it is, though.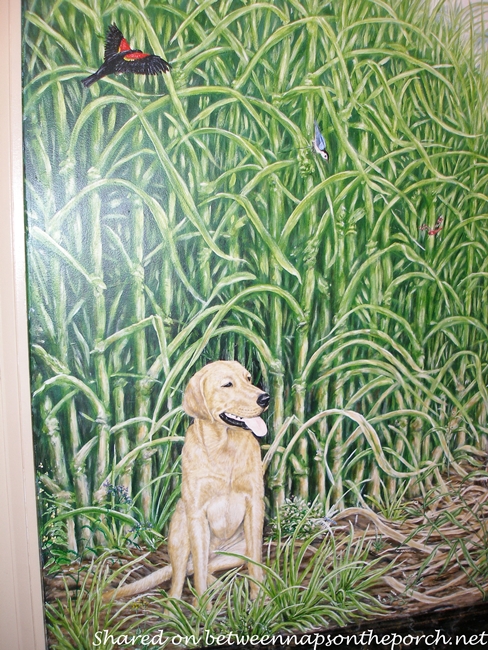 A close up of a polished brass chandelier in the entry. Beautiful! I wonder if they are using silk-wrapped bulbs? Love the cloud-filled sky ceiling. No matter the weather, it's always a gorgeous day inside Houmas House!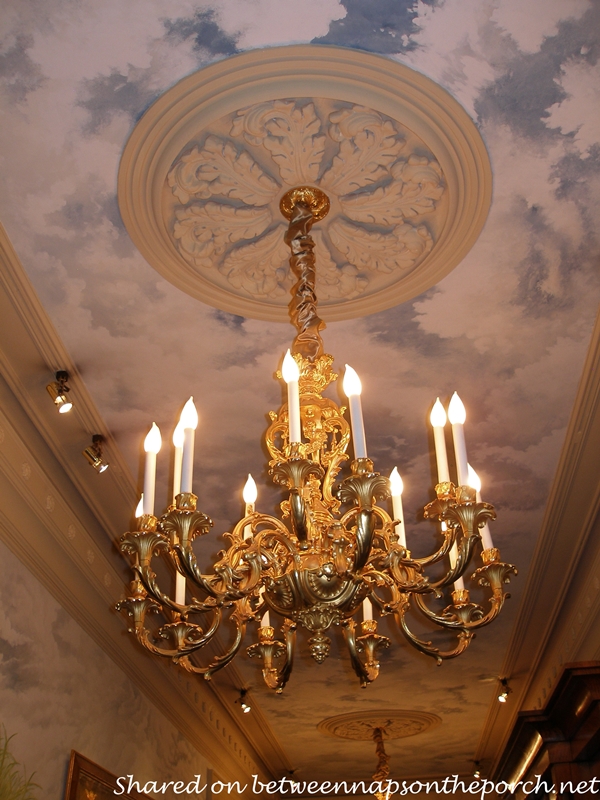 Beautiful dining room in Houmas House Plantation…so glad Mr. Kelly put the ceiling medallions back.
Linda captured this picture inside the dining room. Stunning chandelier!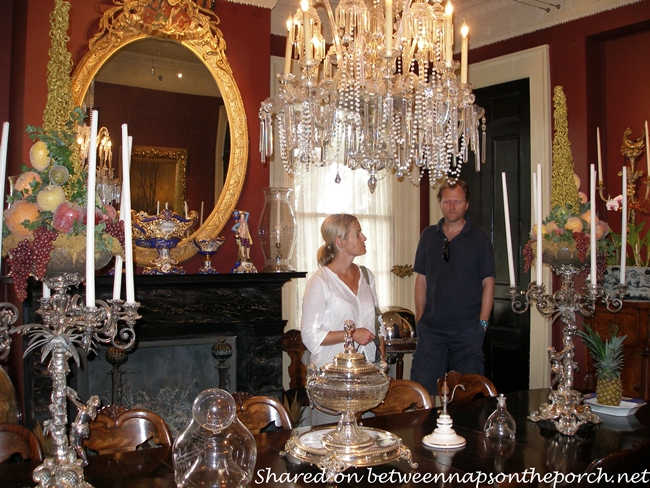 The gentleman's parlor: Notice the black trim and doors. Isn't it interesting that black doors are in style now, too. Wonder if they were popular back in 1840? I guess they were since the home has been restored to that time period. Guess there really isn't anything new under the sun. 😉
A bedroom in Houmas House Plantation…
Linda took a picture of the huge canopy bed…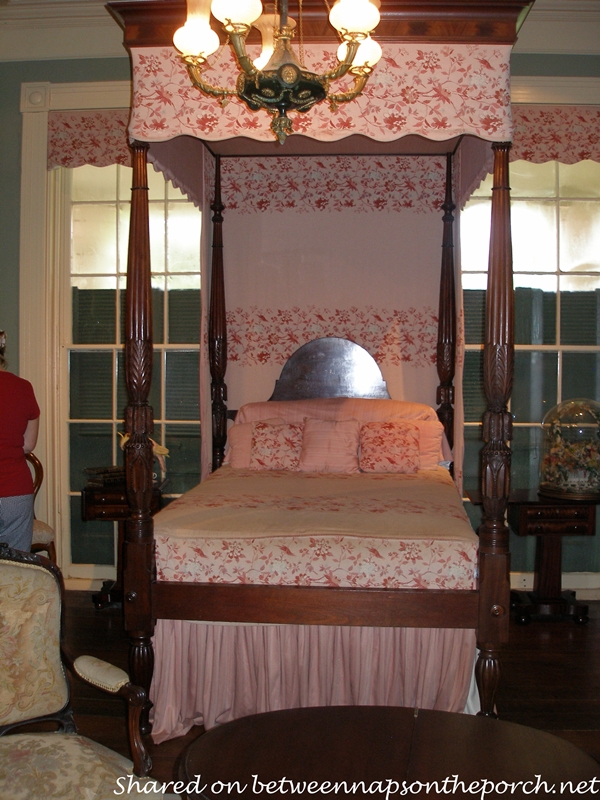 I found this pic on the Houmas website and it took my breath away. It feels like it's from a fairytale. Can you just imagine dining here surrounded by all this beauty! I would never want to go inside! Notice the unique centerpiece on the table. I've never seen anything quite like it. I'm wondering if there are little glass vases on the ends of the metal arms to hold the flowers.
Love!
Houmas House has wonderful gardens including a pretty pond. I bet the wildlife must be amazing in this area. Can you imagine all the beautiful birds they must have! See those big round things in the pond. Those are a rare kind of Japanese lily pad! Have you ever seen lily pads that big? Wowza! The frogs in that pond have it good!
I'll leave you with a few magical views of this stunning plantation home. I love this photo taken in the evening with Houmas House all lit up from within.
Here's a wonderfully spooky view of Houmas House surrounded in mist. Speaking of spooky, did you know Houmas House has a few ghosts? Every respectable historic home has to have a ghost or two. You can learn more about Houmas House Plantation at their website here: Houmas House Plantation and Gardens.
Thanks so much to Linda for sharing her pictures!
Have you ever seen this beautiful plantation home in person? I would love to take a full week and tour all the homes in this area. That's my idea of the perfect vacation!
Enjoy historic home tours? You'll find lots more under the Home Tour heading at the top of BNOTP or click here: Historic Home Tours
*If a post is sponsored or a product was provided at no charge, it will be stated in post. Some links may be affiliate links and as an Amazon Associate, I may earn from qualifying purchases. *