I am a lover of polished brass. There, I said it…right out loud!
I'm sure you've noticed, brass has been getting a bad rap over the last few years. Its cousins chrome, nickel and oil-rubbed bronze have squeezed it out as the metal of favor. Now granted, I have seen some not-so-great brass in my days, the kind that looks lifeless and dull, or worse, pitted. But I never really understood why quality brass, in particular, polished brass, came to be so vilified and despised.
My love of beautiful brass started when we were stationed in Charlottesville, VA while my husband was attending the JAG School (Judge Advocate General's school) in the early 80's.
We took trips to Colonial Williamsburg where beautiful brass candlesticks, lanterns, lamps and sconces were on display everywhere.
We even took a trip to the Baldwin Brass Factory Outlet where we saw brass items being made. We were fresh out of college and didn't have the money to buy any of the beautiful brass pieces we were seeing. The only thing I can remember buying in the Baldwin Brass Factory was a very tiny door knocker measuring around 2 1/2 inches by 4 inches and it was a second. First quality was just not in our budget back then.
Over the next 10-15 years we gradually collected a few quality brass pieces. Good brass was not cheap. The brass manufacturers producing the very best pieces back then were Virginia Metalcrafters and Baldwin. I poured over their catalogs and brochures for hours, carefully planning the pieces I would buy one day.
For many years we had a great brass store named Abernathy's in the heart of Buckhead in Atlanta. They sold both Virginia Metalcrafters and Baldwin Brass. Any local folks remember Abernathys?
Occasionally, Abernathy's would run a sale and the place would be absolutely mobbed. Think wedding dresses and the "running of the brides." Ha! Okay, maybe not that bad. But seriously, you would think they were giving it away. Women flocked from everywhere, arriving early to get brass candlesticks on sale for 25% off before they were all gone. Can you imagine that happening today, a store selling nothing but brass crawling with folks like an Apple store with a new iPhone?
I was so excited when I was finally able to buy a few pieces of my own.
I took such good care of them, babying them over the years like they were gold instead of brass. I made sure to never use any cleaning or polishing chemicals while dusting them, only a soft, clean cloth.
To give you a little idea of what good brass cost back in 1994, this Virginia Metalcrafters Empire Torch Hurricane Sconce below…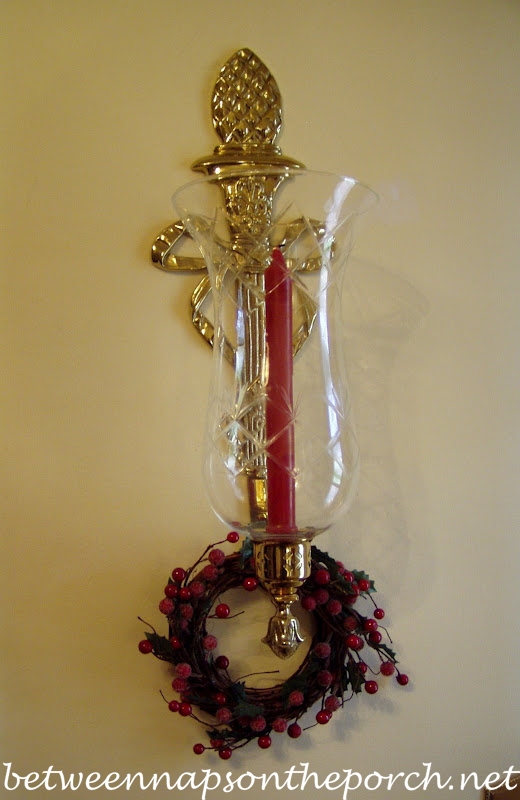 …was $193 on sale.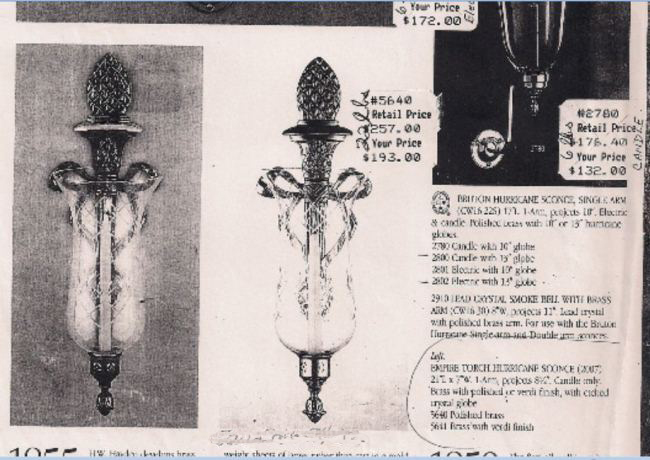 Since I initially furnished my home during the high-brass years, (not high in price but high in popularity) all this anti-brass sentiment over the last few years has left me puzzled and a little discouraged at times. My love of brass has never wavered and I've never really understood why it was so disliked.
I can't tell you the number of times I've had folks suggest I paint the white and brass-accented chandelier over my breakfast table. I remember the day I saw that chandelier in a home in Atlanta. I was so excited when I found one for my own breakfast room. Fast-forward a few years and several folks in RMS land (Rate My Space on HGTV's website) were suggesting I paint it. Uh…that would be a, No! Is there such a thing as decorating peer-pressure? If not, let's coin a new phrase because I do think it exists.
I like the nickel pulls I've seen on some kitchen cabinets. If I ever replace my kitchen cabinet knobs, I may consider a new light fixture/chandelier for the breakfast room. I would like to replace my wicker furniture in this room. I bought it before I added on the porch and I chose wicker to satisfy my white-wicker craving. Now that I have a porch filled with white wicker, I wouldn't mind something else for the breakfast room, although it does transition to the porch pretty well. (Table Setting can be viewed here: Spring Table Setting with Wedgewood.)
Apparently, brass is on its way back. Decorators seem to be falling in love with brass all over again. I'm afraid to say that too loudly, lest the decorating powers that be hear me and reverse this recent love-of-brass trend.
This weekend while on the Cathedral Tour of Homes in Atlanta, I saw two large, polished brass chandeliers prominently hanging in a large room in the "Inspiration Home." They were placed there by a young, talented designer who was standing there to greet us. As we entered the room, I heard another tour-goer express regret to him that she had replaced the same chandelier in her home a few years before.
I'm not sure when the brass-is-back revolution really began but the first sighting I came across was in June 2010 when Designer, Eddie Ross posted this wonderful thrift store find on his blog, here. The excitement in his "blog voice" was so apparent and so contagious. He was making zero apologies for buying a shiny brass and glass coffee table, he was celebrating it!
Here's how the table looked in his gorgeous living room this past Christmas as pictured in Country Living magazine. And notice the large brass lamp beside his sofa.
He has a fair amount of brass throughout his home, both polished and antiqued/aged. You can take the full tour here at the Country Living site.
As you can tell in this photo taken back around Halloween, I do have silver/chrome accents in some rooms in my home. I purchased a chrome/silver lamp to coordinate with the burnished silver knobs on the chest in the reading corner of the office.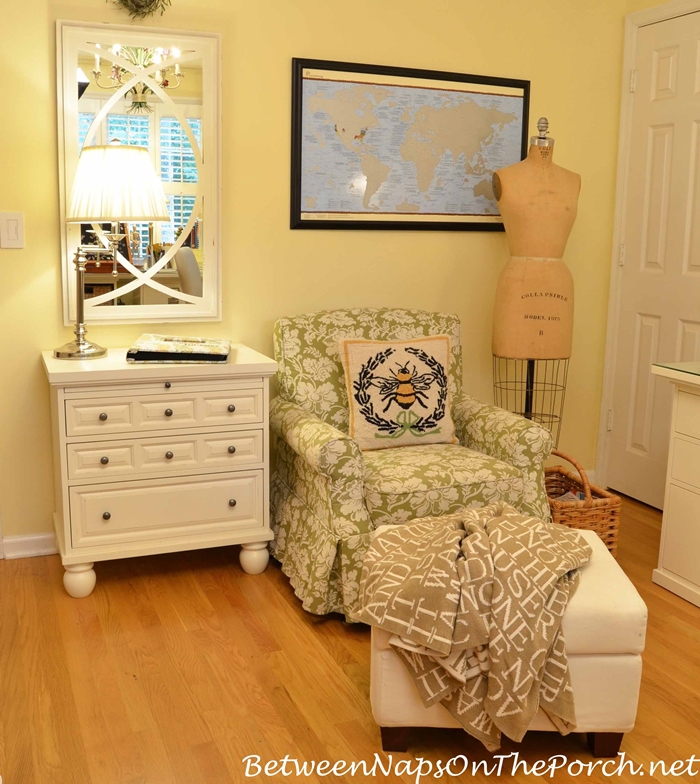 Since the office furniture had silver hardware/pulls on all the drawers, I'm going in the direction of silver/chrome in this space. I'll probably move the brass lamps back to the other rooms from whence I stole them, once I find replacement lamps I like.
Silver is my metal of choice for the dining room ever since I swapped the gold mirror I had in here for a Venetian glass mirror 15+ years ago.
The old dining room mirror ended up in my bedroom between the windows. I loved it too much to get rid of it. I need to find a great picture or a grouping to go over the bed, don't really need two mirrors in here.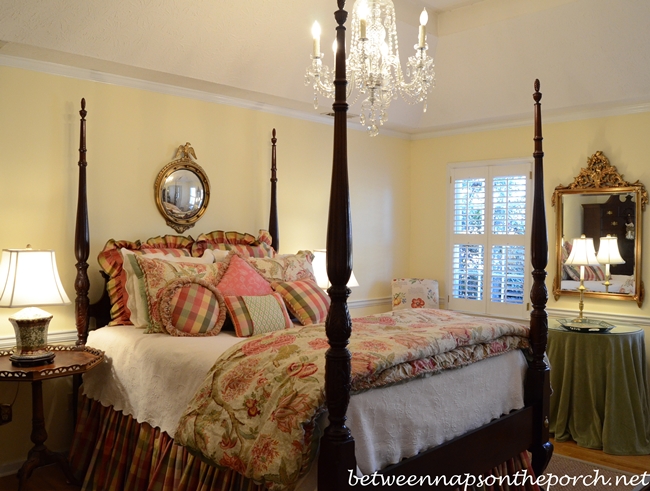 Update added April 2015
Take heart brass lovers! Check out the cover of Southern Living magazine for March 2015. In the March issue, they featured the prettiest doors in Charleston, SC and gave all the details on how you can achieve the look for your door. Look what's on the cover–a beautiful door with a polished brass doorknob, door knocker and mail slot. Use your polished brass with pride!
Have you held onto your brass over the years? Or, if you've never purchased any brass pieces, do you think you will add some brass accents to your decor?
What do you think about the recent surge in using brass again? Is it just another trend that will soon fall the way of so many others? Or, is quality brass classic, timeless and always in style?
*If a post is sponsored or a product was provided at no charge, it will be stated in post. Some links may be affiliate links and as an Amazon Associate, I may earn from qualifying purchases. *