Have you ever had your front car windows tinted? I have never had that done with any car that I've owned, but I decided to do that with the car I purchased recently. My main goal in having the two front windows tinted was to get some of the sun that streams in through the windows off of my arms. That's the one part of my body that I think has suffered sun damage over the years.
As with most things we do to our homes and cars, there's always the "exploring and learning" stage where you're gathering information and making decisions. I knew from the get-go that I was not going to push the legal limits for tinted windows. The last thing I wanted was to drive around worrying/wondering if one day I'd get pulled over for having windows that were too dark. Who needs that stress?!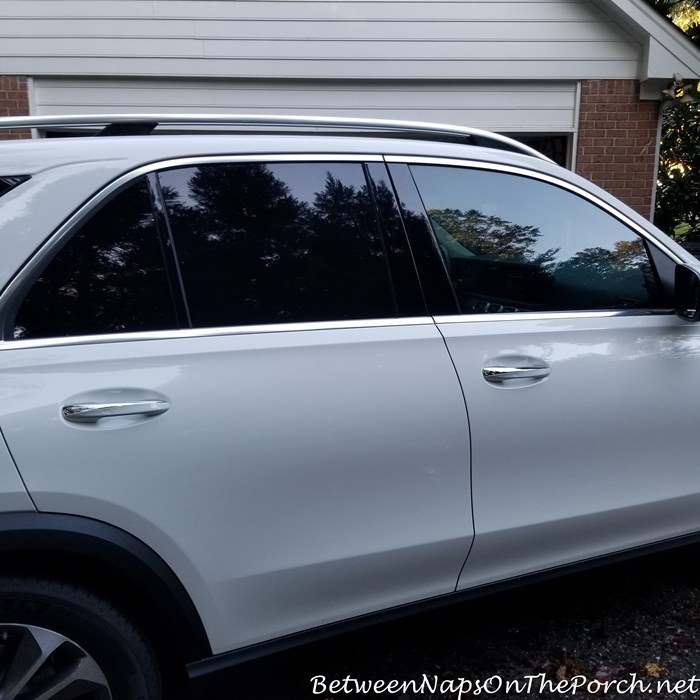 Here in Georgia, the legal limit is 32%, so any number above that is fine. The way tinting works is the lower the number, the darker the tint. For example, 25% would be darker than 32%. The sales consultant who helped me order my car recommended 35%. That's what they always have done for the cars they sell if a customer requests the tinting done prior to them picking up their car at the dealer.
The place I took my car offers a "ceramic" film/tinting that is supposed to be even better at blocking out the heat from the sun. I chose to not go with that because my car is rarely ever parked outside for very long. Also, I was told that ceramic tinting has a "bluish" look. I didn't want that, I wanted the tinting to be similar to the shade/hue of my factory-tinted back windows. So this is how 35% tinting looks at 9:00 AM on a cloudy day.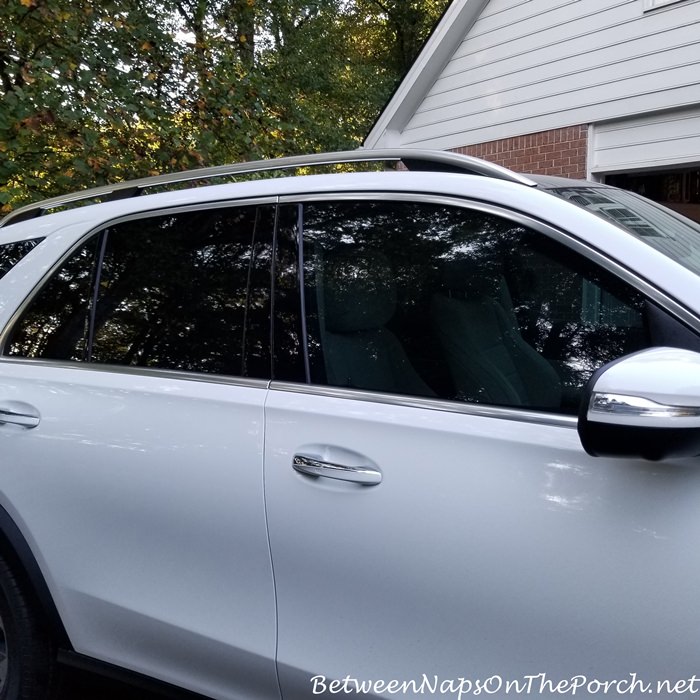 Probably the most annoying thing about having windows tinted is you can't roll down the windows for 3-5 days. Argggh. I never want to do anything until you tell me I can't, then that's all I can think about! Ha! No zipping through the Starbucks drive-thru for an iced coffee or through Chick-fil-a for a chicken sandwich, not unless you want to have to open your door to place your order and pick it up. lol
The tinting film is applied to the inside of the window. I waited the full 5 days, not wanting to risk even the slightest damage to the film. Actually, it was around 5-1/2 days before I actually rolled down the driver's side. I still haven't rolled down the passenger side window. Maybe I should do that just to test that it's okay.
I did not have the back windows tinted, this is how they come from the factory. You would never want to match to that level of tinting because it would be more than is legally allowed for front windows. Also, during my exploring/learning stage, I read that if you go too dark, it can be difficult to see out at night. That would not be good when trying to change lanes while driving at night. So that's another very good reason to not go darker than is legally allowed.
Tinting the windows also offers a bit more privacy. If someone is just walking by, I doubt they would notice a package on the seat or floorboard without really making an effort to see inside. They would probably have to cup their hands around their face and press their face against the glass to really see inside. I never leave anything tempting in my car anyway, since that's just asking for trouble.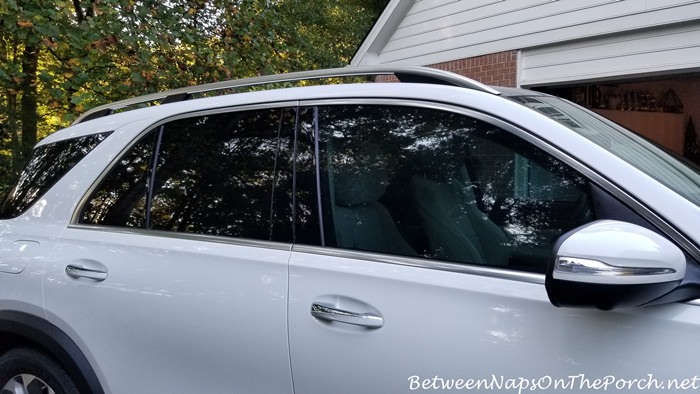 You can even have the windshield tinted. The place that tinted my windows recommended that. I can see how it would be tempting to have that done because once you get the driver and passenger windows tinted, the sun coming in through the windshield does seem even brighter than before. I have no plans to do that, though–for many reasons. One reason is that I have a Peach Pass on my windshield and a tinted windshield can sometimes interfere with the reading of those.
The cost for tinting the driver and passenger windows was actually less than I had expected. I went with a higher grade of tinting than the standard and the cost was $139 for both windows. It took the window tinting guys about 1-1/2 hours to complete the job. I waited in their waiting room while they did the work.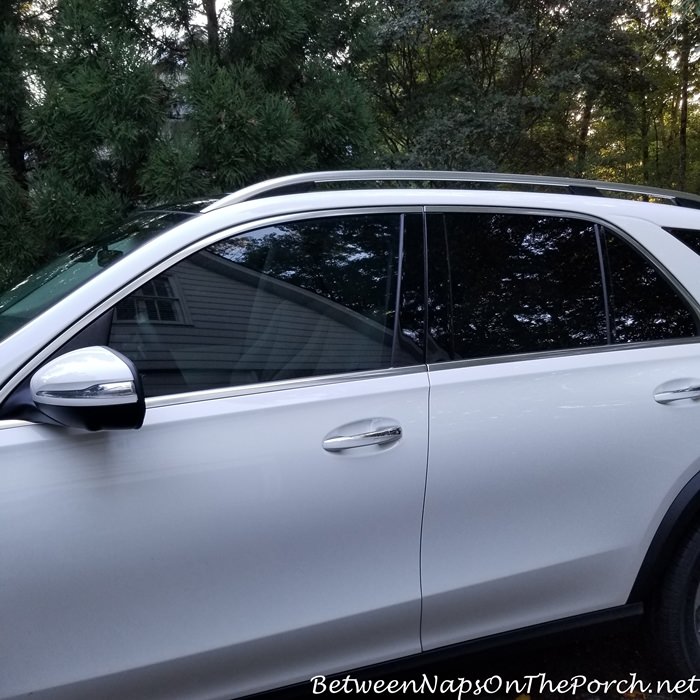 I didn't think to take photos prior to the tinting, but hopefully, you'll find this helpful if you've ever thought of having your car windows tinted. I'm really glad I had it done and I do like how it works for keeping the sun off my arms and the side of my face.
Oh, one more tip: Do some research about which tinting shop to use before having your windows tinted. The place I took my SUV is the only place the dealer from whom I purchased my car will use for tinting. Apparently, not all places do the same quality of tinting, so maybe call around to a few of your local car dealers and ask them who they use for having car windows tinted when a customer requests that.
Have you ever had car windows tinted before? How did it work? Were you happy with the result? Any tips for those who are thinking of having it done?
*If a post is sponsored or a product was provided at no charge, it will be stated in post. Some links may be affiliate links and as an Amazon Associate, I may earn from qualifying purchases. *