Back on November 28th, I blogged about my intentions to add a Ring Doorbell to my home for increased security and convenience. If you missed that original post, you'll find it here: Finally Doing It-I'm Adding a Security Camera to my Front Porch.
Today I'm sharing how the installation went along with one hiccup I encountered and how I solved it. If you have any questions after reading this post, leave it in a comment below the post and I'm happy to answer those if I can.
When you purchase a Ring Doorbell (I purchased mine here: Ring Doorbell) and are getting ready to install it, the first thing you'll want to do is add the Ring app to your phone. You'll need it in order to complete the installation and that's how you'll be able to see who's at your door once the doorbell is up and running.
When I first opened the Ring Doorbell Pro package, I felt a bit overwhelmed because there were so many pieces inside the box. There were actually more pieces than what I'm showing here below, but these were just the ones I took downstairs in case I needed them. Basically, Ring tries to anticipate every possible situation a person may encounter during an install, and provide the parts/pieces you'll need for any scenario.
My installation turned out to be very straightforward so I didn't need about half the stuff that came with my doorbell. The only thing I used from the items below was the doorbell itself, 2 short screws and the rectangle-shaped white thingy you see beside the doorbell. I used my own screwdriver, so I didn't need the orange handle you see below, or the screwdriver bit. I didn't need the drill bit, either.
So, if you order a Ring Doorbell, don't panic when you open the box and a million parts fall out. (Slight exaggeration!) You'll probably find you won't need most of them.
The white thingy mentioned above is the Ring Pro Power Kit. Ring describes it this way:
The Pro Power Kit included with your Video Doorbell Pro is a small device that makes sure that enough power is sent to your Ring Doorbell to function. It's required in order for your Ring Doorbell to function properly.
I've installed a doorbell once before so I decided to attempt the installation myself knowing I could call an electrician if I ran into an issue. After adding the app to my phone and turning off the power to the doorbell, which also killed the power to my entry, living room and dining room, I was ready to get on with the installation. The Pro Power Kit was the first thing that needed to be installed.
It was dark in the entryway where the doorbell chimes are located since the power was off, so I used one of my little American Red Cross emergency lights that was shining away in a nearby outlet as a flashlight during the installation process. (These lights are available here: Emergency Blackout Light.)
I stuck the light in my pocket and this worked so well, I snapped a selfie with my phone in case you would find this helpful, too. If you don't have anyone available to hold a flashlight for you while you install the Power Kit in your darkened house, put on a shirt with a button pocket, and wedge a little flashlight into the pocket. It worked great in my case and shone the light right where I needed it as I worked.
This is how the doorbell/door chimes look inside my home. My home was built around 1982 so this would have been the style for doorbells back around that time, I guess. I know a lot of folks would probably replace it, but I actually love it. I always like keeping some of the original features of a home, plus it sounds pretty awesome when it chimes. It's a pretty impressive sound!
My installation of the Pro Power Kit went exactly as illustrated in the Ring instructions manual. I removed the "fancy" cover from over the inner workings of the doorbell chimes.
Here's how things looked underneath. To install the little white Power Kit, I followed the directions and partially unscrewed the "Front" and "Trans" screws out a tiny bit, stuck the wires of the Power Kit behind the screws and tightened them back down.
Then I attached the Power Kit on a flat spot of the doorbell panel using the little sticky pad on the back of the Power Kit. After placing the cover back onto the door chimes, it was time to install the Ring Doorbell outside.
I removed my cute pineapple doorbell. I'll miss that cute doorbell…loved its design.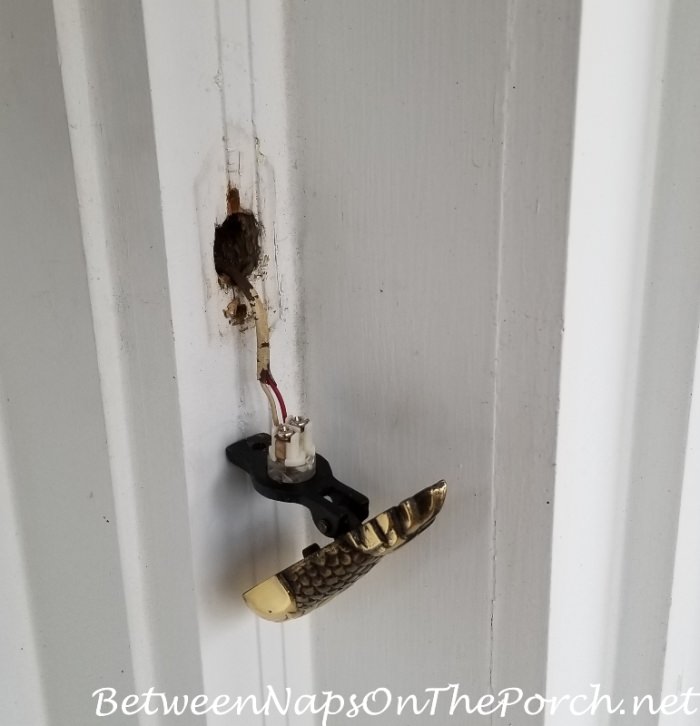 Here's how the wires looked afterward.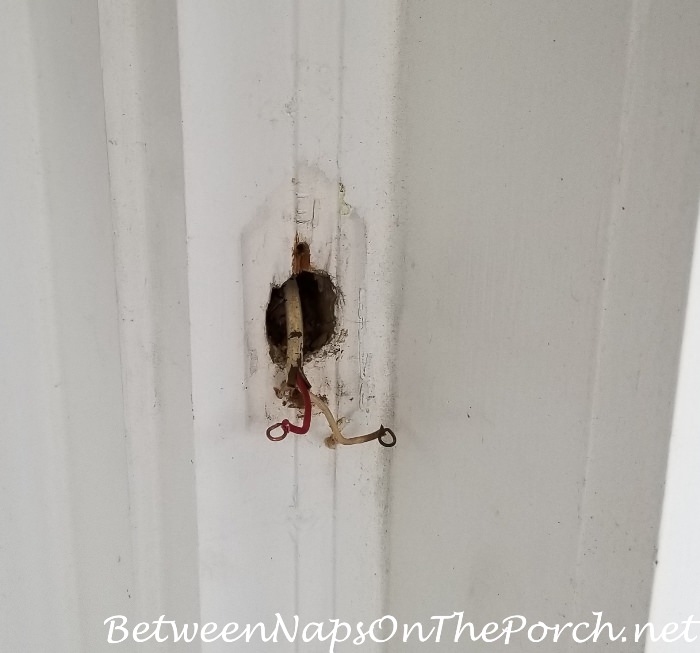 Next, I just attached the wires to the screws on the back of the Ring Doorbell. As I recall, it didn't matter which wire was attached to which screw. All of this information was in the instruction pamphlet that came with the Ring Doorbell.
The Ring Doorbell Pro comes with 4 different color faceplates. I chose the silver one for my doorbell.
The Signal Strength is Very Important
Okay, this is the really important part to know: The Ring instructions state that you may not have a very good connection to your doorbell if it's more than 25 feet away from your modem. My modem is in my office in the upstairs part of my home, so it was definitely more than 25 feet away from the doorbell. I walked it off and it appeared to be around 40 feet away.
When I initially looked at the Signal Strength under the "Device Health" part of the Ring app, it was in the upper 70's, which isn't good. Per the nice Ring Customer Service person I talked with at their support number, the number needed to be much lower (at least down into the 60s) or I'd probably see some issues with the performance of the Ring if I didn't add an extender.
This was the extender I purchased because it's the one several folks recommended in the reviews online. I purchased it here: Extender. I followed the instructions and connected it to the doorbell and my home WiFi. What the extender does is it acts as a go between…between the Ring doorbell and my modem, boosting the signal/connection so the picture and info the doorbell sends to the app on my phone can get through.
After I added the extender, the Signal Strength number dropped into to the 40's which is excellent. Currently, it's reading 43. Wish I had taken a screenshot to share when the Signal Strength was in the upper 70's. Everything was so glitchy then. When someone was at the door, the video wouldn't properly display on my phone about half the time. Plus, the Ring kept dropping its connection with my WiFi, which meant it wasn't working about half the time! Arggg.
So unless your doorbell is within 25 feet of where you have your modem, you'll probably need an extender. Fortunately, extenders aren't that expensive and totally worth it to get that boosted signal. I didn't purchase the extender that Ring offers because it will only work with a Ring device. The extender I purchased should boost my WiFi overall, so when I'm out on the screened porch with my computer, I should have an even better connection than I normally would.
A few more tips:
Ring recommends the extender be plugged in half-way between the modem and the doorbell. Since that would have been in the middle of my staircase where I don't have an outlet…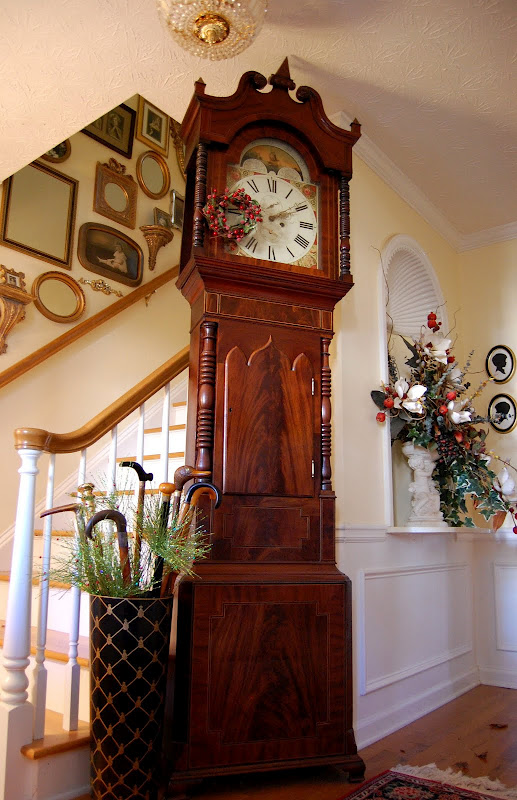 …I have mine plugged in under the table here in my entry. I read somewhere, (may have been on the Ring website) if you don't have an outlet halfway between the modem and the doorbell, it's best to place the extender closer to the doorbell than the modem.
Another tip:
When I first started using my Ring Doorbell, it was alerting me every time a large panel truck passed on the street in front of my house. Fortunately, there's a place to adjust that in the Ring app under, "Motion Settings."
In the "Motion Zones" section under the Motion Settings, it's easy to adjust the exact area of your porch/walkway/yard where you want the Ring to focus. It's pretty awesome how that works. I'd share a screenshot but it's too dark out right now to really show how I have it set. I basically just lowered the zone coverage to where it's not showing all the way out to the street now, and that works great!
I've really enjoyed having the Ring Doorbell and I'm glad I added it to my front porch area. When you have a Ring Doorbell, you learn some interesting things about how people deliver packages, as well the other comings and goings on your front porch.
One funny story: A few days ago the Ring app on my phone alerted me there was motion at my front door. I looked at the video it displayed and there was a delivery guy placing a huge octagonal-shaped box on my front porch. It was about the height of a water heater and because of it's rounded shaped, it looked as if that's what you would find inside the box if you opened it. I couldn't think of anything I had ordered that was that size or shape.
I immediately went downstairs, opened the front door and nothing was there! Huh? Was I imagining things? I looked at my phone again and a second video had popped up. It showed the delivery guy running at a fast pace down my walkway…do you see him there at the end of the walkway?
Apparently, he realized his mistake before driving off. Don't you wonder what was inside that big box? Guess we'll never know! lol
Did you know some Amazon delivery guys use their cell phone to take a picture of the package they are leaving at your door before they walk away? I saw a delivery guy do that. He placed the package in front of my door, then snapped a photo before leaving. That seems like a good idea to prove that you delivered it, right? Except for one problem: An unscrupulous person could just state it never arrived implying the delivery guy took a photo of it on the porch in front of the door, then picked the package back up and took it with him.
I remember a few years back seeing a video on YouTube (probably taken with a Ring Doorbell) that showed a delivery person bringing a large envelope to a person's front door, scanning it with some kind of device, I guess to show it had been delivered, then absentmindedly (or was it?) sticking the envelope back into his mailbag. Oops! The person who lived there had proof right there of what had happened to the package. That video may still be on YouTube…not sure.
By the way, this isn't a sponsored post and Ring didn't provide or give a discount on my doorbell. I decided on my own to add it and purchased it here: Ring Doorbell.
I hope this post is helpful for anyone adding a Ring Doorbell to their home. I'm really happy I added one to my front porch, just wish I had done it sooner. Again, if you have any questions, I will try to answer them. I'm not an expert, but if I can install a Ring Doorbell by myself, anyone can!
Just don't forget the extender tip, I spent way too many hours the day I installed my Ring Doorbell trying to get it to stay connected to my WiFi, even though the Ring app kept telling me each time the connection failed that my modem was probably too far away from the doorbell. It was right! If I had listened and bought the extender right away, it would have saved me a lot of frustration.
*If a post is sponsored or a product was provided at no charge, it will be stated in post. Some links may be affiliate links and as an Amazon Associate, I may earn from qualifying purchases. *