Stain decisions…Ugg. I'm running away from home. Today.
How I dislike making these type decisions, but it's time and it has to be done. I visited a Sherwin Williams store today near my home to choose a stain color. Shockingly, they didn't have a single stain-chart brochure that I could take back home. They told me they were all out and so were all their other stores. Not one Super Deck sample stain chart brochure in the entire district other than their story copy, which of course you can't take home.
Since the cleaning and staining will be getting underway next week (won't find out the exact day until Monday) I need to pick the stain color this week. That's kinda hard to do when you can't even bring a chart home to compare the colors against your deck. Hmmph!
I resorted to buying three of their sample sizes at the cost of $7 each, picking what looked good on the store's stain brochure. The two on the right are definite, Nos, but the one on the far left is a possibility. It's called Pine Cone Brown. This is an expensive way to try and pick a stain. 🙁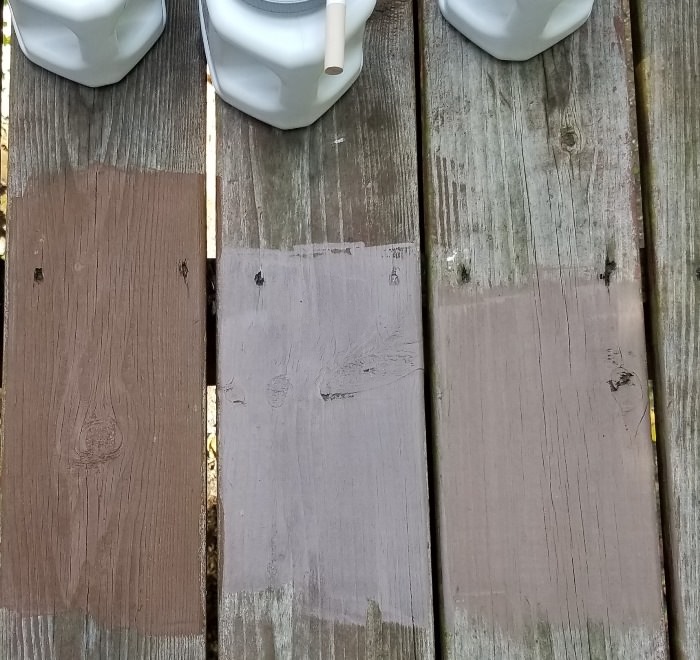 Since I couldn't bring a paint chart brochure home (can you tell I'm bitter about that?!) I was Googling to see some of the possible Super Deck colors online. Ironically, I came across this photo on Pinterest that was labeled Sherwin Williams, Pine Cone Brown. I think it's the same stain, so I guess this is how that color would look on my deck. Even the handrail is painted the way I'm having mine done.
I don't know who to credit this photo to because it didn't go anywhere when I clicked on it at Pinterest. I would love to have seen some additional photos and the rest of the deck.
What do you think? I think I like it, although I may want to go with a slightly darker brown. I know why these folks painted their railing brown…look at all those trees. They probably have the same problem I do with keeping the railing looking clean.
A Dragon Finial for a Castle Lamp
The finial I had ordered for the Belleek Pottery castle lamp came yesterday afternoon. If you follow Between Naps On The Porch on Instagram HERE, you may have already seen some of these photos. Here's how the lamp looks at night here in the office.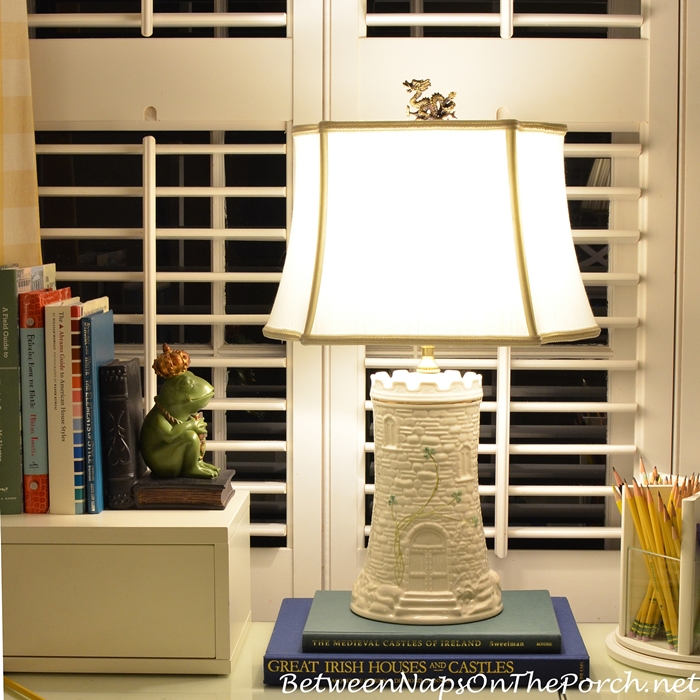 A closer view just as it was getting dark…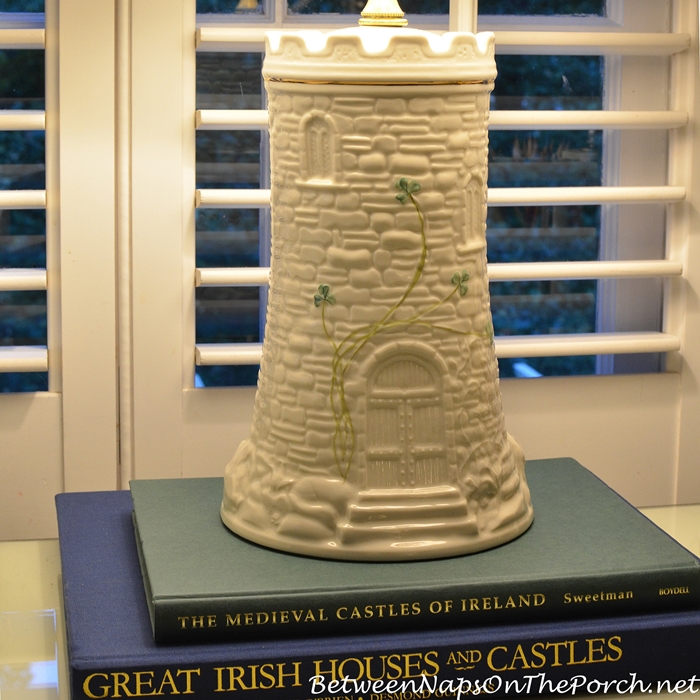 Here's a little close up of the finial. I've also ordered another dragon finial in polished brass. Not sure I will like it as well, but thought I'd try it for comparison.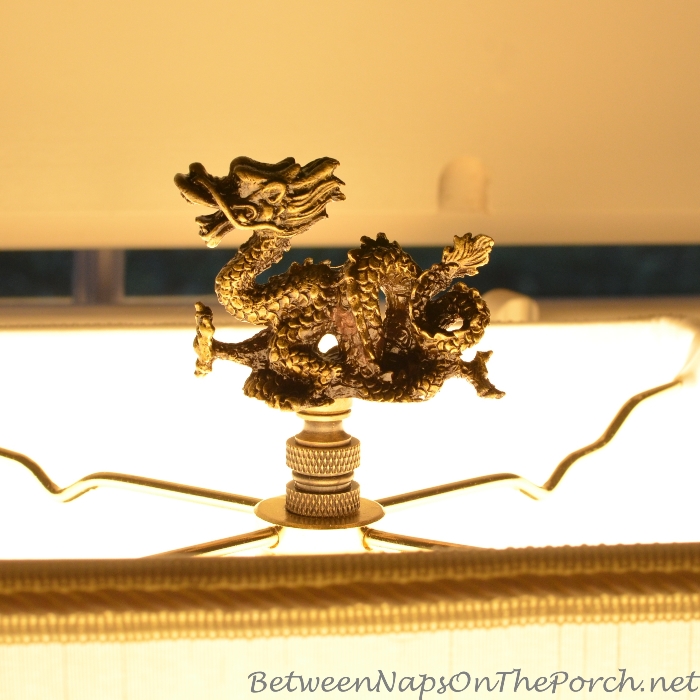 A view of the lamp during the daytime…it hard to take a great photo when facing the camera into sunny windows and a lit lamp.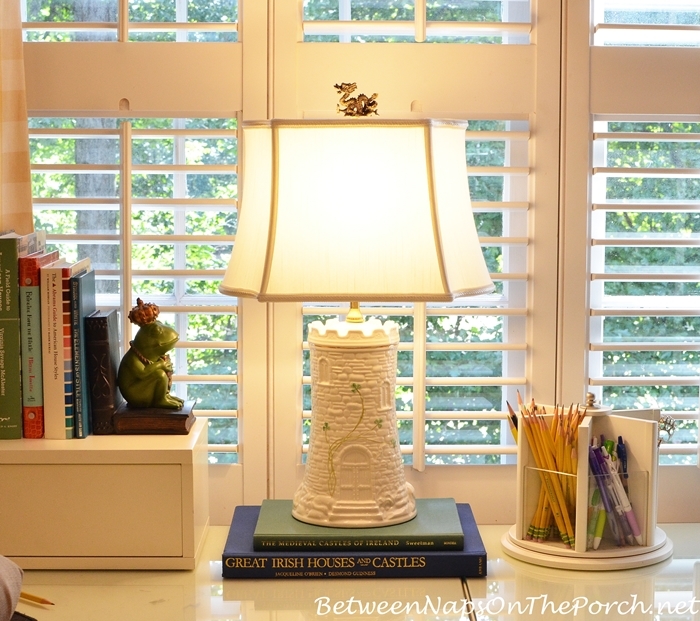 Here's a better one taken at an angle and with the lamp turned off. It's much more accurate and best reflects the true colors of the lamp, shade, etc….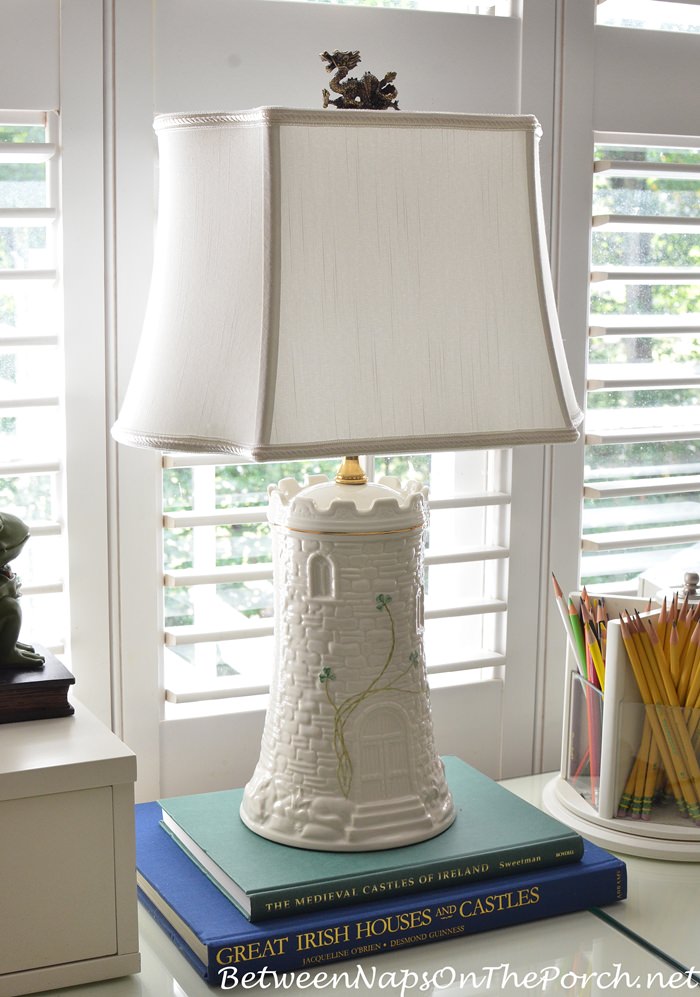 I'm off to a low-country boil this evening and will have some fun photos of Marie's Halloween decor to share real soon! In the meantime, you'll find a previous tour here: Victorian Home Decorated for Halloween and HERE.
*If a post is sponsored or a product was provided at no charge, it will be stated in post. Some links may be affiliate links and as an Amazon Associate, I may earn from qualifying purchases. *