Welcome to the 285th Metamorphosis Monday!
Last December I shared the story behind a mystery alcove located just outside my master bedroom doors. That previous post can be found here: If These Walls Could Talk: A Mystery Alcove.
I've always been glad this little alcove was here because it has been the perfect spot for a chest that was once was a changing table for my son when he was a baby. When I placed the chest into the alcove, I thought how great it would be to have a lamp in this dark corner of the hall.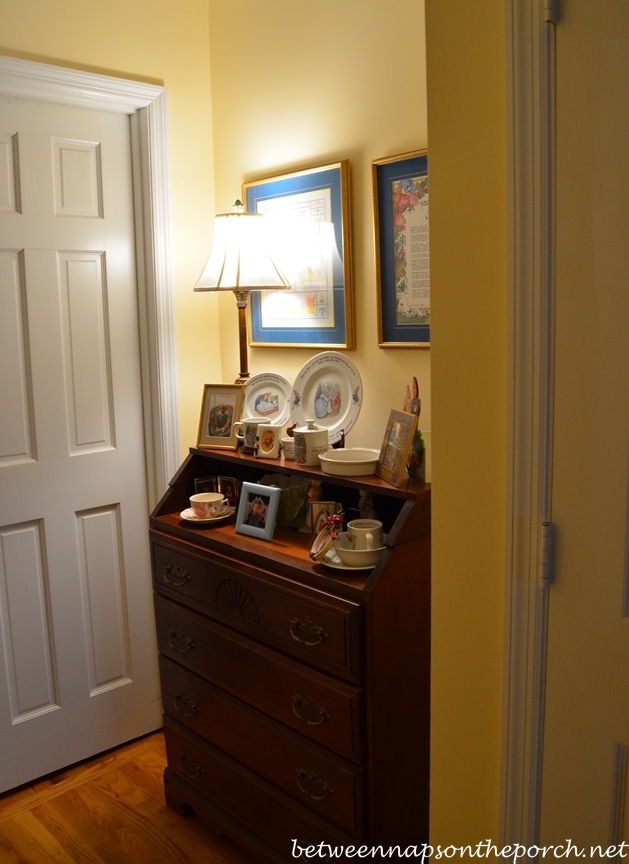 The long upstairs hallway has three overhead lights like the two visible in the photo below, taken when I was preparing to hang wreaths on the exterior windows one Christmas, but what a waste to turn on three lights in the evening to navigate down the hall. Plus, lamp lighting is so much more pleasant and easy on the eyes.
So I called a contractor who occasionally does work in my home and asked him to install an outlet in the alcove. When my contractor entered the attic to fish the wall for the outlet, he made a surprising discovery. After trying repeatedly to fish the wall, he discovered a header was in his way, meaning once upon a time, a door had been here.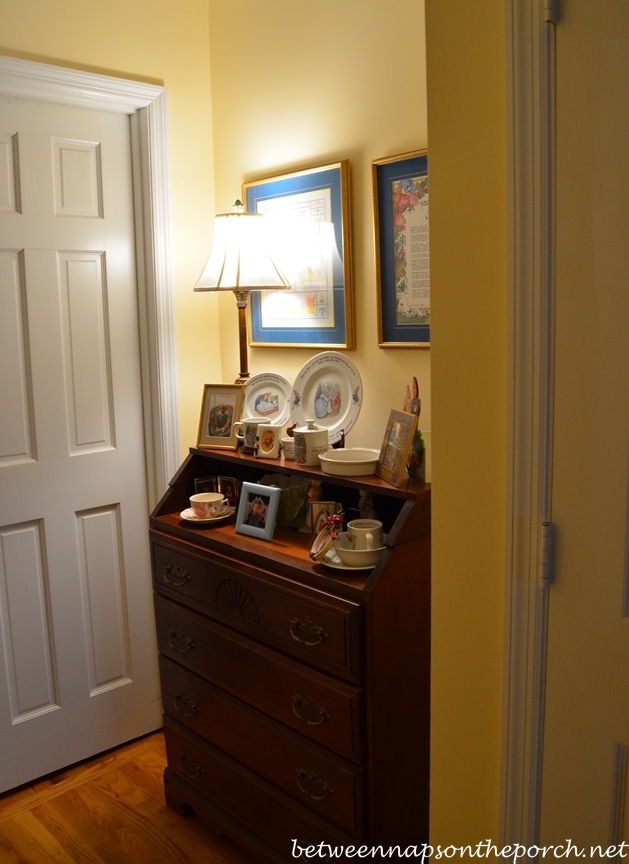 Ahhh, that made perfect sense since the master bedroom has a dressing room off of it and if you removed both closets behind the bi-fold doors shown below…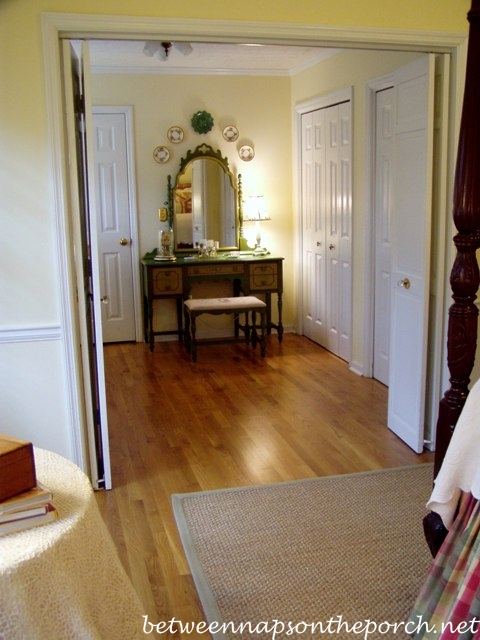 …and removed the built-in drawers and dressing table under the window, this dressing room is the exact same size has the other bedrooms in this house, not counting the master bedroom. It also has the same size walk-in closet as the other bedrooms. So this had clearly been another bedroom when the home was first built.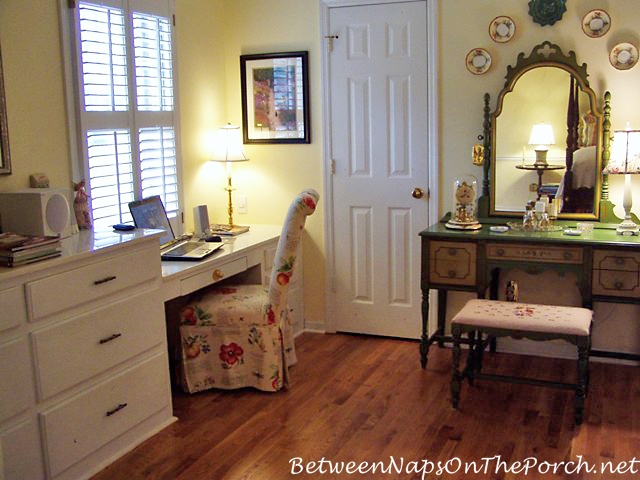 One day, many weeks after the outlet had been installed in the hallway alcove, I was in my dressing area searching for something in the first closet on the right that's just barely visible in the photo below.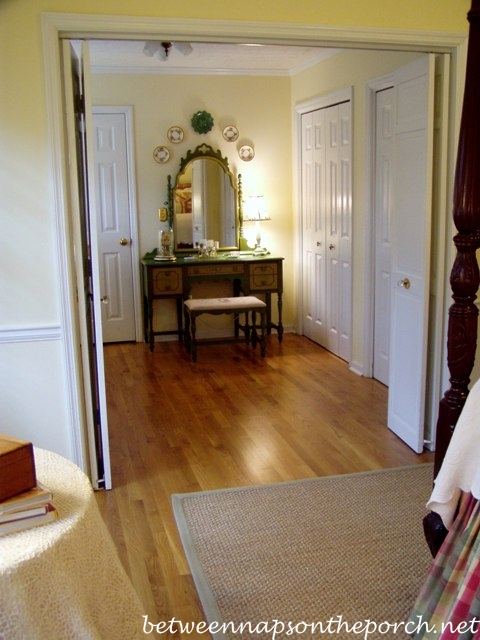 I moved some things I had stored on the top shelf around and my mouth dropped open at what I saw.
There was a big jagged hole in the closet wall. I was baffled for a few minutes trying to figure out how I had lived here for so many years and had never noticed this big hole in the closet wall. Then it hit me, this must have happened when my contractor was attempting to fish the wall because this is where the header of the old bedroom doorway is located. He had accidentally punched through the back closet wall (while attempting to fish the wall) since the header was unexpectedly in the way.
I was really wishing I had noticed this while the contractor had been here because he would have gladly repaired it. I made a mental note to myself to fix it one day, then closed the closet doors and promptly forgot about it. It was easy to forget since the hole is almost always hidden behind tons of pillows and cushions I keep on the shelf. Recently while I was cleaning out the closets and revamping my summer wardrobe, I saw it again and decided to fix it once and for all.
I knew the hole was way too big for a little spackle. I searched how to repair a large hole in a wall and the videos I found online were really complicated and involved cutting out a big square hole in the wall and using wood braces or shims to recreate a place on which to nail more wallboard, etc… I had a feeling there had to be a simpler solution and there was!
If you have a similar size hole, this one was around 4-4 1/2 inches long, or even a hole that's bigger, here's what you'll need to make the repair:
Drywall Repair Patch (they come in several sizes at True Value)
Joint Compound
Drywall Sanding Sponge
Protective Dropcloth
Wide Putty Knife
Joint Knife (smaller knife)
Protective Mask (not shown)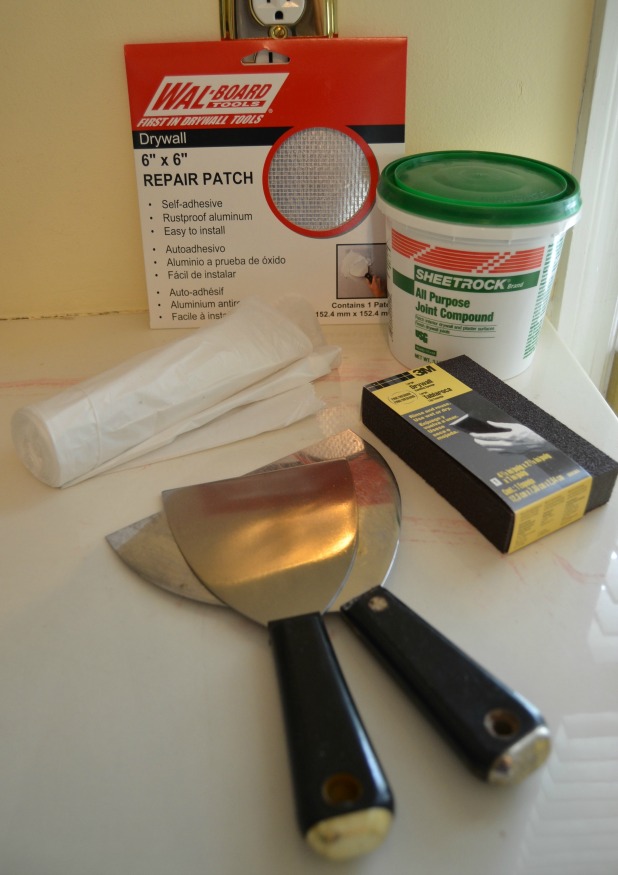 Here's how a drywall patch looks out of the package. It's made from rustproof aluminum. I chose a 6″ x 6″ size patch but they come in larger sizes, too.
I covered the top shelf and the clothes in the closet with a small piece of the dropcloth. One thing I'd probably do differently next time is cover the clothing a bit better. The dropcloth worked great for protecting the clothes and shelf against any stray pieces of joint compound but it doesn't hurt to cover things a bit better for the sanding that comes later.
The first thing you need to do when repairing a large hole similar to the one I had in my closet wall is to cut away the damaged wallboard protruding outward from the hole. It will just get in the way of the repair patch and cause it to bump outward instead of laying flat. I used scissors to cut the loose wallboard away but a utility knife would work well, too.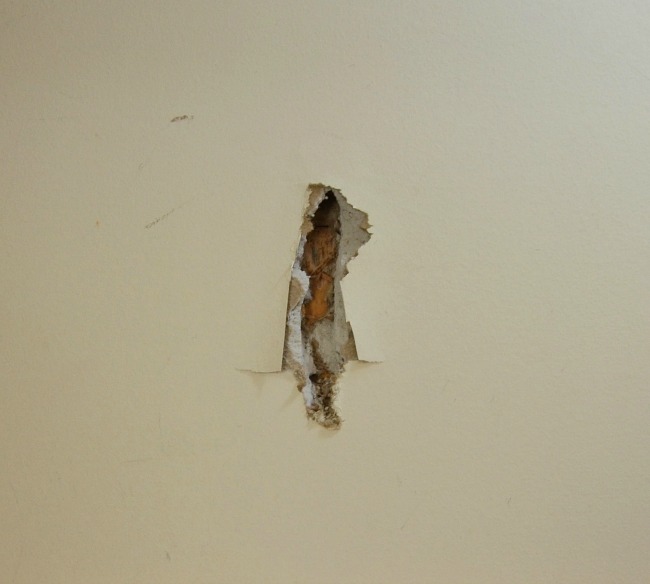 Next I peeled the backing off the aluminum repair patch.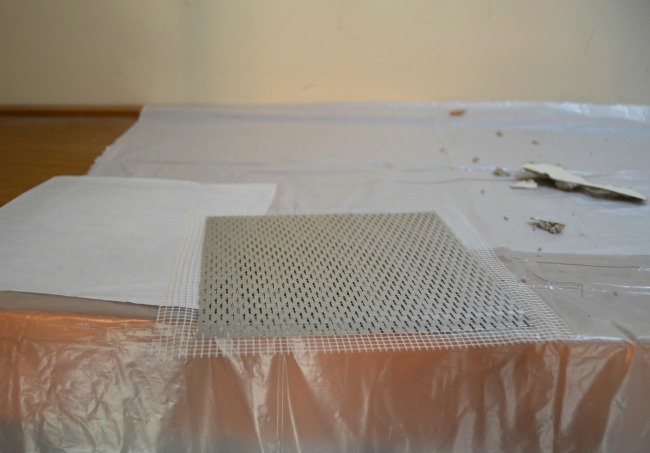 I held it up alongside the hole just to verify it would be big enough to cover it and it was. I had measured the hole but it's best to double-check before adhering the patch to the wall.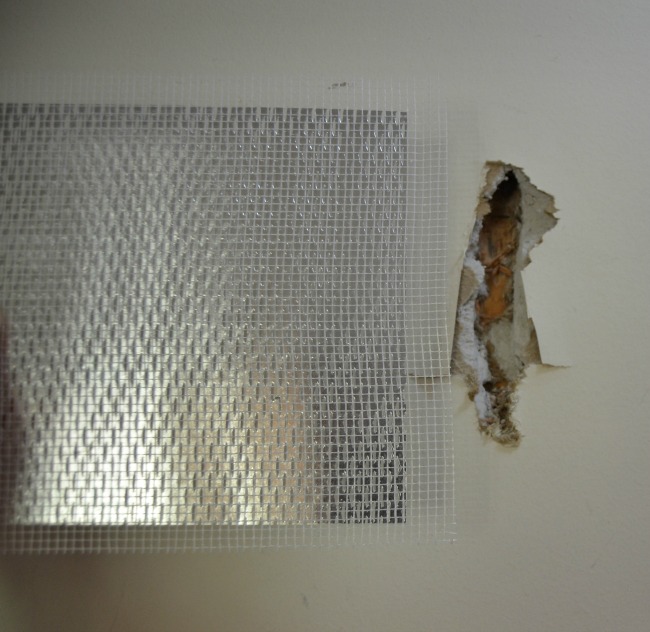 I placed the sticky side of the patch down over the hole and it stuck very securely to the surrounding wallboard.
Time to crack open the joint compound. You absolutely need to use joint compound and not spackle or something similar because spackle will crack and doesn't work well for repairing large holes in sheet rock.
Next, I spread a fair amount of joint compound over the whole area, applying a thin coat. Don't attempt to cover the area fully with just one coat. Just as it's better when spray-painting something to use several thin coats of paint rather than attempting to cover the surface with one thick coat of paint, repairing a large hole with joint compound produces a better result if the compound is applied in several thin coats.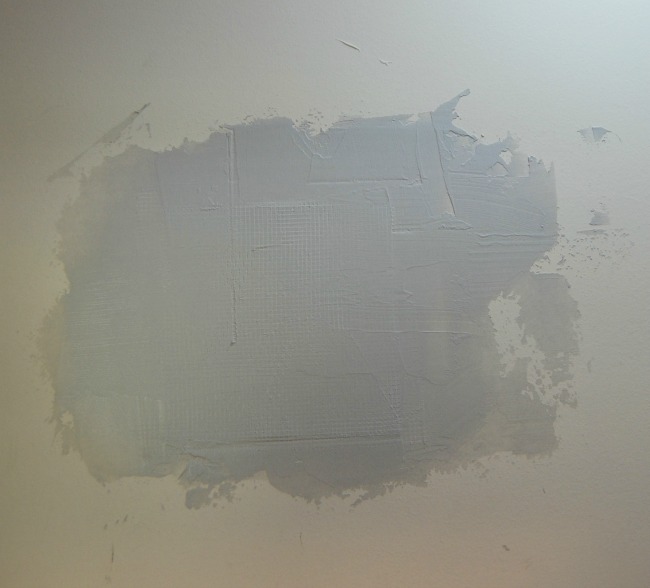 I took a photo when it was partially dried so you could see the difference in how it looks when dry and when still wet. The darker gray area is still damp while the white area is completely dry. The joint compound needs to be totally dry before you begin sanding.
Once the first coat was dry, I donned a dust mask like this one and got busy sanding with my drywall sanding sponge.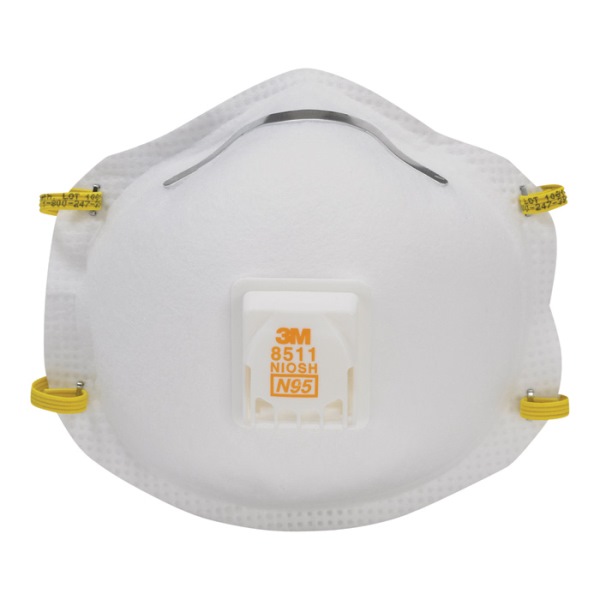 The drywall sponge I used was great because one side was slightly courser than the other one, allowing me to switch between the two sides as needed. I used the less-course or finer side most of the time so I wouldn't sand away too much, too quickly. Be sure and go slowly because joint compound sands away effortlessly and you can remove more than you wish before you know it. You want as thin a layer as possible and it should be nice and smooth without any grooves showing.
After I finished sanding the area, I applied another thin coat of joint compound. This is how it looked right after I applied it before I used the joint knife to spread it out nice and thin.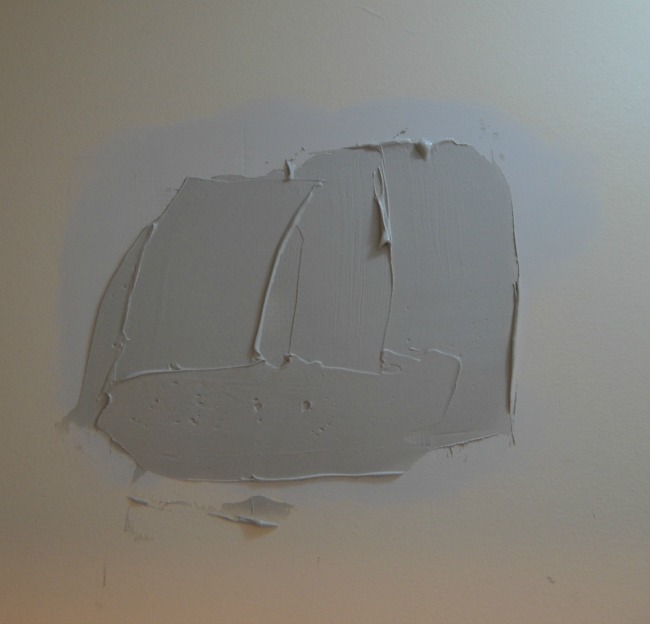 Spread out the second coat and let it dry.
After sanding the second coat, I could still just barely see and feel the mesh in a few spots. See the darker areas below?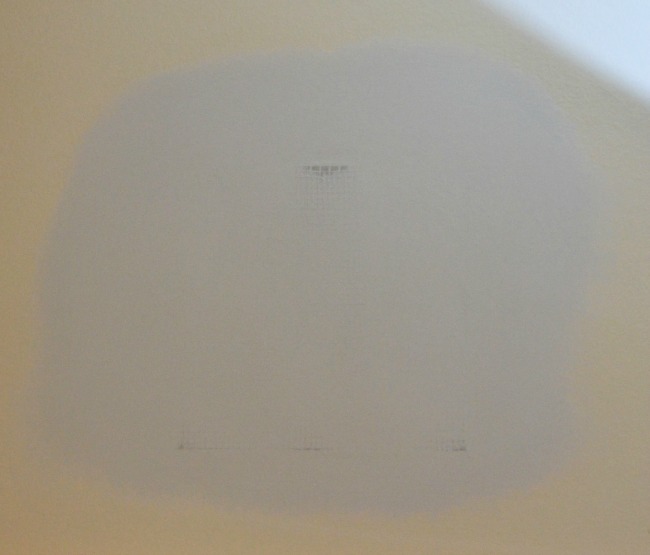 After one more coat of joint compound and more sanding once it was dry, I finally had a nice, flat, smooth surface ready for painting. I had to place my dusty-from-sanding flashlight near the repaired area in order to get my camera to take the picture below. It refused to take it without something other than a blank wall to focus on. I decided that was probably a good sign, a sign my repair was looking as it should if the camera couldn't find anything to focus on. 🙂
I still need to paint all the closets in this room. They haven't ever been painted and still have the original paint on them from when the house was built so many years ago. I'll be sure to share that mini-makeover once I complete the painting. Of course, I'll need to prime over the repaired area first before painting it.
Do you have a good size hole in a wall somewhere in your home that needs repairing? If I can make this repair by myself, you definitely can do the same! It's easy to do, really–just requires a bit of patience since the process does involve a lot or "rinse and repeat" steps.
I was one of the bloggers selected by True Value to work on the DIY Squad. I have been compensated for my time commitment to the program as well as writing about my experience. I have also been compensated for the materials needed for my DIY project. However, my opinions are entirely my own and I have not been paid to publish positive comments.
Looking forward to all the great Before and Afters for this Metamorphosis Monday!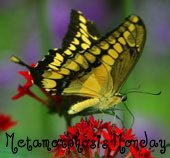 If you are participating in Metamorphosis Monday, you will need to link up the "permalink" to your MM post and not your general blog address. To get your permalink, click on your post name, then just copy and paste the address that shows up in the address bar at the top of your blog, into the "url" box for InLinkz.
In order to link up, you'll need to include a link in your MM post back to the party so the other participants will have an opportunity to receive visits from your wonderful blog readers.
Please observe these few rules:
Only link up Before and After posts that are home, gardening, crafting, painting, sewing, cooking, DIY related.
Do not link up if you're doing so to promote a website or product.
Do not link up a post that was just linked last week since a lot of readers will have already seen that post.


*If a post is sponsored or a product was provided at no charge, it will be stated in post. Some links may be affiliate links and as an Amazon Associate, I may earn from qualifying purchases. *