A couple of months ago a large tree fell in my back yard, gently laying itself down across the length of the yard.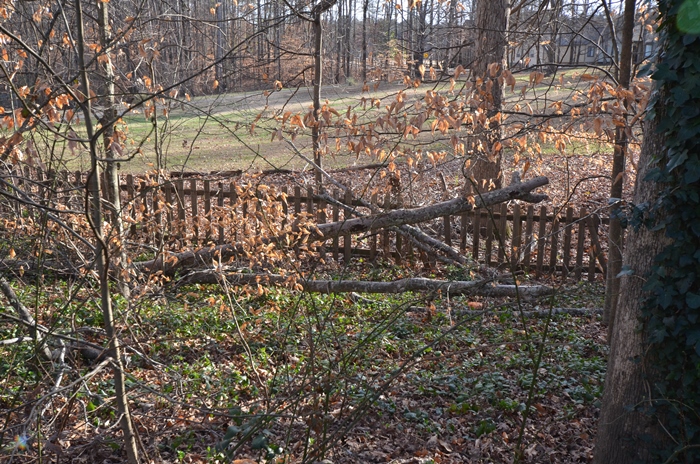 I'm beginning to think I may have a tree jinx going on because I was on the porch a few days ago and discovered this below! In talking with my neighbors and others in this area, I learned that we had a big storm with 70 mph winds come through about a week before I returned home from Morocco. It took down a lot of trees all over the metro Atlanta area.
I called five tree companies and only two got back to me. I guess the others are all still busy with the jobs involving multiple trees. The leaning tree below was being taken down today and it, along with the other tree, were cut up and hauled away.
I love having trees in my backyard but I'm starting to wonder if living in an open field would be more preferable. Seriously! At least the trees keep falling away from my home and not on it. (Knock on wood.)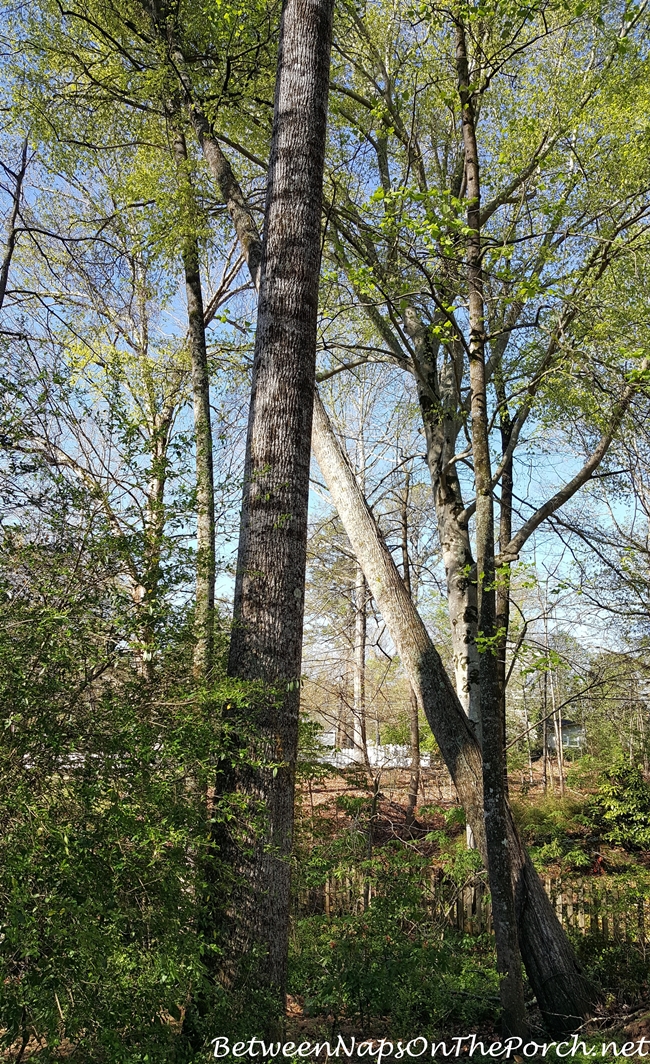 So my day was mostly tied up with tree stuff today.
I did manage to get the nesting materials hung up yesterday, and I think the birds may be using it because I noticed some of the white nesting material sticking out of it today.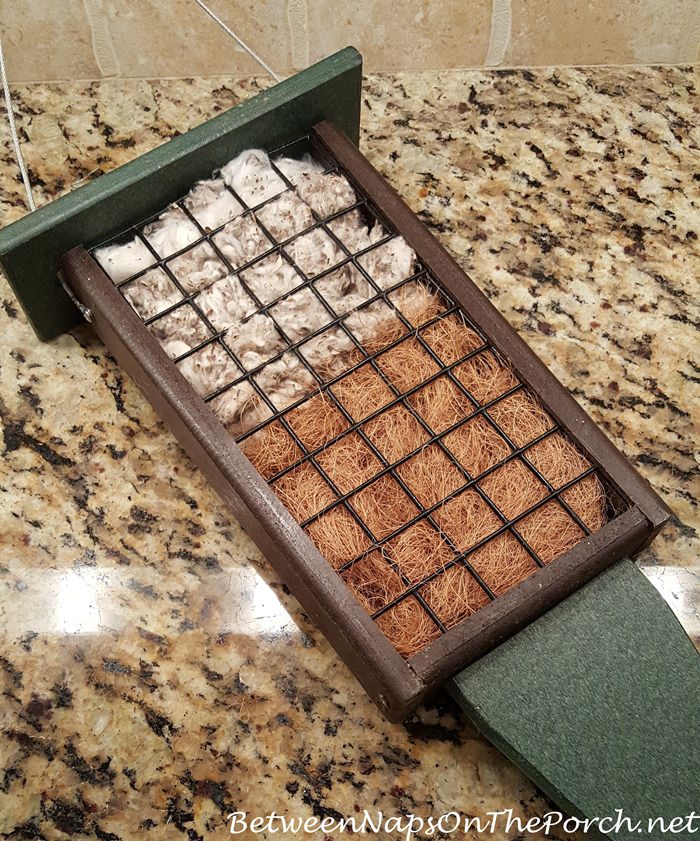 A Little Project
I'm still waking up really early these days but I'm kinda enjoying it. The world is so quite at that time of day, and I find I'm getting a good bit done before the day even begins. One little project I checked off was recovering a little stool that I keep underneath my desk. You can just see it in the photo below. I enjoy propping my feet on it when working at my desk during the day. (Short people problems!)
When I purchased it, I knew then that I'd be recovering it one day. White fabric is just not the most practical choice for a footstool! It does come in other colors and with other (patterned) fabrics, but I wanted the white-painted version since my furniture in the office is a soft white. Unfortunately the white footstool only came in the off-white fabric.
To cover it, I used some of the denim fabric that was left over from when I had denim cushions made for the upstairs family room window seats many years ago. The sofa in that room was custom ordered and made by Highland House. I chose one of their heavy denim fabrics when I ordered it. My son was only around 8-9 years old at the time and I knew denim would stand up to kids horsing around in that room. He and his friends played in this room a lot and the window seats worked great for storing board games and toys.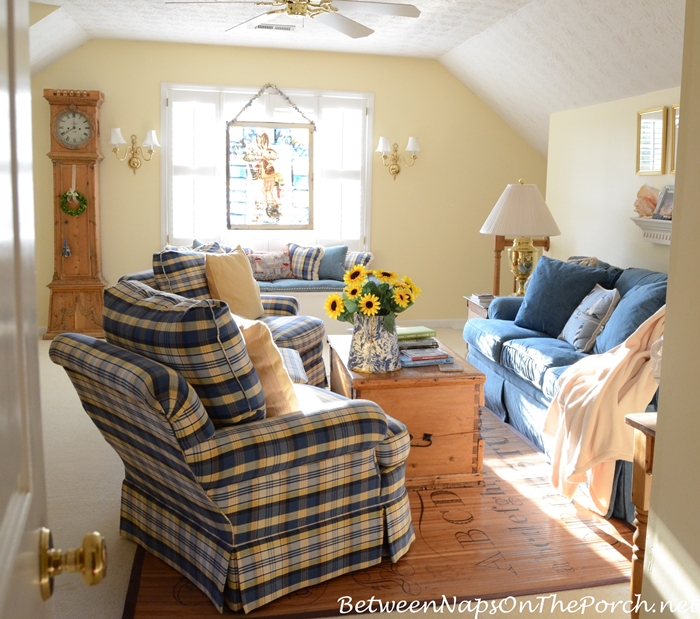 Even the two little dormer windows were/are dressed in denim.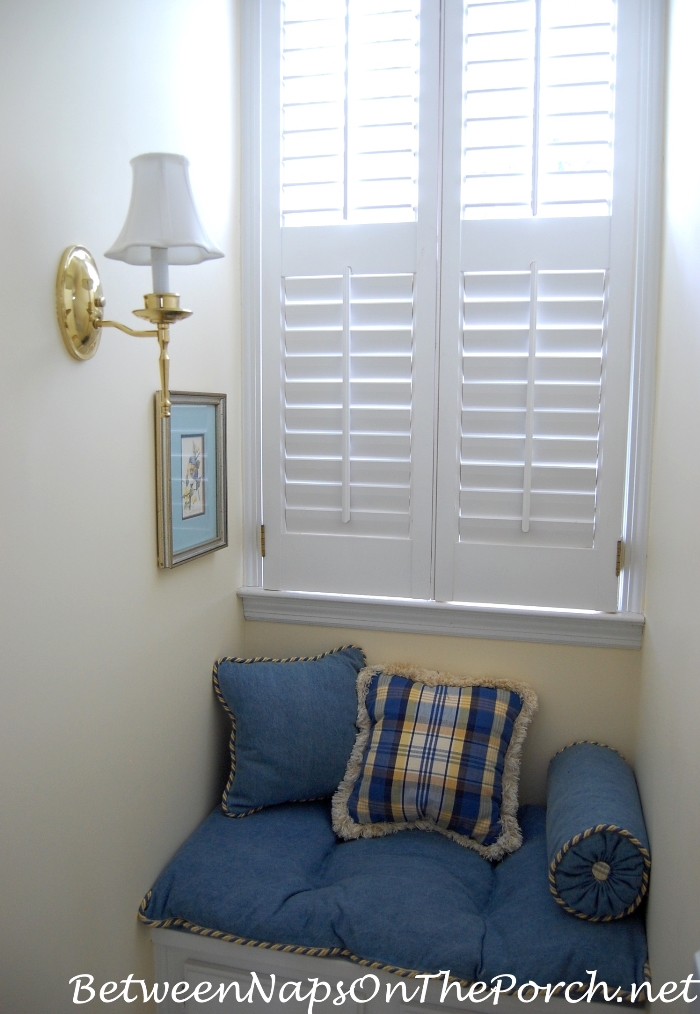 To cover the footstool, I didn't bother removing the old fabric. It was stapled on very tightly and would have been a bear to remove, so I just covered over it. I think this denim fabric will hold up for quite a while, but if needed I can recover it again.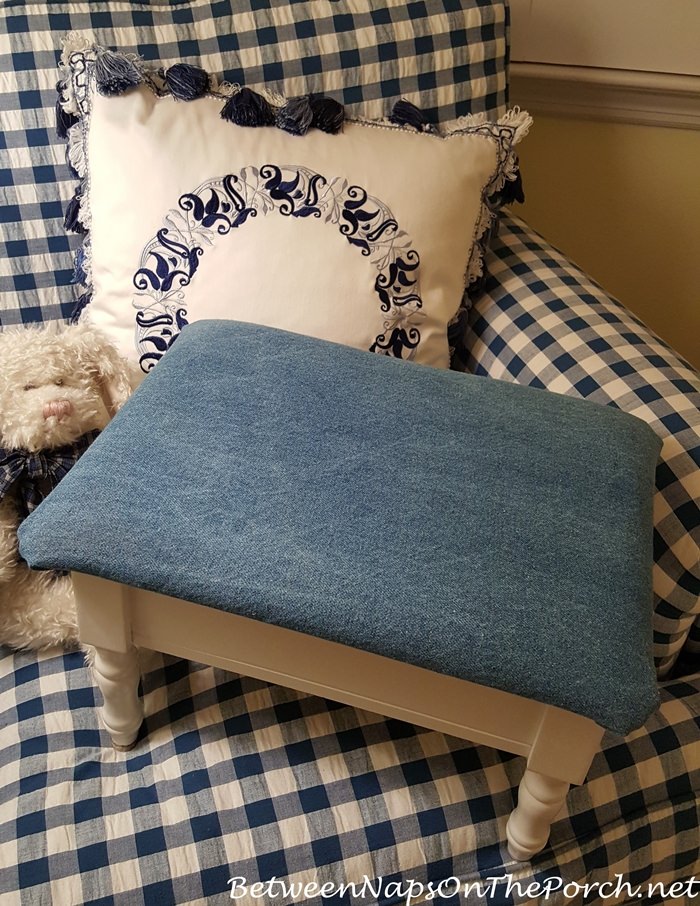 I love how this little footstool has a bit of storage space built in, although I haven't thought of anything to store there, yet. It would be a great place to hide remotes in a family room, wouldn't it? Or, maybe kitty toys. If used in front of a cozy reading chair, it would be a great place to stow away a good book.
Update: Just figured out a good thing to store inside my footstool: the trash bags I used in the waste basket that I keep under my desk. Why hadn't I thought of that before! It's literally a foot away from the basket, so that's perfect!
This footstool comes in other colors, including black. If you're in need of a footstool, you'll find it here: Footstool.
Tomorrow I'll be working on a spring table for Tablescape Thursday, although we're supposed to have more storms coming in. Are you seeing a lot of stormy weather where you live, too?
Oh, before I close out this post, I got an email today from Talbots, they are having a Flash sale right now until midnight. If you're in need of spring clothes, you'll find the sale here: Talbots. I think I'll check it out before I turn in…love their flash sales!
*If a post is sponsored or a product was provided at no charge, it will be stated in post. Some links may be affiliate links and as an Amazon Associate, I may earn from qualifying purchases. *