The ice is here and still falling. I think it ends around mid-day tomorrow. The birds don't appear to be coming to the feeders. I can't see the food so I'm pretty sure it's frozen up inside the feeder and not dropping down. Or maybe it's the ice on the ring where they would normally stand that's keeping them away. I put bird seed on the rails of the deck last night before turning in, but it's all iced over and hidden now.
I had placed some seed on a table on the other deck, the one away from the feeders, but as you can see it's frozen solid now, too.
I couldn't get the screened door open to the deck where the feeders hang. The ice had built up so much in front of the door, it wouldn't budge. The door to this deck opened though, so I took a few pics for you of this side. It's so weird because though this looks like snow, it's really pretty much all ice. When you walk on it, it doesn't dent. It's a hard, frozen surface. I walked all around the deck and you can't even see any footprints.
I sprinkled some seed out on the deck floor since the ice had momentarily stopped falling.
After I went back inside, I peeked through the shutters in the family room and the birds were already coming to the seed. Can you see Mr. Cardinal?
I think they sit in the trees and watch for me to come out. 🙂
Other birds began coming, too. We had a brief respite for an hour or so but it's falling again as I write this.
The bottle tree has become a colorful ice sculpture.
I took a photo of this small table yesterday evening when the ice first began. Writing in it felt just like writing in a big, slushy drink that's been spilled across the table.
Today it looks like this–covered in a hard, white tablecloth. You would need a chisel to write in it today.
The front walkway is a landmine, you could ice skate up to the front door. The grass crunches as you walk across it. Such a weird sound for grass to make.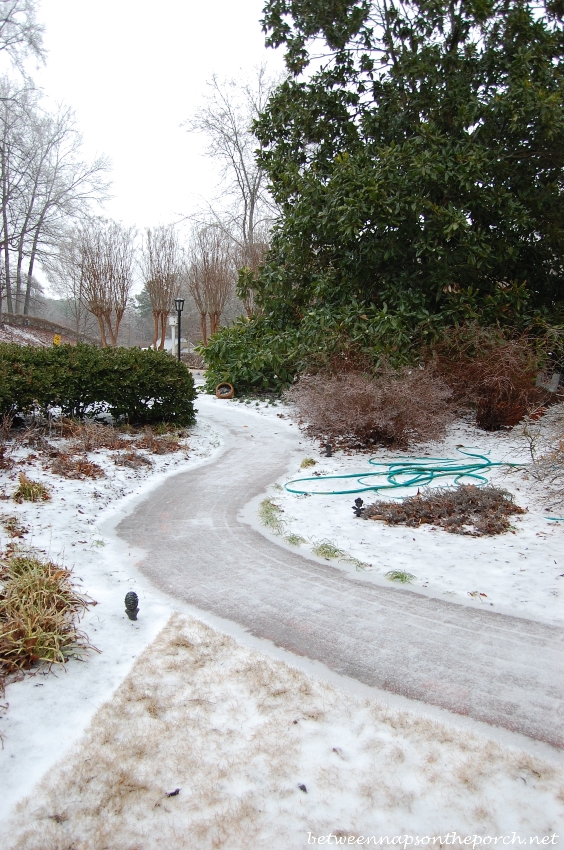 I've closed all the shutters to keep as much heat inside as possible. Amazing how insulating they are. When I crack one to look out, a huge rush of freezing air hits my face.
I'm a little worried about the boxwoods that I just put into planters this past summer. They have become ice sculptures, too.
So far the magnolia tree still has its top, but the limbs have bent down so far under the weight of the ice, the top is now spread wide open revealing the tall spindly limbs it put out the last two times it lost its top in an ice storm. Keeping my fingers crossed it doesn't lose it again.
Several thousand folks were without power earlier today, so far I'm not one of them. This should all be over by tomorrow night, then life should return to normal.
Hope you are staying snug and warm today!
*If a post is sponsored or a product was provided at no charge, it will be stated in post. Some links may be affiliate links and as an Amazon Associate, I may earn from qualifying purchases. *