Welcome to the 510th Metamorphosis Monday!
I awoke this morning around 4:00 am. I would say I'm still on Egypt time but I was doing this even when I was in Egypt. I wonder if that's why I got sick, not getting enough sleep. I don't know what's up with my body wanting to wake up so ridiculously early every day, but I wish it would stop.
I'm still sick but feeling better each day. Thankfully, the fever is gone, it stopped a couple of days after I started the antibiotic my doctor prescribed on Thursday. I think I was trying to get bronchitis again, but this time I got treatment much faster since I got sick at the end of the trip and not in the middle.
I have some interesting "Egypt" posts coming up I think you'll enjoy, stories about pickpocket attempts, terrifying balloon rides and secret passwords to get you through the front gate of the Cataract Hotel for a tour Agatha Christie's beautiful suite where she penned much of Death on the Nile. I had hoped to post over the weekend, but I found I couldn't really gather my thoughts for a post surrounded by two weeks of unopened mail, unpacked suitcases and mounds upon mounds of dirty laundry.
I must say, Egypt was very different from any trip I've taken. For the first few nights back home, each time I slept I dreamt I was still in Egypt. I would awaken confused as to where I was, not even recognizing my own bedroom for a few seconds after awakening. Maybe that was the 102 fever at work. Thankfully, the weird dreams have stopped and I know where I am these days when I wake up. Apparently, this trip left a big impression!
Metamorphosis Monday
About a week ago I shared this wonderful Colonial Williamsburg style fruit fan Karen made to go over her front door last Christmas.
Karen used realistic-looking fruit for her fan so she could use it for many years to come. After that post went up, I received quite a few emails asking if I could find out where Karen purchased the fruit she used since it can be tricky finding good faux fruit that looks like the real thing.
In that previous post I shared the link to a form I had found at the Colonial Williamsburg Marketplace online. It turns out, that is the same form Karen used when making her fruit fan. I didn't realize that when I previously share that link.
If you have any trouble finding this form base at the CW Marketplace online, check this previous post where I linked to it: A Colonial Williamsburg Fruit Fan for Your Front Door.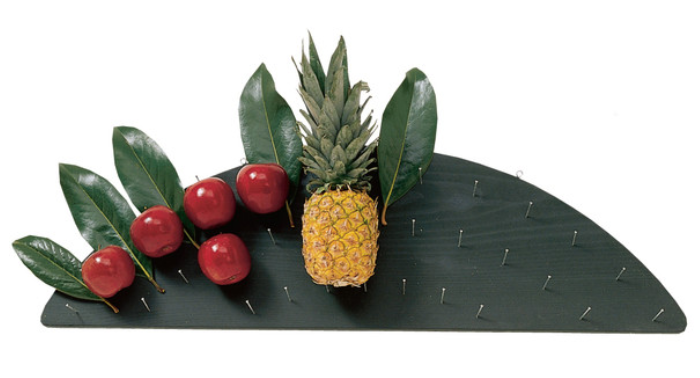 But what about the pretty fruit Karen used? Karen put together a source list for all the items she used to create her beautiful fan. (Thanks, Karen!)
Karen said, "Here is where I got the fixings for the door fan. Susan, this will save your readers so much time, as it took me days to find all the right-sized pieces to make this and I made myself nuts!"
Preserved magnolia leaves – DriedDecor.com
Green small filler picks (all plastic) – FactoryDirect.com
Osage oranges – Zimmerman Marketplace
Lemons – Afloral.com
Small red apples – JoAnn's Fabric store
The door fan (wood) is from Williamsburg Marketplace
MOST, MOST, MOST important: "KRYLON Triple-Thick Crystal Clear Glaze" spray: WalMart
_______________________________________________________________
Karen also provided some awesome instructions/tips for making the fan. Karen shared the following:
Make sure when the project is completed, take the door fan outside and use at least 3 light coats of the spray. Spray from the top side down, the bottom side up – get all the pieces in the nooks and crannies so the rain and snow won't ruin your work. Spray the back sides of all the magnolia leaves as well. My door fan looks like I just made it, and we had a lot of rain and snow last year.

When stapling the leaves to the wood backing, don't use a heavy duty stapler! It will crack the leaves. Just a regular stapler will work. Also, if the leaves are too large at the bottom to fit in between the nails, just trim them – no one will see the cuts behind all the fruit once you've finished.

I used an awl to start the holes in the fruit (the lemons were buggers). Then you can push the fruit onto the nails.

Line up your fruit as best you can first over where you want to use them. This way, you can make sure the sizes/fit looks good before you start making holes in them. When you get ready to actually put them on, get your hot glue gun ready. You can get all the pieces on, then gently remove them, give them a shot of hot glue in the holes, then slide them back on the nail. Watch your fingers – that hot glue could teach you how to utter an assortment of "words" in different languages!!!
lol I know exactly what Karen's talking about…takes me back to when I made my shell chargers. Hot glue is evil stuff when it comes in contact with skin!
Thanks so much to Karen for taking the time to share her resources and all these awesome instructions! Hope this info is helpful to those who emailed asking for more information about how Karen made her wonderful Colonial Williamsburg style fruit fan. I wish I had space above my front door to use one of these this Christmas, I absolutely love how they look!
Looking forward to all the fabulous Before and Afters linked for this week's Metamorphosis Monday!
Pssst: I post almost daily to Instagram. Follow Between Naps on the Porch on Instagram here: Between Naps On The Porch.
If you enjoyed this post, subscribe for free email updates when a new post is up here: Subscribe for post updates.
Tip: If possible, please do not use a Hotmail e-mail address to subscribe. Hotmail's servers are notorious for filtering out perfectly good emails.
Metamorphosis Monday
Metamorphosis Monday is a party that's all about Before and Afters. If you are participating in Met Monday, please link up using the "permalink" to your MM post and not your general blog address. To get your permalink, click on your post name, then just copy and paste the address that shows up in the address bar at the top of your blog, into the "url" box for InLinkz when prompted.
In order to link up, you'll need to include a link in your MM post back to the party so the other participants will have an opportunity to receive visits from your wonderful blog readers.
Feel free to link up Before and After posts that are home, gardening, decorating, crafting, painting, sewing, cooking, fashion, travel or DIY related.
Be sure to include a link back to the party in your post, so your readers will be able to find and visit the other bloggers who are participating.
Do not link up to the party if you're only doing so to promote or sell a product.
To those linking up, if you notice a shop or online store linking up to sell products (yes, unfortunately, that happens) please let me know so I can remove their link and block them from participating in future parties. No one wants to visit a link expecting a Before and After, only to find a spam link to an online business/store.
*If a post is sponsored or a product was provided at no charge, it will be stated in post. Some links may be affiliate links and as an Amazon Associate, I may earn from qualifying purchases. *