Welcome to the 527th Tablescape Thursday!
Well, I did it again…got sick on a trip overseas. The last couple of days in Egypt, I felt like I was coming down with a bad cold. I spiked a high fever during the flight home and that has continued. It's been 102 all night. I'm going to try and see a doctor today. I sure hope I don't have a massive fall-out of hair like happened last time I ran a high fever.
Now for the fun stuff! Recently, Norma, who lives in the lovely country of France, emailed over some pictures of the table she created for a fun Halloween dinner party with friends.
It has just the right amount of spooky going on…love the red roses centerpiece!
As guests arrived, Norma was playing Bach's Toccata and Fugue in D minor to set the perfect atmosphere for this Halloween dinner party.
I asked Norma about the beautiful candelabras and if they were antiques. She said, "Yes, they are 19th-centuryFrench iron ones, circa 1880. When I was an antique dealer, I bought them from a fellow dealer. I think I paid about 110 pounds (don't know what that is in dollars) about 20 years ago."
They are amazing! I love them!
I asked Norma what her inspiration was for this elegant Halloween table. She said, "I love vampire movies with stars like Vincent Price, Christopher Lee and Louis Jourdan. I think the table setting in the Louis Jourdan film version of Dracula was my inspiration for this table.
Although in the film the plates, dishes and goblets were solid gold. I could not match that!"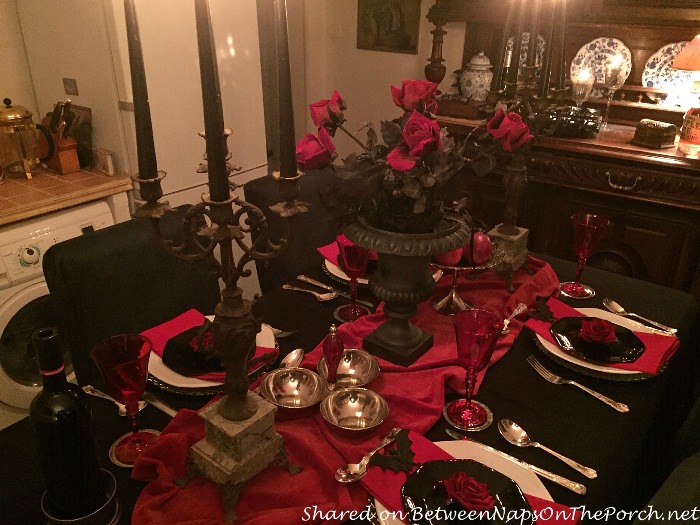 Norma said, "I also made Paprika Hendl (a chicken dish) which is mentioned in the book by Bram Stoker, so I tried to make much of the food authentic too. I even wrote the menu in Romanian!" Unfortunately, Norma no longer has the menu…would love to have seen that!
Thanks so much to Norma for sharing this wonderful Halloween table with me so I could share it with you for this week's Tablescape Thursday!
Looking forward to the beautiful tables linked for this week's Tablescape Thursday!
Pssst: I post almost daily to Instagram. Follow Between Naps on the Porch on Instagram here: Between Naps On The Porch.
If you enjoyed this post, subscribe for free email updates when a new post is up here: Subscribe for post updates.
Tip: Please do not use a Hotmail e-mail address to subscribe if you can avoid it. Hotmail is notorious for filtering out perfectly good emails. I've found Gmail to be awesome, it's what I use and it's free! Plus, they don't filter out good e-mails in error.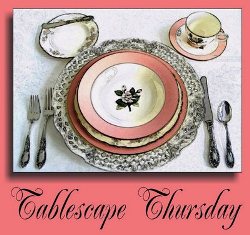 Tablescape Thursday
If you are participating in Tablescape Thursday, please be sure to add your permalink below, and not your general blog address. To get your permalink, click on your post name, then copy and paste the address showing in the address bar, into the "url" box when you link up.
You'll need to include a link in your post back to the party to link up and participate. That's so visitors to your blog will be able to find the party and the other Tablescape Thursday participants. Requiring a link back also prevents businesses and scammers from linking up to sell their products. (Yup, that really happens, unfortunately.)
*If a post is sponsored or a product was provided at no charge, it will be stated in post. Some links may be affiliate links and as an Amazon Associate, I may earn from qualifying purchases. *