Welcome to the 508th Metamorphosis Monday!
I had an interesting start to my morning! I awoke around 4 am Egypt time and was laying in bed thinking about my Met Monday post when the power went out. I noticed it immediately because the A/C stopped and everything went very dark.
It's a weird feeling to be on the top (5th) floor of a hotel and have all the power go out. Fortunately, I knew where my phone was and it was fully charged. Using the light from my phone, I was able to maneuver over to my suitcase and get dressed. Thankfully, the power wasn't off very long or this post may not have gone up until much later since we're leaving for Luxor in a couple of hours.
I just thought of something…if my phone hadn't been fully charged, I could have also plugged it into the removable battery in my Away carry-on bag. That makes me feel a bit better. lol
Metamorphosis Monday
With the end of October approaching quickly, it's not too soon to start thinking about the upcoming Thanksgiving and Christmas holidays. A few months back, Karen, a reader of BNOTP, shared a photo of how she often decorates her front door for Christmas, and I've been busting to share it with you ever since.
Karen said, "This is a close-up of the fan I made last year – my first one! I wanted to do something a bit more 'out-of-the-box' by using Osage oranges.
The most frustrating part for me was finding realistic artificial fruit so I could use this for many years. I ended-up ordering fruit from three different places."
I've always wanted to make a Colonial Williamsburg style fruit fan to go over my front door, but I don't think I have enough space for one due to the height of my front porch ceiling. I absolutely love seeing these at Christmastime!
They can be a fair amount of work to make so I love Karen's idea of using faux fruit so it can be used for many years. Also, with fresh fruit, you wouldn't be able to decorate very far in advance or you would have a fan of rotten fruit by Christmas Day. Yuck. As Karen mentioned, the trick would be finding fruit that looks like the real thing and in the size needed.
Here's how Karen's beautiful fan looked above her door for Christmas last year. Karen said, "This picture of our front door is from Christmas, 2017. I'm going to rework the wreath this year and use more magnolia leaves and change out the fruit.
I asked Karen to share photos with me if she does remake it, would love to see how she makes it because her fan is absolutely beautiful!
If I had space above my front door, I think I'd purchase one of the forms they have for sale at the Colonial Williamsburg Market online. They are a bit pricey at $70, but perhaps worth it since the form could be used for many years to come. (You'll find them available here: Wooden Fruit Fan Form.)
This form would definitely work with fresh fruit, for which I'm sure it was probably designed, but I can see it working with faux fruit, too. I'm guessing with artificial fruit, one could just punch or drill a tiny hole into the fruit, squeeze a little glue into the hole or on the nail, then push the fruit onto the nail via the predrilled hole. Of course, I haven't tried this…just thinking out loud.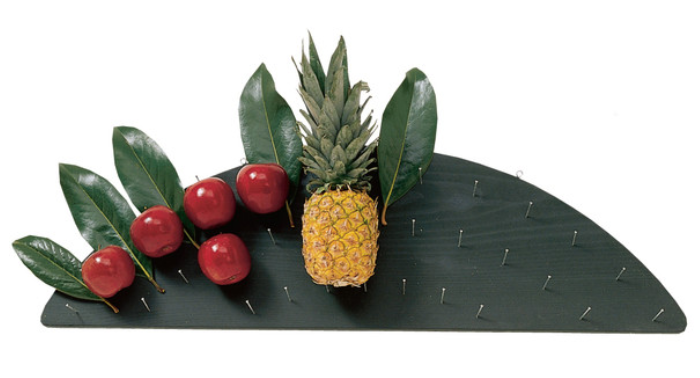 Thanks so much to Karen for sharing her beautiful Colonial Williamsburg style fruit fan! If she reworks it for this year, hopefully, she'll share some photos!
Looking forward to all the fabulous Before and Afters linked for this week's Metamorphosis Monday!
Pssst: I post almost daily to Instagram. Follow Between Naps on the Porch on Instagram here: Between Naps On The Porch.
If you enjoyed this post, subscribe for free email updates when a new post is up here: Subscribe for post updates.
Tip: If possible, please do not use a Hotmail e-mail address to subscribe. Hotmail's servers are notorious for filtering out perfectly good emails.
Metamorphosis Monday
Metamorphosis Monday is a party that's all about Before and Afters. If you are participating in Met Monday, please link up using the "permalink" to your MM post and not your general blog address. To get your permalink, click on your post name, then just copy and paste the address that shows up in the address bar at the top of your blog, into the "url" box for InLinkz when prompted.
In order to link up, you'll need to include a link in your MM post back to the party so the other participants will have an opportunity to receive visits from your wonderful blog readers.
Feel free to link up Before and After posts that are home, gardening, decorating, crafting, painting, sewing, cooking, fashion, travel or DIY related.
Be sure to include a link back to the party in your post, so your readers will be able to find and visit the other bloggers who are participating.
Do not link up to the party if you're only doing so to promote or sell a product.
To those linking up, if you notice a shop or online store linking up to sell products (yes, unfortunately, that happens) please let me know so I can remove their link and block them from participating in future parties. No one wants to visit a link expecting a Before and After, only to find a spam link to an online business/store.
*If a post is sponsored or a product was provided at no charge, it will be stated in post. Some links may be affiliate links and as an Amazon Associate, I may earn from qualifying purchases. *