Welcome to the 139th Metamorphosis Monday!
Happy Metamorphosis Monday! How was your weekend? I've had a fun one. A friend and I attended an auction, something I haven't done in ages. Didn't buy anything but I captured a few pics I'll being sharing later.
Metamorphosis Monday:
For this Met Monday, I'm sharing a small metamorphosis in my upstairs family room. This room is often known as a "bonus" room here in the south. It's called a bonus room because it's a large area over the garage that some home builders finish out and some do not. When this space is finished in, it's feels a bit like a "bonus" space, thus the name. I'm using my bonus room as an upstairs family room/spill over guest room…trying to make it as multi-purpose as possible.
I've been gradually adding hardwood flooring to each room in my home and there are just two rooms left to go: the guest room and this upstairs family room. Since this is a fairly big room, 16′ x 24′ not counting the dormer windows, it's going to be one of the more expensive rooms to hardwood. It's pretty low on the old priority list…somewhere below renovating all three bathrooms and adding built-in shelving to the "some day library."
A few months ago Wuslu had a "Deal of the Day" that I just couldn't pass up…a large bamboo mat. It was a bit of an impulse buy, but worth the risk since I was pretty sure it would look great in either the upstairs family room or out on the screened-in porch. In the picture below, you get just a glimpse of the rug I've had in the upstairs family room for the past 16+ years. It's an inexpensive sisal rug…I think I paid $69 for it all those many years ago.
Here's a better view of it. During the process of creating a home office, I pulled the sisal rug into the office to just see how it would look. (By the way, I've pretty much decided against having a rug in the office.) The rug had darkened a fair amount over the years. Even after turning it over, you can still see where the trunk sat on top for so many years. See the faded rectangle in the middle? It's much worse on the other side…the side that's been up all these years. Of course, when the trunk is in place, you can't really see that. But, when I spotted the "Deal of the Day" at Wuslu I couldn't resist replacing this tired old rug. So, come along and tell me whatcha think about the new upstairs family room rug.
Come on in and check out the new addition.
A view looking down from the sofa…ummm, maybe I should turn the rug around so the writing faces the other way.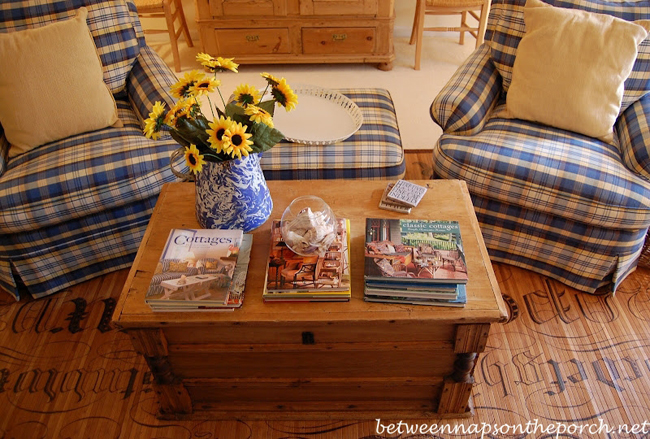 This is the view as you come up the back stairway from the laundry room. I wanted this room to serve multiple purposes so there's a TV in the old Swedish pine armoire and the sofa is a sleeper. This room acts as a spill over guest room when needed. The trunk holds sheets, blankets and pillows for overnight guests.
This bamboo mat reminds me of one of those old needlework samplers. It measures 6′ x 10′ and was $134 with $5 shipping as the "deal of the day." I'm not sure when it will come back around again on Wuslu…but you can sign up to receive their daily e-mail if you like it and want to keep tabs. Update: French Freak also appears to have this bamboo mat.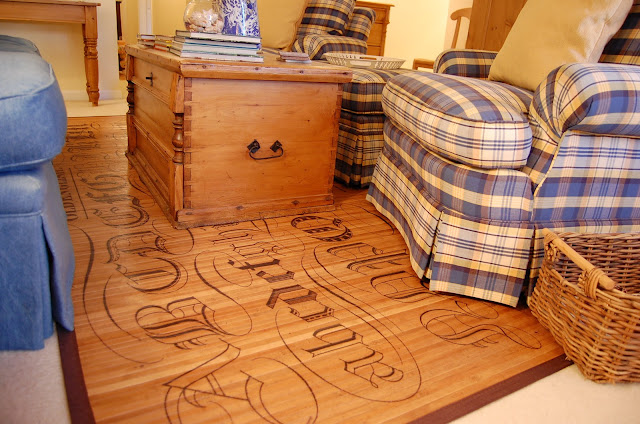 The letters don't spell anything…just shows the alphabet in old English script. I can't wait to see it atop hardwood flooring one day. Patience…must have patience.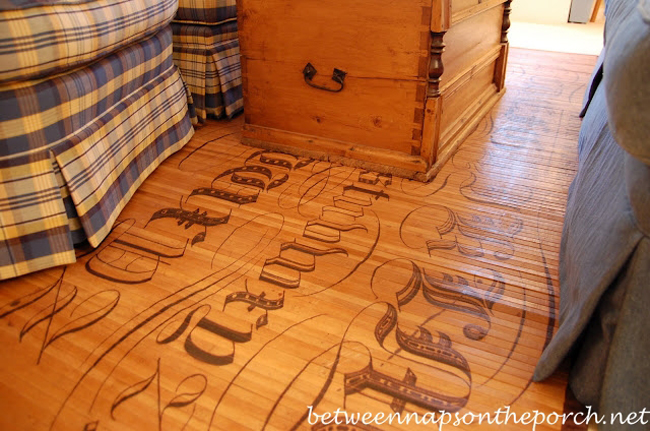 I turned all the lights off in the room and took this pic below with just the natural light coming in through the windows. This is an accurate view of the colors in this room. The denim sofa looks so faded out in all the other pics in this post with the lights on, but this is how the sofa and the other pieces in this room really look. Old bound newspapers work as an end table at the end of the sofa…you can read more about it HERE.
Lights back on and everything looks faded again. Drat.
If you're wondering about the paint color in this room…here's the skinny. Most of the rooms in my home are painted a soft yellow color by Duron called, Sugar Cookie. For the bonus, I was afraid Sugar Cookie would clash with all the yellow of the antique pine in this room, so I painted the walls a Duron color called, Tea Biscuit. Tea Biscuit is a little lighter than Sugar Cookie. Again, Home Depot can mix any of the old Duron colors for you.
Here's the formula for Tea Biscuit:
If you would like to compare Sugar Cookie to Tea Biscuit, you'll find Sugar Cookie on the walls of my kitchen, master bedroom, entry and office. (See that slanted wall space over behind the plant stand…that section where the back stairway goes down? I'd love to have built in bookshelves there like I posted/showed in THIS post. It's just wasted space right now.)
A view looking down… Remember my trip to IKEA? I've been holding out on you and now I'm busted. 😉 I never got around to showing you this cute tray I purchased when I went back for the Billy bookcases for the office. It was only $9.99…love those prices in IKEA. It just may turn up in a teascape one day for Tablescape Thursday.
A final view as you enter the room from the upstairs hallway.
So that's my latest metamorphosis. Can't wait to see what you've been working on in your home!
Related Links:
Downstairs Family Room
Bound Newspapers Create a fun End Table
Wuslu (where bamboo mat was purchased)
Upstairs Family Room
To receive the latest posts, as well as updates about blog parties, subscribe via an RSS Reader or have BNOTP delivered right to your Inbox. You'll find links to subscribe via RSS and Email on the sidebar to the right. Thanks for reading; so glad you are here!
Looking forward to your Before and After!
Reading this post via e-mail or RSS feed?
*If you are reading this via email or RSS feed, to view all the tablescapes linked for Tablescape Thursday, click HERE.
Metamorphosis Monday:
If you are participating in Metamorphosis Monday you will need to link up the permalink to your MM post and not your general blog address. To get your permalink, click on your post name, then just copy and paste the address that shows up in the address bar at the top of your blog, into the "url" box for InLinkz.
If you'd like to include the MM button in your post, just copy and paste the Met Monday button to your computer or grab the html code from underneath the MM logo under the "Join a Blog Party" header at the top of this blog.
In order to link up, you'll need to include a link in your MM post back to the host blog, Between Naps on the Porch so your regular readers will be able to find the Met Monday party which ensures your friends and fellow bloggers will receive lots of visits, too.
PLEASE DO NOT type in all caps…it spreads the links waaaay out. Thanks!
Let's try something fun today! Please visit the person who linked before you and after you…that way everyone will get some visits. Hope you'll visit more, of course.




Welcome! Thanks for coming to the party!
*If a post is sponsored or a product was provided at no charge, it will be stated in post. Some links may be affiliate links and as an Amazon Associate, I may earn from qualifying purchases. *