Welcome to the 164th Metamorphosis Monday!
Greetings! Hope you had a fabulous weekend! Last Friday I met a friend for lunch in Atlanta. We lunched in a restaurant by the name of Osteria del Figo. I think most folks just call it, Figo Pasta. After lunch I headed over to IKEA. You may remember after my last visit to IKEA, the closet went from looking like this…
…to looking like this. Definitely a step in the right direction. After using the closet for a few days in this arrangement, I decided I could use a bit more basket storage.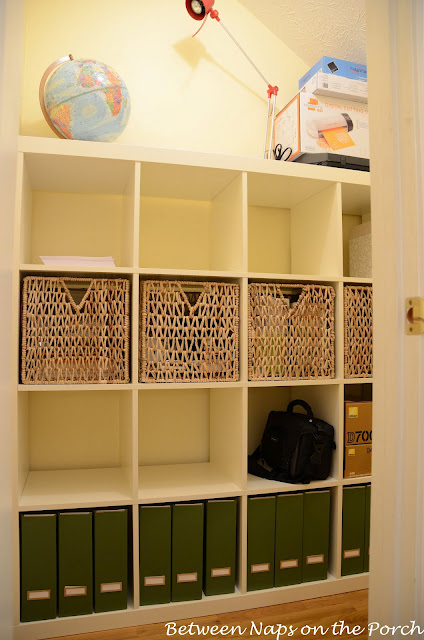 So, here's how Mr. Expedit looks today with the addition of one more row of the IKEA PJÄS baskets. These baskets, per the IKEA website, are made from banana fibers. Interesting, huh? You can definitely tell it's a natural material because they are a little smelly. Nothing bad…just earthy, if you know what I mean.
I've already been loading them up with craft paper, craft supplies, camera gear and general "officey" stuff like printer paper, trash bags, Kleenex, batteries, mailing envelopes and light bulbs. I still have a couple of empty baskets so it's nice knowing there's some growing room if needed.
The baskets freed up some space in the drawers and baskets in the office which is really nice. Since the office drawers aren't so stuffed now, I can put my hand on what I need quickly. Love that!
When I was a Freshman in college, I took a test that was supposed to determine what career/job a person would enjoy. I was entering my Sophomore year and still couldn't decide on a major. (I ended up double majoring in English and Psychology and was one course short of a minor in Art.)
One thing that stood out after the results were in, I loved "organizing." Do you ever wonder why our brains work like they do, why some folks love organized spaces and other folks feel more comfortable in more loosely arranged environments? I'm so glad we aren't all the same. That would be beyond boring, wouldn't it?
The office can get messy, but after a day or two it starts to get to me. If you could see my kitchen, dining room and laundry room when I'm pulling out stuff for a tablescape for Tablescape Thursday, you would be horrified. lol It's gets pretty bad.
You can still see where I need to sand and touch up the wall paint in the closet. I'm waiting for the spirit to move me. 😉 That hasn't happened, yet…but it will.
The other corner of the closet houses a tripod. I've been using it a lot more lately since I purchased a Macro lens.
This gives you an idea of the distance between the Expedit unit and the opposite wall of the closet. There's plenty of room to stand and pull out the basket you need. I may label the baskets eventually, but since they are sort of see-through, it's pretty easy to tell what's in each basket.
Other than that touch-up paint I've been putting off, the closet is officially done and the organization freak inside me is happy. 🙂
The "Before and After" of the office closet can be viewed, HERE. The actual mystery construction of the Expedit inside the closet (in place) can be viewed, HERE.
Looking forward to all the Before and Afters for this Met Monday!
To receive the latest posts, as well as updates about blog parties, subscribe via an RSS Reader or have BNOTP delivered right to your Inbox. You'll find links to subscribe via RSS and Email on the sidebar to the right. Thanks for reading; so glad you are here!
Reading this post via e-mail or RSS feed?
*If you are reading this via email or RSS feed, to view all the Before and Afters linked for Metamorphosis Monday, click HERE.
Metamorphosis Monday:
If you are participating in Metamorphosis Monday you will need to link up the "permalink" to your MM post and not your general blog address. To get your permalink, click on your post name, then just copy and paste the address that shows up in the address bar at the top of your blog, into the "url" box for InLinkz.
In order to link up, you'll need to include a link in your MM post back to the party.
If you'd like to include the MM button in your post, just copy and paste the Met Monday button to your computer or grab the html code from underneath the MM logo under the "BNOTP Parties" header at the top of this blog.
PLEASE DO NOT type in all caps…it spreads the links waaaay out. Thanks!
Let's try something fun today! Please visit the person who linked before you and after you…that way everyone will get some visits. Hope you'll visit more, of course.


*If a post is sponsored or a product was provided at no charge, it will be stated in post. Some links may be affiliate links and as an Amazon Associate, I may earn from qualifying purchases. *