Welcome to the 737th Tablescape Thursday! Lots going on here today, I have an electrician here installing a second outlet on the unfinished side of the basement. I moved my workbench from the semi-finished side of the basement to the unfinished side. The unfinished part of the basement only has one outlet. I may eventually add a smallish chest freezer to that space, so I needed an additional outlet for my workbench area since the freezer would go right in front of the existing outlet. With painters and electricians here all this week–and all the painting I've been doing in the storage room, I didn't get a chance to set a table. So today, I thought I'd share something table related while also giving you a look into the storage room now that I've finished painting in that space.
As mentioned in a previous post, the storage room used to be a crawl space with bare earth and a vapor barrier on top. Many, many years ago, I had a cement floor added, along with lots of shelving for storage. Here's how it looked the last time I shared this room. I had just finished painting the shelves and almost all of the walls, but I still needed to paint that section of wall underneath the shelves. That was the hardest part of all to paint!
That lower wall section is all done now. May I just say, concrete is completely unforgiving on the knees! I could have used some knee and elbow pads! I completed painting the floor yesterday evening with Drylock Concrete Flooring Paint in the color, Dove Gray. I still need to go back and do a bit of touch-up with the white Drylock that I used on the walls, but for the most part, the painting in this space is done. Yay! So why am I sharing this space for Tablescape Thursday?
You may remember that I was storing a lot of the lanterns that I use in table centerpieces atop the cabinets in my garage.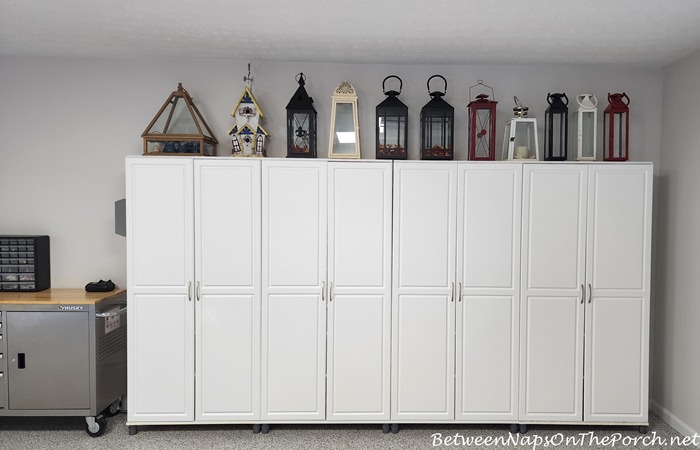 I ended up removing those after I decided I really just wanted a clean open look here in the garage. So where did those lanterns end up?
They are now being stored in the freshly painted storage area here in the basement. Do you see them there at the end of the shelves on the right? Someone recently asked about the height of this space. I just measured and it's exactly 72 inches (6 feet) to the floor joists. I'm 5'4″ so I can easily walk around without bending over. This extra storage space has been a blessing!
Hard to get a great photo of this area since it's not that wide, but I've moved most of my lanterns to this spot already. I hope to get all the other shelves filled today. May need to take an Advil to get that done. Ha!
Looking forward to sharing this space once I have everything stored back away here. I can't tell you how happy I am to have it all painted! Now for the fun part, putting it to use!
Like to know when a new blog post is up and available to read? Subscribe for email updates, it's free and your email will never be shared. Subscribe for free post updates via email here: Subscribe for Post Updates.
Tablescape Thursday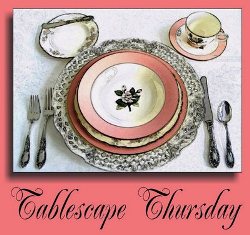 If you are participating in Tablescape Thursday, please be sure to add your permalink below, and not your general blog address. To get your permalink, click on your post name, then copy and paste the address showing in the address bar, into the "url" box when you link up. You'll need to include a link in your post back to the party to link up and participate. That's so visitors to your blog will be able to find the party and the other Tablescape Thursday participants. Please link up table-setting related posts only for Tablescape Thursday.
This party has ended, click button below for the links to all who participated.
*If a post is sponsored or a product was provided at no charge, it will be stated in post. Some links may be affiliate links and as an Amazon Associate, I may earn from qualifying purchases. *