Welcome to the 163rd Metamorphosis Monday!
A while back I wrote about how on a recent visit to the Atlanta IKEA with a friend, I repeatedly decided and un-decided to buy an Expedit shelving unit. I really wanted to buy one for my office closet but there was one big problem.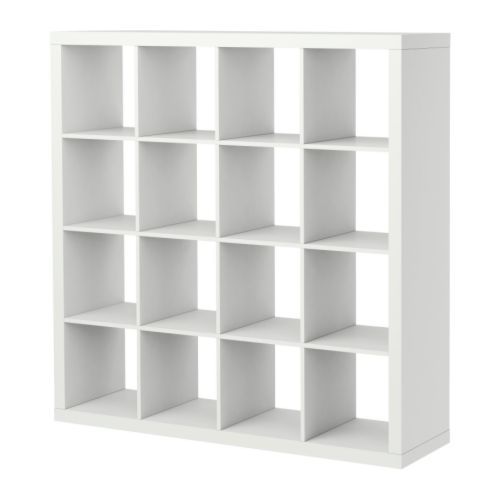 The Expedit measures 58 5/8 inches wide and my closet measures 57 1/2 inches wide and 47 1/2 inches deep. With the baseboard molding removed, the closet measures 59 1/4 inches wide. So, my office closet was barely wide enough to fit an Expedit across the back wall if I removed the baseboard molding. But the real problem would be getting it through the closet door and then rotating it to go against the back wall. The Expedit was just too wide to make the turn once inside the closet. I knew this because I created/cut a fake foam-board shelf the width of the Expedit and tested pushing it into the closet and turning it. No go!
Never being one to be swayed by logic 😉 I've been noodling this issue for days. I knew it would be next to impossible to build it inside the closet—in place, because there are little pegs that go in the side panels to hold them on and I would need some space on the end to hammer on the side panel.
With the unit built inside the closet on the spot where it would stand, I'd only have about 3/4 inch to spare, not enough to hammer on the final side panel, actually not even enough space for the pegs to fit since they stick out more than just 3/4 inch.
Anyone with half a brain would have given up and just bought a regular old book case, but apparently I don't have half a brain because back to IKEA I went yesterday. I arrived around 1:30 PM and took this pic with my cellphone from the car as I sat waiting to turn at the light. IKEA sticks out against the city landscape. It's HUGE and it's electric blue with bright yellow accents. Once I was finished in IKEA, I headed back home, stopping by the grocery store just long enough to pick up kitty food for Mr. Max. I was back home by 4:00 PM to begin the impossible.
Here's how the closet looked before I started…in desperate need of some organization. I still had painting supplies in the closet from when I painted the room several months ago. You can see the renovation of the office from start to finish in THIS post.
The big box in the right corner is full of fabric I hope to use one day. Do you have a box like that at your house? There are also camera boxes, 2 camera bags,extra printer paper, trash bags, a typewriter, desk lamp, a small scale for weighing packages, my Silhouette machine and magazines I can't bare to recycle until I go through them one more time.
BEFORE:
The top shelf BEFORE…
Awful, wasn't it? Ready to see the AFTER?
Much better!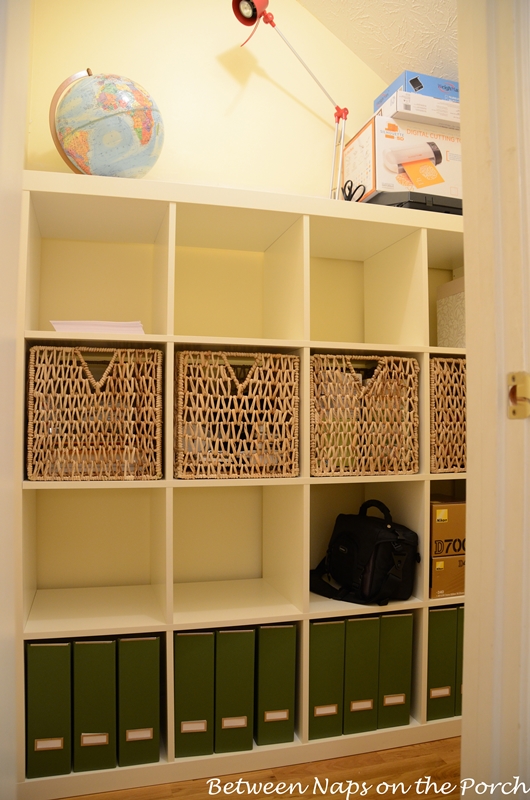 Meet Mr. Expedit. 🙂
Sorry I can't get a full shot of Mr. Expedit in the closet, the closet door just isn't wide enough. But he's all there in full size. The magazine holders are a pretty shade of green that matches the green and white floral chair in the office, the one just outside the closet door. They came out dark in the photo but here's how they actually look. I filled them with my ancient Traditional Home magazines…still love those older issues.
I wish I could get the whole view in. The globe used to be in this room when it was my son's bedroom. It's the only thing left in this space from those days. (sniff)I may add four more of the PJAS baskets to the unit so I'll have two rows of those in the center. Not sure on that, yet. I'm kind of enjoying the openness, so it may just stay this way.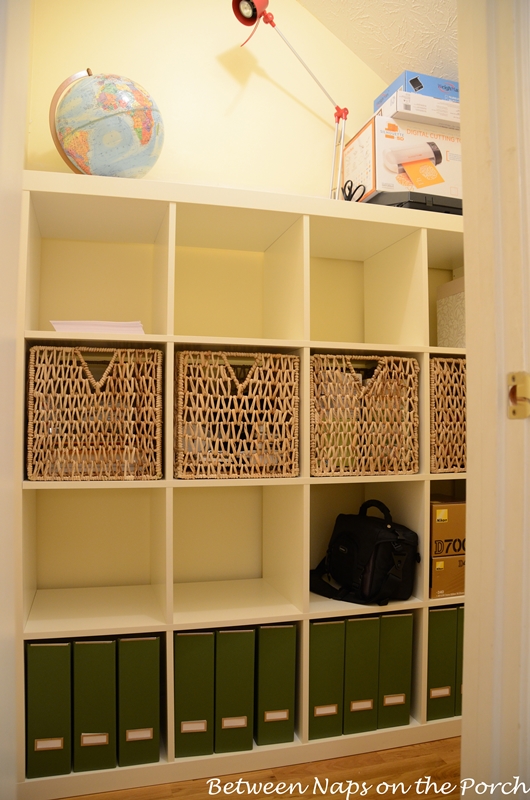 Here's the amount of clearance I ended up with on either side. The left side…
The right side. Crazy, huh?
Here's a side-by-side comparison. I finished at midnight actually closer to 1:00 AM. Today I'm typing this with the help of Advil. Did you know you have muscles in your sitting-down-place? Yup, you really do and I can feel every one of mine today. lol Wow, what a workout! I'll create a post soon showing how I got this baby in here. It wasn't easy, but by golly, where there's a will, there's a way! Let's just say, I LOVE my Dremel!
So looking forward to all the Before and Afters for this Metamorphosis Monday!
To receive the latest posts, as well as updates about blog parties, subscribe via an RSS Reader or have BNOTP delivered right to your Inbox. You'll find links to subscribe via RSS and Email on the sidebar to the right. Thanks for reading; so glad you are here!
Reading this post via e-mail or RSS feed?
*If you are reading this via email or RSS feed, to view all the Before and Afters linked for Metamorphosis Monday, click HERE.

Metamorphosis Monday:
If you are participating in Metamorphosis Monday you will need to link up the "permalink" to your MM post and not your general blog address. To get your permalink, click on your post name, then just copy and paste the address that shows up in the address bar at the top of your blog, into the "url" box for InLinkz.
In order to link up, you'll need to include a link in your MM post back to the party.
If you'd like to include the MM button in your post, just copy and paste the Met Monday button to your computer or grab the html code from underneath the MM logo under the "BNOTP Parties" header at the top of this blog.
PLEASE DO NOT type in all caps…it spreads the links waaaay out. Thanks!


Welcome! Thanks for coming to the party!
*If a post is sponsored or a product was provided at no charge, it will be stated in post. Some links may be affiliate links and as an Amazon Associate, I may earn from qualifying purchases. *