Welcome to the 480th Metamorphosis Monday!
Yesterday I had a comment from Mark who said:
Have a similar porch to yours and we love it already. It is coated in pollen. Do you ever hose yours off??? What is your cleaning routine? We are in NC and the pollen is 3 ft thick 🙂 There is not an easy way for water to run off, like yours, but wondered what you normally do.
Normally when I'm using the porch on a regular basis during the spring, summer and fall, I sweep or vacuum as needed, which usually works out to be about once a month. But pollen is a different kind of "dirt." I've never tried to vacuum up pollen for fear it would damage my vacuum cleaner since it's so fine and powdery.
I was thinking today, a shop vac might work okay since those are normally used for vacuuming up sawdust and such. I may try that next spring when the pollen attacks, but for this year I did what I always do: I swept up the bulk of the pollen, then followed that up with a good mopping.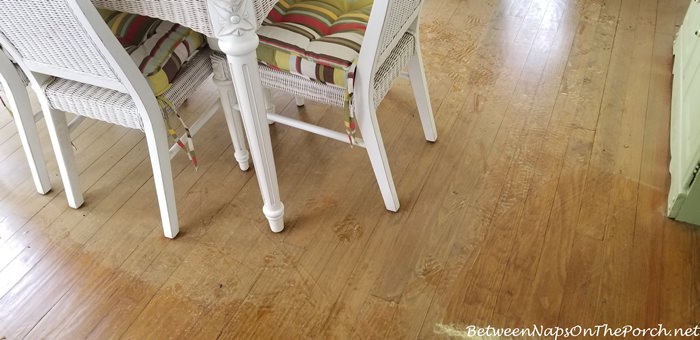 I ordered a new broom about two weeks ago and it worked great for sweeping because the bristles are stiff and super dense. (You'll find the broom I used here: Broom.)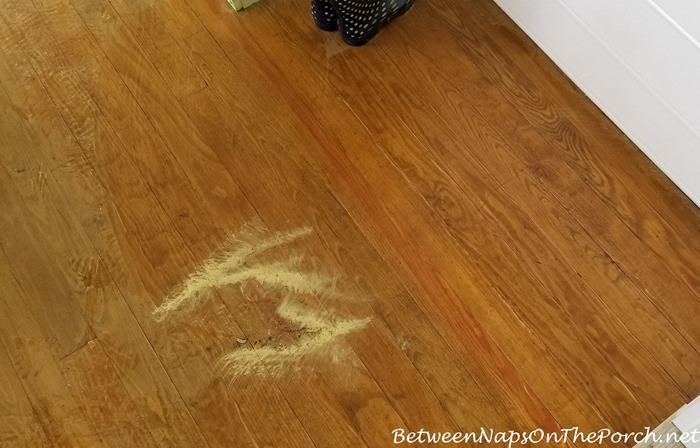 After sweeping, a fine, powdery dusting of pollen still remained on the porch floor.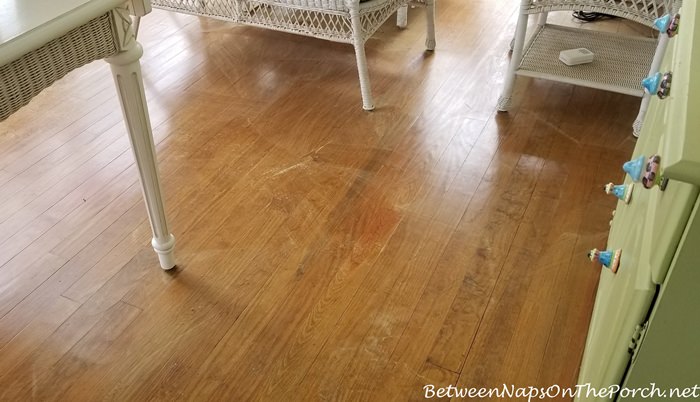 Time to bring out my secret weapon, my Mopnado! If you've been reading BNOTP for a while, you'll remember when I purchased this spin mop last year. I love this thing because it greatly speeds up the mopping process and the mop that comes with it holds a lot of water. Each strand is like a big ole sponge. I look forward to mopping with it because it's actually fun to use. You can read more about it where I purchased mine here: Mopnado. After 4,685 reviews, it has a score of 4.3 stars. I think that says a lot.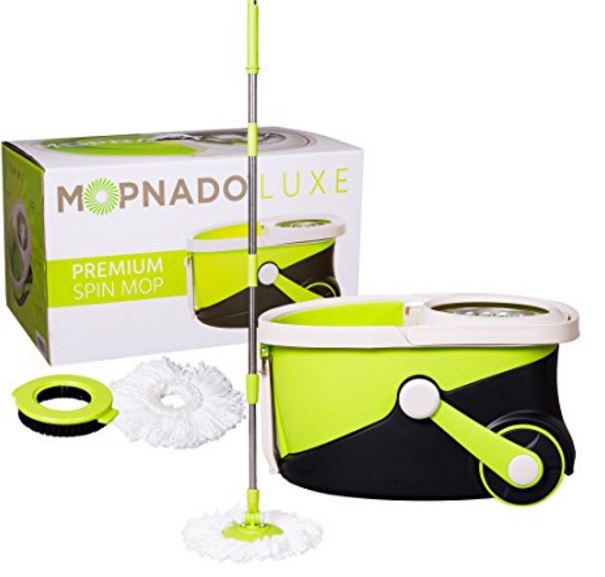 Here's how the porch floor looked after mopping it. When mopping the porch, I always leave a lot of water in the mop head, especially when mopping up pollen. But the spin mop will spin out all the water if needed.
I think the worst of the pollen has passed now. I noticed the table and some of the other areas I had wiped down a couple of weeks ago, weren't covered with pollen near as much as they were the last time I wiped them all down. I went ahead and put out some of the items I like to use when decorating the porch. At first, I had planned to wait on decorating the hutch, just to make sure all the pollen was really gone. That empty hutch got the better of me, though. I just couldn't stand seeing it completely empty with the rest of the porch decked out for spring. lol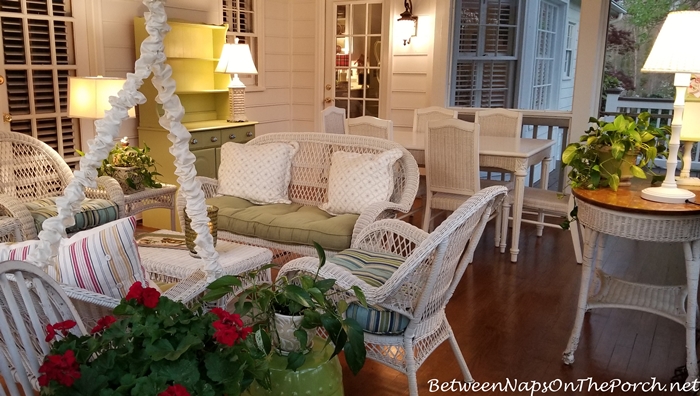 So I went ahead and pulled out my favorite "porch" dishes. It was just starting to get dark when I took this photo.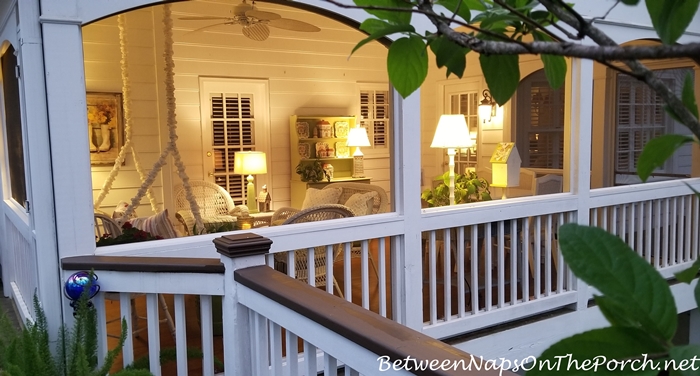 Darker still…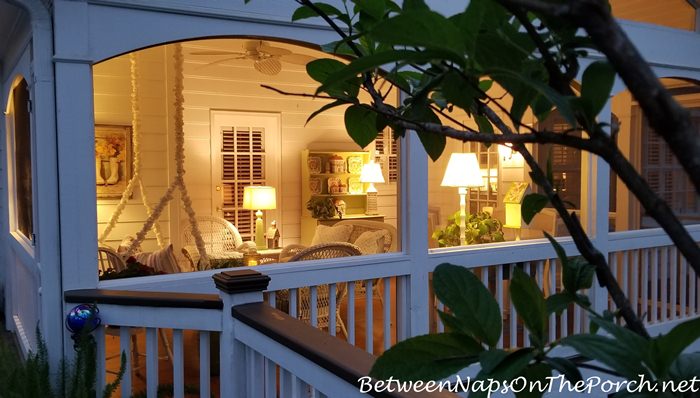 I've added something new to the porch this summer. My sweet daughter-in-law gave me a beautiful picture this past Christmas. Do you see it there on the wall near the swing?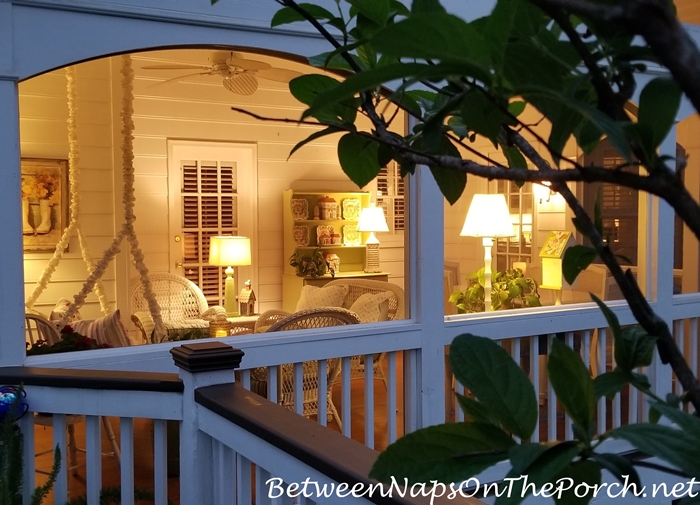 She and I both love our Hunter boots, so this was perfect! I won't leave it on the porch during the winter, but it should be fine here for spring and summer. It feels like it was made to hang on a porch.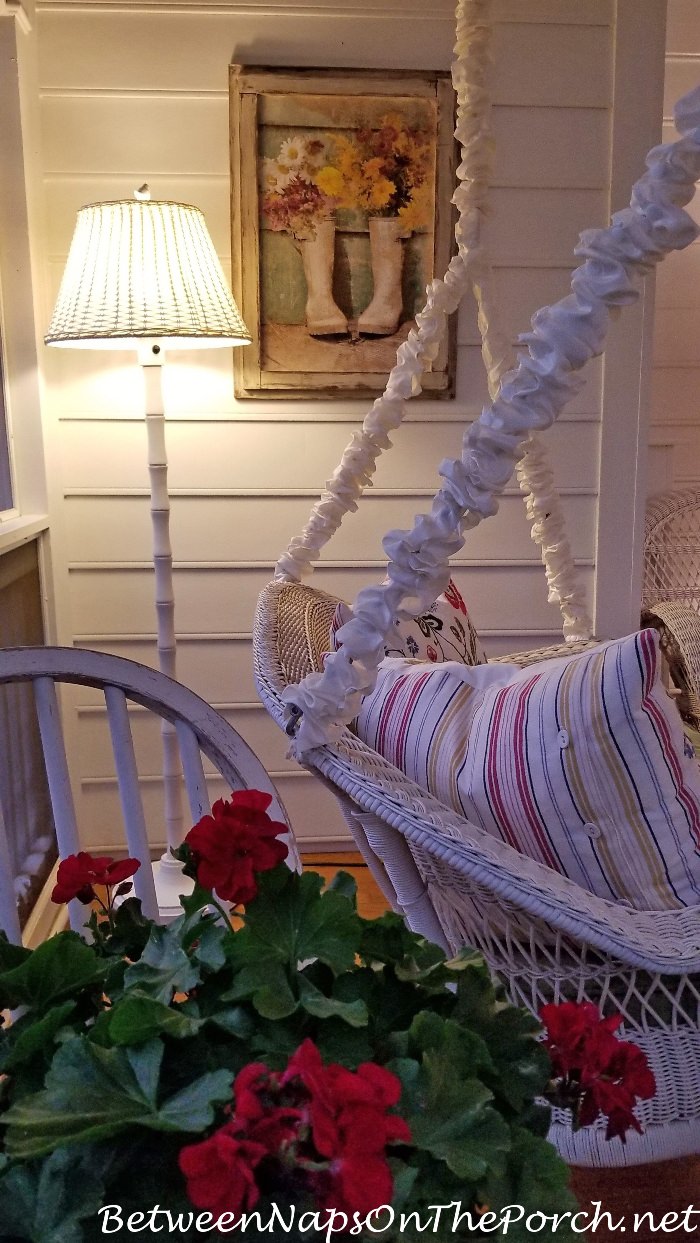 The porch hutch decorated with my favorite summer dishes…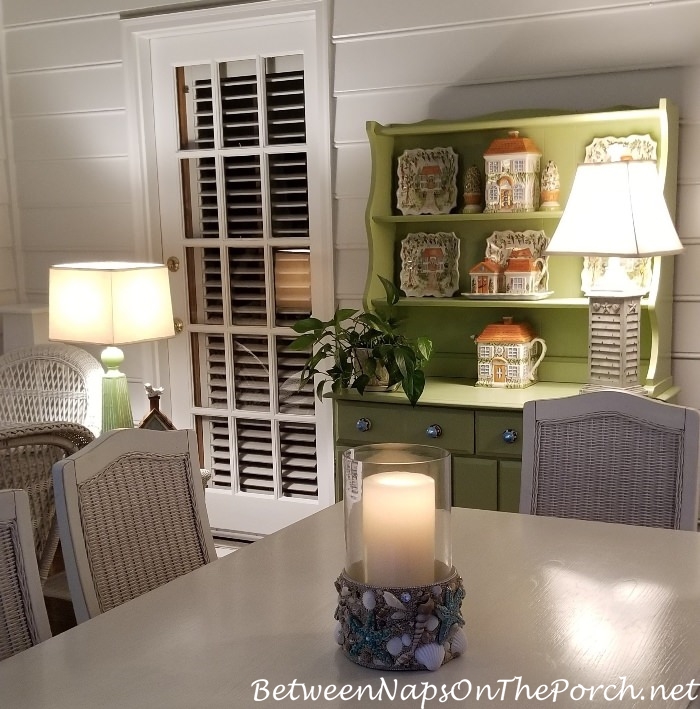 The pattern is Ma Maison, designed by Dario Farrucci for Tabletops Unlimited. (See this pattern in a table setting here: Ma Maison.)
Hope wherever you live, you're starting to see warmer temps and some pretty springtime weather. It's going to be in the 60s to upper 70's here this week. The birds are coming to the feeders all day long now. They are loving the fresh mealworms I'm putting out.
I also have dried mealworms available for the birds. I just ordered a feeder recently that's specifically designed for dried mealworms, and it's working great. The birds are already using it, so they took to it immediately. If you like to put out dried mealworms for your nesting birds, you'll find the feeder I'm using here: Mealworm Feeder.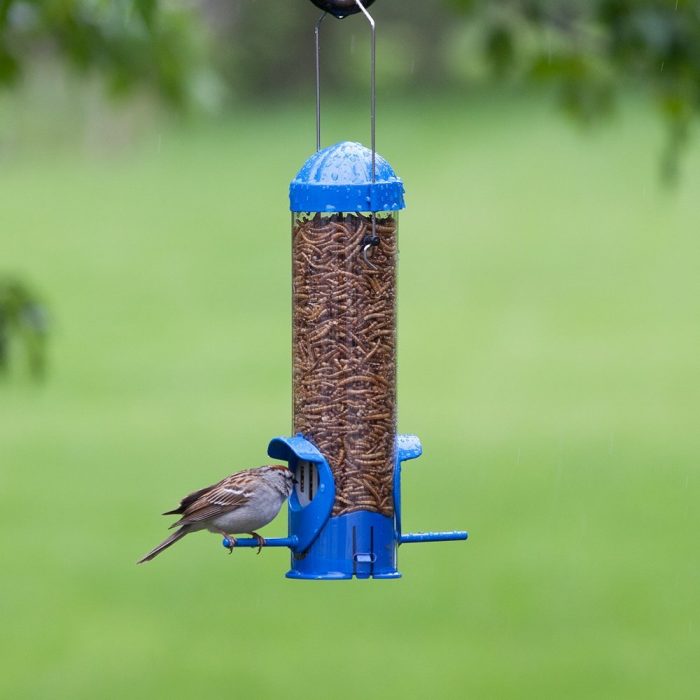 I have bluebirds nesting in one of the dovecotes in the front yard, and another pair is nesting in a birdhouse in my neighbor's yard, just on the other side of my backyard fence. I've been seeing them a lot at the feeders. Bluebirds aren't able to crack open a sunflower, but they love the shelled "No Mess" sunflower seeds I'm mixing in with my regular seed from Wild Birds Unlimited.
All the birds are loving the fresh mealworms I'm putting out several times a day. I just ordered 3,000 more from Rainbow Mealworms. Chickadees, Nuthatches, Wrens, Tufted Titmouse , etc…all love them. So does a greedy little Mockingbird who wants to eat ALL of the mealworms in one sitting when he visits. lol
It's so much fun watching the bluebirds stuff as many worms as possible into their mouths/beaks, before heading back to the nest.
I'm still seeing my Robin stopping by, usually for a sip of water from the birdbath. Occasionally he'll eat some of the mealworms, but today he just looked at them and didn't eat any. Maybe he thought they looked like an appetizer since he's probably used to much fatter worms from the garden. lol
I'm looking forward to sipping a glass of iced tea with you on the porch this summer. So glad spring is finally here!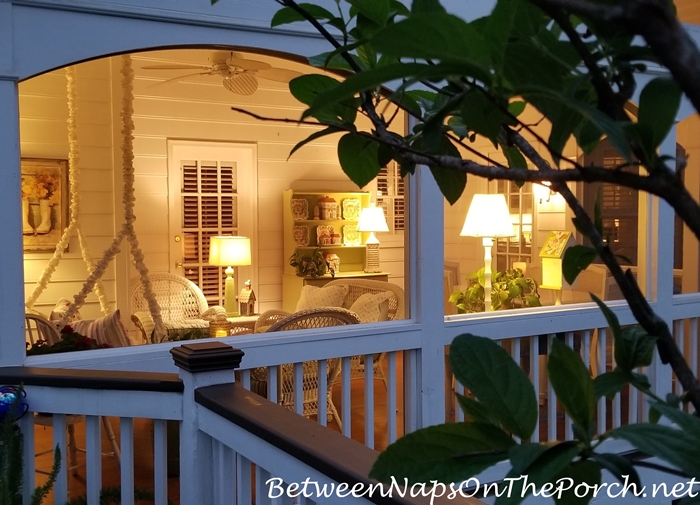 Looking forward to all the wonderful Before and Afters for this week's Metamorphosis Monday!
Pssst: I post almost daily on Instagram. Follow Between Naps on the Porch on Instagram here: Between Naps On The Porch. If you enjoyed this post, subscribe for free email updates when a new post is up here: Subscribe for post updates.
Metamorphosis Monday
Metamorphosis Monday is a party that's all about Before and Afters. If you are participating in Met Monday, please link up using the "permalink" to your MM post and not your general blog address. To get your permalink, click on your post name, then just copy and paste the address that shows up in the address bar at the top of your blog, into the "url" box for InLinkz.
In order to link up, you'll need to include a link in your MM post back to the party so the other participants will have an opportunity to receive visits from your wonderful blog readers.
Please observe these few rules:
Please link up Before and After posts that are home, gardening, decorating, crafting, painting, sewing, cooking, fashion or DIY related.
Be sure to include a link back to the party in your post, so your readers will be able to find and visit the other bloggers who are participating.
Do not link up to the party if you're only doing so to promote or sell a product.
To those who are linking up: If you notice a shop or online store linking up to sell products (yes, unfortunately, that does happen) please let me know so I can remove their link and block them from participating in future parties. No one wants to click a link expecting a Before and After, only to find a spam link to an online business/store.

*If a post is sponsored or a product was provided at no charge, it will be stated in post. Some links may be affiliate links and as an Amazon Associate, I may earn from qualifying purchases. *