Thanks so much for all your input yesterday! So far, the tall file organizer seems to be leading in the voting. You all made so many great points about the pros/cons for both the short and the tall. It is tempting to keep them both as so many folks suggested.
This week I've been working on spiffying up the porch a bit more for spring and summer. I just discovered a plant I didn't know about before and I immediately knew I had to share it with you in case you were looking for a non-messy fern, too.
Every summer I like to place a big fern on the plant stand that lives behind the chair over there in the corner of the porch. In this photo from a few summers ago, I filled the corner with a big, bushy Boston fern. I loved how it looked but man, what a mess it did make. I kept it watered and periodically placed it in a semi-shady spot on the deck for some sun, but it still dropped leaves all summer and in general made a big mess. After a while it just didn't look so hot, either.
This year while shopping in a local nursery, I asked for a plant or fern that would work better for this corner. They recommended a Kimberly Queen fern. Have you heard of it? I was told they don't shed and make a mess like Boston ferns do. Apparently, they hold onto their leaves. (It's raining here today so these pics are a bit dark.) Come check Queen Kimberly out.
I bought a large, colorful pot to put her in but it was just too big for the plant stand. So for now she's staying in this woven basket while I keep my eye out for the right pot.
Kimberly Queen ferns have a more upright growth pattern than Boston ferns. That works out even better for this spot since Mr. Boston sometimes reached out and tickled me when I sat reading here. Kimberly is a bit more reserved and not quite as mischievous as Boston was.
I hope to find a pot similar to this one for Kimberly. I'm finding it hard to find a container that's just the right size. I'll keep looking, though.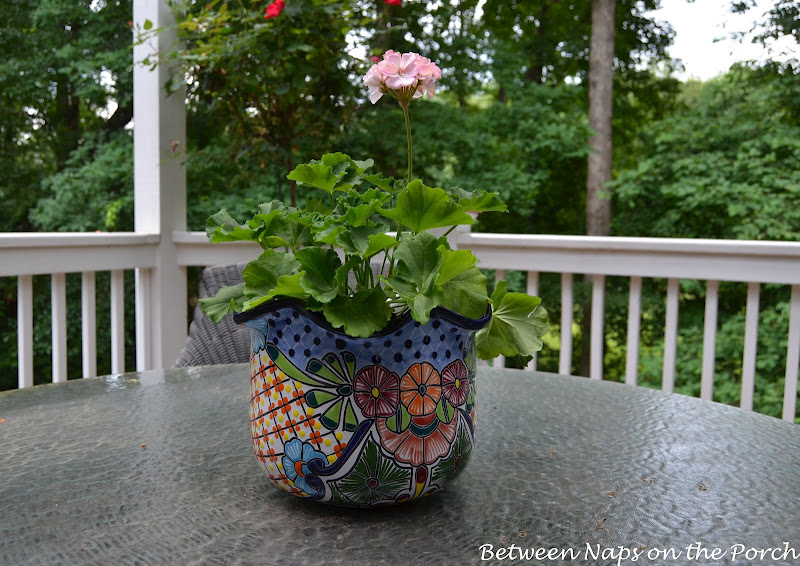 Over-wintering Geraniums:
In a recent "Waking up the Porch and Decks" post, I shared my experiment with "wintering over" my geraniums in the garage this past winter. I was afraid those efforts were going to be a complete waste but surprisingly the geraniums are bouncing back! After reading all that stuff online saying they never look decent again and will hardly bloom, I have been so happy with how well they are doing! I took your advice in the comments on that old post and I cut back the long, leggy stems of those old, wintered-over geraniums. Come check out their progress. Here's the "before" of this geranium.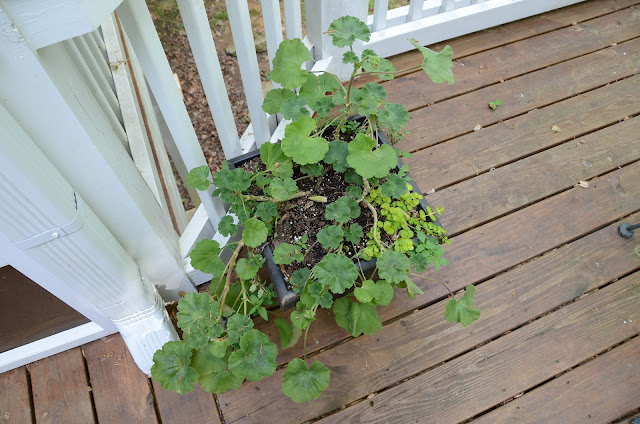 Here's how it's looking now. So much for the information online that said they never really bloom much again. Ha! Apparently, this geranium didn't get that memo.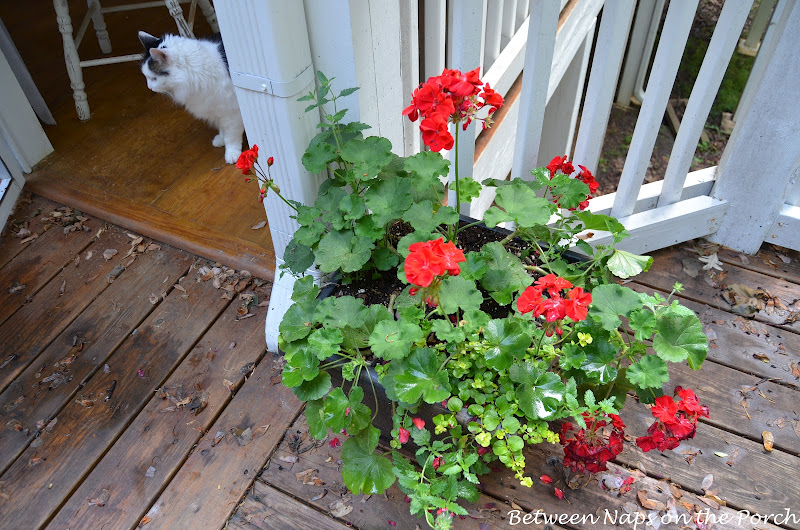 Another "before" geranium…
And here she is now. I sprinkled one of my fave plant fertilizers (Osmocote) into the soil when I transplanted them so I'm sure that has helped them to rebound. We've been having some nice, regular rains which has helped to keep them well-watered.
Here's another one that's not blooming right now but it has filled in nicely. It rained this morning so everything is still wet.
One last "before" pic of another over-wintered geranium…
And here it is now. I definitely think it was worth the trouble to over-winter them. I wonder how many winters I can do this with the same geraniums? I think I'll try it again this year just to see how it goes.
Did you over-winter any plants or annuals this past winter? If so, how are they doing?
*If a post is sponsored or a product was provided at no charge, it will be stated in post. Some links may be affiliate links and as an Amazon Associate, I may earn from qualifying purchases. *