Welcome to the 774th Tablescape Thursday! I was visiting family in Ohio for the past 9 days and just got home around 6:30 last night after a long 9-hour drive. So though I don't have a table setting to share, I have two things that are table-related that I hope you'll find helpful.
Yesterday, I shared these delicious yogurts I discovered during my time in Ohio. As mentioned in yesterday's post, this yogurt comes in a really cute, glazed, terra cotta pot that can be reused in a lot of ways. La Fermière has a section on their website sharing several ways to reuse them as votive holders, storage containers, and even as a baking dish for desserts.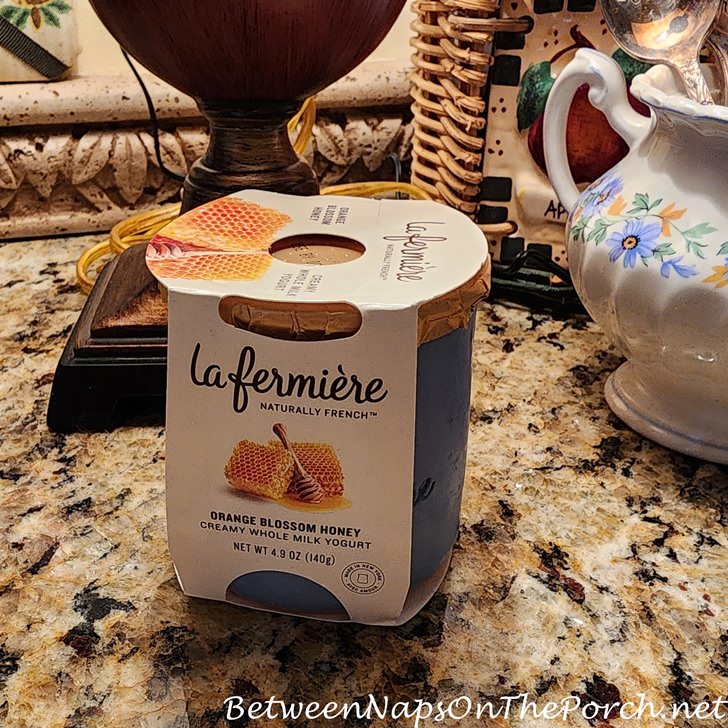 The one thing that I noticed, though, is once you remove the little gold foil top to enjoy the yogurt, there's a fair amount of glue residue that's left behind along the rim. I don't know what kind of adhesive La Fermière uses, but man, is it tough! I tried scraping it off with my fingernail and that definitely didn't work. Dishwashing liquid, Dawn Power Wash, and my favorite Super Cleaner didn't work either. After several failed attempts to remove the glue in Ohio, I decided to just wait until I got home where I knew I had some Goof Off Adhesive Remover. I was sure that would work.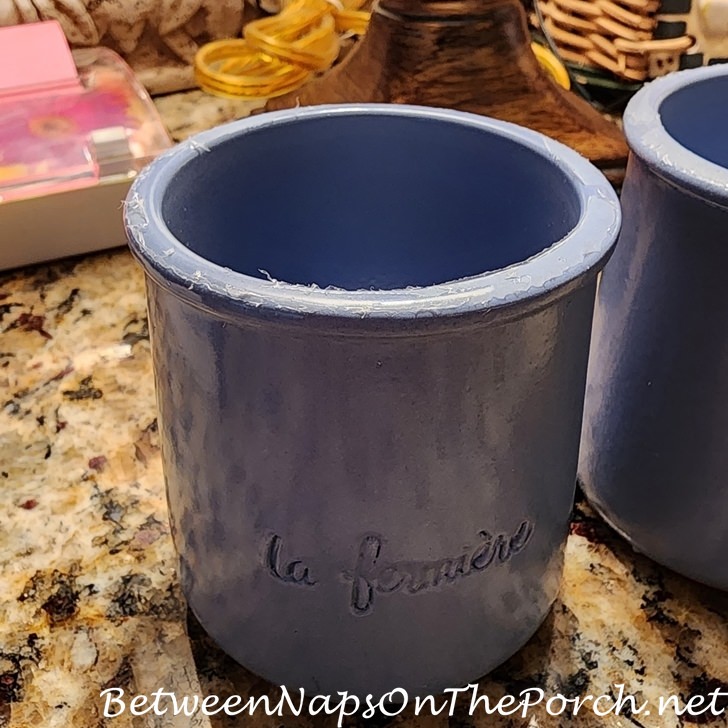 Nope! Even Goof Off couldn't put a dent in it! I'm pretty sure whatever adhesive La Fermière uses must be the same thing NASA uses to glue parts of the space shuttle together because I think it could survive through anything! 😉
Determined to find a way to remove the adhesive, I finally resorted to using a knife. I had been reluctant to try scraping it off, for fear I'd leave scratches along the rim, but fortunately, that didn't happen. Using a smooth-blade pairing knife, I was able to successfully scrape the adhesive off the rim without leaving any visible scratches. If you try this, be careful that you don't cut yourself! Go slowly! Update: I recently discovered that La Fermiere has instructions on how to get the glue off and they recommend scraping it off with a butter knife. That would probably be safer than using a pairing knife as I did. So please don't use a sharp blade knife unless you feel completely comfortable doing so.
It took several minutes to scrape all the adhesive off the first pot, so I got an idea. For the 2nd and 3rd pots, I used my blow dryer on its hottest setting and that seemed to help soften the adhesive. I just did a few inches at the time, blowing and scraping around the rim until I had the adhesive completely removed. Heating the adhesive seemed to make the process go a lot faster. Update: I never bother using the blow dryer now, I've gotten really good at just scraping it off with a knife. The more you do it, the easier/faster it goes.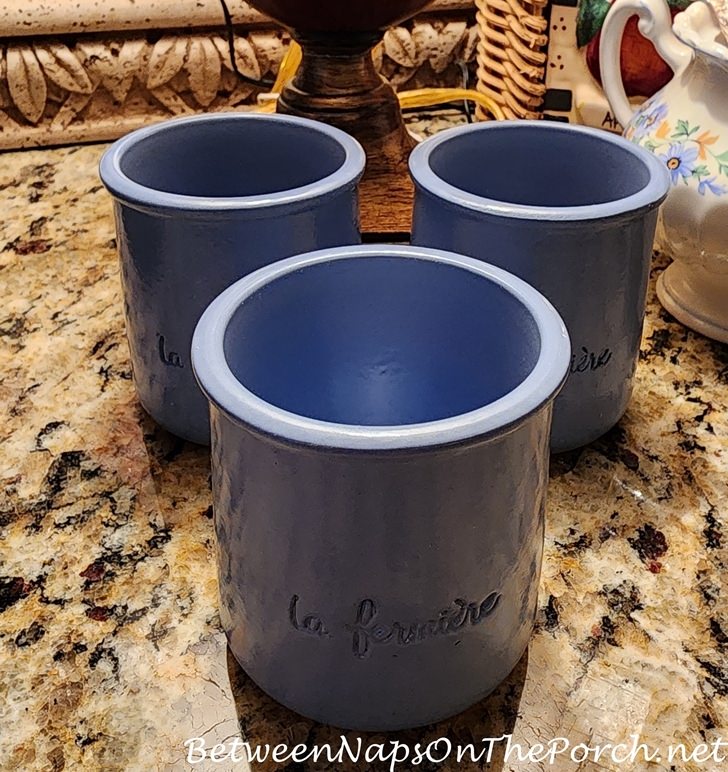 One more thing I wanted to mention–when I purchased this yogurt in Dorothy Lane Market, they were 2 for $5, so $2.50 each. I purchased a few more last night in my local Whole Foods, but I didn't check the receipt to see how much they were before I tossed it, so I'm not sure what I paid there. If you see some crazy prices for these yogurts online, look elsewhere. La Fermière has a place on their website where you can enter your zip code to see what store near you carries their yogurt. That's how I found out Whole Foods, Sprouts, and Fresh Market carry it in my area here in Georgia. By the way, La Fermière has no idea I'm sharing their yogurts or that I even exist. Just sharing these since I love the little containers they come in…and the yogurt is delicious! Update: I keep forgetting to mention that you can find lids for these little containers here: Lids for La Fermière Yogurt Pots.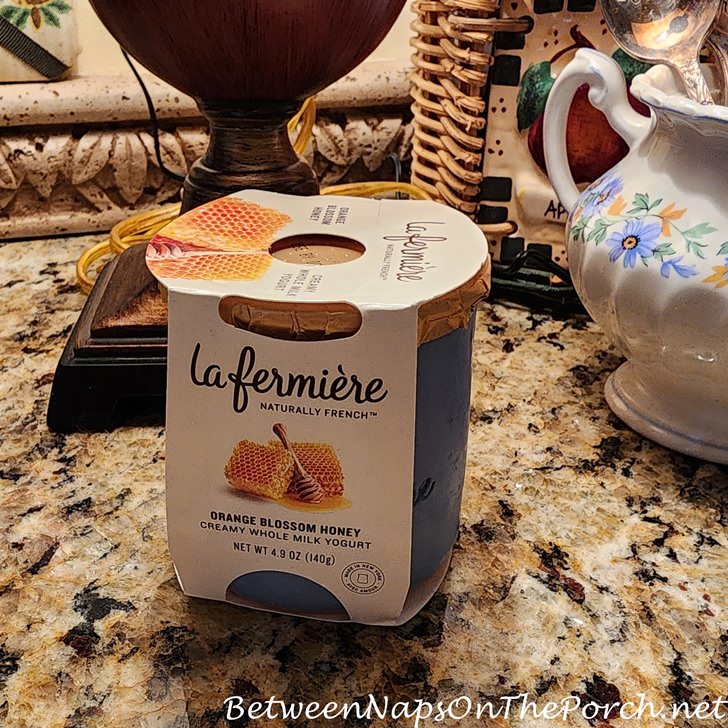 An Upgrade for My Yeti Rambler With the Straw Lid (but could apply to any tumbler)
One more table-related thing I wanted to share is a little upgrade I've made for my Yeti rambler that came with a straw lid. I just started buying this style Yeti tumbler recently and I love it, but I can't stand the stiff-as-a-board, plastic straw that comes with it. If you have ice in your drink, it's almost impossible to position that hard plastic straw in any position that's comfortable for drinking. Plus, the straw it comes with is way too short, at least for my preference.
To solve this issue, I've been using these tall silicone straws and they work beautifully! I've purchased them in two different heights–the 9-inch and the 10-inch. The 9-inch works pretty well, but I prefer buying the 10-inch since I can cut the end off to the height that works best. The photo below shows the height I like best.
If you purchase any of these silicone straws for your tumblers, Yeti or not, and decide to shorten them, be sure to cut the end of the straw in a slanted shape, otherwise, the straw will have a tendency to suction down to the bottom of your tumbler. Also, the direction of the cut matters. It needs to slant as shown below in order to work properly and not suction down to the bottom of the tumbler.
One more thing, I always cut mine where the straw is short enough to where the "bend" section of the straw isn't sticking too far up and out of the lid–that way the straw doesn't wildly swing around when you pick it up to take a sip. The bend of the straw needs to be slightly above the lid (or at least that's the height I cut mine) but not too much, then it will stay stable when you pick up the tumbler. If you get the 10-inch length straws, they give you enough length to try different heights to see what works best. The silicone straws also work great with the Yeti slider lids, if you prefer a straw when drinking. Hope this makes sense for all you Yeti lovers out there! Here's where I purchased the 10-inch straws that I use: 10-inch Silicone Straw.
Looking forward to the beautiful tables linked for this week's Tablescape Thursday! (If you enjoyed this post, subscribe for email updates when a new post is up here: Subscribe for post updates.)
Tablescape Thursday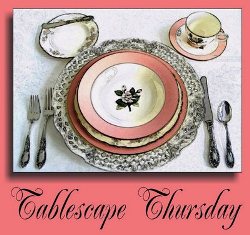 If you are participating in Tablescape Thursday, please be sure to add your permalink below, and not your general blog address. To get your permalink, click on your post name, then copy and paste the address showing in the address bar, into the "url" box when you link up. You'll need to include a link in your post back to the party to link up and participate. That's so visitors to your blog will be able to find the party and the other Tablescape Thursday participants. Please link up table-setting-related posts only for Tablescape Thursday. Please link up table-setting-related posts only for Tablescape Thursday.
You are invited to the Inlinkz link party!
*If a post is sponsored or a product was provided at no charge, it will be stated in post. Some links may be affiliate links and as an Amazon Associate, I may earn from qualifying purchases. *