Welcome to the 79th Tablescape Thursday!
Hi Everyone! Hope your day was awesome!
I had plans to share a new tablescape with you this evening, took pics this past weekend. But there were a few more things I wanted to include in the post, and unfortunately, I just don't have it quite ready. So, I've been perusing the archives this evening and found a tablescape I put together right after I started blogging. It seemed perfect for this time of year because the birds are just starting to return here…and they are already looking for the perfect spot to nest this spring. I've even had a sweet pair of bluebirds visiting my feeders recently.
I decided to leave most of my original wording with this tablescape. I had just purchased 2 tall, red candlesticks at Hobby Lobby in their discount isle and was very excited to get home and create a tablescape. Hope this tablescape puts you in the mood for spring…I'm already there!
When I purchased these red candlesticks recently from Hobby Lobby, I wasn't exactly sure how I would use them. Sometimes my inspiration for a tablescape will come from the pattern or the colors in the china itself. But occasionally, I trip over a little treasure (like the candlesticks) and they just jump right into my buggy and insist I take them home. When that happens, I'm hoping when I get home they will work with some of the china I already have.
Upon arriving home, I was happy to discover I did have some china with a bold red color in the pattern. It was a Villeroy and Boch collection I had purchased around 20 years ago…the pattern is called Melina.
As I began putting the table together, I really liked the look and contrast of the more rustic candlesticks with the dressier, bone china. I decided to go with that theme, mixing rustic elements, along with the more formal.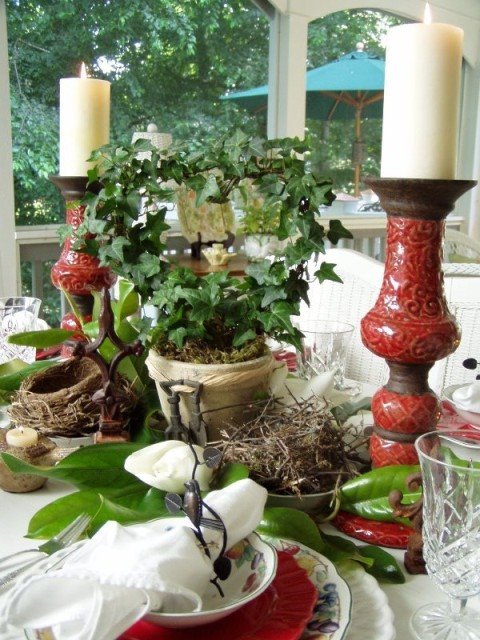 You truly do not have to spend a lot of money to create a pretty tablescape. Often you already have just what you need on display in the various rooms in your own home. Shop the house! If you love that adorable bunny in the guest room, chances are you are going to love it in the center of your Easter table…and so will your dinner guests. Be bold, use the unexpected…your heart will tell you if it works or if you need something else.
Hope you enjoy viewing the tablescape below. But mostly, I hope it will embolden you to use the pretties you already have and love, in a whole new way.
Bird's nest just fascinate me…I've collected several from my yard over the years, of course only after the birds were done using them. 🙂 I think they are just amazing…little works of art. I can't begin to understand how a little bird can make something so intricate and perfect. I decided to try them on the table, and when I did, I liked the way they looked against the red of the candlesticks. Of course, you can purchase faux bird's nest almost anywhere these days.
I remembered having seen some little bird napkin rings on a previous trip to Pier 1, which is only about 2 miles from my home. So after a short trip over to Pier 1…I had everything I needed for this tablescape.
The rustic gardening tools on this flower pot, went well with the iron elements in the candlesticks. I like the way the ivy heart-shaped topiary in the center…pulled in another main color from the china.

Years ago, I bought these iron accent pieces. In my shopping trip through the house, I stole them from the family room book shelves…thought they worked well with the iron accents in the candlesticks.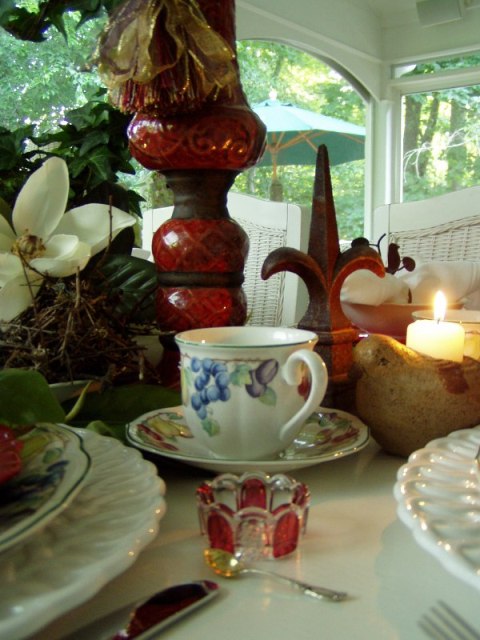 A little ruby flash salt cellar…
Whenever I purchase china, I love to use an accent plate in a coordinating color, as the salad plate. I love the way it looks and it frees up the actual salad plates to be used for dessert.

Another little iron accent piece…found this one in the guest bedroom when I shopped the house…

I took some greenery and blossoms from the magnolia tree in my front yard. Since it was toward the end of the blooming period, the tree only had a few blossoms left. So, I incorporated a few silk magnolia flowers I already had into the tablescape, too.

Since I had kind of a nature theme going here, I couldn't resist using this little piece. What could be under there? 🙂 Grab the little bee on top and lift the lid to see…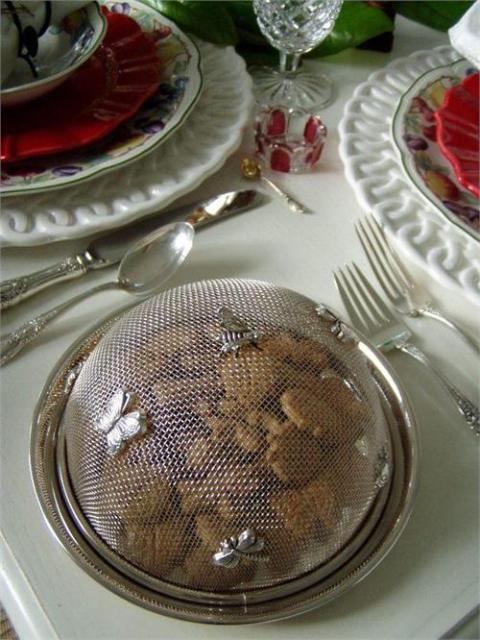 Bug bites! You can find these in the cookie isle of your grocery store. (They are by Keebler and I found mine at Publix.)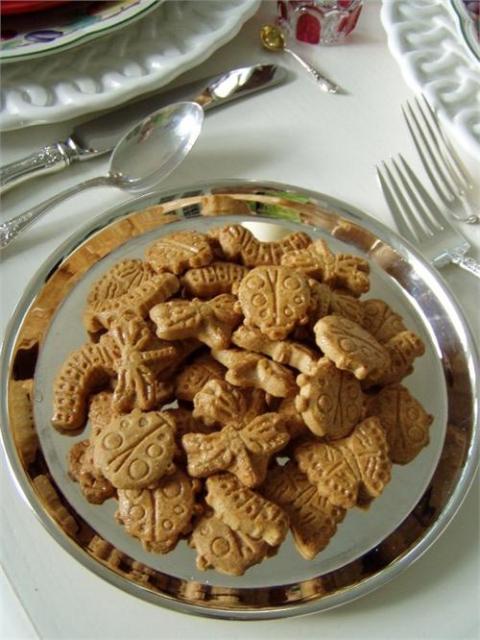 A different look with crystal stemware instead of tea cups…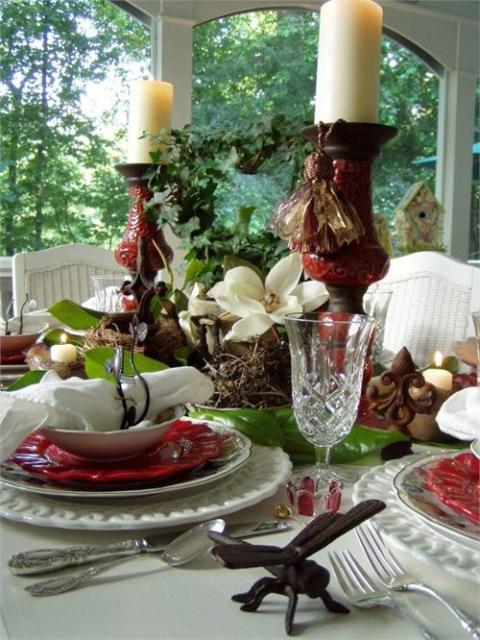 Thanks so much for for stopping by…


Looking forward to seeing your beautiful tablescapes!
China: Villeroy & Boch, pattern Melina
Red, Ruffled salad plates: Home Goods
Sterling Flatware: Towle, King Richard
Crystal Stemware: Waterford, Araglin
Candlesticks: Hobby Lobby
Chargers: Horchow, online
Napkin Rings: Pier 1
Silverplate server with dome lid: A Classy Flea

If you are participating in Tablescape Thursday, please be sure to add your permalink below, and not your general blog address.
Please copy and paste the Tablescape Thursday logo button to your computer. Then you can upload it to your side bar and use it in your tablescape post so your visitors will know you are participating.
Please link back to the host blog, Between Naps on the Porch. This is important because it helps those who are visiting your blog, find the other wonderful tablescapes posted for this Tablescape Thursday.
Please do not add your link below, until your tablescape post is actually published to your blog.
*If a post is sponsored or a product was provided at no charge, it will be stated in post. Some links may be affiliate links and as an Amazon Associate, I may earn from qualifying purchases. *